According to the Statista forecast, in 2023 roughly 347 billion emails worldwide will be sent and received daily. So, since the late 1980s, email marketing is still one of the top tools to convert leads into prospects and build relationships with customers. And, what about push notifications marketing?
Mobile push notifications were introduced by Apple in 2009 and were embedded into the Chrome browser in 2015. Initially, push notifications were used to communicate with app users. With the browser push notification development, they are used to promote and distribute the content of any website. Today, 28,398 websites with over 1 million traffic use push notifications.
Push Notifications Examples and Use Cases
Here we discuss how email and push notification marketing can complement each other. We'll show some cases of how emails and web push notifications can be used together.
What is Push Notification Marketing
Push notifications marketing is a set of strategies used to reach website or app users with brief push messages in order to promote products. Push notifications are displayed on a subscriber's device and encourage them to return to a website/app. As a part of a digital marketing strategy, browser push notification campaigns can be used to build your audience of repeat visitors, and keep them engaged. Plus, by using personalization and segmentation tools, your web push marketing will give value to your subscribers.
Learn how to send web push notifications in our step-by-step guide.
What is Email Marketing
Email marketing is a set of techniques to build relationships with your email subscribers in order to promote products and services. There are plenty of marketing emails such as newsletters and product update emails. Each email type is designed for different purposes, such as informative and educational. But the main goal of email marketing is to nurture leads and build strong relationships with existing customers.
Differences Between Emails and Push Notifications
Before we show how to combine email and push notification marketing strategies, here are some key differences between emails and push notifications you need to know.
Length
A push notification typically contains up to 50 characters. Emails can include as much text as you wish to send. 
Lifetime
An email is a long-living message that will remain in a recipient's email box until deleted. A push notification pops up on a user's device (mobile or desktop) once. It stays on the device screen until clicked or manually dismissed. 
Subscription
Typically, a website visitor needs to enter their email address and name to subscribe to emails. To get a subscription to web push notifications, a visitor needs to click once/twice in a permission prompt without giving their personal information. Opt-in rates for web push are typically 2-3 times higher than that for emails.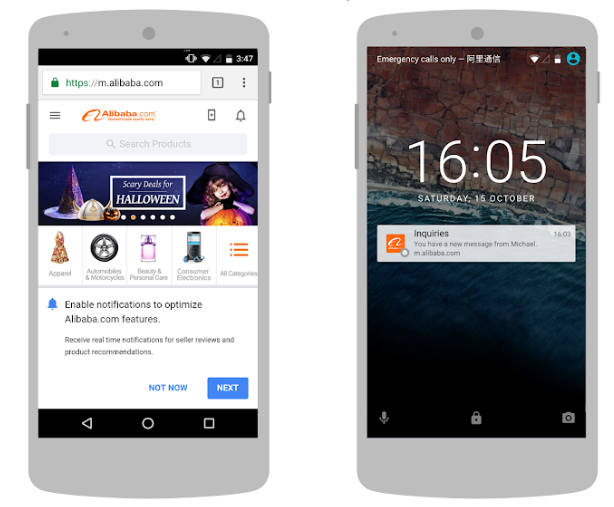 Source (https://firebase.googleblog.com/2016/10/announcing-firebase-cloud-messaging-for.html)
Delivery
From time to time emails are blocked by spam filters or end up in a spam folder of your subscriber. According to the Validity Resource Center, one in five messages does not reach the inbox. The push notifications delivery rate is roughly 60% for mobile devices. Push notifications cannot reach a subscriber device when it is turned off. 
Open rate
According to MailChimp statistics, the average open rate for email marketing is roughly 21%. Push notifications if delivered will definitely be seen by a subscriber. They are displayed on the device's screen, and this is difficult to ignore.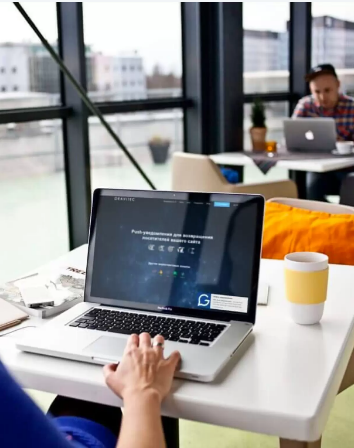 CTR
The average Click-Through-Rate in email marketing is 2-3%. CTR for web push notifications campaigns is roughly 15%. 
Email Services and Push Notifications Marketing Platforms
There are plenty of email marketing platforms such as MailChimp and SendinBlue. They have features that enable you to send campaigns to multiple recipients, target your emails to subscriber segments, and see statistics.
Similar features are available in push notification services, such as Gravitec.net.  
TOP-7 Push Notification Services
Here is the list of main features that are common for professional ESPs and push notification platforms.
Segmentation, such as by countries and behavior, to send targeted campaigns

Automations, such as drip campaigns and digests, to automatically deliver content

Triggered messages that are automatically sent after a user action on a website
So, which tool to choose in a case, depends on your goals and objectives rather than on the tool's capabilities. 
TIP
With
the Gravitec.net push services
, you can identify push subscribers by their email addresses, and connect both email and web push channels in your CRM.
When to Use Push Notifications
Push notification briefly informs a subscriber about something that they need to see immediately. 
Try Push for Free without a credit card
Here is the list of popular reasons to use push notifications:
Distribute content

Increase website traffic

Build and maintain the audience of regular readers

Promote new products and services

Send transactional messages

Inform subscribers about the latest news

Alert subscribers about time-sensitive events
Push notifications work best to improve user engagement and drive repeat traffic to your website. Web push marketing proves especially effective for news websites and media companies. However, any company that generates and publishes content can benefit from push notifications. 
When to Use Emails
Email marketing is popular among companies of all shapes and sizes. Mainly, it is used to create and target content to the right audience to generate and nurture leads. 
Here is the list of the most common reasons to use emails:
Educate new subscribers about a product

Build personalized communication with subscribers

Retain existing customers

Generate and nurture leads by sending appropriate content
Emails can contain any information you want. This makes them a very creative tool to handle your contacts. 
Push Notification Marketing Strategies: Best Practices
Here is a list of best practices to use in your push notification strategy.
Set up a customized permission prompt for double opt-in. This will prevent your prompts from blocking

by the C

h

r

ome browser

. Plus, you'll be able to choose the most relevant pages and location to show your prompt, create compelling text to show the benefits of receiving push notifications from you. 
Create as many subscriber segments as needed to send them the most relevant content

Automate up to 95% of your campaigns with automation features such as welcome messages, breaking and top news, drip campaigns, and digests. Here is

a case

of how media website use behavior automation to grow their business.

Schedule your campaigns according to your subscriber behavior. This will ensure that you

send notifications at the right time

. 

Send triggered notifications by the actions that require repeat visits to your website such as with an abandoned cart.
With this strategy, your content will be automatically targeted to your subscribers tailored to their interests. 
Learn more about push notifications best practices.
Push Notification Marketing Examples
Online media such as news portals, entertainment websites, and blogs use push notifications to automatically distribute their content. Ecommerce websites, such as online stores and travel sites typically use web push and app push to send personalized messages. 
We've compiled some examples of how push campaigns can be approached by online media and any website that needs to distribute content.
Multiple subscriber segments by user behavior and metadata, such as devices and countries allow your campaigns to target smaller audiences and get higher CTRs. In such a way, news websites send the most relevant news to subscribers. For example, using

behavior segmentation

, a news website can tailor the news on politics to subscribers that regularly read it. Other subscriber segments will receive the news of their particular interest. 
Using

drip campaigns

you will increase the number of touches with your new subscribers.

Push notifications that are sent immediately

, after a new article is published, is a way to deliver the latest news faster than competitors. Set an appropriate number of campaigns to be sent and a time interval between them, so that your subscribers appreciate your effort rather than getting annoyed with too many notifications.    
Here are some examples of using triggered push notifications that might be useful for eCommerce websites.
Notifications on an upcoming event help remind a subscriber about their intent to participate in a webinar, lecture, etc. This increases the chances of their attendance.

The follow up after an abandoned cart is a popular approach to boost sales.

Personalized messages that alert subscribers about limited-time discounts help sell products as well as increase customer loyalty.
Email Marketing Strategies: Best Practices
On average, an office worker receives roughly 120 emails a day (statistics by The Radicati Group). So, only a small percentage of emails hit the target and get read. That's why you need to develop a strategy before you start sending emails.
Here is a list of best practices you might wish to use in your email marketing strategy.
Don't use purchased contact lists. You need your own list of subscribers with opt-in permissions to start email marketing campaigns. First, you need to create a subscription form that offers some perks that give value to your website visitors. This will increase your chances to get higher opt-in rates.

Segment your contacts using attributes in your CRM, such as the industry, a company size, and a subscriber's stage on the buyer's journey. Segmentation is the most important part of your strategy. Your campaign ROI largely depends on how well the segments fit your goals.

Create content that solves the problems of each of your buyer personas and target it to the right audience.

Personalize emails using data that subscribers provide when opt-in, and analyze their behavior. An email that is based on a customer's purchase history with their name in a subject line is

a trend of nowadays email marketing

.

Automate your campaigns with triggered emails that are sent after a subscriber's action such as account activation. They typically have higher open rates and CTRs than that other emails. 
Email Marketing Examples
Here are some examples of email marketing campaigns.
Industry research white paper

gives value to your new subscribers. These emails show that you're an expert in your industry and that you care about your subscribers rather than sell your products off the bat.

Event invitations

with an explanation of why your party is the best for your potential customers will give you insights into which subscribers are ready to get in touch with you.

Anniversary

emails that are triggered by the day of the customer's first purchase may offer some personal discounts/bonuses. Their main purpose is to reengage a subscriber and increase their loyalty.

Activation emails

are triggered when a subscriber takes no action after their trial ends. In this way, you'll keep your potential customer engaged and check their intent to join your service.

Lead nurturing emails

target content that is based on the subscriber's previous actions such as attending a webinar. Each new email in the lead nurturing series will contain content that is designed to move a lead to the next step of their buyer's journey.
Push Notifications and Email Marketing – Match Up
Here is a "match up" strategy that we recommend to make the most of both channels.
Use push notifications to distribute and promote your existing content. Create special content, such as researches, specifically for your email campaigns. By doing so, you cut off the number of emails in a subscriber's inbox, but inform them about your latest news.

Send time-limited offers/time-sensitive news using push notifications, and send an email if you want your subscribers to save your message and read it again after some time. For example, send an email to invite a user to a webinar, but remind them about it before a day/hour by sending a web push.

Drive repeat traffic using push notifications, and send emails to help subscribers move through the buyer journey. For instance, if you want more people to see your new article, and grow your advertising revenue, use web push. If you want to nurture leads, create a personalized set of emails to solve their specific needs.

Send urgent transactional messages such as after cart abandonment immediately in a push notification. Re-engage the same contact with a follow-up after some time with an email.

Fully automate your push campaigns and save time delivering content. Automate your email campaigns as much as possible.

Segment both email and web push subscribers to target the right content.
By haphazardly sending emails/push notifications you will not increase subscriber loyalty and meet their needs. Instead, you have to develop a strategy that saves your budgets and boosts your revenue. We recommend combining email and push notifications marketing to reach your target.