Web push notifications are extremely popular now. Gravitec.net sends over 3 billion notifications per month for up to 5 000 websites. This technology combines benefits of all widespread marketing channels, so it has become an alternative instrument for users engagement. Push messages allow to grow a website traffic and to generate additional income as well.
Why is it important to use browser push notifications today? How to add the service to your website and to send push messages?
Why Use Website Push Notifications?
Let's compare web push with other marketing channels first.
Email marketing provides opportunities to reach wide internet audience. According to the Radicati Group statistics, about one-third of the worldwide population uses email.

Still emails have lower open rate then push notifications. Besides, it doesn't fit for instant alerts, because users put off inbox viewing for hours, or there is a threat of going email messages into spam folder.
SMS is suitable for time-bound messaging but has limited possibilities for interaction with users. 160 characters that is all you can send. Still it works for urgent communication, for example, to approve the request or to inform customer about delivery time, etc.
Instant messengers task is similar to texting. Although they operates with a mix content (images, text, buttons), sender needs mobile numbers base for campaigns launch.
Despite social networks popularity, to engage users you should work hard on SMM strategy. It is a complex process, messaging is not enough there.
Mobile push notifications are included into mobile app tools. Thus, you should develop an expensive app before using this technology. Besides, it covers mobile audience only.
Well, what are website notification features?
The simple opt-in procedure. You need just one click in the automatically popped up opt-in box.

It's not necessary to develop an app to send web push notifications. Just add the code to your website.

Web push is a cross platform technology. The both desktop and mobile audience will receive your messages.

Notifications pop up on the user device screen, so web push CTR is up to 30%.

Push message includes 64 characters in a title and 240 in a text body, website link, as well as an image and extra buttons.

Gravitec

clients have access to campaign statistics for tracking users actions and comparing results of various strategies.
The technology combines easiness of subscriber base collecting, quick communication tool and high CTR rate.
How to Send Push Notification From Website in 5 Steps
Gravitec provides push notifications installation in five simple steps.
Sign Up
Register on our website first.

Enter your email and password, or sign up with Google or Facebook.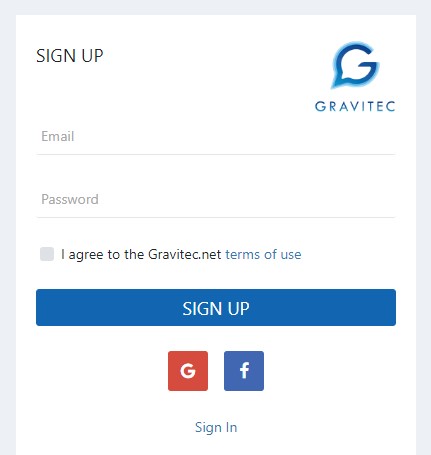 After receiving the email confirmation message, activate your new profile.
Add the website
Tap on the Push button at the top of the page, or select Push from the main dashboard in your account.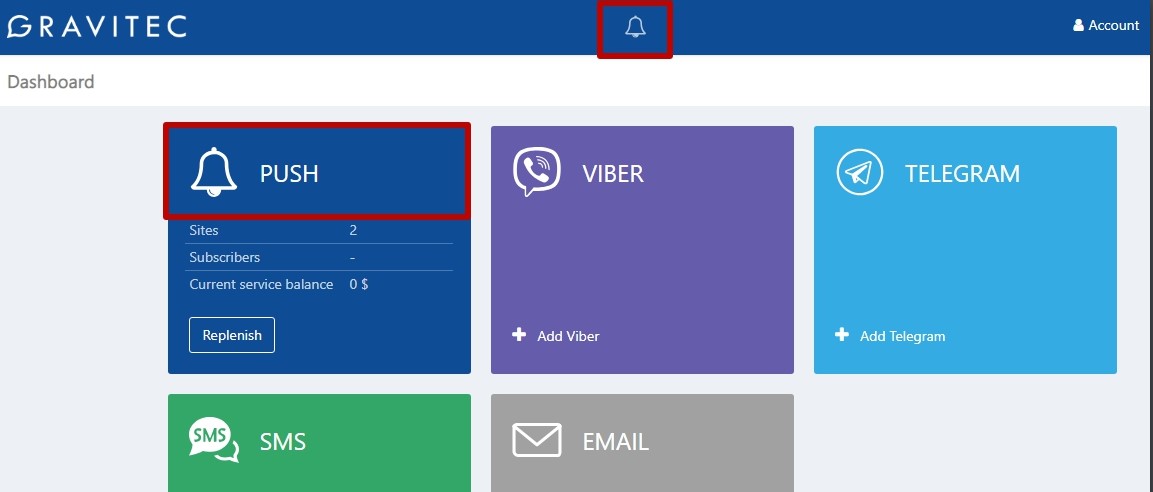 To add a website:
After adding, the website will appear in the Push Notification Dashboard.

Integration with the website
Click on the Settings button opposite the website name

.
Copy the generated code and paste it to the main HTML template of your website before the closing tag </head>. This code will work only for your domain.
Download and extract SDK files to the root website folder.
If you want to use API for push messaging, use credentials for your website.
That's all you need to add push notification to the website.
Subscribers monitoring
After the integration, you will get an opportunity to collect a subscriber base.
The opt-in box appears automatically while a user is visiting the website.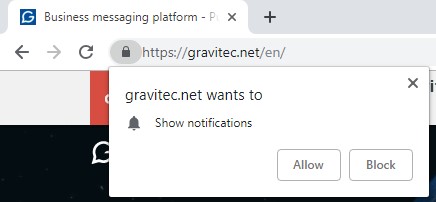 You can track subscriber statistics in your account for each added website.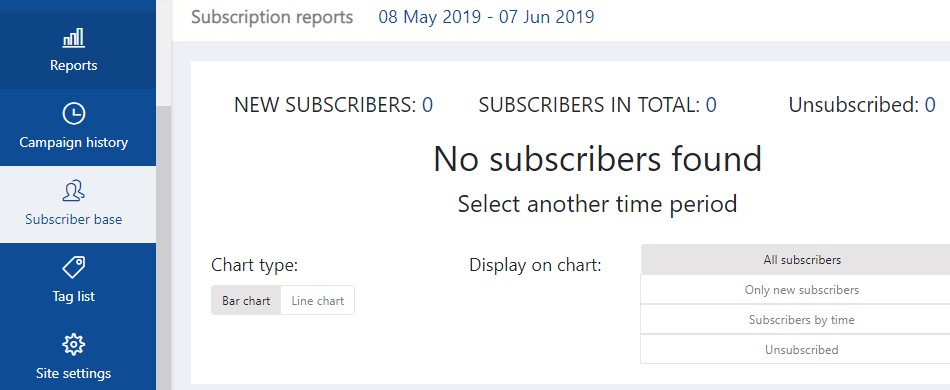 To start sending notifications even one subscriber in your base is enough.
Launch a push campaign
For a push campaign launch, click your domain name in the Push Notifications Dashboard.

At the left side of the page, you will find the list of opportunities. Tap 'Create campaign' at the top of the list.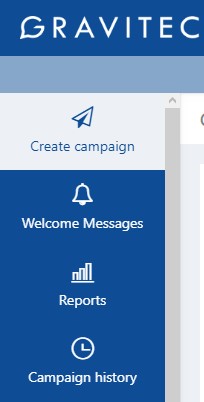 Set parameters for the push notification:
Base segmentation
Before a campaign launch, you can explore the segmentation tool. Click 'Advanced option' to target campaign by tags, aliases, browsers, countries, operating systems.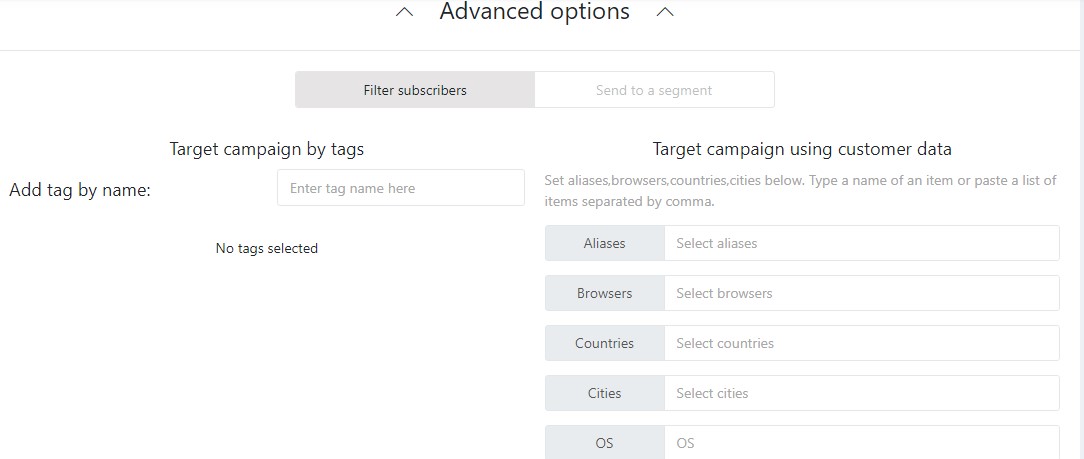 Read more about push notification segmentation.
Conclusions
We've briefly compared web push notification technology with other digital marketing channels to find out its usefulness for business. We've considered the main stages of web push integration with the website and an algorithm of a campaign launch.
Why is it important to use browser push notifications?
The simple procedure of campaign creating saves marketers time. You need just five steps to start sending messages to your customers.

Subscriber base collecting starts just after adding push notification to the website. You don't need to motivate your visitors to provide their data.

You can customize the messages appearance with various content.

Campaign statistics allows to collect campaigns data, to build effective strategy.

We recommend to use segmentation tools for personal communication and targeted campaigns.