Gravitec.net push platform provides its users with an opportunity to manage a wide range of settings for push notification campaigns. Each parameter influences campaign's results and its conversion rate (CTR, a number of opened notifications, etc.).
In this article, we will review push notification time settings.
TTL – Time push to live.

Sending time.
We will explore how to set these parameters properly to reach your audience.
TTL, or Time push to Live
TTL determines how long the system will monitor a recipient's device status to deliver a push notification. As soon as a recipient comes online during the TTL period, the system will deliver them a notification. Subscribers with a permanent offline status (during the  TTL period) will not receive a web push. After the TTL period is over, delivering will be ended. 
Why do I need to set this parameter?
TTL use is important to keep notifications' information relevant for subscribers. Let's imagine that we can't set a delivery period. Thus, we have just two options:
The system will try to deliver a notification just once, immediately after sending (TTL = 0).

The system will be trying to send a notification until a subscriber becomes unavailable. 
In the first case, a delivery rate will be highly decreased. You have no chances to reach all your subscribers at once.
The second approach provides you with an opportunity to cover a significant part of a subscriber base. However, received information probably will not be relevant in a few days or in a week after the message was sent. Irrelevant info leads to increasing of opt out rate.
Cases of TTL usage
Optimal parameter value differs for various industries and campaign goals.

In common, there are three TTL types.
Short period – 0-4 hours.

Medium interval – 5-11 hours.

Long period – 12-24 hours.
The first one is suitable for short-term campaigns with determined time of completion. For example, you promote products with discounts available just for one day (one hour, etc.), or your offer should be introduced for a limited number of participants. In addition, you can use short TTLs for several push campaigns about future events. Some campaigns will inform subscribers about an event, others will remind them about its start.
News websites often use medium TTL for their push campaigns. For example, if sending frequency is twice a day, then we can send first campaign at 9 a.m. with TTL=5 and second one at 3 p.m. with the same TTL value. Thus, subscribers will receive the first message from 9am to 2pm, the second one – from 3 p.m. to 8 p.m. During this time, news will stay relevant. Due to the sequence of campaigns on different topics, notifications will raise subscribers' curiosity and return them to the website.
Long TTLs are used for campaigns without time bound. That's how you can achieve the highest campaign results (the number of opened notifications). We have mentioned above the drawbacks of this approach. However, you can set a long TTL to monitor and analyze the subscribers' behavior. For example, let's set TTL=24 hours for sending a push campaign at 9 a.m. Push notifications will be delivered from 9.00 a.m. of the current day till 9 a.m. the next day. With these parameters, it is possible to get information about users' activity, the number of responses from different devices (PC, smartphones, and laptops) depending on time. Obtained statistics will help you in creating future targeted campaigns.
TIP
Gravitec.net has developed an option to slow down sending. If you turn it on, the system will send small batches of notifications to subscribers every 5 minutes during the provided time interval.

Sending time
Both TTL and sending time has a strong influence on the number of delivered push notifications. The best time to send a web push is a period of the highest subscribers' activity. 
The most convenient way to define optimal sending time is by tracking opt-in statistics. You can get this data in Gravitec.net dashboard. Click 'Subscriber base' item in the left menu. There you can see on graphs when your base grows.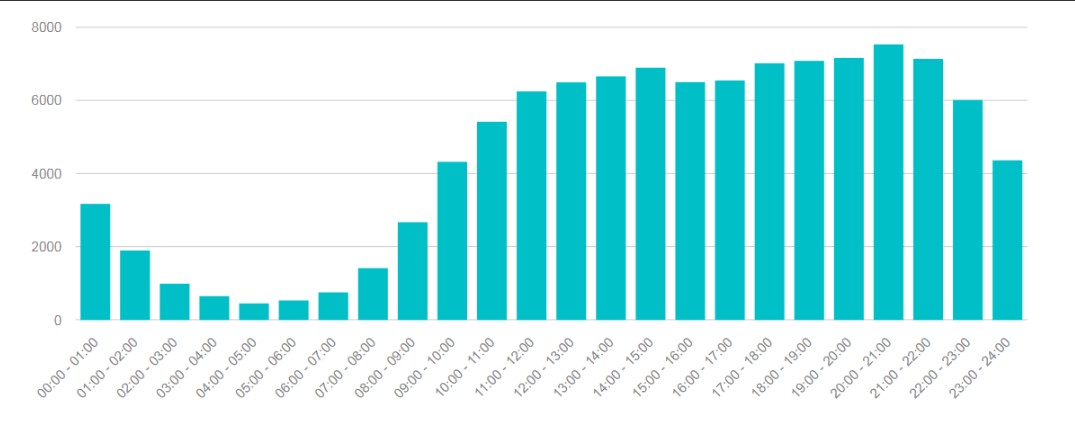 In the case above, the most significant base growth was during the daytime and in the evening. These indicators depends on the industry. However, on average, the optimal sending time correlates to work time of a target audience, when subscribers are online. Users' activity on the weekends often decreases. 
Besides opt-in/out statistics, conduct web push experiments to determine an optimal sending time and TTL. The more data you have, the wider range of tactics you can include in a marketing strategy.
Push campaign schedule
If you do not set sending time for a campaign, it will be sent immediately (press 'Send campaign' button).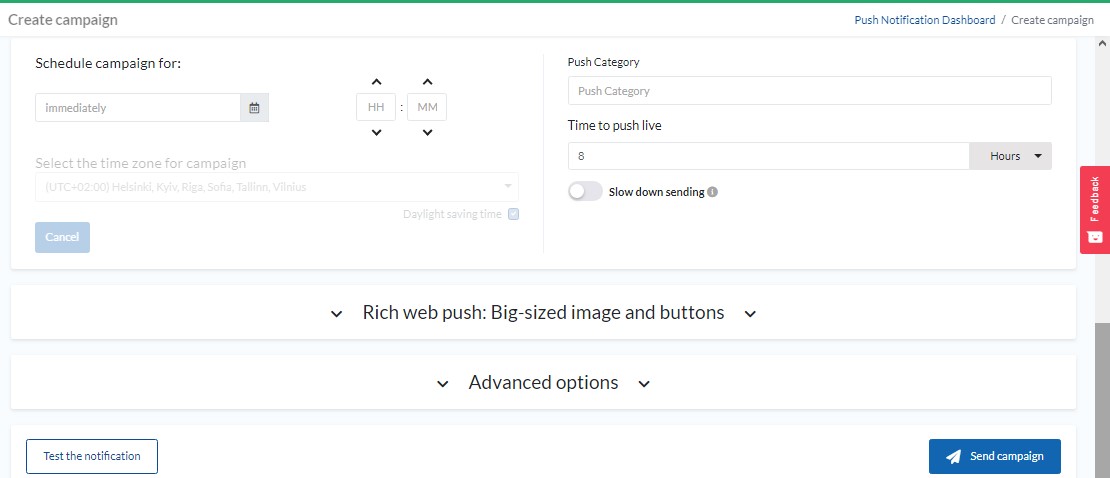 After you schedule a campaign, it will be postponed according to the settings.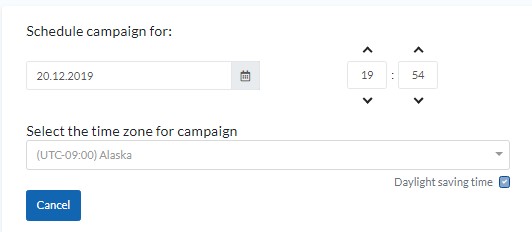 Pay attention to time zone settings for a campaign.
It is possible to create several push campaigns at once to send them later. 
TIP
Gravitec.net provides clients with automation features to avoid creating campaigns manually. Read more about
automated content delivery
. 
Summary
The main time parameters for a push campaign are TTL and sending time. 
Sending time — When is it better to launch a campaign? 

Time to push live — How long should the system deliver notifications to subscribers? 
Statistics in Gravitec.net dashboard ('Campaign history' and 'Subscriber base' blocks) will help you to determine optimal time options. The more campaigns you send, the better you know your audience, users' behavior and interests.
If you have any questions on how to launch a push campaign, please, don't hesitate to contact our support team.