Gravitec.net platform provides clients with an opportunity to send automated push campaigns. With this option, you can minimize time for campaigns creation by using pre-made algorithms.
In this article, we'll review the 'Drip Feed' automation option. Where and how can you use it? How does it work? How to launch a campaign with this tool?
Drip Feed. What does it mean?
Drip feed option is welcome push notification series. You can activate it to notify new subscribers about the most important info on your website automatically. Drip Feed contains three, five or more campaigns depending on your goals. Set push notification elements for each Drip Feed campaign in your Gravitec profile just once and start sending. Every new subscriber will receive your notifications according to a preset schedule. 
The Use cases
The main goals of Drip Feed automation are to engage new users into interaction with a company and educate them on your product or service.
Campaigns content and their number in series differs by industry, just as company goals of a Drip Feed usage. 
For example, online media use this option to educate new subscribers on a website main content, its categories, etc. In this way, visitors understand a website navigation; they interact with its content more consciously. Alternatively, publishers can start interaction with new subscribers by sending notifications with expand reviews on economics, politics, etc. In this case, Drip Feed is a series of campaigns with such titles as 'Will the economy get better in 2020?', 'Forecasts of geopolitical risk' and so on.
Another example is a Drip Feed push campaign launch for a company blog. It can be a series of the most popular articles or educational guides on how to use company's products. For instance, if a company offers software, Drip Feed will consist of four or five campaigns with the clear info on how to start using this product. For Gravitec.net blog we would launch such series: 'What are push notifications' – 'TOP-10 benefits of push notifications' – 'How to send push notifications from a website'. In this case, every new subscriber will get a basic info about our technology and learn how to launch a push campaign with our platform.
How to start Drip Feed automation?
In your Gravitec.net profile, select the Automation section and the Drip Feed block there.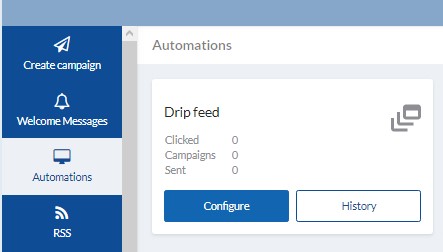 Click 'Configure' to manage settings.

Enter a webpage URL for your first campaign from series and tap 'Add to campaign'. In the same way, enter other URLs you want to send to your subscribers in push notifications.

Push notifications are generated automatically. A headline is a title from a webpage metadata, just like a notification body and image. To change elements of a web push message, click the 'Edit' button (to the right from a notification preview).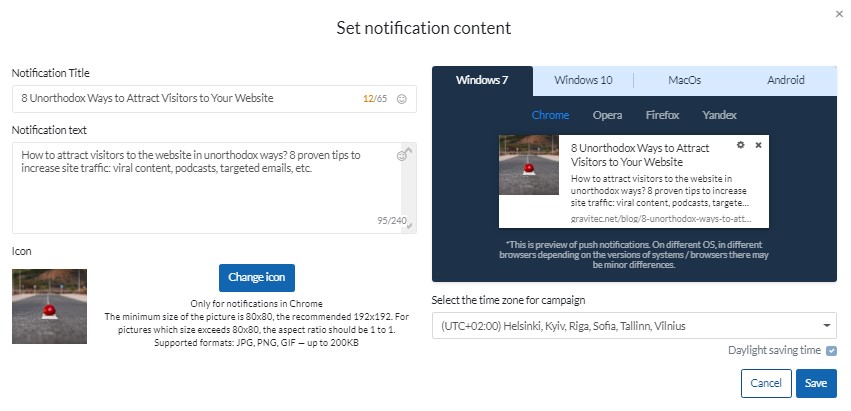 TIP
To delete a campaign from series, tap a 'Trash' button.
After adding all the campaigns to Drip Feed, set a sending schedule.  

Define time to send the first campaign and set interval between campaigns. To activate Drip Feed option, switch the slider in opposite to the 'Configure automation' item.

You can change the order of campaigns in the list with arrow buttons.

You can set new intervals between campaigns sending, update the links to more current ones at any time.
TIP
Please, note: if a subscriber opts out and then re-subscribes to web pushes again, they will receive all the notifications from Drip Feed series from the beginning.
To explore a Drip Feed campaign statistics, click History button at the main menu of Automation section.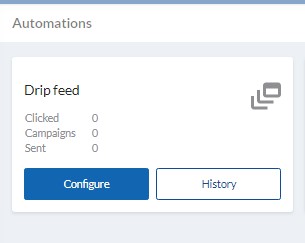 You'll get info about the number of sent, delivered and opened notifications from a Drip Feed campaign.

Conclusions
With the new option, our clients can create and send push campaigns to their loyal audience easier. Drip Feed automation is a tool for a direct interaction with new subscribers. They receive notifications with the most important core content from your website. Thus, the first info they get is clear guides on how to use your product or service. You provide users with a key information to a better understanding of your company. In this way, you increase subscribers' engagement, educate them and return to a website for further communication.
If you have any questions on how to use a Drip Feed option or to launch a push campaign properly, please, contact our support team.