Creating a blog, writing every day, and putting a lot of work into promotion inevitably leads you to question how to monetize a blog. No one solution fits all, as many niches can monetize, and they'll require different approaches. We've compiled a list of solutions you can try on your blog to make it profitable in 2022.
How do you know you're ready to
monetize your blog
?
To win a blogging game, you need to think like an entrepreneur. Stay intentional about your writing, get your blog noticed, and, once people arrive, offer them something of value. 
Here are some tips to make sure you can get started on monetization:
You're happyish with your traffic




Most full-time bloggers who depend on their blogs to make money have at least

100,000 total pageviews a month

, which makes sense, as the more people click your affiliate links or see your blog content, the higher your earning potential is. That being said, not all people who get to your blog will do what you need them to do, as some will drop out just like in your standard sales funnel. If you didn't get there yet, work on your organic traffic by creating an SEO strategy, which is the most sustainable way to

get more traffic to a blog

.




Check out our comprehensive guide on free and paid solutions to drive traffic

.

You have the engaged audience




This part comes after

attracting visitors to your website

. Your ultimate goal is to build an audience interested in what you're offering, which is nearly impossible without a deep understanding of their needs. So, either you have a fairly specific blog where your audience is on the same life stage as you (a mommy blog might be a perfect example), or you look into analytics insights and communicate with your audience on social media. This way, you can provide them with valuable content.

A niche you're passionate about




While pretty much any niche can be used for

creating a profitable blog

, you'll have better chances with one that matches your interests, as any blog will require lots of content. To illustrate, if you're into tourism, you can monetize your blog with affiliate products, creating hiking tours or checklists for first-time hikers.




If you'd go for a tried niche instead, according to the study by

RankIq

, the highest-paying include blogs on food, personal finance, lifestyle, and travel.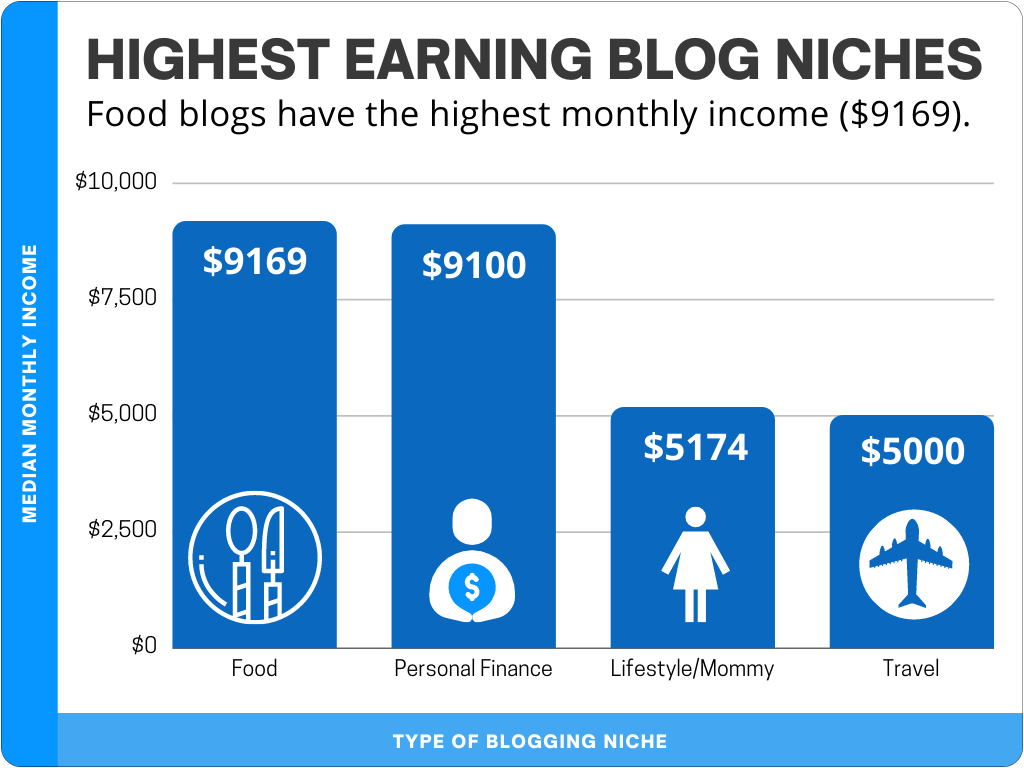 Blog monetization examples
Instead of just focusing on one way to monetize a blog, writers often use different monetization routes. Here are some published monetization breakdowns you can draw inspiration from:
This blog reported getting 62% of its income from affiliate marketing. However, they didn't stop there in a true hustler fashion and tried a private forum, display advertising, sponsored content, and courses.
ProBlogger started as a personal blog. Once it gained popularity, the creator, Darren Rowse, started monetizing it. There are no exact figures on how much the blog makes, but they published a breakdown on blog profits sources, where again, affiliate marketing takes first place at 46%. It's followed by product sales, AdSense, a job board, events, and sponsorships.
Abby Lawson, who's behind Just a girl and her blog, also reports affiliate marketing as the top of her blog's income. Then there's product income from selling ebooks and a planner and sponsored posts.
This blog makes about half of the income via advertising, followed by affiliate income. Smaller portions fall under sponsored posts, freelance writing, social media consulting, and product sales.
It's a blog that teaches people to become proofreaders. Their income comes from creating paid online courses and ebooks.
Now let's explore available blog monetization strategies for your blog.
12

Ways to Monetize a Blog
Affiliate marketing for
blog monetization
Affiliate programs help you earn money by sharing links to products or services. Whenever someone follows your link and makes a purchase, you earn a commission.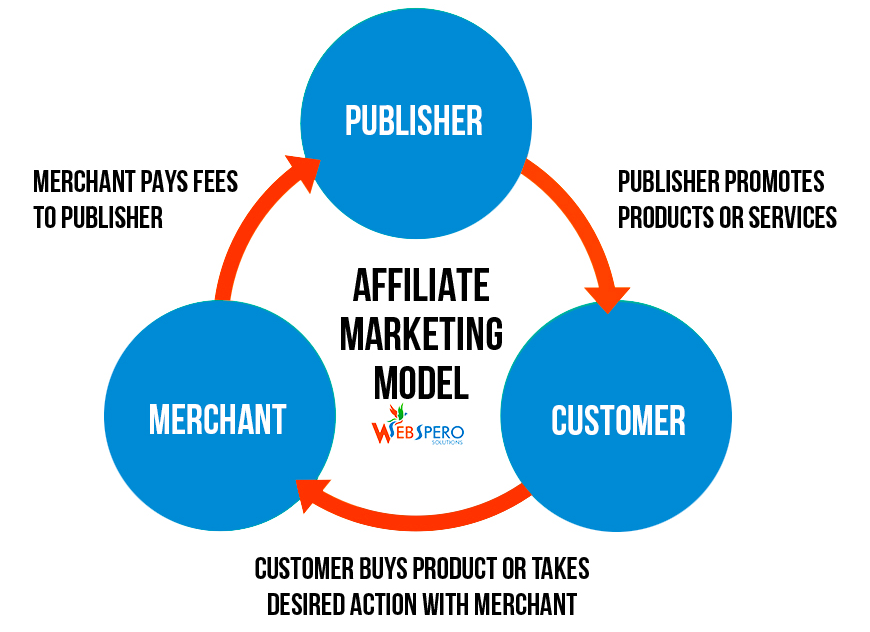 You can either contact a business directly or join an affiliate program. There are plenty of affiliate programs you can join:
You don't have to choose only one affiliate program; just make sure whatever you're endorsing creates a coherent picture. Even purely affiliate websites work best if they represent a specific niche. For example, Adam Enfroy's blog made over $600k in 2020 in affiliate income from 124 different programs. 
Check out our ultimate guide on how to start an affiliate marketing website with site builders. 
Create unique downloadable content
Downloadable content can also work as your lead magnet or be a way to generate passive income, as you'll have to write your ebook or guide only once to keep selling it. 
You can sell different downloadable content: 
ebooks

whitepapers

templates

WordPress themes

music tracks

photomasks

video tutorials
An ebook that sells well should be relevant to your audience, have valuable information that is structured well, and have an attractive design that is easy to navigate. For example, David Oudiette leveraged his knowledge of building landing pages and created a $39 ebook, generating $13,000 in revenue.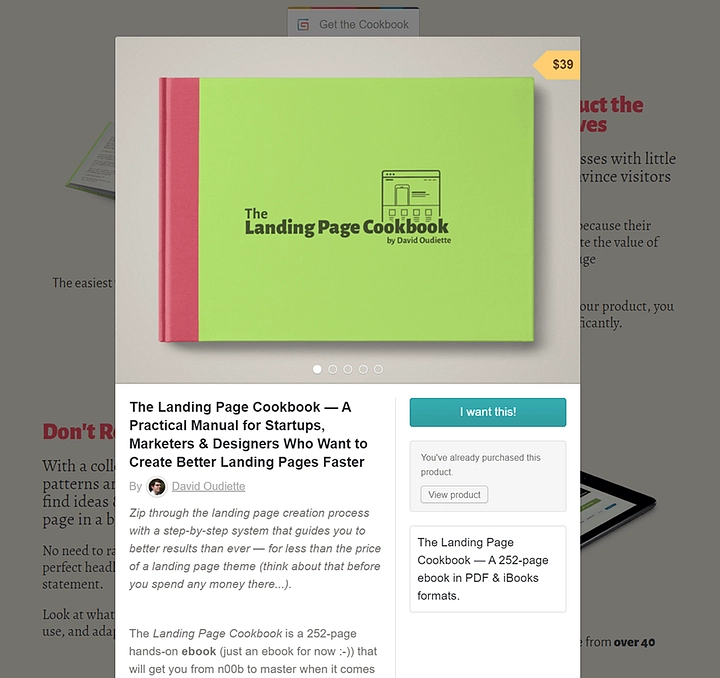 To drive sales, David engaged his subscribers and asked them about their landing pages. His feedback on provided landing pages was included in the ebook. He also provided feedback on landing pages from Quora and Reddit while adding teasers from his ebook. Finally, he wrote cold emails to businesses with feedback on their pages and linked to his book once they answered.
In addition to selling ebooks on your website, you can sell them on websites like:
ProductHunt

Gumroad

Podia

Amazon Kindle
Connect push notifications service
Push notifications help reengage your users with relevant and personalized notifications displayed on desktop and mobile devices. They require an opt-in, so your subscribers will be more likely to interact with your content. You can use push notifications for a blog as a highly visible channel to display relevant ads, links to sponsored content, or promote your services and new membership content. You can also use a push service to make the most out of other marketing strategies, such as email newsletters.
To get inspiration for setting up push notifications, see more push notifications examples for SaaS, media, and blogs.
Sell ad space
Usually, ads work for websites with high traffic volume. Google's AdSense is an easy way to start showing ads on your website — just add a line of code, and you're ready to go. It has no official page view requirement to apply, so it's available even for newbie bloggers.
Other options include:
They will often have stricter requirements. You need at least 10,000 monthly views to apply. You can use marketing plugins and SEO optimization to get more views if you're still getting there. To learn what ads perform best and how much you're making, you can use tools like MonsterInsights.
There's also an option of selling ad space directly to businesses. This way, you can decide on a flat rate for placing a banner on your blog and set the price yourself. You can get started using Buy Sell Ads to find companies that might be interested. It'll be easier than writing a ton of cold letters trying to find your first advertiser. 
Create a membership website
A membership website creates a space to share unique content with your fans and create FOMO for those who haven't joined you yet. Your content is locked, and only those who have a membership get a key (a subscription). You can sell monthly subscriptions or just require a one-time payment. Regular subscriptions will let you plan recurring revenue for your blog. 
To create a membership website, you can use WordPress plugins like MemberPress. It will let you decide which pages users can see and create a powerful level system. 
For step-by-step instructions, follow our guide on creating a membership website.
Offer online courses
Online courses are still very much in and keep growing. You can create a self-hosted course or launch it from a dedicated online learning platform. The topics are limitless; just consider that skills that seem obvious to you might be a challenge for beginners. For example, if you have a blog on music, you can teach your readers how to create their first track using popular software. 
Get into sponsored posts
Sponsored posts are created in partnership with a brand. Of course, when you're an established blogger or an influencer, they will reach out to you. However, don't let it stop you if you're just beginning your blogging career, and write an email to companies in your niche that seem interesting. The price will depend on the company and the blog's traffic. Fitnancials blog recommends charging at least $250 per sponsored post.
In addition to contacting businesses directly, you can visit websites that offer sponsorship opportunities. You'll need to complete your profile and describe your blog. Look at it as your sales pitch and make it exciting and upbeat. For instance, instead of saying that your blog is about coffee, you could write that your blog is for readers who balance being addicted to coffee and being coffee ambassadors, sharing their passion and finding poetry in each cup.
Some sponsored posts networks include:
When posting content for brands, you'll need to disclose it at the top of the post. Networks like Instagram require you to mark sponsored content.
Take donations
Give your fans a chance to show their support with donations. After all, even websites like Wikipedia ask for donations. You can use websites like Patreon or simply add a PayPal button to your website. 
There are also WordPress plugins to accept donations:
However, just like Wikipedia has millions of fans, you need a dedicated audience to make money with donations. For example, Tim Urban from Wait but Why has over 3,000 patrons who made a monthly pledge, but he creates in-depth blog posts that are longer than some ebooks, which is valued by his audience. 
Choosing Patreon will be easier to set up, as you won't have to worry about declined payments and managing your donors. However, you'll pay a 5% fee on your revenue and another 5% in transaction fees. Plugins will have fewer fees, but you'll have to deal with all the management yourself.
Offer to coach or consult
Want to share your skills? Try coaching or consulting. Simply put, these involve meeting one on one and giving tips and advice. For example, a coach who contributes to a marketing blog can offer advice on increasing website user engagement. 
The course topics will be determined by your niche and the content you usually write. For instance, if you have a blog on weight loss and sell a course on healthy eating, some users might want personalized guidance.
Where to find clients?
send emails if you already have an email list

promote your services on freelance websites like Upwork

get networking on LinkedIn

ask your professional connections

offer your services in exchange for testimonials
Do freelance work
Instead of creating a product, you can use the blog to promote your services. Even if you don't feel you have valuable skills to share, you can become a writer for different businesses as a blogger. According to the Editorial Freelance Association, you can earn from $50 per hour for ghostwriting, of course, depending on your speed. 

These rates might not be available in the very beginning, but you can raise your rate as your experience grows. 
If you'd rather keep blogging a hobby, utilize your other skills. Are you into marketing? Offer your services to create a marketing strategy or create an influencer campaign. There are freelance jobs for anything, from bookkeeping to web design and more. Use your website to promote your services:
include keywords people use when looking for freelancers

add a contact form to your website

offer your services for a review; this way, you'll be able to add social proof to your website

reach out to potential clients on LinkedIn
Host a paid webinar
A webinar can help promote your products or services or be monetized via selling tickets to your webinar. Typically, a webinar is a live training session with a Q&A session at the end, so it'll provide some direct interaction with your audience to see what areas might need extra information. Say, if you get many questions about types of coffee after your "How to brew espresso at home" webinar, you can write a guide on the best coffee beans on the market. If the manufacturers have an affiliate program, you can also make money by adding links to the post. 
To promote your webinar and get signups, create a landing page with the information on the webinar, social proof, and payment information. Want to know how to build a landing page? Check our guide on landing page building.
Launch a virtual summit
Virtual summits are conferences you can attend online with the same perks the offline conferences offer, such as Q&A sessions, hosts, multiple speakers, and networking. You can sell tickets to the summit, make it free and charge for a recording, or use the email list of attendees to sell related courses. For instance, Webinar Mastery Summit made $26,000 in sales after ten days with just about 2,000 email subscribers. 
To launch a successful summit, you can invite influencers for cooperation. This way, you'll get access to wider audiences even if you don't own an extensive email list.
Monetizing a blog: wrapping up
Blogging doesn't guarantee revenue unless you work on a monetization strategy that works for your niche and audience. Here's a recap of monetization tactics you can use:
Affiliate marketing

Downloadable content

Push notifications

Ads

Membership website

Online courses

Sponsored posts

Donations

Coaching or consulting

Freelance work

Paid webinars

Virtual summits
FAQ
What should I do to make a successful blog?
There are many choices to make, such as the website builder to use, or SEO optimization, or choosing a catchy name. However, it boils down to creating great content and getting it to people who might find it interesting. Check out our guide on promoting a blog post.
How do I monetize my blog in 2022?
Before you get to the steps to start a blog for profit, you need to hit certain points, such as building a solid readership. If no one is reading your blog, it'll be impossible to monetize it. The best ways to monetize your blog include:
selling ad space

recommending products via affiliate marketing

selling digital products like ebooks, courses, or webinars
How much does it cost to monetize a blog?
It depends on the blog monetization strategy you pick. Most services provide free access, for example, ad management platforms. However, to get started, you'll need to meet certain requirements, such as at least 10,000 views per month. So, to get there, you'll be spending money on your blog hosting, social media ads, and keyword service to find the keywords your potential readers are using. 
What should you not do when starting a blog?
If you aim to monetize your blog, it'll be a mistake to use a free resource for publishing. On a free tier, your blog's name will look like wanderlust.wordpressblog.com, which will make it nearly impossible to be taken seriously. 
Another crucial mistake would be choosing a bad hosting company, as users expect your blog to load in under 2 seconds. You can check your page's response time with Google Insights.