Affiliate marketing is a way to create passive income by promoting products or services on your website. It's quite competitive, but still, it's a very attractive market. According to Statista, affiliate marketing in the US will reach 8.5 billion in 2022. With this guide, you'll learn how to create a website for affiliate marketing.
What is affiliate marketing and how it works
Affiliate marketing lets you make money by promoting products or services. It's usually referred to as passive income because you create a link, add it to your website and that's it. However, in reality, affiliate marketing does take work, as you won't make any money if people don't come to your website.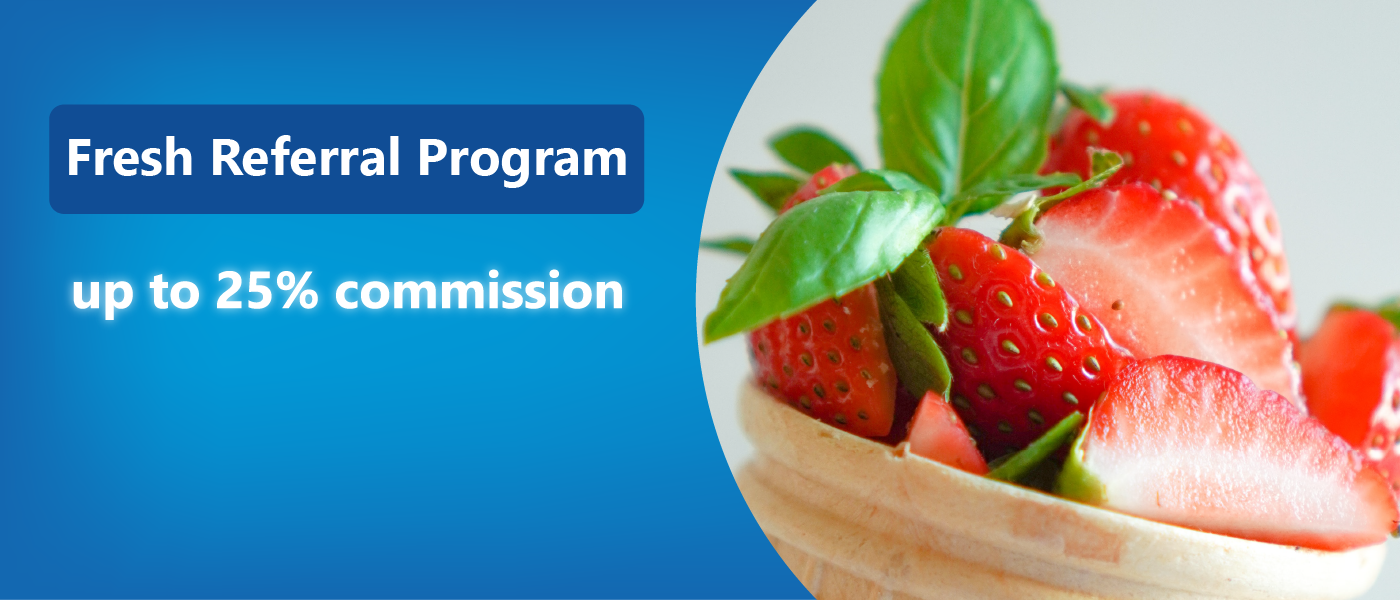 Normally, you promote the links to get people to buy the product by sharing it on your blog, website, or social media. You can earn a commission when someone makes a purchase with a unique link that comes with that recommendation. However, you can have other metrics like the number of downloads or the number of trials started.
These are the steps of the affiliate program:
You show a link or an ad for the Store on your website or your blog.

A customer clicks your link.

The customer makes a purchase.

The affiliate network records it.

The store confirms it.

You get your commission.
Commission rates vary depending on the company and the industry. They aren't the same across affiliate networks or the same products.
Affiliate marketing would normally involve three parties: merchant, affiliate marketer (you), and a customer. Anyone who has some product can become a merchant. Publishers promote the products, they do all the marketing activities across various channels: blogs, social networks, and marketing websites. We'll be covering the latter in detail. It's not necessarily a single person, a whole company can build its revenue on affiliate marketing. Customers are vital for this structure, as for affiliate marketing to function, they need to finish their purchases. Also, they determine marketing strategies, as you'll market differently based on your niche and target audience. 
For example, we choose to promote maternity clothes. For this niche, we might want to target women, pregnant or at least actively looking at pregnancy blogs, and those under 45. So, they will most likely use social media, which creates a picture of how we should promote our content.
How to get started?
Determine the niche you're interested in. 
Write about something you find interesting, or exciting. You'll have to create a lot of content to promote your links, so it should be at least close to your interests. The broader the topic is, the more content is already there. So try narrowing it down to a niche that can get traffic. Stick to a single topic. This way you can build yourself up as an expert, and also create a clearer user experience for your visitors.
Choose the right affiliate marketing program for you.
You can either go straight to the source, the merchant, or you can start with a large network with multiple programs to choose from. They act as large databases of different programs. The biggest one is Amazon's Amazon Associates. You'll earn a commission if someone buys from Amazon using your link. You can also check the blogs that write in your niche and see if they have any affiliate links. Then just do better.
Different programs have different ways to organize commission. You can either go for cost-per-click, used to send traffic to a website, or cost-per-action, where you get paid every time an action is taken. It's not always about sales, the actions can be connected to lead generation, so you'll be paid if a customer leaves their email or accepts a free trial.
Here are some examples of affiliate programs:
You can promote pretty much anything. And there's definitely nothing wrong with promoting cheap products. However, the cheaper you go, the more people you need to attract. Say, you're getting 20% of every $5 sale you make, so you'll need 1000 people to complete the purchase to make $1000 a month. If you get 20% of every $500 sale, you'll need only 10 customers to complete the purchase.
Here's how to create a website for affiliate marketing. Start with something that's easy to set up and free to use. For example, you can start with a free version of WordPress to see how it works for you. We'll share more options for website builders. You could create a website without one if you can code or can ask a coder for help, however it will make the whole endeavor more expensive.
Publish useful content, like product reviews, visitor feedback, and comparisons. Publish regularly, and update the content you already have, as search engines will need newer queries for newer products. Provide all the necessary info on the product. The idea is to give customers everything they need to know to make a purchase. Think practical advice, not a sales pitch. Whether you're writing reviews or blog posts, your content should help customers make a decision. Research keywords to cover what people are interested in.
Promote your content on social media. Browse for groups that relate to your products' interest group. Improve your SEO. SEO is all about unpaid organic search results. Any attempt at SEO won't bring immediate results, but in the long run, it can be extremely rewarding.
Check out alternative ways to attract visitors to your website.
Affiliate marketing website examples
Here are some affiliate marketing website examples for your inspiration: 
It's a website that promotes Amazon products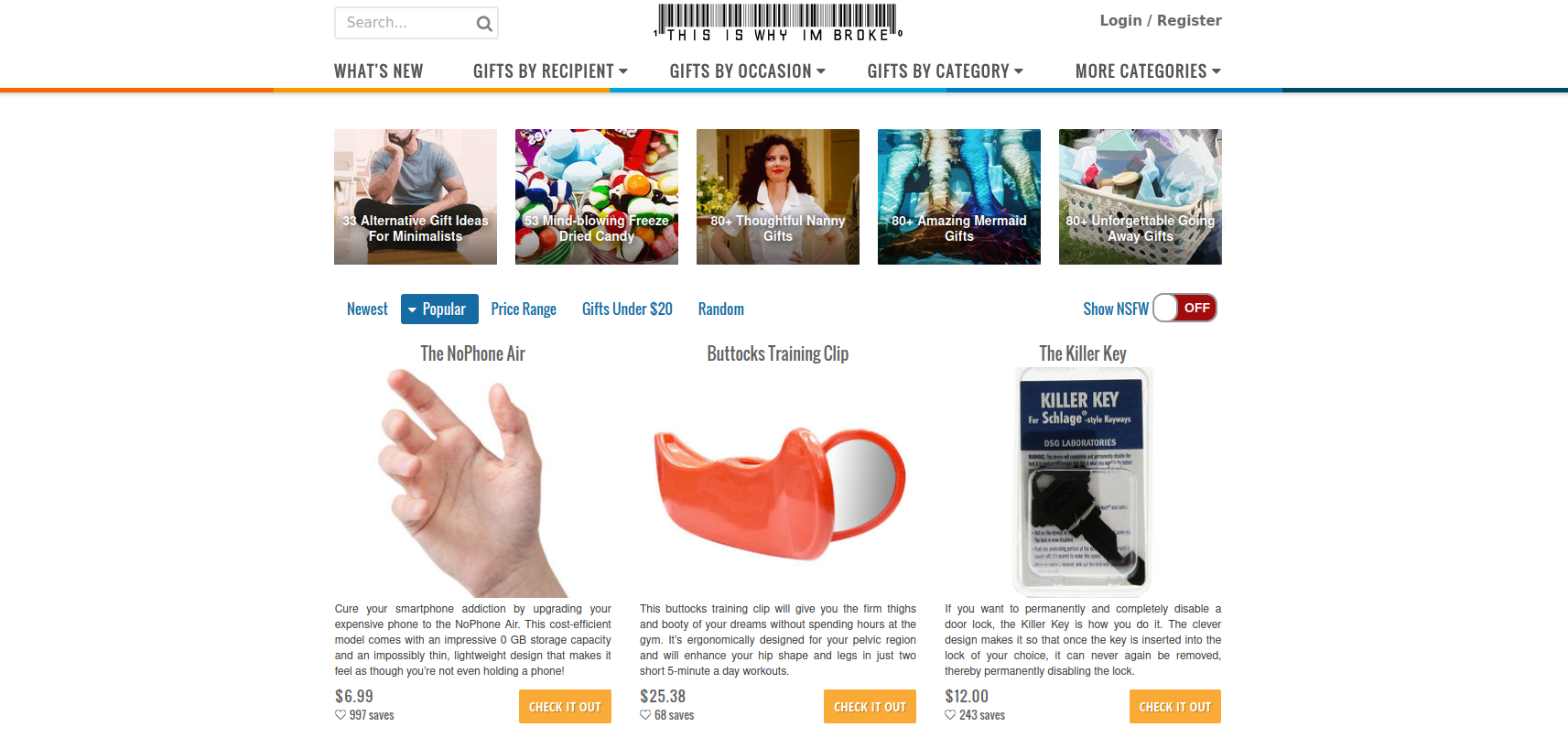 It showcases gifts, gadgets, and tech from Amazon. They mostly have some gag gifts, which can generate more traffic. And they're nailing their niche of quirky gifts: according to Similarweb, they had almost 2 million visitors in May 2021. They have multiple affiliate programs on the website, but the majority of links come from the Amazon Affiliates program.
NerdWallet is an affiliate website in the finance niche. It reviews financial products and provides expert advice on credit cards, savings, and pretty much all aspects of personal finance.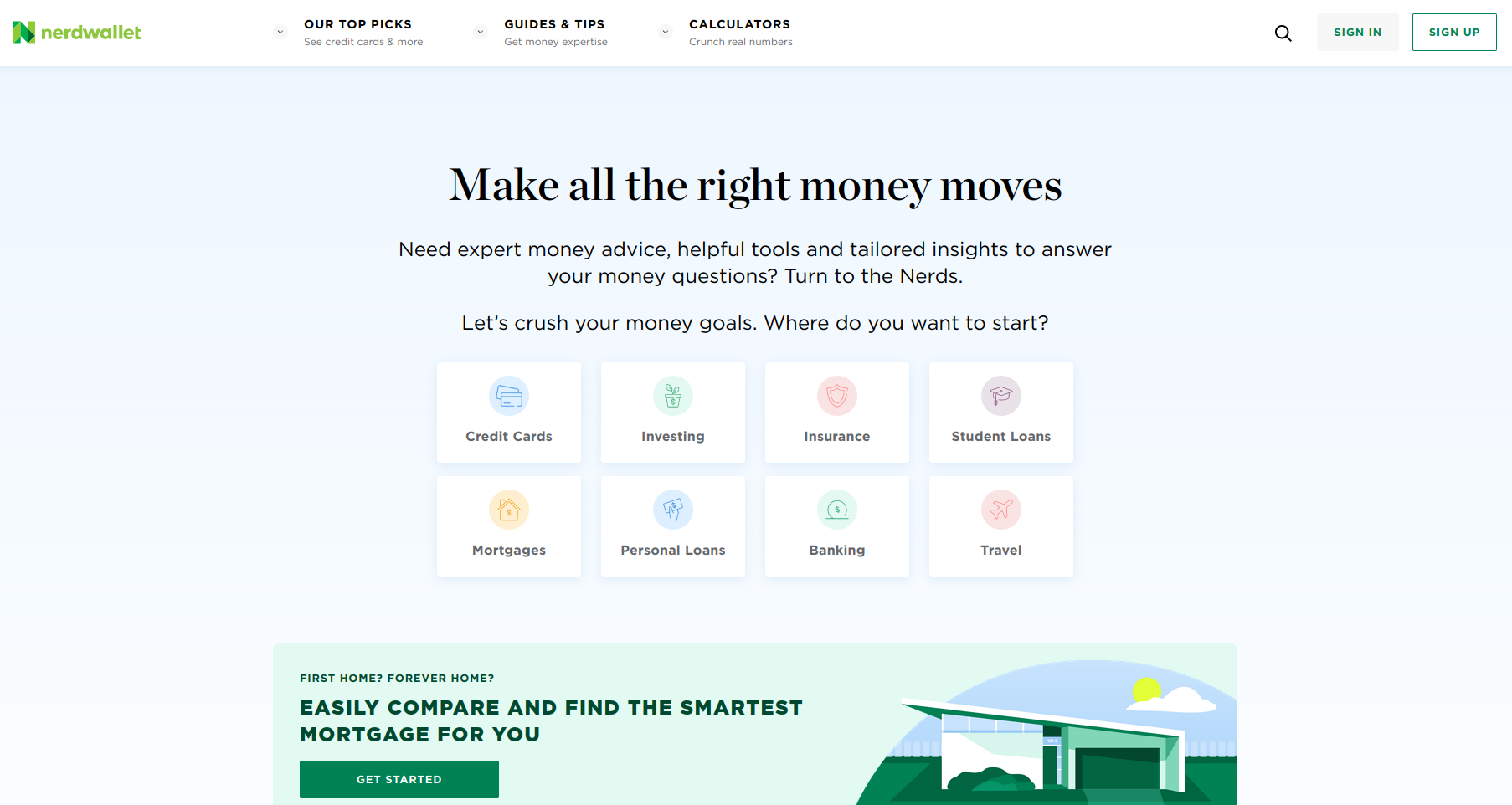 And here's proof that creating expert content works: they had more than 24 million visitors in May 2021. Not only they use the most popular keywords in their niche, but they're also updating their content regularly. For example, the credit card picks are updated every month and presented with a comparison tool. Their main source of revenue comes from multiple credit card affiliate programs.
This website is a great example of a niche blog. They don't write about all kinds of musical instruments and gear, they're concentrated on headphones only.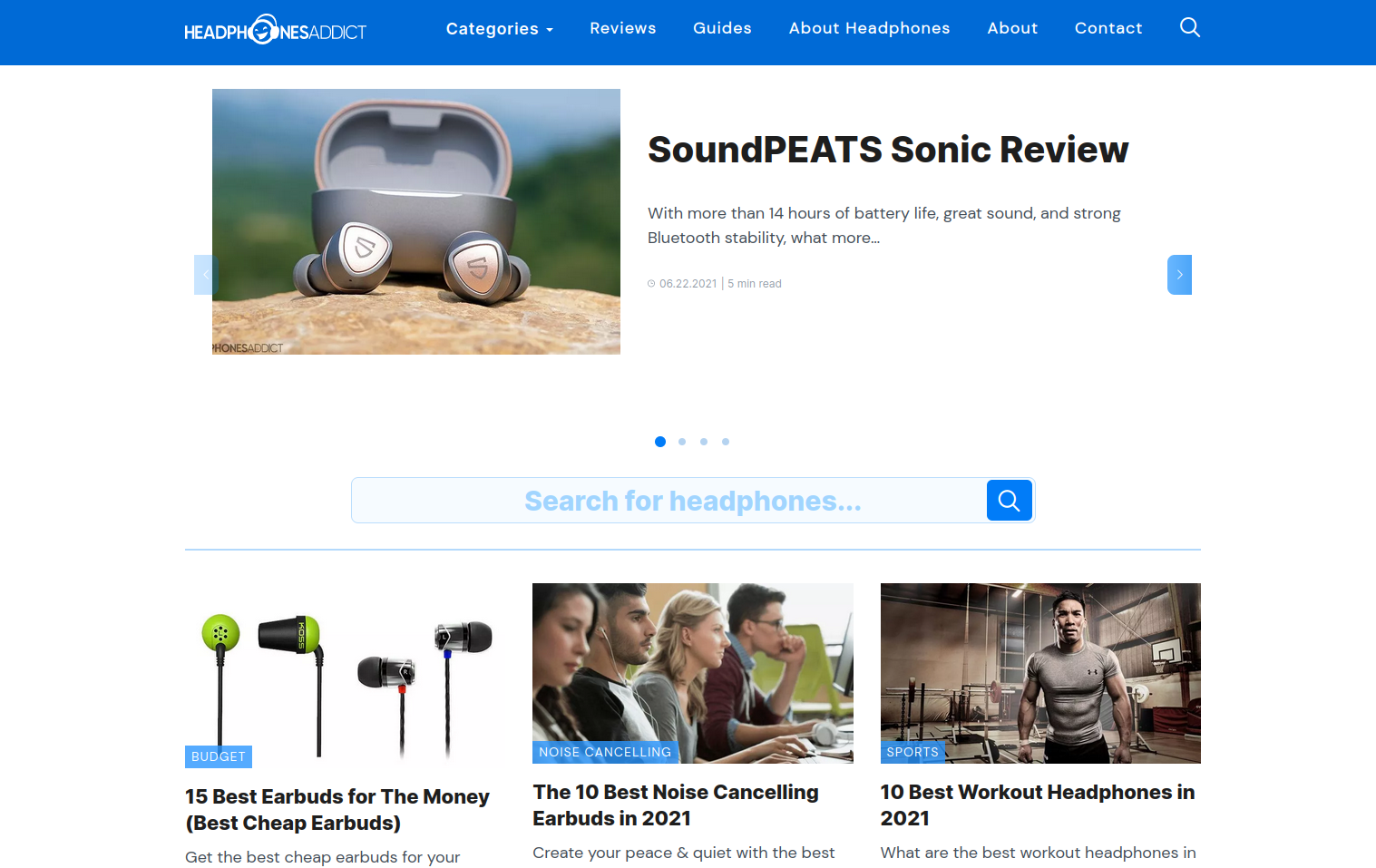 Even such a narrow topic can generate some visitors: in May 2021 they got about 300,000 visitors.
Their main focus is doing in-depth research of the product with rankings, charts, and statistics. This way, the visitors don't need to study all the possible characteristics. They provide expert content, the website even has a professional sound engineer. They create 'best of' articles to feature Amazon Affiliate links.
What type of website to make for affiliate marketing?
There are different kinds of websites you could build.
The more deals you dispense, the larger the commission. You can also earn by displaying ads. Daily deals websites create a sense of urgency with the deals being short-lived and promoting huge discounts so that people often buy stuff they don't need. You can get anywhere between 30% and 50% of every sale you push through.
Price comparison websites show you a product and its price from different stores. They might also feature users' reviews. Typically, you earn a commission when a user clicks on a link and visits the retailer's site. 
Product review sites contain expert reviews of the products you've used and tested. You can also post reviews from other users.  You earn an affiliate commission when the customer you refer to the retailer makes a purchase or completes any other desired action.
Write about your topic of interest, include affiliate links. You can either write a separate blog post for a product or include affiliate links into your posts that discuss relevant issues. The links should be relevant and not turn your blog post into a spam message. Learn how to get more traffic to your blog.
Shopping directories are based on posting paid listings and selling ad space.
How to make a website for affiliate marketing
You can start your affiliate marketing website for free using WordPress or website builders.
WordPress
WordPress is 100% free to use, and it is the world's most popular CMS – powering over 37.8% of the entire websites on the internet. It's a great place to start. It's free, easy to use, scalable, and has many customizable themes and plugins. And it's even used by brands, not just individual users. PlayStation blog or TechCrunch. Or even Sylvester Stallone.
WordPress.org is very flexible and allows you to build pretty much anything. However, it doesn't work on its own. You'll need your own domain, web hosting service, affiliate marketing theme, plugins, and probably a page builder. Page builder will let you create a customizable website like TechCrunch without having to write code.
What do you need to start with?
Choose WordPress hosting. Your website needs to be fast, scalable so that you can grow as you have more users.

Figure out your domain name. Don't make it longer than three words.




Typically, a domain name costs from $10 to $20 a year, web hosting costs around $8 a month.

Choose a WordPress theme you like. There are even themes created with affiliate marketing in mind. However, WordPress has many customizable themes, so just choose the one that fits your needs and makes your reviews stand out.

Choose your plugins. Check out

the list of the most essential WordPress plugins

.

Start creating content.

Monitor your performance using Google Analytics or visitor tracking services. Learn about

TOP10 WordPress visitor tracking tools

.
Here is the list of tools that are specifically designed for affiliate marketers to improve the performance of your links and increase conversions.
Amazon Affiliate

plugin

for a better presentation of Amazon products.

Adsanity

is the ad management plugin for WordPress. It lets you place ad banners on the header, sidebar, and footer of your website. You also can add affiliate links to your ads. The plugin works seamlessly with Google AdSense and lets you add the ad code to your website. You'll know which ads work better, thanks to the stats feature.
Free affiliate website builders
You might wish to use site builders instead of WordPress if it seems easier for you to start. We've compiled some options that are suitable for affiliate marketing.
Wix
Wix's main selling point is their drag-and-drop editor, which lets you set up a website even if you've never done it before. It's free to use unless you need something fancy. Wix will be a good fit if talking about hosting sounds too complicated, as it handles your affiliate websites' hosting. You can also register a new domain name through Wix or connect a domain you already bought elsewhere.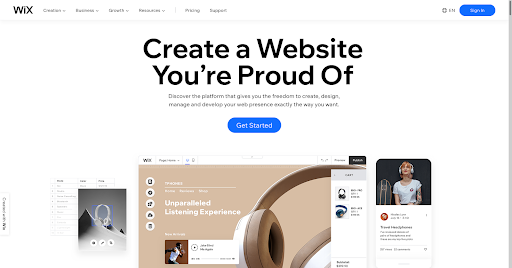 Features: 
Personalized SEO plan: Wix analyzes your website and comes up with ideas on what can be done to rank higher. It can analyze your keywords and index your site on Google.

Apps: they work just like WordPress plugins and add new features to the website. There are 250+ apps to choose from.

Wix Velo brings more advanced customization if you can code or want to hire a developer. You can add dynamic pages, create apps and add databases.
Pricing: you can get started for free with 2 GB bandwidth and 3 GB storage. Paid plans start from $14 a month.
Squarespace
Squarespace could become your free affiliate website builder, even if it's geared towards creating e-commerce websites. You won't be selling anything directly as an affiliate marketer, but it has plenty of options created to increase conversions which can be useful.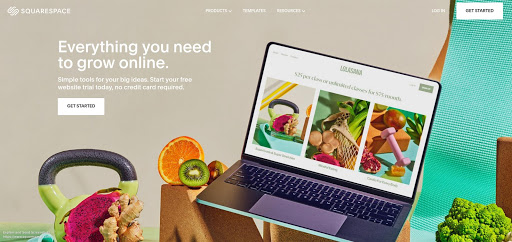 Features:
SEO tools: automated XML maps, SEO checklists, editing meta information.

Advanced image formatting: once you upload an image, Squarespace generates variations based on size, so that it looks good on any device

Commenting system

Easy site changes: change a feature used on multiple pages in one click
Pricing: no free plan. Paid plans start from $12 a month.
AppyPie
AppyPie is created for building affiliate websites. You don't need any coding skills to get started, they operate on the drag-and-drop interface. It also has a built-in preview from different devices, so you'll know how your site looks from mobile. 
Pricing: Free to play around, once you want to connect a domain or edit your website, you'll need to choose the plan. The basic plan starts from $18.
| | | | |
| --- | --- | --- | --- |
| | Customization options | Ease of Use | Affiliate templates |
| WordPress | With extra themes and plugins – endless | Has some learning curve | Yes, tons |
| Wix | Templates and Wix Velo | Straightforward, drag and drop interface | No |
| Squarespace | Customize templates within the layout | Easy | No |
| Appypie | Within layout | Easy | Yes |
Affiliate marketing without a website
Typically, you need a website or an active YouTube channel to participate in affiliate programs and get revenue. 
Here is how it works for the Amazon affiliate program.
The Amazon Affiliate program, or Amazon Associates, is an affiliate marketing program that you can join for free. 
Can you be an Amazon affiliate without a website?
To become an Amazon Associate, you must have an active website, blog, app, or YouTube channel. It's also helpful if you've pre-populated that site with content, so it appears active and authentic to both users and Amazon.
Remember, you must be able to describe the purpose of your website as part of the application process. So, have a firm idea of why you're creating your site, the audience you'll target, and how you'll bring in traffic.
Instead of a website, you can choose any publishing platform, like Medium, LinkedIn, or YouTube if you'd rather create videos. If you create videos on YouTube, you'll add affiliate links to the video descriptions. Before applying for the affiliate program, create a few videos so that your channel is live.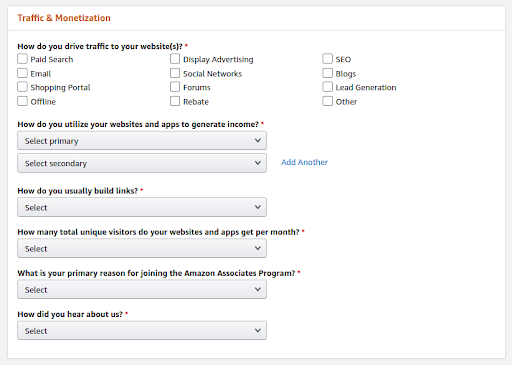 Another step you can take is to promote your content on social media platforms. This one is optional, as not all audiences use social platforms for their product research. You can get traffic by posting in groups on Facebook or on platforms like Quora and Reddit. Just try to make your content relevant to the query, otherwise, you might get banned.
Learn more on how to create and promote affiliate links without a website.
Summary
How to create a website for affiliate marketing to generate income?
Determine the niche that you're interested in 

Choose the right affiliate program for you. The most common example of an affiliate program is Amazon Associates.

Determine the type of website you want to create such as a blog or product review site.

Check out examples of successful affiliate websites to apply their experience.

Make a website using WordPress, or try site builders such as Wix.

Choose tools to increase conversions such as

push notifications

Track visitors and conversions using trackers such as Google Analytics