When you create a B2B or B2C company's website, you need a plan on how to attract visitors. Strategies for generating website traffic are dependent upon your industry and your budget. The strategy that yields results the quickest, and most expensive, is to use ads: website banners, context ads in Google search, social media ads (i.e. Facebook target campaigns). Search engine optimization (SEO) operates with many complex methods, but it takes time to see results. All of these would be considered "orthodox" ways of generating website traffic.
Learn more about SEO tips for blog promotion.
In this article, we discuss some alternative, or unorthodox ways to get website traffic and provide you with proven methods that you can use for any website.
Invite Others to Guest Blog on Your Website
Guest blogging works on two sides, both of which provide excellent opportunities to attract new users to your website.
You might have read about finding influencers and writing articles for their blogs in the article "7 ways to get more traffic to your blog without ads".
Bloggers are interested in increasing their exposure and seeing their links on other websites. Therefore, they would likely accept your invitation to post on your website with pleasure. You will get new qualified content from industry leaders. Also, bloggers will likely share their article with the link to your website on Facebook, so you can get new visitors. 
New visitors to your website need to be engaged and encouraged to return to your website. Use Call to Action buttons, lead magnets, and/or recent and popular posts, to notify new users about your company services. And, you should provide a means by which those users can easily get back to your website – subscribe to email or push notifications, connect to your social network pages – such that you can also contact them.
Create a Viral Content
Any content – text, videos, etc. – is deemed viral if it gets a significant number of social shares and views. This content attracts a lot of traffic; therefore, its creation is very valuable to a website.
How to generate viral content?
Define a target audience based on interests, requests, language, special words, etc.

Choose a topic that is in high demand. Explore Quora questions, comments on popular blogs in your industry, and reviews. 

Use Google Trends, et.al., to find unresolved issues or popular search requests.

Headlines of viral texts or videos lure people into clicking on a link. They are intriguing or ambiguous, which pique peoples' curiosity. Headlines that give solutions to problems are also attention-getters. 

Content should be useful or entertaining. Viral content amuses readers, gives them something new, gives warnings, or makes them laugh. It can be pieces of advice or inspiring quotes. Most shareable posts encourage people to feel better about themselves.
You can find examples of viral content in Buzzsumo. By entering keywords related to your industry you will find the most shared posts.
Start a Podcast
Ask people from your industry for an interview. The more influencers you engage, the better results you will get. You can use this content as a text for a company blog, or as an audio for a podcast. Publish podcasts on external platforms. The link to your website will also be there. So, anyone who listens to your podcast can easily visit your website.
TIP
Examples of podcast sharing platforms – Google Podcast, Soundcloud, Podomatic.com, etc.
In addition, your users have the option to download a podcast, instead of reading text. The value of the website is higher in this case. This content is more interactive and shareable. And, it helps to increase the perception of the company as an authority, to build its brand.
Create Automated Email Segments
Newsletters, alerts, offers, and triggered emails, have different goals and audience segments. When you create contact lists, pay attention to how users opt-in, their behavior, interests, etc. Create subscriber segments based on these characteristics, so that you can send emails according to their needs. Targeted campaigns have a better open rate and CTR. Thus, your loyal visitors return, you keep them engaged, and your website traffic increases.
TIP
Make your emails clear and concise, with only one link or CTA. Your emails should be similar to messages people get from their friends. Make minimal use of images. Don't include attachments or media content in your emails.
Read more on how to prevent your emails from going to spam folder.
Generally, a subscriber only receives emails about new posts on your website. But, you can send new subscribers an email course to educate them about previously posted articles. Introduce them to the most popular materials, even if they were published a year ago. This approach will bring more traffic to your old posts, and your subscriber will gradually get the info that gives them deeper insight into your brand.
Make Sure Your Website Loads With Excellent Speed Everywhere
If it takes a long time for your website to load, your bounce rate will most likely increase. If loading takes more than 1-2 seconds, you need to do something to improve your website performance.  
You can perform a speed test on Pingdom.com, or on other specialized services.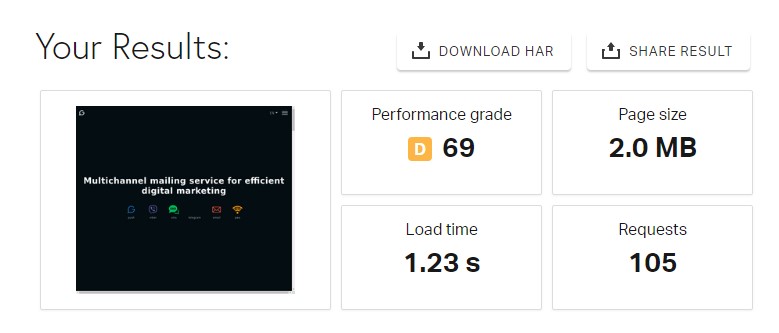 PageSpeed Insights by Google can also give you advice to reduce the load time, for both mobile and desktop devices.


Use mobile responsive design and proven plugins (i.e. WordPress). Remove all unused elements, and try to keep your media content hosted externally.  All of these serve to optimize your website performance.
Establish a Trusted Profile in Online Communities
Trusted profiles are extremely valuable for business. They are just as much a part of the company brand as the website. 
Search for pertinent communities out on Facebook. Establish a company profile and attend to it every day.
Leave useful comments on popular posts

Post and share content on your page

Find highlights of current developments in your industry and share them with your readers

Follow influencers, explore their behavior and use their experience

Establish relationships with influencers
Every social network has its own tricks on how to attract new followers. Make use of platforms where your target audience is already engaged to quickly achieve results.
Check Quora and niche forums for relevant topics. Add comments on them and promote your profile gradually to increase your authority.
If your profiles attract your target users from online communities all over the web, your website traffic will gradually increase.
Be Active in the Comment Section, Even in Old Ones
User comments on your website will increase your credibility for search engines and new visitors. Answering questions is your first duty in order to build trust with consumers. 
Implementing a well-planned SEO strategy, your old posts will get new readers from search results. Take note of every new comment. Provide users with meaningful answers and advice. Any additional info that you can provide, will complement the page content. It's a good indicator for search engines. And, your readers will become more informed, which will likely lead them to spend more time on your website. 
Moreover, search on other websites for user comments on your topics. Be active in the comment section to attract new readers to your platform or blog. As in building a trusted profile, provide high-quality info. If a website allows sharing links in comments, include links to useful content on your website when you can, without spamming. In this way, you can grab readers' attention in the comment section of different niche websites and steer them to your web pages. You'll get free traffic from all over the web.
Use Push Notifications
Push notifications are very effective for user retention. Installing push notifications can be done in just three easy steps: Registration – Add a website – Integrate.
In 30 minutes, you'll start collecting subscribers.
Read more about push notifications and their features.
If you notify subscribers about new offers, posts, or services, they will come back to your website repeatedly.
To get the highest CTRs, use segmentation tools for personalized and targeted campaigns.
Let's summarize
Generate website traffic using unorthodox methods:
Guest blogging

Create viral content

Publish podcasts, along with their transcripts

Send targeted emails even with old content

Monitor and maintain optimal website performance

Establish trusted social network and industry forum profiles

Leave comments on websites in your industry
TIP
The
Gravitec.net
service is an easy-to-use platform for sending push notifications from websites. Push technology enables you to inform subscribers of updates and new posts. You can also create targeted and triggered campaigns, send notifications automatically, and see campaign statistics.