A website of any industry meets difficulties trying to reach its audiences with its content. Typically, people search for the information they need at the moment in Google, visit a website, and leave it. Web push notifications help retain your readers and nudge them to visit your website again. This is a tool to multiply interactions with your website after it was once visited. 
Here we discuss how web push notifications can be used to deliver different types of content. We'll show you use cases that apply to news and media websites, blogs, SaaS, and e-commerce websites.
Why Use Website Push Notifications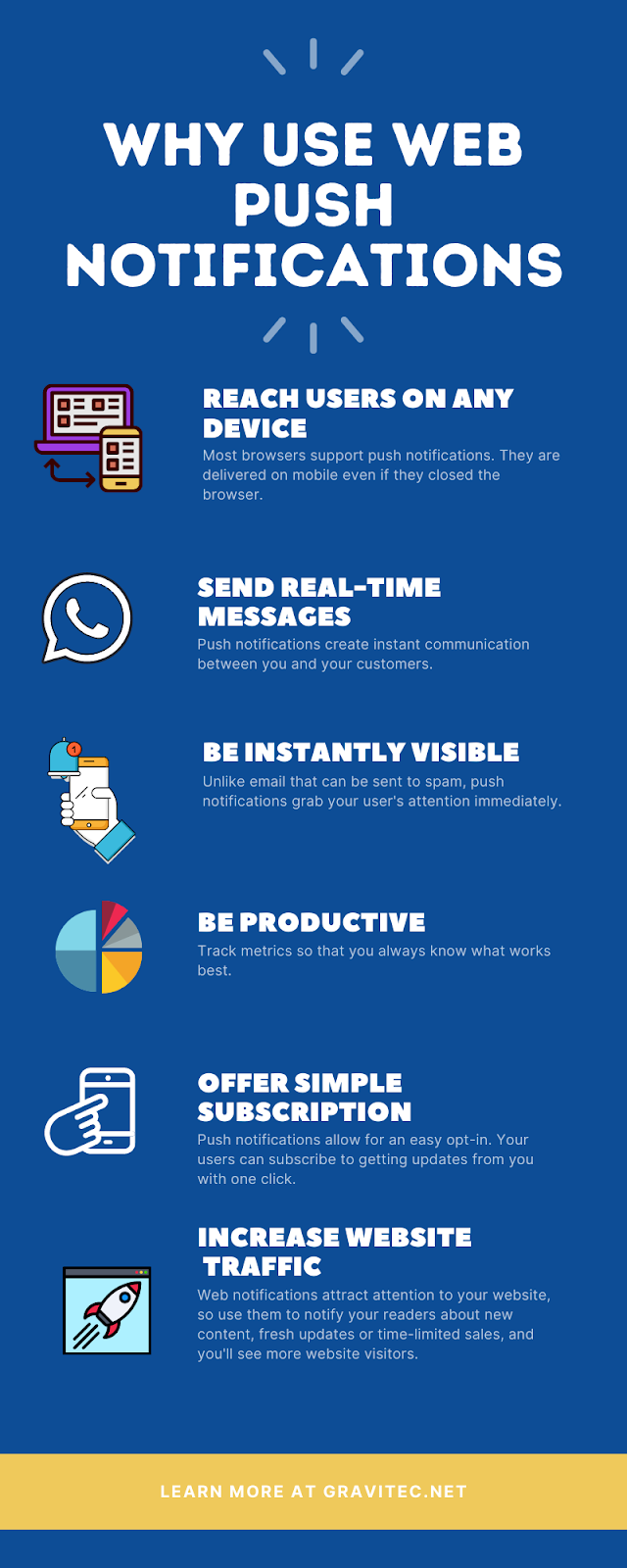 Here are some common ways to use push notifications:
Deliver urgent time-sensitive messages

Nudge subscribers to immediate action

Notify of new publications

Educate new subscribers about the product

Remind of an upcoming event

Remind of an unfinished action
Learn more about the benefits of push applications.
We'll specify some use cases for bloggers, media, e-commerce, and SaaS. 
Bloggers
If your blog runs on WordPress, you can start sending notifications in less than 10 minutes using a plugin.
Push Notification WordPress Plugin
However, any website can add push notifications regardless of which CMS or site builder they use. Check out the guide on how to start.
Here are some examples to give you an idea of the ways you can use notifications for your blog.

You can also welcome new readers with an introduction, let them know who they have subscribed to. Share your background or the message of your blog. It creates a sense of familiarity and sets expectations. 
Schedule notifications to be inline with your blog posts. The more relevant your notification is, the bigger the chance they will open it and read your posts. See how to set up notifications to get more views on your new posts on WordPress.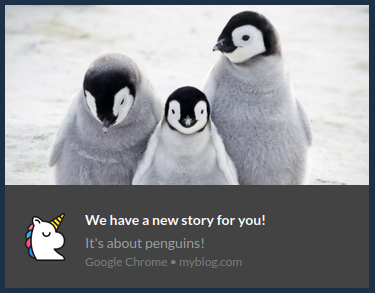 Include social proof, if possible. You can work in statements from your customers, mentioning the results people get or share how many people have already expressed their interest.
Recommend relevant content
Send content based on what your readers already like. Send popular content in the category they are interested in.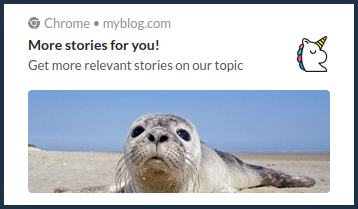 In addition to your social share buttons, consider reminding your readers to share interesting articles on social media. 
Let your readers tell you what they're most interested in. With push notifications, they can share their feedback in one click. Concentrate on one question at a time and get valuable feedback from your readers. 

Select the best performing content of the day or week and turn it into push notifications for your loyal readers. They will read your best content, and you get extra views on the pages.
Send reminders if there's an event that is about to start or an online course they joined. 
Web Push for Media Websites — Use Cases
Media websites can use push notifications to create relationships with their readers and provide information segments to cater to their interests.
Case Study on How to Grow a Media Website using Web Push
How do you use them? 
Notify your users as soon as something interesting happens in the world
Do you already know who won the election? Do you have an update on the number of pandas in the zoo? Let them know asap. Even BBC uses push notifications to deliver breaking news.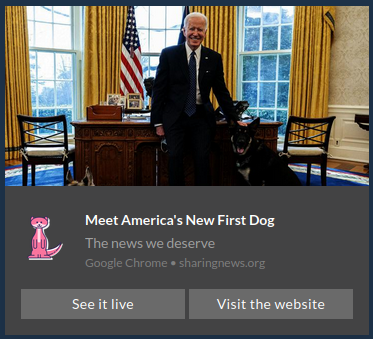 Send notifications in waves when covering evolving stories of security threats or political scandals. This way, your readers won't feel over-alerted because these are time-sensitive stories that are developing. 
For example, here's a chart with push alerts sent by major news media per week, including breaking news and categories segmented by interest.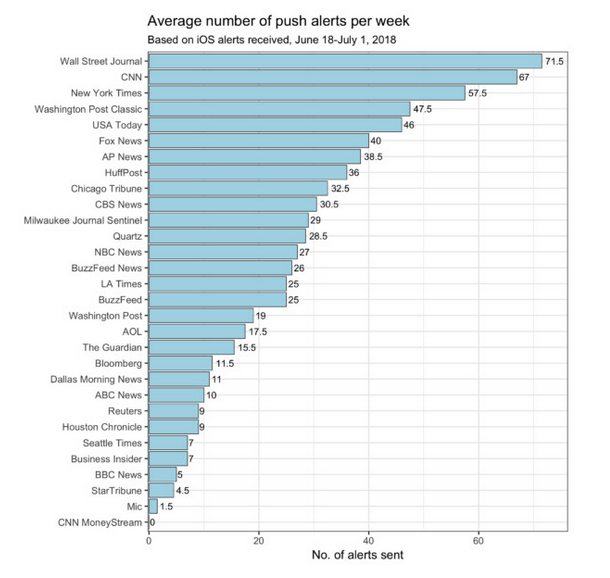 Learn about the optimal frequency of push notifications. 
Let your readers support you
Send push notifications to offer a paid subscription with awesome bonuses.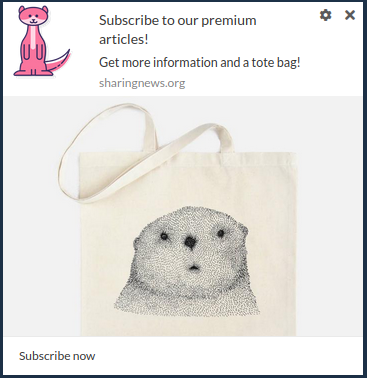 If you haven't considered paid options for your news website yet, here's an article on paywall solutions. 
Let them consume your content in different forms
Have you added an audio version of your newest article? Or maybe turned your recent post into infographics? Let your users know. 
This strategy works best with evergreen content. For example, if you share an article on the latest Apple presentation, it will become old news pretty soon. An article on best ways to clean your iPhone can be repurposed multiple times: turn it into an infographic, break it into multiple cards, turn it into video on phones and Covid-19 etc. Don't forget to adapt your content to new formats. 
Don't let all the gorgeous digests you've created go to waste
Send your readers a push notification to remind that you have a newsletter, so that your readers can stay up to date with all the most important news.
Learn about setting up digests. 
Remind users to finish subscription
Abandoned subscription often can be a result of plain forgetfulness. Remind your readers to close the deal.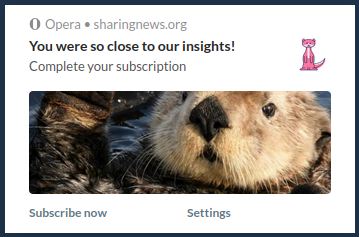 Encourage them to share what they're interested in
Nudge users to share your articles on social media. This way you'll reach new readers.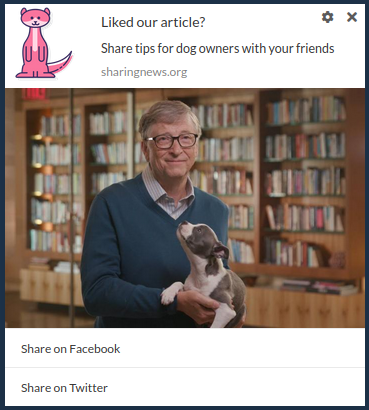 Create a campaign to share articles that will create a context for your reader, give them a background story. Or send push notifications based on articles your readers already liked.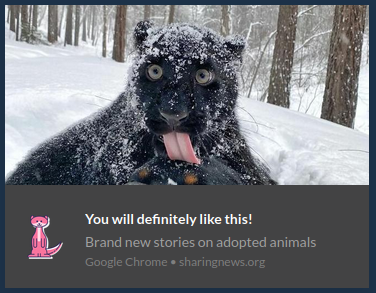 Guardian used push alerts to cover Trump's taking the oath.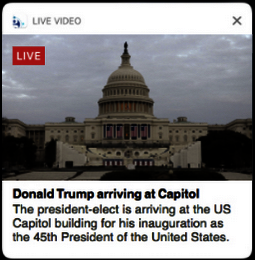 Create segmented channels
Wall Street Journal sends a number of alerts through focused channels such as technology, economy, science, politics, and opinion.
Return your users to a forgotten tab.
Your readers will often have 20+ tabs open at the same time, which makes it all too easy to forget about your content. Send a reminder with the news they were interested in reading.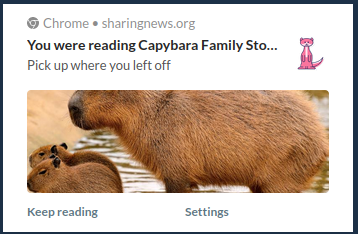 Go to your readers to gain insights and new ideas. It will also work towards building and strengthening your relationship. Make it easy for them to share their opinion with you, and don't forget to include a response from a company, or maybe a premium discount to encourage dialogue.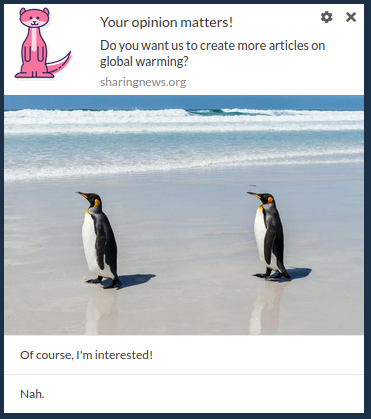 Web Push for e-Commerce Websites — Use Cases
E-commerce is a huge deal, and it keeps getting bigger: by 2040 it's estimated to cover 95% of all purchases. It's projected to reach $4.88 trillion in 2021. So, there's a vast space to start E-commerce business, with some stiff competition. 
Get the Best Price for Push Notifications
Why should you use push notifications for E-commerce?
better CTR

work in browsers, so you can cater to the needs of users who don't use apps

better visibility, push notifications are delivered into a notification tray, so they don't suffer from Ad blockers.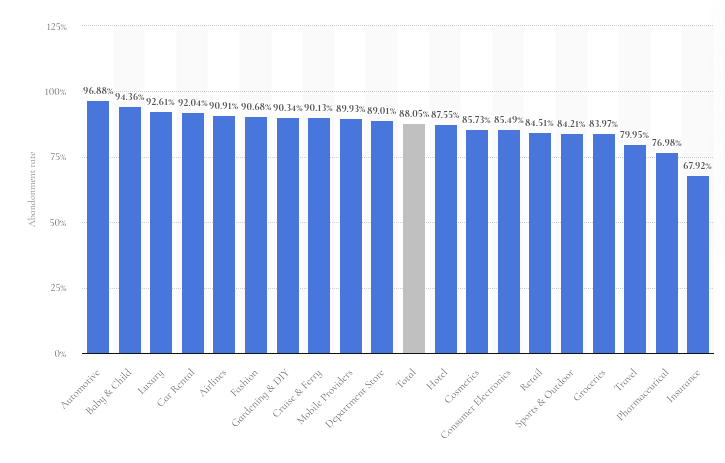 (source)
In March 2020, 88.05 percent of online shopping orders were abandoned, not converted into a purchase. It doesn't necessarily mean that your customer lost interest in a purchase, sometimes they just got distracted. 
Here are the ways to use push notifications for an e-Commerce website:
65% of a company's business comes from existing customers. So you might want to use web push notifications to make your customers come back again. 
Here's how you can customize opt-in for better targeting. Offer your customers to subscribe, so that they:
If the product is unavailable at the moment, it's not a reason to lose a customer. E-commerce websites use push notifications to update customers as soon as the product is back in stock. 

Another way to re-target a customer is to remind them about an unfinished purchase. According to Statista, online retail shopping has a cart abandonment rate of 75.6%. Set up an abandoned cart trigger notification to remind them about the forgotten cart. You can throw in a discount offer as an incentive for purchase. 

You can send a series of notifications to target the issue of unfinished purchases instead of just one. 



Content marketing is a way to grow your business. Before buying something, people research the topic. If you sell kilts and host a podcast on all kinds of tartan, people will trust your opinion on the significance of Kilt Prince Charles wore and also will go to your store to buy one. 
For example, here's a content marketing example from Glossier. They are a cosmetics brand. The YouTube series of influencer collaborations comes as an extension of their slogan "beauty products for real life."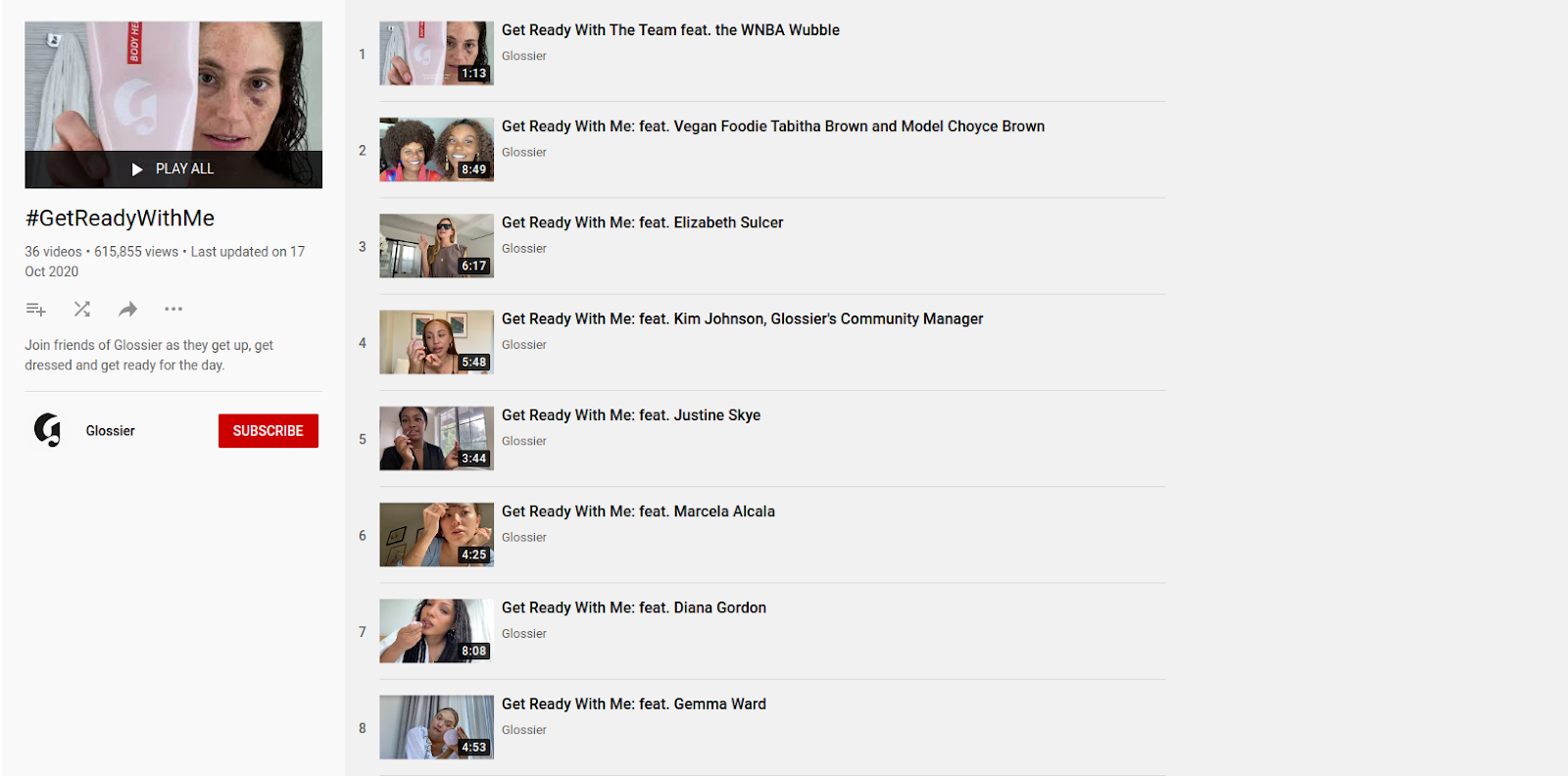 Whatever strategy you choose for your content marketing, make it easier for your customers to see what you're doing. Use web push notifications to share your new blog posts or podcasts or raise awareness on causes your brand supports. 
This is the approach for the customers who are still on top of your sales funnel. Try notifications that are information-based to nudge them towards purchase. 
Create an offer that complements or supplements the purchases your customers have already made. For example, if your customer bought an iPhone, encourage them to buy iPods at the same time. Or offer your customer care products for the item they've just bought. You can send push notifications with supplementary products, package deals, promote what customers bought together, provide a free shipment if bundled together.

Encourage your customers to add on services or get a more expensive offer. Showcase a similar, but a more expensive model. Use web push notifications to promote new arrivals, bestsellers, seasonal offers, products with customer reviews.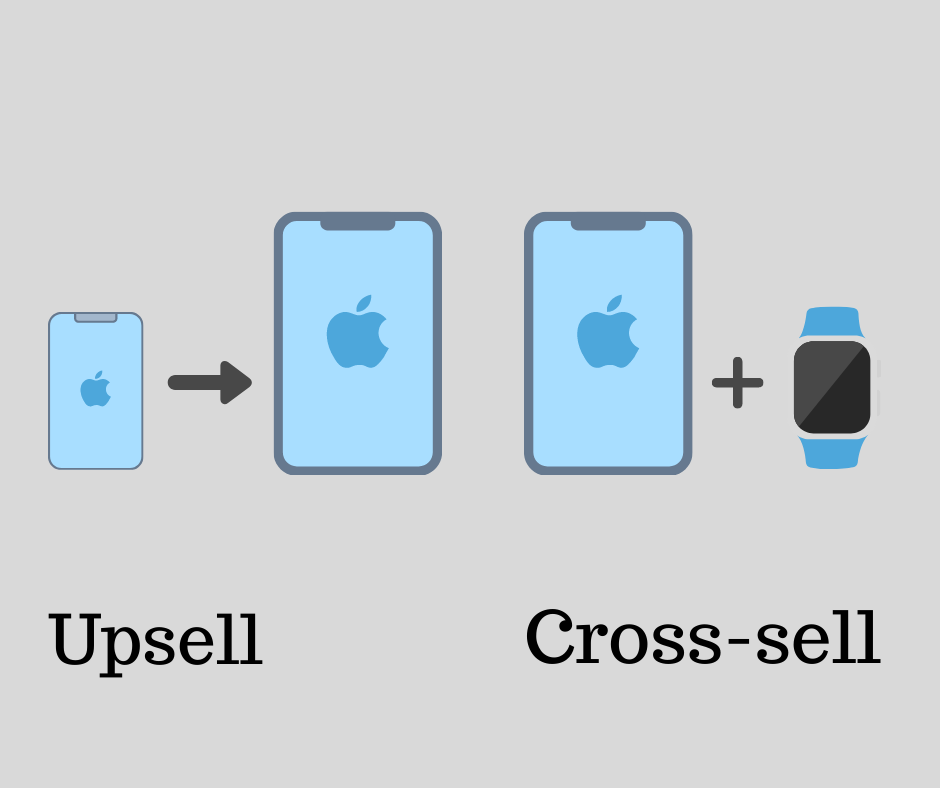 Increase your customer loyalty and give them an extra push to make a purchase by creating special offers or giving early access to sales. 
Sales and offers attract users and increase the chances of a transaction. Send alerts before the sale, during, and after the sale to engage your regular customers.
Pre-sale reminder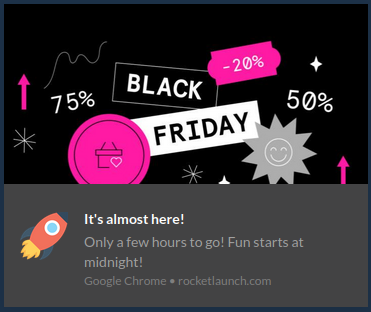 Last chance reminder

Send segmented and targeted notifications when you get new products in stock.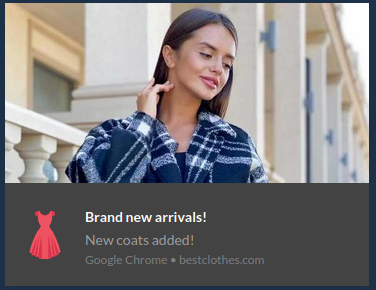 A study says most people read reviews before making a purchase: up to 83% compare positive and negative reviews while researching the best product. Use push notifications to collect reviews and direct users to review pages. This way, even if people are reluctant to leave a review, you will make it effortless for them.
It looks similar to feedback, but instead of reviewing your products, your customers can share their experience with your service. It will also show that you care about the user's experience and want to improve. Not only that, but it's better to learn about a mistake as soon as possible. Create a push notification, so that they can easily share their thoughts on delivery or packaging.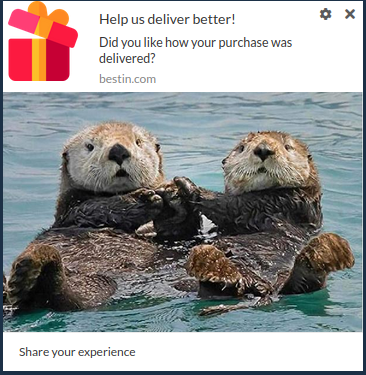 Web Push for SaaS — Use Cases
Here's how you can leverage web push notifications for a SaaS website:
Send your users offers that will give them reasons to revisit your website. Reminders that a trial is going to be over soon increases the chances of users subscribing to the full version. Throw in a special offer, and your conversion chances will increase. 
Say, your potential customers are looking at the pricing page a second time. Use push notifications to announce an ad hoc discount. 
When you upgrade your product, notify your customers. 

You also can use push notifications to show that your team is fixing all the issues your customers experience.
Make giving feedback easy. If you use push notifications, your customers will tell you where you need to improve whatever you're doing. This way you'll also get to key metrics like churn and lifetime value. 

Make festive offers for holidays or the end of the year.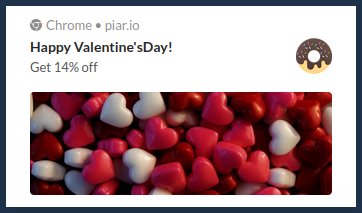 Share articles from your blog to set your image as an expert. Blogs can generate interest and showcase your expertise in case studies. Share how your product solves the tasks of a business.
Inform users about upcoming events. Webinars or podcasts are increasing brand loyalty and give you a chance to educate your users.

Create an action point that shows interest level, for example, "download PDF." If the visitor of your website downloaded the file, they're interested. Trigger push notifications to add value to the subscriber. 
It's great to have actual paying customers. What you need is for them to keep choosing your service. Craft notifications based on what you already know about your customers. For example, direct new users to the features that they'll find most relevant to them at the beginning of their user journey.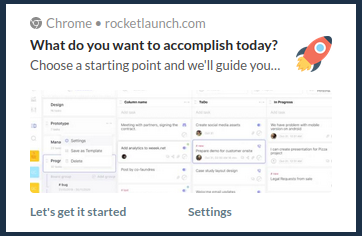 You can activate existing customers by highlighting some renowned users of your product. Adobe shares their famous stories to encourage users to integrate their product into their work. And try to get as creative as David Fincher.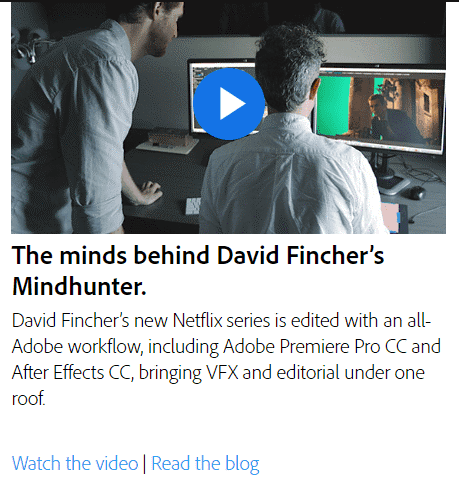 Summary
Push notifications can be an incredible tool to boost engagement with your services and products. They give you more chances to be noticed in a competitive market.
For blogs, you can use push notifications to welcome new readers, share new stories, and promote your online courses.
For media websites, push notifications can be a great asset to notify people about news, create segmented feeds based on readers' interests, promote subscription to your paid articles, send digests and even communicate with your readers. 
For E-commerce websites, you can re-target customers, deal with cart abandonment, cross-sell items, offer holiday and season sales and promote new products. Push notifications can also be a way to get feedback from your customers. 
SaaS companies can rely on push notifications for the activation and retention of their customers, which is cheaper than getting new customers.