Push notifications appeared not long ago and since became extremely popular in digital marketing. What's the secret of this technology? How do the most successful companies increase their income with the push channel?
You'll find the answers in this article, but let's clarify meanings first.
TIP
Push notifications in
mobile
apps differ from web push. The last one is a websites notification associated with
browsers
.
Although push notifications meaning has two vectors, we will talk in more detail about web push technology, its functions and benefits for business today.
What is Push Notification?
Push Notification (browser push, or web push) is a short message that comes up from a website via browser to computers and mobile devices.
Such notifications return the user to the website he has already visited. They do it much more efficiently than contextual advertising or any other type of mass mailings. The technical capabilities of push campaigns allow us to develop more productive and responsive to users marketing strategy.
TIP
Push notifications from
mobile
apps encourage the customer to use an app that's already installed on his smartphone. Web push allows you to return the user to the website he once visited and establish a long contact with them.
Probably any smartphone or laptop user has seen such type of notifications. 

Web push is a cross platform technology. The notification appears on top of all opened windows and stays on the screen of the desktop device for some time. For Windows 10 and Mac OS, push after displaying on the screen goes to the Notification Center. User can view it there later. On mobile devices (for example, on Android OS), it pops up even if the browser's inactive.
History
In 2001, RIM created the first

email

alert system for the Blackberry phones (Push Service). There was no need to go into the mailbox to check for new letters since.

In 2009, Apple introduced push technology for the

iPhone

. Since then, push notifications have become an integral part of mobile apps. To this day, they return the user to the application installed on his smartphone. The same function migrated to applications for OS

Android

.

After a successful launch of technology for mobile devices, Apple developed an alert system in desktop browser Safari. However, it's got mass popularity after Google support. In April 2015, Google introduced a web push for the Chrome browser (version 42). Then it was implemented in Firefox. Today, the Opera browser supports technology as well.
Free push notification technology from Gravitec.net supports five browsers on desktop platforms (Chrome, Opera, Firefox, Safari, Yandex) and four on Android platform (Firefox, Chrome, Opera, Yandex). This diversity allows you to cover more than 85% of the entire audience of internet users.
Types of Push Notifications
Browser push notifications are classified by:
receiving devices;

browsers;

appearance;

campaign targets.
Mobile and desktop devices
Web notifications come both on desktop (laptops, PCs) and mobile devices (tablets, smartphones). Here's how a push from a website on a PC looks like:

And the same on the smartphone:

Browsers: Chrome, Opera, Firefox, Safari
It's necessary to consider the operating system of the receiving device. For example, the web push will look different for Windows 10 and Windows 8 with the same browser.
The most common examples of notifications for popular browsers:
Chrome (Windows 10)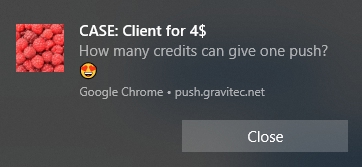 Chrome Mobile (Android)

Opera (Windows 10)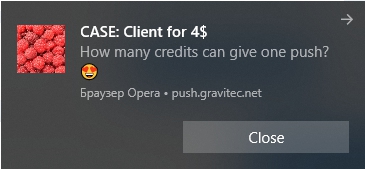 Opera Mobile (Android)

Firefox (Windows 10)

Safari (Mac OS)

iOS doesn't support web push technology today.
Appearance
Gravitec.net service suggests the advanced features of push notifications and customize their appearance according to the needs of the campaign.
Basic notification structure:
Header

Text description

Image (192×192 pixel)

URL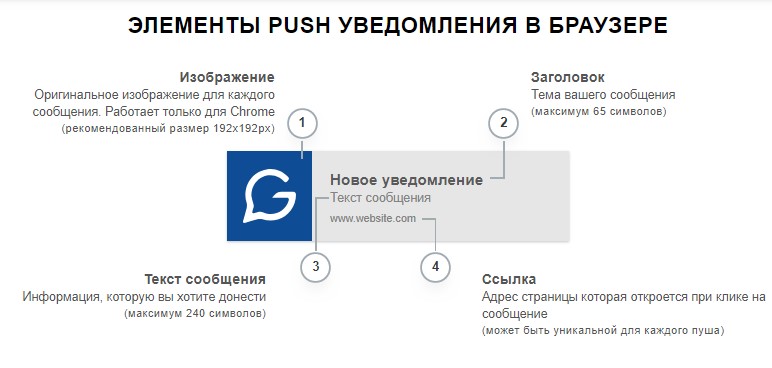 The text holds up to 240 characters, a little less than a post on Twitter.
URL is not only the websites address, but link on Facebook page as well.
You'll get big images (360х240 pixel) and an extra button as advanced features.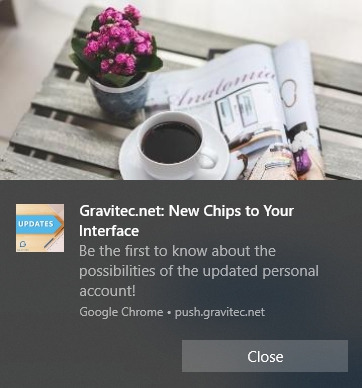 UTM tags for the buttons allows to track clicks on them.
Campaign goals
There are several types of notifications, depending on the goals and the subject of the advertising campaign:
Service;

Promotional;

News;

Personal;

Trigger;

Targeted.
This is not a complete list of types. Each business has its own peculiarities in communication with the consumer.
The website sends service messages to alert subscribers about changes, technical problems, etc.
Promotional notifications are one of the most common forms of interaction with consumers for e-commerce. Such push reports on sales, discounts, great deals.
News alerts are typical for the media. This notification returns to the website a huge number of users. E-commerce websites should use it as well.
Trigger campaign responds to the subscriber's action on the website. For example, push appears to return the user to an abandoned cart.
Push in targeted campaign works with individual user groups by interest, region, device type, etc. This feature is available in the segmentation function in the Gravitec.net service.
How Do Push Notifications Work?
How does web push technology work?
 

The visitor enters the website.

The website offers to subscribe to the notifications.

The user becomes a subscriber in one click (on the HTTP-websites two clicks are required).

Now you can send him messages.
Gravitec.net specialists have developed a multifunctional push notification service for quick installation of technology on web resources. The software includes not only the ability to send messages but also advanced statistics for all campaigns, the segmentation of the subscriber base, analytic tools.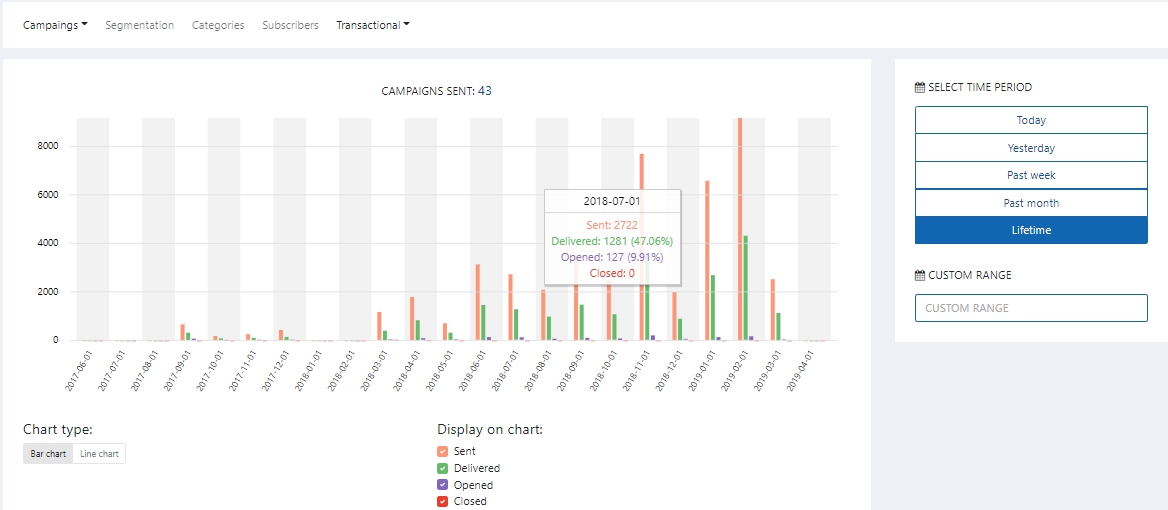 It's enough to go through a simple registration in the service for connecting notifications to the website.
Watch how it works in our video on Youtube.
What does the technology look like from the inside?
Three devices are involved in the process: a user device / browser (the Client), a server hosting the website (the Website) and a message server (the Message Server).
The website shows the page to the Client connects to the Message Server. The Client registers and receives a personal identifier (ID). Then he sends his ID to the Website, where the data is processed. After assigning an ID to a specific device, the Website sends a message through the Message Server to the Client. Subscribing, sending and delivering push messages is JavaScript based.
Firebase Cloud Messaging by Google is the most accessible Message Server today.
How are Push Notifications Different From Text Messages?
Push notifications, unlike SMS text messages, come not only on mobile but also on desktop devices. Besides, they have completely different data transmission technology.
Let's compare main features of different marketing channels in one table:
| | | | |
| --- | --- | --- | --- |
| | Push | SMS | Email |
| CTR | 2-35% | 5-7% | 2-15% |
| Advantages | Database acquisition speed | Delivery guarantee | The amount of information in the message |
| What do you need to start? | To connect the service | Phone database | Email database |
The main advantage of sms is a guarantee of delivery with a stable mobile network. However, to send mass text messages, consumers will need an assembled base. However, consumers are reluctant to share personal information.
Push notifications are ready for sending as soon as you get the first subscriber. Service collects the base for the marketing campaign automatically. Due to the simplicity of the subscription, the base grows very quickly. You will have a significant number of subscribers just in a month after the technology installation.
To receive a notification, a user needs internet connection for mobile devices and an open browser for desktop. Since wi-fi is available even on an airplane, access to the Internet is no longer a problem for digital campaigns.
Why Use Push Notifications?
Push notifications help business:
to build a loyal subscriber base very quickly;

to set up simple communication with the target audience;

to segment customer base;

to involve the audience;

to analyze consumer behavior;

to guide the user through the different stages of the sales funnel;

to increase purchase conversion rate.
It is important to understand the settings and characteristics of push notifications for competent technology use.
Ask for a free consultation for the correct launch of marketing campaigns.