Browser push notifications may be a fairly recent tool, compared to email, but they make a powerful one. They allow for high opt-in rates, CTR, and instant visibility. Now, roughly 30K of TOP websites with over 1 million traffic send notifications using different push notification software. We have tested 7 of the best push notification services to give you an overview of tools that can help you grow your website and reach your audience. 
We'll overview the most popular services based on the essential functions. Plus, we'll show which platforms best suit different websites, such as blogs and online stores.
Keep reading for the comparison chart of the web push notification services. 
Browser Push Notification Features 
The most common features that are typically included into any notification software for websites are rich notifications, and a schedule to postpone sending. We'll focus on more advanced features that can showcase the use of the platforms. Hopefully, this will help you choose the most suitable push notification service provider for your site.
Permission Prompt Customization

. By default, browsers display a permission prompt with a standard text. 

It pops up immediately after a user visits the website. Google recommends delaying the time showing a prompt until a visitor understands the context of your webpage and sees the benefits of receiving notifications. So, the best practice for websites is to set a customized permission prompt.
Segmentation.

A targeted campaign typically gets far more clicks than a generic one. The more attributes available in service, the better you can segment your subscribers. 

Read our guide on segmentation
Automations.

If you have to send notifications regularly, you need the means to automate your campaigns. This includes sending scheduled campaigns and triggered notifications. Services differ in the number of the automations and their functionality.

Statistics/Analytics.

You need to see statistics to evaluate your campaigns. And, analytics is helpful to compare results and understand what to improve. 

Check what we know on web push statistics
Support For All Browsers & Both Websites.

Check how many browsers a

web push notification platform

supports. But, keep in mind that the most popular browser now is

Chrome with over 60% market share

.

HTTP & HTTPS.

It can be problematic to add web push to HTTP website because browsers support web push only for HTTPS protocol. But, many services help connect HTTP websites with push technology via subdomains. Pay attention to this feature, if you own the HTTP-website. 

Here's what we know on those two
Dashboard (simplicity/languages).

 The simplicity of a dashboard helps faster navigate through the service features. We'll show you some elements of different services so that you can evaluate them. But, the best way to see how it works is to test it by yourself.
Integration (WordPress, Tilda, Wix, other websites).

The standard integration requires adding files to the root website's folder and some code to its pages. But, some services provide WordPress plugins to add web push. Plus, for the websites created by site builders, the WIX/Tilda integration might be helpful.

Free Plan and Trial/ Tariff Plans.

The push notifications services often have free plans. Typically, they limit the number of subscribers and some features such as automations and segments

Best For.

To choose the best service, you need to consider which features are essential for your specific website. For example, if you have a news website, you need a push notification tool to alert your subscribers about the latest news with minimal effort. If your website sells as many products as Amazon, you need a platform that automatically identifies users' preferences and sends them personalized triggered messages.
TOP Web Push Notification Platforms
Gravitec.net was established in 2016. Now, roughly 12,000 websites use it to send push notifications. This is an easy-to-use push notifications service for non-technical users.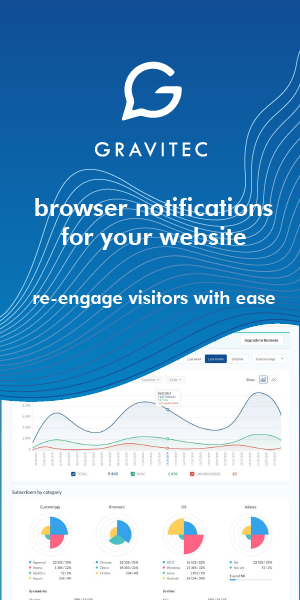 Browser support.

Chrome (and browsers built on Chromium) both for desktop and mobile devices, as well as Opera, Firefox, Safari, Edge.

HTTP/HTTPS.

+

Notification plugin for WordPress. +
Setup

. For standard integration, you need to add your site, insert the script before the closing </head> tag, and upload files to the root directory of the site.

WordPress plugin

/WIX/Tilda and other website builders are supported. Learn more on

how to start sending notifications

.
Permission prompt. In the Gravitec dashboard, you can customize the prompt's appearance, location, and text so that your visitors understand what they are going to opt-in. Plus, you can set different prompts for mobile and desktop devices, delay the time to show them, and make a prompt multilingual.
Segmentation

. Gravitec.net enables you to create unlimited segments by a subscriber device, browser, operating system, country, and city. Plus, by adding unlimited tags to your website, you can track user behavior. This will allow you to segment subscribers by their interest.

Automations

. Gravitec has six automations to send campaigns according to set parameters: Welcome Message, Drip campaigns, Tweet to Push, RSS to Push, Push Digest. Drip Campaigns is a series of notifications sent individually to a new subscriber. With RSS to Push, you can automatically send content items that are published in your RSS Feed. It contains two options: send them immediately after posting, or enable the system to choose the most popular ones. Easily create digests and compilations of your most popular news using Push Digest. Use the Smart Digest option to send news items that your users haven't seen before.

Triggered/ transactional notifications

. User actions that trigger sending notifications to a subscriber can be set via REST API using aliases (user ID). 

Statistics/Analytics.

You'll find statistics on sends, deliveries, and clicks. Filters by time and segments in campaign history help, and graphs, bubble charts help compare results.

Tariff Plans

. The service provides two tariff plans: Free (free) and Business (advanced). The free plan has a limit of 10,000 subscribers and some limits for automation use. The number of push notifications to be sent is not limited as well as segments. Business Plan allows unlimited subscribers and automations. Plus, priority client support instead of the usual technical support is provided, as well as an opportunity to disable the service logo on your prompt. Pricing starts from $4/month per 1,000 subscribers in a base. 

Dashboard. Here is a screenshot to show the features that are available in the dashboard. Here is how Gravitec previews what the notification will look like.
Best for

news and media websites, blogs, and any website that regularly publishes content.
See a use case of our client — the news website minuto30.
OneSignal
Onesignal is a multi-channel platform that provides mobile and web push notifications, in-app messages, SMS, and emails. To fully use all of the OneSignal features of browser notifications you need to involve developers.
Browser support. Chrome, Firefox, Safari, Edge, Opera, Samsung Internet Browser, Yandex, UC Browser
HTTP/HTTPS.

+

WordPress Plugin

. +

Setup

. Start with adding your website. Then, implement OneSignal's SDKs following their documentation. 

Permission prompt

. You can choose among 4 types of customizable prompts: slide prompt, category slide-down, subscription bell, and native subscription prompt.

Segmentation

.

Onesignal enables you to create segments based on the language of the user's device, tags assigned them, country, email address, device type, the time when the user communicated with the website, the number of times the user visited your website

Automations

.

You can send drip campaigns using templates and limited welcome messages.

Triggered/ transactional notifications

. Set and target the device by the User ID. This can be done using User IDs saved on your database.

Statistics/Analytics.

You will find statistics on sends, confirmed deliveries, and CTRs displayed on graphs. There are filters by the message type, content, device type, and start and end date. You'll get insights into user-level data for sends, receives, and clicks via the OneSignal API.

Tariff Plans

. There's a free plan. You'll have access to limited segmentation: with 6 audience segments and 10 tags that you can assign subscribers. There are 3 paid tiers. The Growth tier starts at $9/month+subscribers. So, a thousand subscribers will cost you $12/month.

Best works for marketing teams, product teams.
PushEngage
PushEngage was created in 2016 to help marketing and sales teams segment and send push notifications
Browser support.

Firefox (version 44+), Chrome (version 42+), Safari, Edge, Opera, and UC Browser on Desktop. Also, Chrome for Android and Samsung Internet Browser on mobile is supported.

HTTP/HTTPS.

+

WordPress Plugin

. +

Setup

. First, you need to add the site. Then — copy and paste the code to the site, as well as download and install SDK files. 

Permission prompt

. PushEngage provides options to customize text, background, and notification overlay. You can use the extra space to list reasons for subscribing. 

Segmentation

.

Segment your users dynamically based on different parameters. Choose the rule and apply it to the segment of subscribers.

For example, you can segment visitors who added products to the cart and viewed a specific page. 

Automations

. 

Choose from different types of automation campaigns: 

drip autoresponder, 

RSS auto push
Triggered/ transactional notifications

. 

Set up various triggered notifications:
cart abandonment

browse abandonment

trigger campaign

price dropinventory campaign
Statistics/Analytics.

See a summary of analytics for total notifications sent, CTR, views, and new subscribers. Statistics describe your users based on country, browser, and device. PushEngage provides funnel analytics in paid tiers from the Business plan and higher. 
PushAssist
PushAssist is a web push notification solution for big stores that was established in 2015.
Browser support.

Chrome, Firefox, and Safari browsers. 

HTTP/HTTPS. +
Setup

. To begin collecting subscribers and allowing users to "opt-in" to your website, you need to embed a script in every page. The script code should be embedded preferably either at the bottom of your website within the </body> tag.

Permission prompt

. Customize permission prompt for specific browsers and device types. Add UTM parameters and actionable buttons. 

Segmentation

. Segment your users based on location, buying record, interest, and more to send personalized messages to them.

Automations

. 

RSS push, Drip Campaigns
Triggered/ transactional notifications

. 

Information is not provided in free accounts.
Statistics/Analytics. Pushassist provides statistics based on when the users subscribed and what device they use. You'll get insights into views, clicks, and subscriptions.
Tariff Plans

. There's a free plan up to 3,000 subscribers, with an option to create up to 5 segments. Paid tiers start with $9 for 3,500 subscribers. Unfortunately, you cannot remove the PushAssist branding unless you're using the Business plan or higher. The business plan starts with $25 per month for 3,500 subscribers, with features like A/B testing, drip campaigns, rest API.

Dashboard
Best for

E-commerce.
Pushwoosh
Pushwoosh introduced the full-featured push notifications service back in 2011.
Browser support.

Chrome, Firefox, Safari, Chromium-based browsers such as Opera. Pushwoosh also supports Android Chrome and Android Firefox for mobile devices.

HTTP/HTTPS. +
WordPress plugin +
Setup. You have to create the script yourself. To find out how to integrate with the desired platform, go to the Documentation section and click on the icon of the desired platform.
Segmentation

. 

Segment your users by assigned tags, user IDs, device identifiers, last time they interacted with your website.
Automations

. 

Create automated push campaigns, using
Customer Journey tool with a visual campaign builder

Promote News template, created for you to send news updates

Autopushes based on scheduling and segmentation rules

Twitter feeds

RSS feeds
Triggered/ transactional notifications

. 

You can't create triggered messages, however, you can use the Customer Journey tool to send behavior-based messages to customers at every stage of their lifecycle.
Statistics/Analytics. You can see the number of messages sent, opened, and clicked, as well as the conversion rate for that message in the Customer Journey dashboard. In the detailed stats you'll find the number of messages sent and opened, including the CTR and open rate graph for the selected period.
Tariff Plans

. 

Pushwoosh offers a free plan with unlimited notifications, 2 RSS feeds, creation of 2 accounts (in addition to the main one), and 1 Rich Media page (with dynamic media content). The service offers a free 14-day demo, as well as 3 paid plans: $41.95, $125.95 per month, and a plan with individual costs depending on the features you need. However, basic features such as automated messages and message personalization only become available in Pushwoosh's Marketing Plan.
Dashboard
Best for

Marketers, sales teams
WVO Engage
VWO Engage was established as PushCrew, now is a part of the platform that specializes in A/B testing for websites and products.
Browser support.

Chrome, Firefox, Opera

HTTP/HTTPS +
WordPress Plugin. +
Setup

. 

Web push service provides a script for embedding on the site before the </head> tag on each page of your website, which can be found in the Install Code section.  For sending notifications to users, you can either use the VWO Engage database and send it to all or specific segments of users, or you can use our REST API to send notifications to specific users.
Permission prompt

. 

Customize opt-in text, button text, choose when to show the prompt and whether your users can opt-out from data-tracking.
Segmentation

. 

Segment your users based on page visits, element clicked, OS, Platform, Browser, or User-Agent.
Automations

. 

Set up RSS-To-Push Campaigns and Welcome Messages.
Statistics/Analytics. VWO provides stats on subscribers & unsubscribes in the past 15 days.
Tariff Plans

. 

The service provides a free trial period, which lasts 30 days, and then you have to pay $99 per month to use it. You can only register with VWO from a work email account.
Best works for

SaaS, education 
Sendpulse
Established in 2015, Sendpulse enables businesses to communicate with customers. It's a multi-channel marketing platform that offers emails, chatbots, scheduled messages, and web push notifications.
Browser support. Chrome, Firefox, Opera, and Yandex on computers and mobile devices.
HTTP/HTTPS.

+

WordPress Plugin. +
Setup. Click "Add New Site" and enter the required information in the form that opens.  Copy the script, add it to the site, and start communicating with your users. Next, go to the section of your site in the menu on the left and click "Create a push mailing". Enter the desired information in the form and click "Submit." Your push-notification will appear in your dashboard, and you can also see a report on the created notification.
Permission prompt

. 

To customize the permission prompt, you can choose from five different options, add title, text body, change colors, and set a delay time so that your opt-in form won't appear at the very moment a user opens your website.
Segmentation

. 

Sendpulse allows segmentation based on:
Browser language

Region (country, city)

Subscription page

Date of subscription

Type of browser

Platform

.
Automations

. 

Create a web push series for new subscribers or based on RSS feeds.
Triggered/ transactional notifications

. 

Set up events in the REST API.
Statistics/Analytics. See how well your campaign is doing in Google Analytics. To see all the data, add the UTM codes to your web push campaign. The analytics are presented in the form of graphs and a table showing the number of subscribers and sends, deliverability, and clicks. You can view statistics for all web push notifications, as well as for each specific subscriber to whom they were sent.
Tariff Plans

. 

You can use the service for free, but then the number of subscribers will be limited to 10,000. Paid plan starts with $18 a month per 30,000 subscribers. You can choose the number of subscribers you want, as well as advanced features of the service: priority support, API access, and no Sendpulse branding.
Best works for

SaaS and marketing
Summary
Let's sum up the features and advantages of TOP-7 push notifications services in one table. Click to enlarge.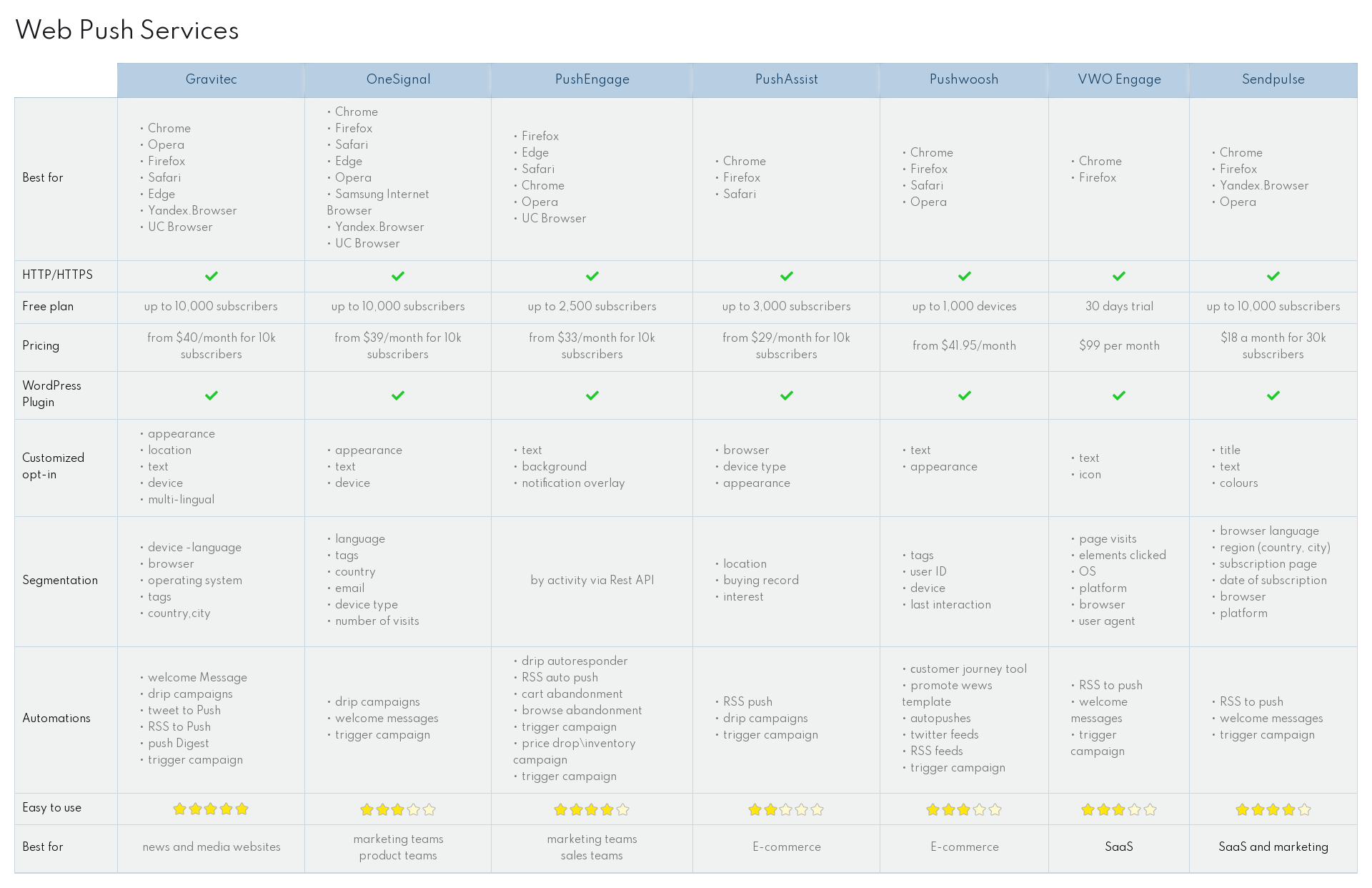 If you have any questions on how to use browser notifications for your websites, contact the Gravitec.net support team.