Now Gravitec.net clients have access to automation options in their profiles. We introduce a new tool for online media and publishers – Daily and Weekly Digest.
How does it work? In this article, we'll review what problems this option solves and how to activate it in Gravitec client account.
Push-digest. What does it mean?
Push-digest is an automation tool for collecting and sending the most popular daily or weekly news from your website. Our system automatically forms a push notification with summarized info based on all the campaigns you've sent over a preset period. For example, if you send 20 campaigns per week, the platform picks out the most popular ones (6, 8 or 10 by your choice) to create a campaign for a Weekly Digest.
TIP
Pay attention: if you select TOP-6 news in settings you will need to send at least 6 campaigns for an appropriate period to generate a Digest campaign. Otherwise, a Push-digest cannot be sent.
The Use cases
With this automation tool, websites regularly send campaigns with a summary of the most high-rated articles. Daily or Weekly Digest option is suitable for online media with frequently updated articles and news. Generally, a push campaign frequency for these websites is about 3-8 times a day. Subscribers most probably will not open every push notification they receive, but the summary is a great opportunity to view the most important info in one message. Thus, Daily and Weekly Digest has higher CTR compared to an ordinary notification. 
For example, you can create Weekly Digest with a notification title 'TOP-10 breaking news this week'. It will attract additional users' attention, besides, they'll get used to such an interaction. Thus, it's an extra option to keep subscribers engaged. You create a high-rated campaign based on info from previously generated content.
How to start Push-digest automation?
In your Gravitec.net profile select the Automation section and click 'Configure' in the Push-digest block.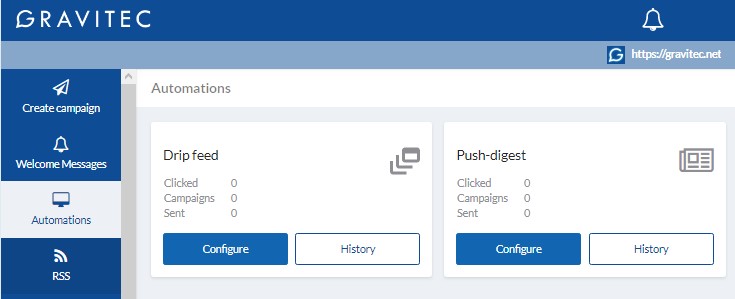 There are two options in this block:
Daily news digest (last 24 hours),

Weekly news digest (previous one).

Click 'Edit' button opposite to a selected item (Daily, Weekly or both) to manage settings.

Here is an example of how it works with Weekly Digest automation. 

Select a day for a campaign sending, set time and a number of news in your weekly notifications.

Compose a notification title and text.

Set an icon for a campaign (a company logo or another attractive image).

Select the time zone for this campaign.

Check a notification preview appearance to make sure it displays correctly at any device and operating system.

Click 'Save' after editing.
To activate or disable the created campaign, toggle a corresponding slider.

The system will send our Weekly Digest every Friday at 9 p.m. It will consist of TOP-10 news picked from all the notifications sent during the previous week.
Click 'History' button in Push Digest block (Automation menu) to view campaigns' statistics.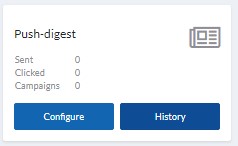 Push Digest campaigns history displays in a common statistics section (Campaign History). You can filter data by period and a campaign type. Push Digest has its own specific icon to differ this campaigns from others in the list.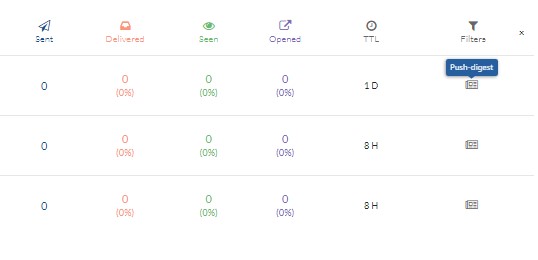 Conclusions
New automation option helps to create summarized push campaigns on a daily or weekly basis. 

Push-digest is an opportunity to attract additional traffic to a publisher's website, increase users' loyalty and their engagement. 

Weekly and Daily Digest's CTR is higher than the same indicator for an ordinary push campaign.

A Digest campaign setup takes just 5-10 minutes. You can edit its settings at any time.

Gravitec.net system selects news for your Digest automatically based on previously sent notifications from a website's profile (according to preset period – previous week or 24 hours).

After Push Digest campaigns sending, Gravitec.net clients have access to statistics in a History section. Pay attention to indicators analysis to improve campaign's performance.
If you have any questions on how to launch a Push Digest campaign or edit an automation option for your website, please, contact our support team.