According to Oberlo's study, a consistent brand presentation can increase revenue by 33%. Consistency can also have a massive impact on trust. Instead of just adding as many communication channels as possible, creating an omnichannel strategy can prove more effective for customer retention. 
Another study showed that brands that maintain omnichannel customer engagement retain an average of 89% of their customers compared to 33% of those with no omnichannel approach. In the article, we'll go over the most popular tactics for omnichannel communication.
What is omnichannel marketing
Omnichannel marketing campaigns follow your customers while they move between the channels such as your store, social media, or call center to create a streamlined experience for them. It removes barriers between channels your customer uses to interact with your business. Whether your customers contact you on Instagram or even accidentally find your offline store, they should get a consistent experience.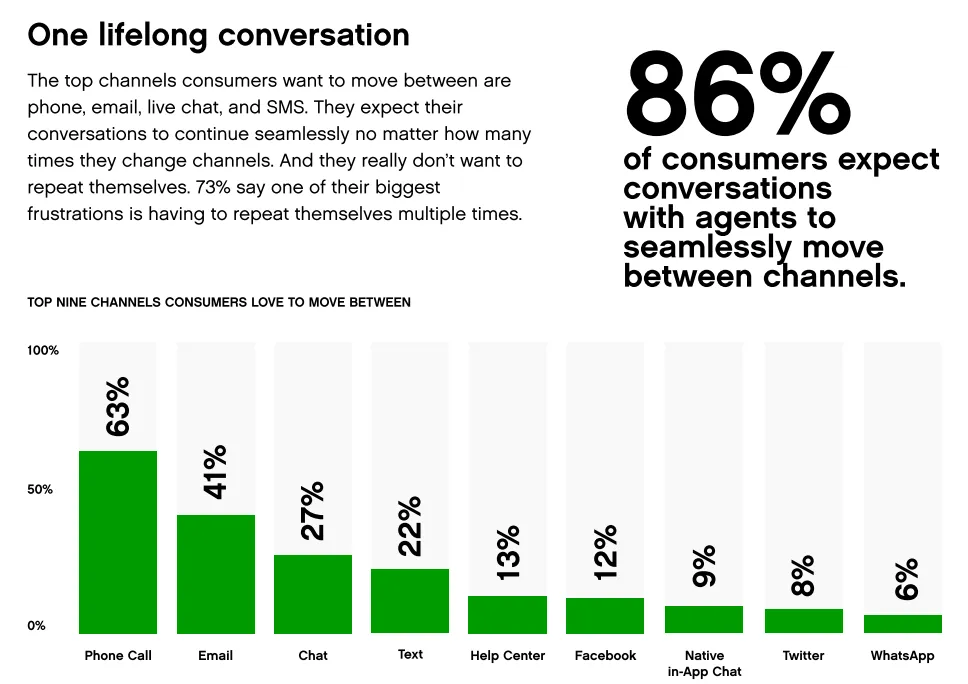 As for the omnichannel service, it can include all parts of your business. Let's say you have a brick-and-mortar clothes store and an online store, and an Instagram account. If your customer visits your store, they can try the clothes on. With an omnichannel approach, you can also provide this option if they order from your social media or embed a virtual fitting room app on your website. If your customer wants to exchange the clothes, they write a message but don't see your response and call you. Instead of asking them what they want, the omnichannel approach enables your customer support to start a conversation first addressing the returning. It can be challenging; however, this approach will decrease the number of frustrated customers. 
Difference between the omnichannel and multichannel approach
Omnichannel and multichannel are often used interchangeably. However, they don't mean the same thing. So, what's the difference between the omnichannel and multichannel approaches? Back when the trend started, it was about covering more communication channels. However, today, people are tired from the information overload, so a new approach is needed instead of sending emails x times a month across your database. Today, you need to consider what information your customers already have seen and then think about nicely following that up. 
While both strategies cover multiple channels and engage customers via multiple touchpoints, they have some key differences.
Omnichannel communication requires a single control center.

Messages are personalized based on customer journey mapping.

Multichannel marketing concentrates on the channel's strategy; omnichannel marketing focuses on the customer and their experience. 
For example, if you're using the multichannel approach, you can be using a CRM for your sales team and an email sender service to send your newsletter. This way, some of your customers can get the same information from your sales reps and the newsletter. The omnichannel approach requires the integration of different services, and it puts a customer front and center.
Omnichannel communication examples
Here are some examples of omnichannel marketing:

Amazon

lets you place your order using your voice with Alexa and get it within an hour. Customers can access the same information via the Amazon app, websites, smartwatches, Alexa devices. They can also choose various ways to have their orders delivered: they can pick the orders in-store or at various drop-off locations or have them delivered.

IKEA

provides an opportunity to see whether the furniture fits with their augmented reality experience.




Source

Starbucks reward app integrates in-store and mobile experience for customer convenience. They can use it to skip lines by ordering in advance, pay for their order and earn reward points.

Chase bank offers their customers to do their banking either offline or using their website or mobile app.

Disney

uses their Magicbands, cards, website, and apps to create a seamless experience for people visiting its theme parks. They can book their stay, pay, open their rooms, check availability, etc., using any available touchpoints. 
You don't need the budget of Ikea or Starbucks to create a seamless omnichannel experience for your customers. Creating a consistent content strategy, and implementing CRM, so that your clients don't have to introduce themselves every time is already more than the multichannel approach will get you. 
How to build an omnichannel strategy
To build an omnichannel strategy, you'll need to start with your customers. 
Create a customer journey map to define customer needs

.




For example, you can ask the sales reps about concerns and pain points your customers have, how they communicate with your sales managers. Your support team will also have the information on customers' likes and issues. Getting insights about your customers can also be something as simple as Instagram polls. 

Choose tools to connect with your customers

. We'll share the types of tools you need in the next chapter.

Develop your marketing message

. It will lay the groundwork for your

omnichannel content strategy

. When you know what your customers need, it's time to figure out why they choose you, which can help you dismiss some campaign ideas. For example, if your main benefit is ethical manufacturing and being environment-friendly, you might want to skip celebrity campaigns unless it's Leonardo DiCaprio. 
Select your channels

. Always follow your customer. No matter how good your Instagram posts can be, they are not useful if you're selling to the B2B segment. Start small, from channels that make the most sense considering your audience: 
Website

Blogs

Social media

PPC

YouTube channel

Events

Emails

Influencer campaigns

Amazon posts
These are just a few options; make sure to follow your niche and your audience preferences. 
Neil Patel has summarized the action steps to take to make use of your omnichannel platforms.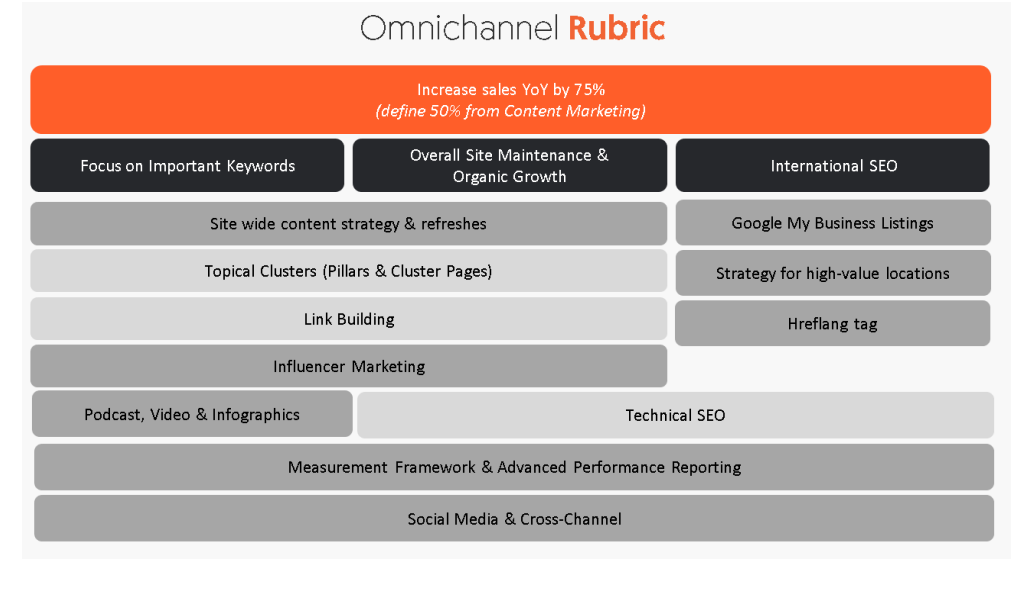 Source
       5.  Segment your customers. For example, you can select customers based on the omnichannel customer journey, segment who subscribed to your push notifications or your email newsletter, customers who visit a certain page on your website.
       6. Develop a framework to test that addresses your customers' questions and concerns.
       7. Keep adjusting. See what requires tweaking and whether you provide a seamless experience. Most channels offer data for free to measure whether you're reaching your goals. You can add more channels; however, it's not an end goal. The experience should be similar no matter how the customer contacts your business. 
Once you have a draft of your strategy, you'll need tools to rule all your communication channels.
Tools for omnichannel communication
Select tools that are customer-centric and work well with the needs of your business. Here's a list of tools to consider: 
A content management system (CMS) will let you create, view metrics, and manage your content in one place. Popular options include

WordPress

, Joomla,

Squarespace

, or Drupal. 
Learn how to create a website using Sitefinity CMS
A customer relationship system (CRM) stores your customers' information and sometimes offers helpdesk solutions. For example, for a small business, you can choose

Zoho CRM

. It enables you to keep track of social media interactions and automate lead generation.
Summary
Customers are using a multitude of channels these days, which means you need to follow them and provide a seamless experience at that. To make sure your customers don't get the same message repeatedly or don't face different experiences based on their point of interaction, use omnichannel marketing. 
To create your omnichannel marketing strategy, you need to start by. You can select tools to help you create a customer-centric experience, like CRM and CMS, social media management, and analytics tools to learn what's working. After all, like any marketing strategy, it's about testing and adjusting your best practices.