Unique and non-ordinary content attracts subscribers attention to push notifications, provides increased clicks number. To engage customers, marketers have to create interesting campaign concepts, events, and offers for users.
We'll introduce some ideas you can use for your campaigns or maybe they will help you to find inspiration for your own creative thoughts.
Basic features of web push composing
Web push notifications pop up on mobile and desktop devices. Web push has a different

character limit

, image sizes on various OS and browsers. Thus, in order to send relevant messages, you should divide your audience by the most significant characteristics. Planning precedes sending. 

A push message contains title and description, an icon and a web page URL. Besides, you can add emojis and use rich web push capabilities – big images and extra buttons. 

Unobtrusive and effective notifications pop up just in time. Carefully set the time for message sending. Find out when your audience is more active and ready to make a purchase decision or to read website info. 

Use trigger and personal notifications as well. To shorten the distance between a company and a client, send messages that match a user's requests. 
An example of the abandoned cart alert.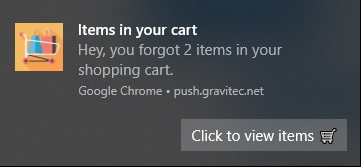 This interaction reminds a visitor of their interest, demonstrates attention to customer needs, and provides an opportunity to complete a transaction.
To use segmentation by tags, aliases, triggers, please integrate push technology with your website via REST API.
Topics variety makes push campaigns more attractive to users. Besides, subscribers do not lose interest in company alerts, because they always receive something new and unexpected. You can use events, economic or political news, personal offers, discounts, etc. to vary push notification content. 
Read more about push notification types and web push segmentation tool.
10 Funny notification examples
We'll use some popular funny app push texts and turn them to web push notifications. This will let us show web push benefits and technology capabilities.
What's the difference between app and web push notifications?
Targeting feature. Netflix sends app push notifications to targeted groups by interests. For example, one audience part watches comedy series another is interested in detectives. In the same way, using web push technology you can set any tags for subscribers by their actions on a website. Then, while creating a notification, select the relevant tag for a specific group. 
For this example, we've added an image from the series and a CTA button. The image gives a recipient the first info about the message to recognize the topic. Netflix URL (instead of push.gravitec.net) will show the sender name. CTA button helps a user to make a decision immediately.
Campaigns for a mass audience. Spotify creates an occasion to attract users attention with the text about popular group well known to everyone. 

For browser notification, we can add an icon or a big image with The Beatles.
The last example evokes more feelings than notification without a photo. It will affect the campaign results as well. Rich web push with a big-sized image gets about two times higher CTR, on average. Thus, it boosts the visitors' retention to a website as well.
Social networks use triggered push notifications constantly. In this way, users are notified about new messages by apps or websites. 
The alert contains two buttons for an instant response. You can accept a personal request or decline it. Gravitec push platform provides an opportunity to send personalized messages from a website. Instead of tags in this case, we use an alias to identify a user.  
The next example shows how a commercial company uses popular series in its ads.

For a web push, we'll put an image of the 'GOT' character to make the message more interactive.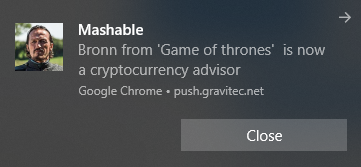 TIP
On Windows 10 and MacOS push notifications are saved in Notifications center after they were displayed if there is no user action. Thus, subscribers can read alerts later, even if a message comes not in time.
Transactional notifications alert user about their personal actions, payment, delivery conditions, etc. 
The funny text from Amazon references to Star Wars. A recipient gets a pleasant impression of the company message. It increases customer loyalty.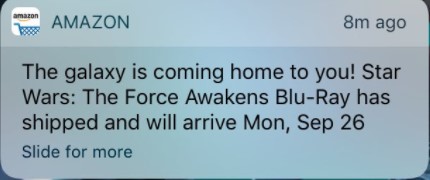 If the company sends a web push notification, it'll pop up like this.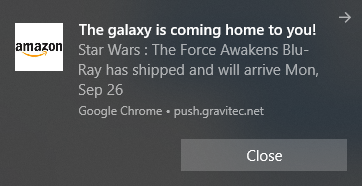 Instead of Amazon's logo, we can use an image from Star wars as well. However, in this case, the main focus on the company's way of interaction with users. 
Apps use geotargeting tool to send users relevant info according to their location. 
Web push technology provides marketers with the opportunity to create targeted campaigns by region. This user's data the system gets from their browser after subscription. Thus, you can segment the audience and send separate messages to groups from different countries, cities.
A web push notification example on Android device (Chrome browser):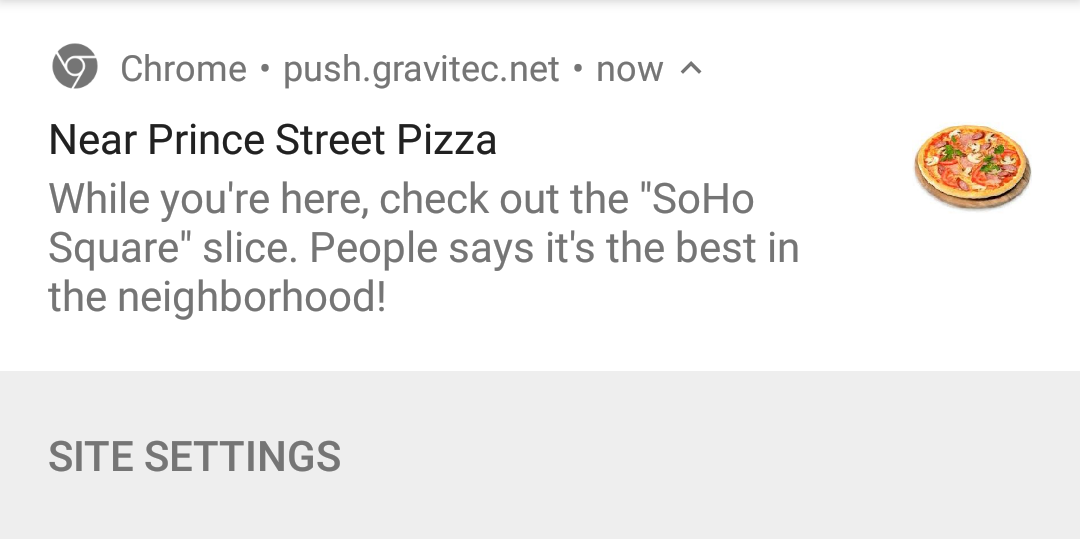 Online media use apps to interact with readers as well. 

TIP
Google introduced the new technology to save smartphone disk space and speed up webpage loading. PWA or Progressive Web App is a mix of app and mobile website. Users download a compressed website version and get access to its content by the icon on the home screen. PWA uses web push notifications to interact with a mobile audience.
Web push is widely used by mass media due to their cross-platform feature. A user clicks once, while visiting a website via any browser, and becomes a subscriber. Media websites send notifications more frequently than eCommerce sites. They have more news, occasions to interact with readers.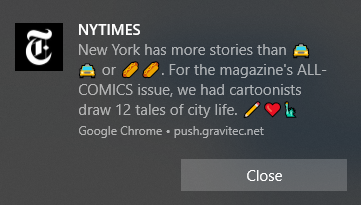 TIP
Pay attention to emojis in the text. Use them to make your message more emotional.
There is one more funny push notification. It consists of a provocative title and an intriguing description. With high probability, this approach will have success. 
However, funny ads are well-remembered but do not always bring high CTR. 
There is a notifications example with well-tested text elements to invite users to an interaction.
To notify subscribers about a live stream or an online course you can use time limitation or mention of how many people are already there. We've added the 'Watch' button to reinforce our intentions.
The last one is our example from Black Friday campaign of the Gravitec client. We composed the message with a reference to the popular movie to make it funny and noticeable. We added a big image and two buttons to make an interactive web push.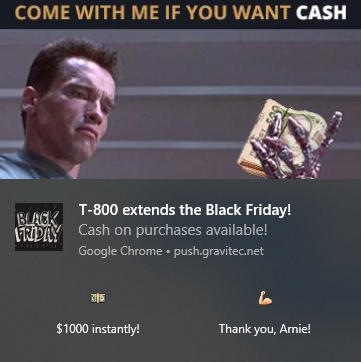 This campaign had high results due to conspicuous content, in time offer and the event popularity. 
Conclusions
Funny texts in web push notifications arouse users interest, make messages more attractive and increase audience loyalty. Besides, for results growth you can use rich web push options, segmentation tools, triggered alerts. The more campaigns variety you use the more clicks they get.
If you have any questions about push campaign launch, please contact our support team.