Should you even focus on YouTube for your marketing strategy? That might depend on your business type. However, according to Ahrefs, YouTube is the second most visited website in the US and the first globally, so chances are your customers use it to find information on a topic relevant to your business. So, how do you get them to watch your videos?
In this article, we'll go over how to boost YouTube views for your channel with YouTube optimization, your social media channels, and SEO.
What are views on YouTube 
Before we get into all the ways to get more views on YouTube, let's find out what actually counts as a view.
Every time a viewer starts watching a video and watches for at least 30 seconds is a view. YouTube counts views on its site and also on embedded videos on other websites or shared on Facebook. Even if you watch your video, YouTube counts it as a view.
Does rewatching a YouTube video count as a view? Well, yes. If a viewer rewatches your video, each screening will be counted as a new view. However, YouTube algorithms will consider anything that looks like an automated activity as suspicious and disregard it. So, if a website plays your video over and over, or you keep updating the page, it won't be counted towards your total view numbers.
To see how many views your video got, check YouTube analytics. YouTube updates its analytics every day or two, so you might not see the instant reflection on activity on your videos. 
How to increase YouTube views
Here's how to make sure you're getting views for your content on YouTube. Start with organizing your channel, get noticed in the search results, share your videos on your website and social media.
Setting up your channel
Get your channel ready
Before you start, check that your channel is optimized for the viewers: 
You have completed the Description section. You have 1,000 characters to describe your brand and the benefits of your products. Tell your viewers why they should watch your videos. 

Add keywords relevant to your channel. Click

Settings

and then

Channel

. Then input your keywords into the box titled

Keywords.

You've added the up-to-date contact information.

You've included social links and a way to get to your website.

Make sure your channel looks consistent with your website: use the same logo, colors, and images. The optimal dimensions for the profile pictures are

800 x 800

pixels. Your banner art should be

2560 x 1440 pixels

. You can use a template to make your banner art in

YouTube's Creator Academy

.
Create a YouTube trailer with your best content
A YouTube trailer is a short video that's shown to new visitors on your channel. You can showcase your best video, encourage viewers to subscribe, highlight a reel of your video content, or share your values as a creator. There are no limits to the video, but most YouTubers keep it between 30-90 seconds, and YouTube recommends that you "keep it short."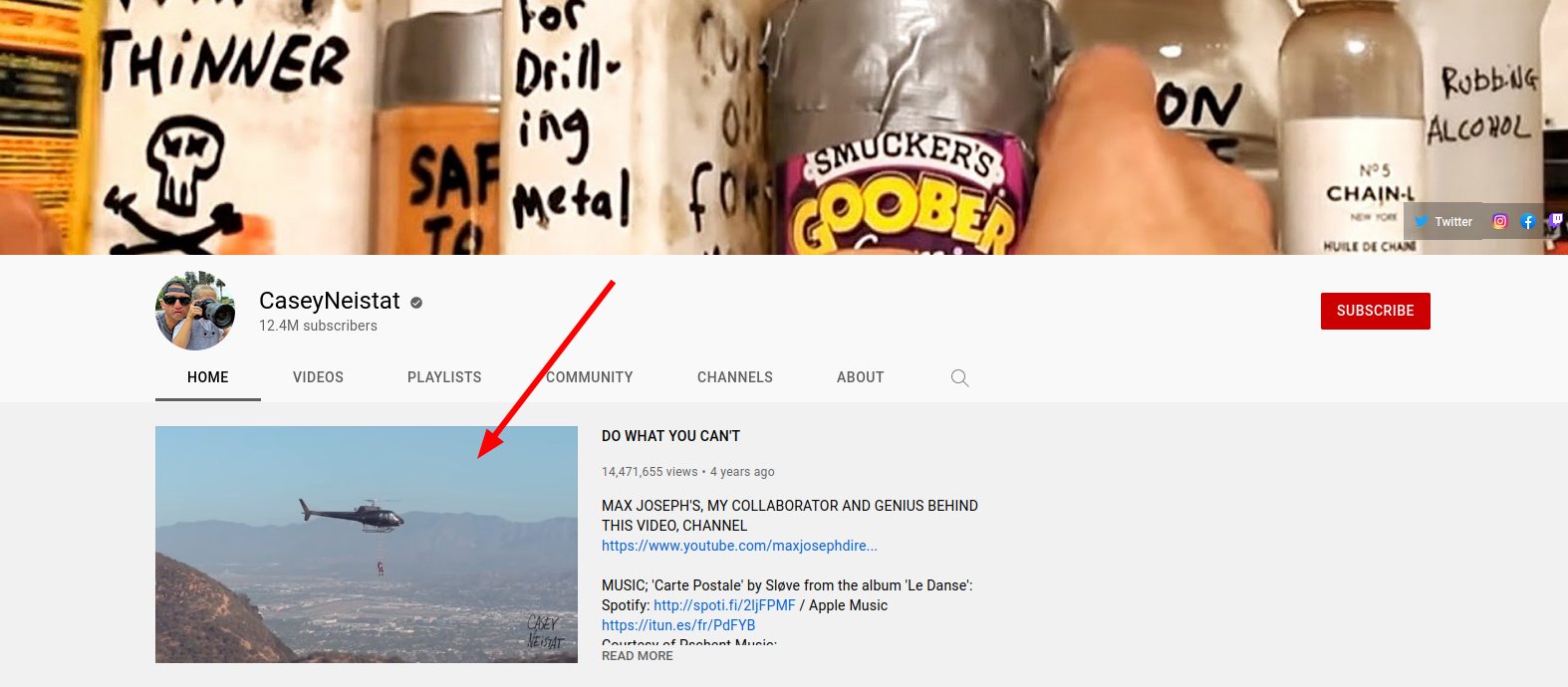 To upload your trailer, start at your channel homepage and click Customize Channel. You'll be directed to the Studio dashboard, where you can upload your trailer's footage. Once done, write a description, enter SEO tags, and publish your video.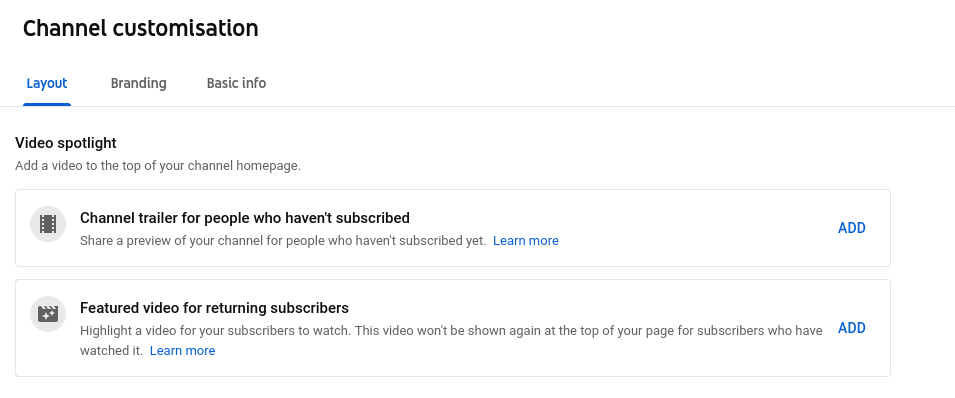 Create playlists
Playlists help users stay longer on your channel because as soon as one video ends, another begins. To create a YouTube playlist, click the '+' icon underneath the video.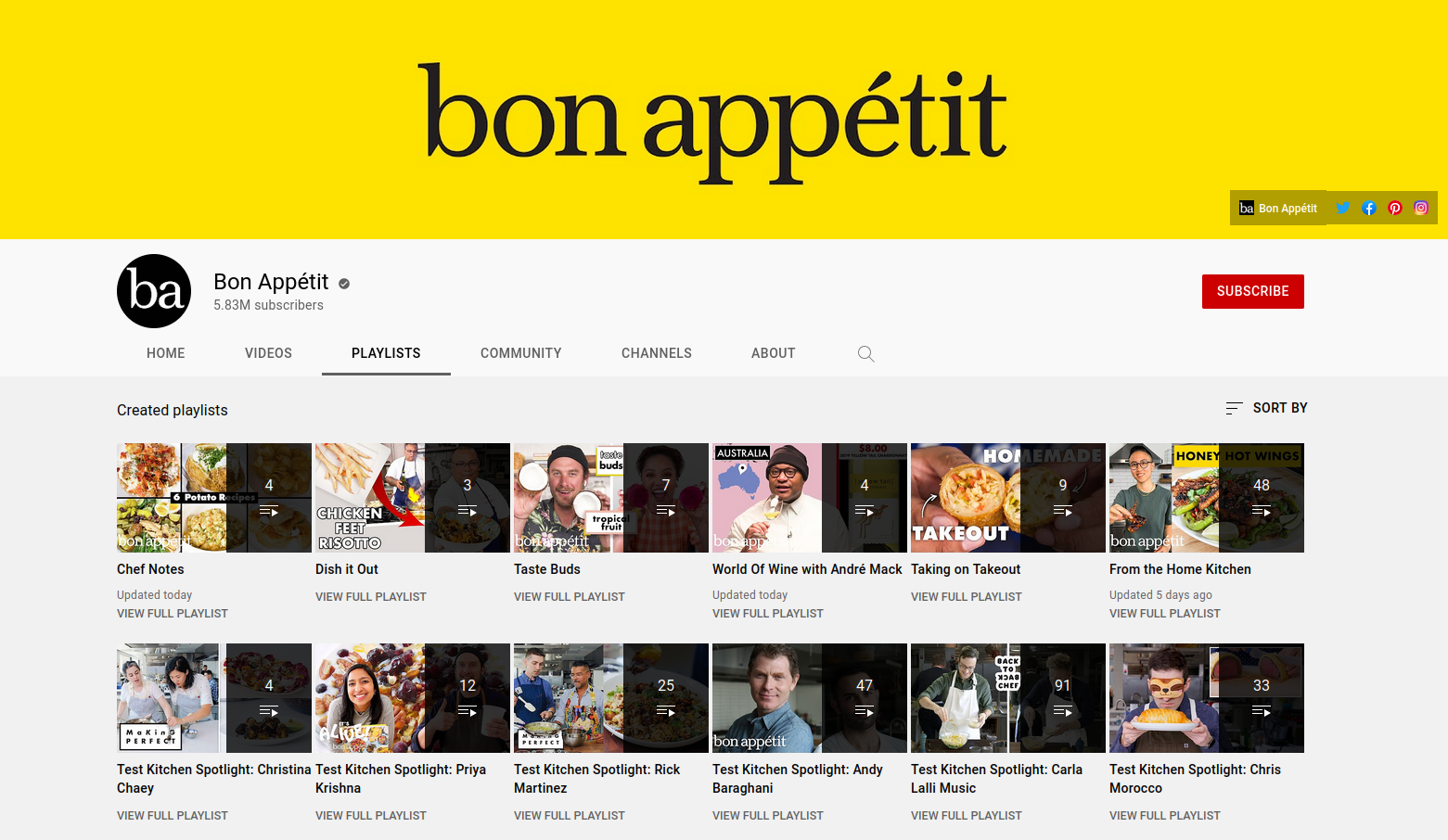 Alternate between horizontal and vertical layouts to make your playlists more appealing. This way, it'll be easier for your viewers to switch between the blocks of information. For example, Brian Dean from Backlinko has successfully leveraged this tip for his channel.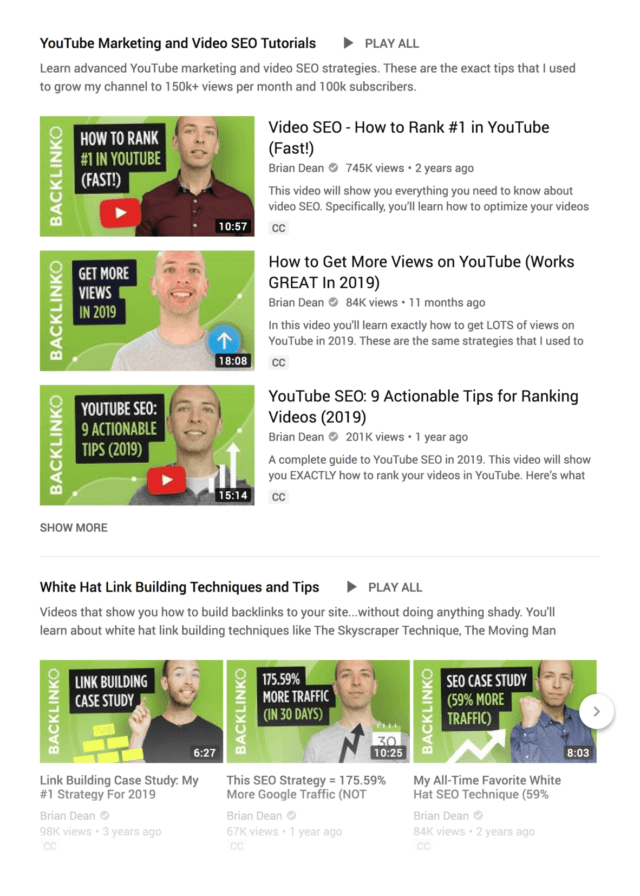 Use custom thumbnails
Thumbnails come into play when users skim through search results and recommendations. When you upload a video, YouTube will offer auto-generated thumbnail images. However, you will be better off if you create the thumbnails yourself. YouTube reports that 90 percent of top-performing YouTube channels use custom thumbnails. 
The thumbnail should work together with the video's title, but don't just repeat the title in the design. Also, avoid clickbaits because people will stop watching as soon as they realize your thumbnail has nothing to do with your video's content. 
As for technical specs, YouTube recommends: 
Use a 16:9 aspect ratio

Opt for 1280×720 resolution

Your file size should be less than 2MB

Choose JPG, .GIF, .BMP, or .PNG formats
Make great videos
That sounds like a no-brainer. However, YouTube uses its algorithms to work out whether you have good videos. As we learned, YouTube counts everything over 30 seconds as a view. So, if you get your viewers to stay longer, YouTube will consider your videos great and recommend them more in the suggested videos section. According to YouTube, each video uploaded is 'ranked' by how much time people spend watching your videos.
Cross-promote your videos on YouTube
Chances are, you have more than one video covering one topic. Include links to your other videos into video descriptions when it makes sense. Include CTA to encourage watching and staying on your channel without clicking away.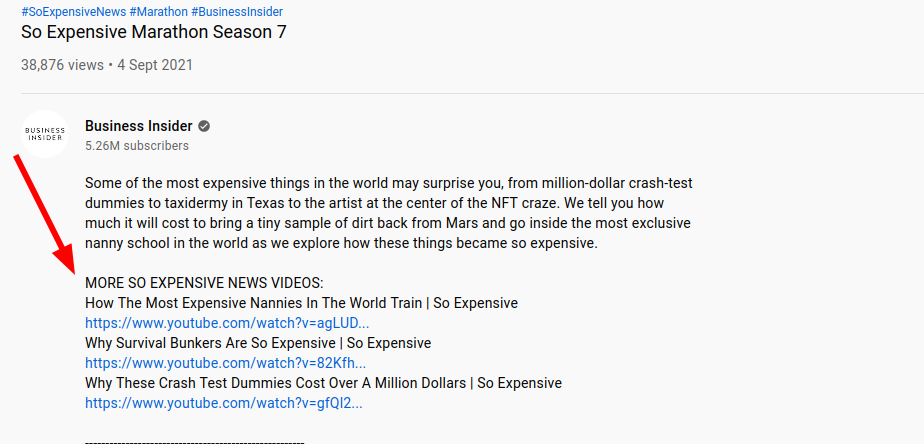 Enable embedding
Give your subscribers a chance to spread the word about your awesome content. To enable embedding, go to YouTube Studio and click Content. Select your video and tap Edit. Select Embedding, and set the toggle on.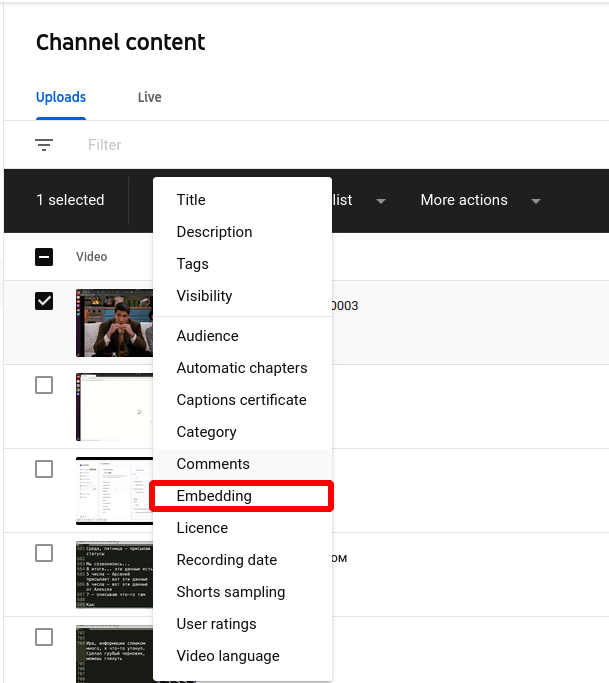 Allowing people to embed your video on their blogs will help your brand reach new audiences and get more views on YouTube. With embedding enabled, when a viewer clicks 'Share' underneath the video window, YouTube will show them the 'Embed' option: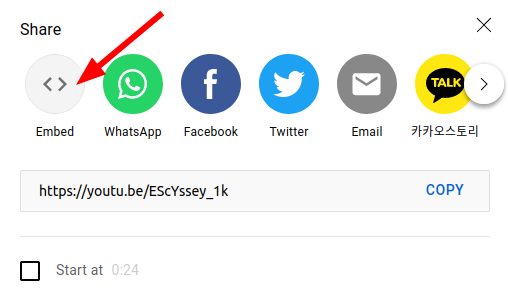 Once they click it, they will see code to embed on their website. 

Transcribe your videos 
Transcribing your videos serves multiple purposes: it makes videos accessible to hearing-impaired viewers, people who watch videos without sound or on the commute, or people whose first language isn't English. 
Use YouTube's help page to create a transcript for your video.

An example of a transcript for your video
Connect with your audience
Maintain relationships with your viewers
Start with answering comments. It's just about being polite; other viewers will be more likely to comment if they know they'll receive a response. Answering comments will also increase your authority—the more questions you answer, the more likely your subscribers will return for more insights on a specific topic.
Other ways to engage your audience include: 
Run a contest

Make reactions videos

Host a giveaway

Ask them something

Thank them for sharing
Use cards and end screens
Cards and end screens will let you influence your audience's choice of what to watch next. Cards are clickable areas that appear during the video. For example, you could use a card that sends a user to another video or a playlist. Make sure they're relevant to the current video and provide extra information or entertainment.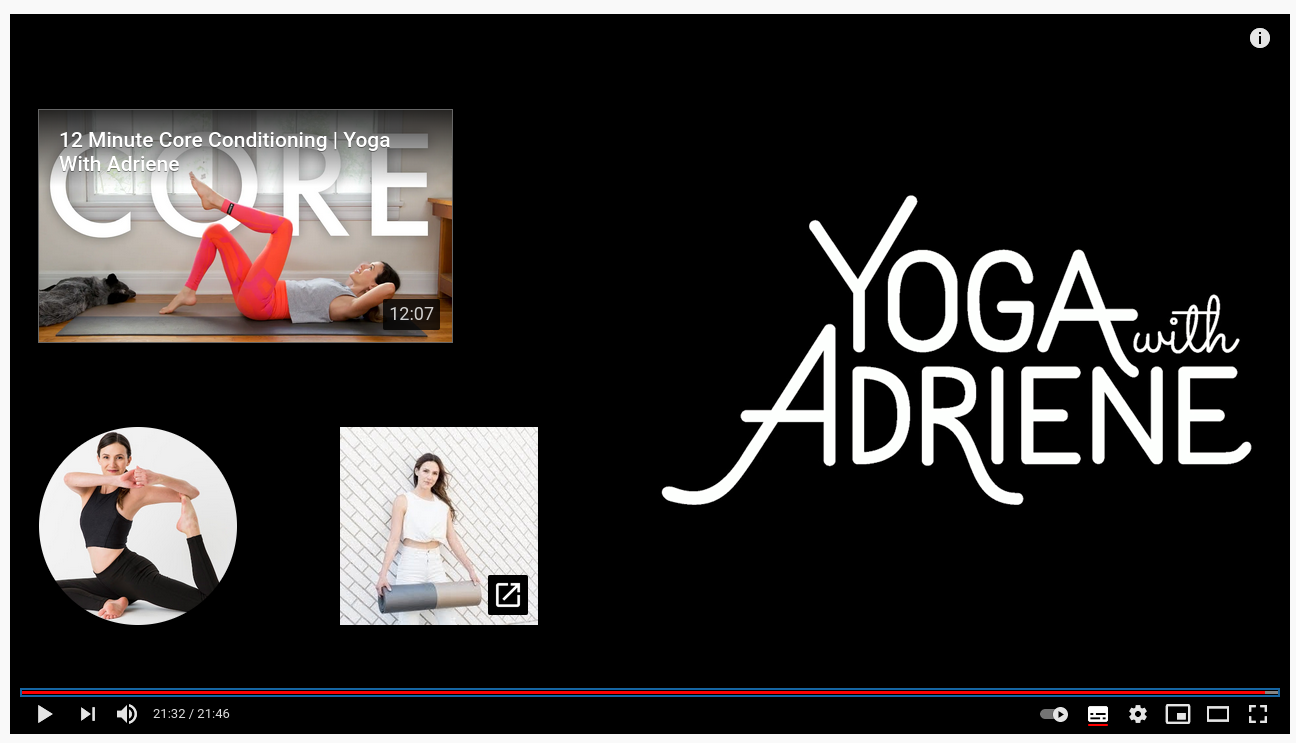 Yoga with Adrienne showcases other videos to watch
End screens are visual CTAs you can add after your video to encourage viewers to see more of your content. They can last from 5 to 20 seconds, so make sure you include some extra time into your video when you're editing.
Upload videos when your audience is online
When is the best time to upload your video to YouTube? There's no magic formula— you need to upload it whenever your audience is online. Unfortunately, YouTube doesn't track your subscribers' activity patterns to show the best posting time. So try to experiment and see what works best for your channel. There are tools like VidIQ to analyze when is the best time to post for your channel.
Remind viewers to subscribe
Ask your viewers to like and subscribe at the end of the video. Many YouTubers include this reminder as an end screen. Subscribers are important for your success on YouTube because they spend more time watching your videos than viewers who aren't subscribed. Once you have 1,000 subscribers and 4,000 hours of watch time in the past 12 months, you can apply for the YouTube Partner Program and start making some ad revenue for your channel. So, remind your viewers to subscribe and turn on notifications. 
Getting noticed in search results
Do your keyword research
Ranking in the search result will get you new viewers who are already interested in the topic but haven't found your channel yet. Do your research with a tool like Google Keywords Player (set up a Google Ads account to use it) or Ahrefs. Take the relevant words and use them in your video title, tags, video description text, and subtitles.
Here's how to leverage keywords on your channel:
Say your keyword in your video

Upload a transcript to YouTube (this way, Google understands what your video is about)

Add keywords to your video description
Use suggested videos
If you get your video to show right next to a popular video, many people will click it because they want to learn more about what they're interested in. There are two ways to get into suggested videos. 
Find a popular video in your niche. You can use a keyword to find a video that has a lot of views. Another way is to look at your competitors' most popular videos. Just go to their channel and sort the videos by most popular. Now you'll just need to create a video that's bigger and better than the one you've found.
To see what keywords are used for the video, check the video's metadata, right-click on the page, and select View Page Source. Then press CTRL-F "keywords" until you find the list. However, don't just copy that list and paste them into yours. Watch the video, see if there are questions raised that need answering or aspects left unexplored.
Optimize your video titles
Leverage YouTube's power as a search engine. Include as much information as possible with keywords you want your videos and channel to rank for. Keep your title between 60-70 characters long. This way, you'll have enough space to create a title that won't be cut short in search results. However, it's not just about the algorithm. It's also about your viewers. So make the titles attention-grabbing and informative.
Make sure people are looking for the words you use in your title 
A good title:
is relevant to whatever your audience is searching

is short and appealing

doesn't contain clickbaits

describes video's content
Create timestamps
Timestamps are clickable links in your video description that let users jump to a specific section or piece of information. They are a great way to connect people with the information they're looking for because no one has time for scrolling video for a specific part. You can make titles for each section as specific as you want, which gives you another chance to add keywords. 
Using timestamps also increases your likelihood of appearing on Google's key moments feature. Google identifies key anchor points on a video and includes them as links on the Google search page.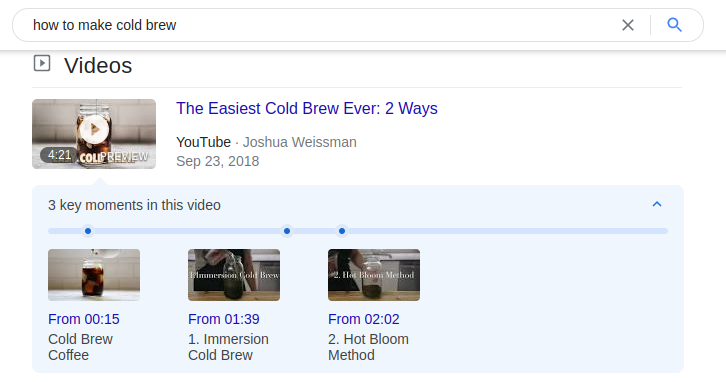 Key points of YouTube video in Google search results
To create a timestamp, type out the time in your description in this format: hh:mm:ss, starting with a 0:00 timestamp, automatically creating a timestamp link. For example: 00:01:13. The chapters need to be at least 10 seconds in length.
Run a paid campaign
YouTube has many ad formats to choose from:
Display ads: these are available only on desktop and show up on the right-hand sidebar of the videos.
Wix website ad
Bumper ads: usually about six-second-long videos that need to be watched before a user can access the video.
Bumper videos last six seconds
Skippable and non-skippable video ads: they show up before, during, or after a video. Skippable ads can be skipped after 5 seconds. Non-skippable ads need to be watched to get to the video.

Sponsored videos: ads that are displayed within relevant videos.
You can target your ads by:
Keywords.

They should have a connection with the videos and preferably a healthy search volume.
Audience demographic

based on their sex, age, etc. 
Users' search history

based on Google tracking and recognizing what they're interested in. 

Similar audience. 
External channels
Connect push notifications
Push notifications are a way to promote your YouTube videos to an already warm audience of your website subscribers. It will also create a nudge for people who subscribed to your channel but don't check their notifications regularly. You can connect push notifications using Zapier integration. Whenever you post a new video on your channel, your website subscribers will automatically get a notification about your new upload. On Gravitec's free plan, you can send up to ten push campaigns per day with Zapier connection. To send more campaigns, update to premium plans.
Follow these steps to create a push notification about a new video:
Open

our integration

and click

Try this template

.

Connect your YouTube channel.

Sign in

to your Gravitec account.

Send a test notification. The integration is pretty straightforward. However, if there was an error, you'll see a notification from Zapier.

Turn on Zap.
Your website subscribers will get a push notification when you upload a new video.
Share your videos on social media
Instead of just sharing the link to your video to Instagram or Facebook, create a teaser for your video and upload it as a native video to the social network you're using. All social networks have a single goal: they want users to stay there as long as possible. So if you create a text post and add a link to your video, your views and impressions will stay low. Posting a video directly to Instagram or Facebook will keep the algorithm happy, so more people will see it and follow the link to the full video on YouTube.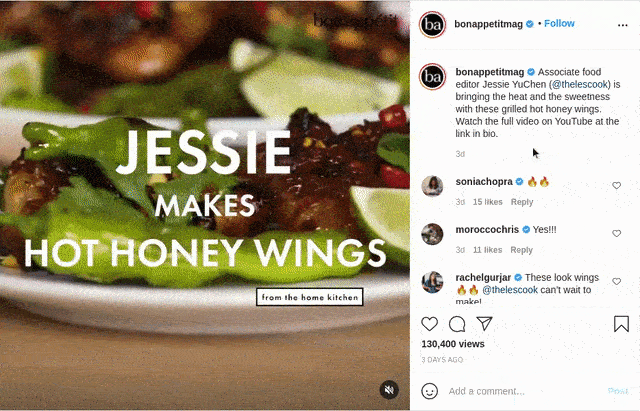 Post a short clip of your video to social media
In addition to social media, you can also embed your YouTube videos in relevant blog posts and pages on your website, or use them in email marketing.
Share videos on Reddit, Quora, and groups
Online communities and forums like Reddit are perfect for promoting your videos because these threads exist to answer questions people have. And what can answer a question better than a video? Make sure you're recommending your video when it's relevant. Otherwise, moderators might consider it spammy. 
Usually, just becoming a part of a group first is a good strategy. Find groups that match the topics in your videos. Join discussions without sharing links to your content. Take notes of the common pain points people discuss. Only then share the links to your videos.
Summary
To get more views on YouTube, set up your channel and organize your videos, go over SEO and share videos to your website subscribers, and share it across the external channels. Here's a recap of how to get more views on YouTube in 2021: 
Get your basic YouTube housekeeping done.

Create a channel trailer.

Create playlists.

Use custom thumbnails.

Make videos that maximize watch time.

Engage your audience.

Use end screens and cards.

Upload videos when your audience is online.

Remind them to subscribe.

Enable embedding on other websites.

Transcribe your videos.

Cross-promote your videos on YouTube.

Do your keyword research.

Leverage suggested videos.

Optimize your video titles.

Create timestamps.

Run a paid campaign.

Connect push notifications.

Share your videos on social media.

Share videos on forums.