In this article, we discuss the differences between Push and SMS notifications. Of particular interest is the fact that SMS is one of the oldest methods of interaction with customers. It appeared with the spread of mobile communications. In contrast, push notifications are only now gaining momentum as a technology and have not yet reached the peak of popularity.
TOP-10 Benefits of Push Notifications
Let's talk about the strengths and the weaknesses of each channel, as well as how they help businesses grow.
Definition of Push and SMS
SMS (Short Message Service) is a text message sent to a device via a mobile network.
SMS has a 160-character limit. It contains the main text, a link, and a phone number. Businesses use this marketing channel to deliver short notifications to their customers. This type of message is only available for devices that have a SIM card installed.
Push notifications are short messages from an app or a website that a user receives through the Internet.
Read about the differences between mobile and browser push.
A push notification includes a title, the main text, an image, URL, and buttons, as an extra option.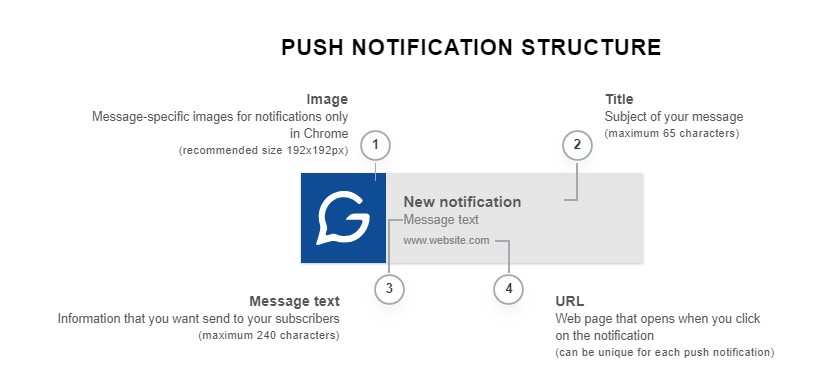 An app push pops up only on mobile devices, and web push pops up on both mobile and desktop devices. Businesses use these notifications as a quick connection with their loyal customers.
History
SMS text messages began about 30 years ago.
In 1992, the first SMS was sent from a computer to a mobile device;

In 1994, Nokia released the first keyboard phone, which supported messaging between two subscribers on the same network.

In 2000, in the U.S.A., it became possible to send SMS between different mobile networks. Initially, only 35 messages could be sent per month.

In 2010, more than 6 trillion SMS text messages were sent worldwide.

Despite the widespread use of instant message apps today, SMS is still in demand around the world. This channel has particular popularity in the business sphere.
Web push notifications began in 2001, with the creation of an alert system for mobile applications.
Apple was the first company who implemented the technology in their Safari browser.

Since 2015, after Google support, the development is massively used. Today, Chrome, Opera, and Firefox browsers support web push for both desktop and mobile devices (Android).

Now, a large number of websites, of all types, install technology to collect a subscriber base and facilitate a quick, convenient consumer alert system. In 2018, Gravitec.net (among TOP-10 push providers) sent more than 7 billion notifications.
How to Choose Between SMS and Push Notifications
In order to make a decision as to which marketing channel is right for your business, it is necessary to examine their respective pros and cons.
SMS
4 main benefits
The most important benefit is a nearly 100% guarantee of delivery to the addressee. If the subscriber's phone number is valid and the mobile network is stable, the SMS notification will get to the user, even in another country.

The second important advantage is speedy delivery. This factor highly depends on the state of the mobile network. Nevertheless, in urban areas where there is good network coverage, SMS messages arrive in a matter of minutes.

The third unique advantage — the audience for SMS includes both smartphone and non-smartphone users. Thus, it is potentially even wider than the audience of various instant messengers (WhatsApp, Viber, etc.). 

Moreover, there is access to residents of territories with low network bandwidth, and to those who simply prefer non-smartphones. In other words, with SMS, you can reach consumers who are not actively using the Internet.

Finally, SMS messages are stored on the customers' devices.  After delivery, the information can be viewed again and again, until it is manually deleted.
4 main disadvantages
The main drawback of SMS marketing campaigns is a relatively low CTR – 7% (traversing from messages to the website). Therefore, business uses SMS mostly for service notifications, banking, and travel alerts.

SMS messages often come at inconvenient times – when a subscriber is busy (driving, in a meeting, etc.). So, these messages remain unread or only casually viewed. Besides, with the development of instant messengers, SMS has almost lost its function as a communication tool,  because for the most part, users do not perceive them as a means of interactive contact.

Another downside is the difficulty of collecting a customer base. In order to collect the phone numbers of users for distribution, a lot of tedious work needs to be done. Often, customers are reluctant to share their contact information. Only in cases where there is a high level of trust, such as with a name-brand company, will a customer give out their personal data. And, in order to do it, the company usually needs to offer something in return, such as promotions, privileged status, or preferential discounts.

SMS messages often become intrusive and can lead to reduced user loyalty. Trying to unsubscribe from receiving SMS messages is relatively cumbersome – they need to write to Customer Service, or send a stop code.
Read how to combine emails and push notifications.
Push Notifications
A website visitor becomes a subscriber to web push notifications by clicking on the "Allow" button in the service browser window, which appears automatically.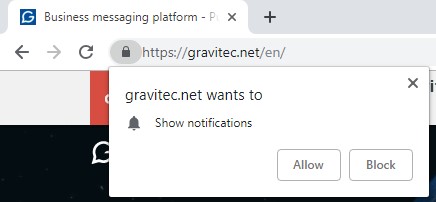 When a website is connected to a push service, this window is shown to all website visitors.
If a visitor clicks "Allow", they are added to the subscriber database, and the website owner can send them notifications. The subscriber doesn't need to divulge any personal data.
Benefits
The first advantage of push is a quick and easy collection of subscribers. To start collecting subscribers, all that is necessary is to connect your website to the

push notification service

. Visitors who are interested in receiving notifications can subscribe with just 1 click. Therefore, they are more willing to receive notifications than they would be if they had to fill out a registration form, give their email address.

The technology allows subscribers to unsubscribe from notifications right from their browser. It is completely voluntary and unobtrusive.

It is very easy to get from the message to the website. A subscriber can simply click on the notification itself!

You can improve your campaign efficiency, by using

service statistics

to help you ascertain the best times to send push notifications.

Another important tool for working with clients effectively is through the 

segmentation

of your subscriber base. The Gravitec.net service allows you to segment subscribers by device type, geography, and/or interests. This is how targeted push campaigns work.

Push notifications can be sent to both mobile devices (smartphones, tablets) and desktop computers (PCs, laptops). Furthermore, the cost of sending push notifications is much less expensive than SMS.
Learn about all the benefits of the technology by registering and getting a free trial.
Drawbacks
The delivery of notifications depends on the user's status on the Internet (online/offline). On a desktop, a subscriber will only receive the message when he opens his browser and is connected to the Internet.  For a mobile device, a web push comes when the smartphone screen (Android) is unlocked, regardless of whether or not the browser is open.

Like SMS, push notifications have limitations regarding the amount of text that can be sent. Read more about

push notification character limits

. Therefore, a message should be succinct, sharp, and intriguing. In addition to text, a notification can include an image, buttons, and a link.
In September 2018, there were certain changes made to Windows 10. Since then, push notifications have been sent to the Notification Center, where they can be viewed at a later time. This is also true on Mac OS.
In February 2020, Google released the Quiet UI for notifications in Chrome to ensure more genuine connections between websites and users. 
Comparing the two Options
We present a comparative table of the considered marketing channels. Therefore, we can clearly understand the differences between SMS and push.
| | | |
| --- | --- | --- |
|   | SMS | PUSH |
| Subscriber acquisition | Long-term | Fast |
| Delivery guarantee | ~ 90% | up to 75% |
| CTR | up to 7% | up to 35% |
| Cost | from $0,02 per message | from $4 per month per 1,000 subscribers |
| Content | text, link | text, link, image, buttons |
| Audience | mobile users | mobile and desktop users |
| Delivery terms | Availability of mobile network | Internet connection |
You can choose to make use of both tools, employing a multi-channel approach for your business, to achieve different marketing goals.
In addition, to optimize costs, you can use the chain method – sequentially sending messages through different channels. For example, a very common approach is to include Push and SMS in the chain. Therefore, if a subscriber is connected to the Internet, he will receive a service message via push. If the system refuses, the message will be sent via SMS.
If you have any questions about push notifications, please contact our support team. We'll help you create and launch a campaign tailored to your expressed desires.