If you frequently update content on your website, you need a way to notify your subscribers about new articles. This increases repeat traffic to your website and converts subscribers to regular readers.
Here, we discuss two options to inform subscribers about new blog posts or articles on WordPress. We'll find out how to automatically send push notifications and emails after you publish news on your website.
How to notify subscribers with web push
You can easily alert your subscribers about new content via web push notifications.
Get the Best Price for Web Push
After receiving a notification, a subscriber needs to click on it to open your webpage with the new article.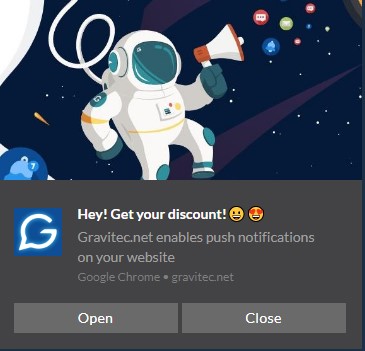 TIP
If you have web push technology installed on your website, you get subscriptions in one, or two clicks. After a visitor of your website clicks "Allow" on the permission prompt, they will start receiving your notifications.
Learn more about how web push notifications work.
Typically, websites use push platforms that provide a full set of features for creating push campaigns. This includes being able to send notifications both manually and automatically. 
Creating notifications manually for each new publication can be overwhelming, as well as tedious. Thankfully, there are several ways to send them automatically. The RSS to Push feature is a prime example of push automation. It facilitates sending notifications from your website's RSS Feed immediately after a new article is published.
How to send notifications about new articles in Gravitec.net
In order to send notifications from your RSS Feed in Gravitec.net, there are four easy steps: 
Install the

Gravitec.net WordPress plugin

Add an RSS Feed to the Gravitec.net system

Choose 'Breaking News' or 'Top News'

Set a time to send notifications and the number of campaigns per day
By installing the WordPress plugin, web push technology will be integrated with your website. To send automated campaigns, you need to set them in your account in the Gravitec.net system.
After you add the RSS Feed, the system will automatically create campaigns. All notification elements title, description, icon –  are pulled from the web page metadata.
There are two options from which you can choose – 'Breaking News' or 'Top News'. 
With  'Breaking News', subscribers will automatically get notified about your latest updates.

You can send breaking news to all subscribers or to a certain segment. Additionally, you can set specific categories, such that news from only certain areas of your website will be sent.
With 'Top News', the system will send notifications with the most popular items to your subscribers.

You have to set a time period for your news to be sent and the number of campaigns per day. The Free Plan in Gravitec.net allows you to send 5 automated campaigns per day.
Learn in detail how to start an RSS to Push campaign.
For each campaign, you will get statistics of delivered, opened, and closed notifications. So, you can analyze which content is the most popular and determine subscriber interests.
How to email new posts to subscribers in WordPress?
In a similar way, you can email your subscribers about new posts. There are plenty of newsletter plugins for WordPress, developed by email marketing services. The most popular of these are:
Most of them have drag-and-drop email editors to create newsletters directly from your WordPress dashboard. 
Read how to start an email newsletter in 12 easy steps.
But, if you want to send emails automatically, you need to use the RSS to Email feature. 
Let's take a look at how this works on SendinBlue.
Add your RSS Feed to the Sendinblue service

Select a list of recipients 

Schedule how frequently the system will check for new posts in your feed. An email campaign will only be created if there is a new item in your RSS Feed.

Activate automation
You will get campaign reports in your Sendinblue account.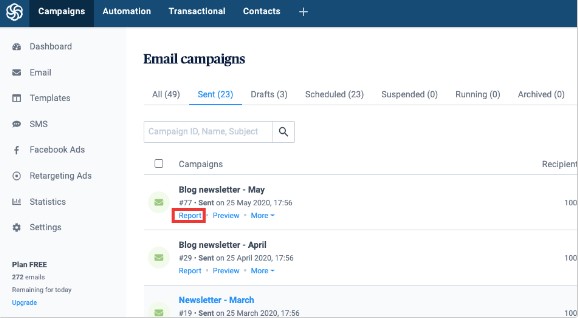 RSS to Push vs RSS to Email
Push notifications have a higher open rate (CTR) than that of emails. And even if a subscriber doesn't click on a web push, they will still see it on their device. 
Learn more about web push statistics.
Email newsletters often end up in a subscriber's spam folder. And even in the inbox, they may remain unopened for days. But emails have been popular for years, and many companies still use them as their main communication channel. 
If you already have many email subscribers, try using both channels. Push subscriptions are fast and automatic. So you will have an alternate tool to send notifications in a few months. This will give you the opportunity to see which channel is more effective.
How to Pair Push with Email Campaigns
Conclusion
RSS to Push and/or RSS to Email automation is especially helpful for blogs and news websites. They allow you to create/send campaigns, notifying your subscribers about new content, without taking up much of your time. Once you set the parameters and a schedule, the system automatically generates newsletters/push notifications. 
If you have any questions about web push campaigns, please, contact the Gravitec.net support team.
TIP
The Gravitec.net service is an easy-to-use platform for sending push notifications from websites. Push technology enables you to inform subscribers of updates and new posts. You can also create targeted and triggered campaigns, send notifications automatically, and see campaign statistics.
We receive a commission on purchases made through links on this page