Putting all the effort into creating a perfect event only to see that no one came is a nightmare for everyone that hosts or markets events. We compiled ways to show how to promote events online so that it gets noticed, even if it's your first one. 
According to the event marketing stats, marketers use social media, events, websites, and ads to drive registrations to the online events.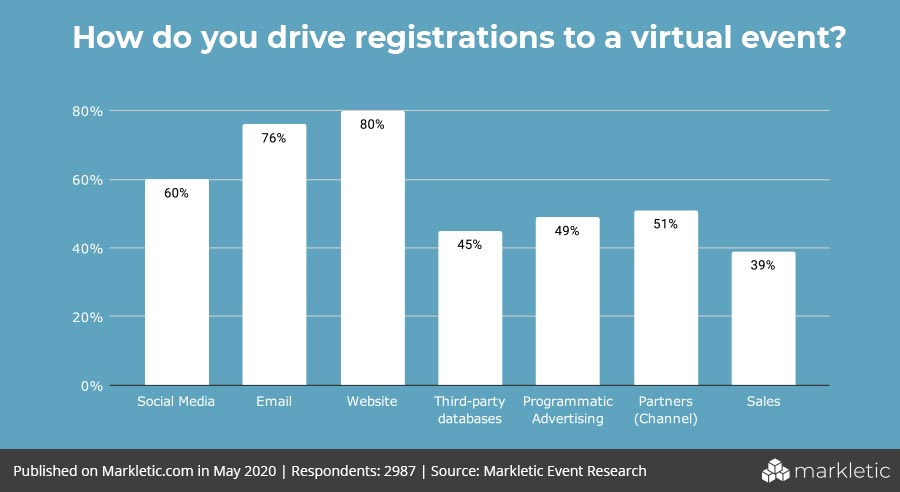 Would these ideas be right for marketing your online event? Are there any options for you to try? Keep reading for straightforward ways to drive registrations and promote your event.
TOP-10 marketing ideas for events
Create an event page
Create a place for people to find all the relevant information in one place. Add professional pictures, information on keynote speakers. Embed all the information about the event so that people stay on the page until the registration. Include all the necessary details, like agenda, safe payment methods, time, and event date. 
Make sure to embed all necessary media content into your page, as your goal is to get visitors to stay there and not, say, go to YouTube to find videos of the venue. Don't forget to cover the essential details. Is the venue difficult to find? Include Google Maps. Is there a dress code? Embed references or a necessary checklist.
Tips to optimize your page or website:
Focus everything on one conversion goal, like sign up, buy tickets or raise awareness about your event

Include elements to get people excited, like footage from past events, sneak-peaks, or countdowns

Provide social proof, like testimonials from people who already visited the event

Add partner details

Embed social media sharing buttons

Make sure your page looks great on mobile devices
Learn how to create a squeeze page. 
Help Google see your event
To help people find the page, do the keywords research to see what relevant words people look for most often. Use services like Google Keyword Planner or Wordstream Keyword Tool to find out what words to include in your promotional copy. If you organize a bakery business PechaKucha night in Chicago, your keywords definitely should include something like "baking storytelling in Chicago 2021" and "bakery pechakucha Chicago."
It also helps to have your SEO basics straight, like using proper header tags, completing your alt descriptions, and adding a transcript to your video content for more accessibility.
Tips for leveraging your SEO: 
Include the event-related keywords you found into headings and content

Write enticing and interesting meta descriptions to boost CTR

Add event markup to your listing in search. You can learn more about rich snippets for search on

Google's page

.
Use channels you already have
If you have a blog, write about your future event. If you host a podcast, make sure to mention it to your audience. Sharing information on your website lets you create a cohesive look and branding for all the events that you're hosting. On your website, you're not subject to social media limitations and have total control over your content.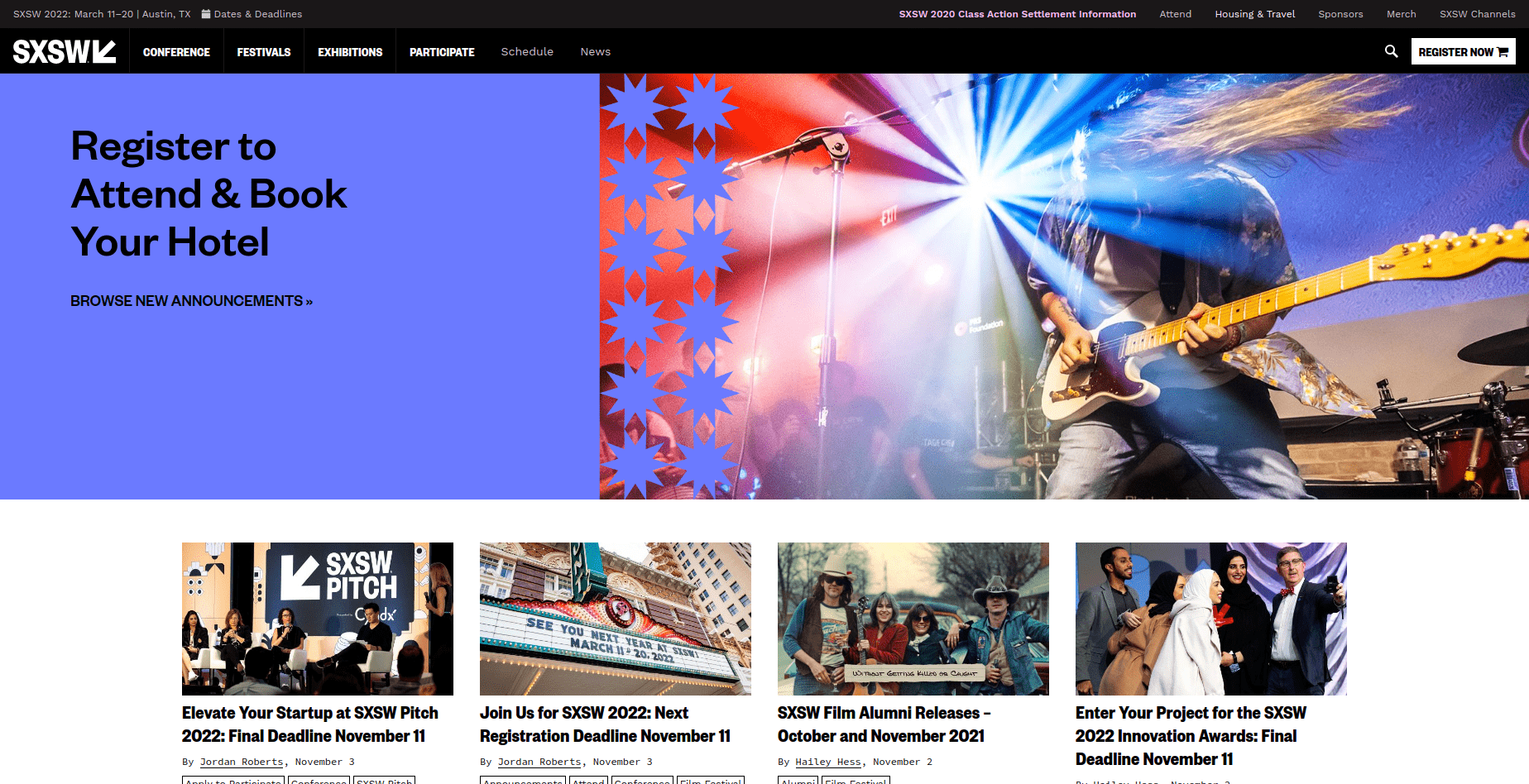 SXSW adds a banner with info on their event and CTA, as well as creates content highlighting the event.
Tips to make most of what you have:
Include the CTA button on your website that leads to your event

Create a blog post with information relevant to the event, keep it informational rather than promotional

If you already support chats on your website, use it to answer questions about the event

Add information about the event into your email signature

Add links to the event page to your social media profiles

Share early bird information email and push subscribers
Use push notifications
Even the most interesting audiences get busy or distracted, so chances are, some portion of your website's audience might have simply missed your update about the new event. Use push notifications to let your website's visitors know about the event you're hosting. 
Get the word out about your event
Tips for harnessing the power of push notifications: 
Include social proof, which could be as simple as adding a rough number of attendees

Create a

drip campaign

to let the subscribers know about the biggest updates

Offer a discount for push subscribers

Send event launch notifications

Notify subscribers about the dos and don'ts of the event

Ask them for feedback
Check out push notifications use cases.
Leverage the power of pop-ups
Pop-up forms work best if you provide value to your website's visitors. If you're hosting a free event, why not build up your email base while you're at it. If you give an invitation to a great event for free, they will subscribe to your newsletter, and you'll get an interested audience. Once you have a strong email base, you can use email to promote your other events.
Create a non-intrusive pop-up using one of the WordPress plugins to ensure the pop-up doesn't annoy your users instead of getting them to sign up. Make it as easy as possible to sign up, use as few fields as possible. 
Tips to make the most out of pop-ups: 
Send a thank-you letter and deliver the promised invitation or recording

Write a specific CTA for your pop-up

Make sure the pop-up works together with your page's overall aesthetics
Use email marketing
According to Eventbrite's report, email is among the top three tactics to promote the events. Send an email about the event two months in advance. Cover all the major event details in your invitation and clearly show what they will get from attending. From there, periodically remind people about the event in your email list or combine it with other promotional strategies, like push notifications.
Tips to make the most from your email newsletter: 
Embed social handles to the email to make sharing easier

Offer exclusive discounts or content to your readers

Include links to the registration page or ticket purchase page
Learn how to create an email newsletter.
Let journalists and bloggers know about the event
Consider what publications, blogs, or online magazines you would like to feature on and pitch your event. Reach out to bloggers in your niche who might be interested and offer them some incentive, like a discount code they can share with their readers. You can also use press releases to spread the word about your event. If you include the link to your landing page, you'll also drive referral traffic.
Tips to get your event noticed:
Send multiple press releases when you announce an event or when you announce new presenters

Consider getting sponsored content on the blogs in your niche

Submit your event to industry associations 

Get a good angle on your pitch; for example, instead of the topic, start with "*Famous industry speaker* will join the event"

Pitch guest posts to reach a new audience and to create slightly more long-term content.
Check out tips on how to report a story to the local news.
Facebook event promotion strategies
Facebook is a great social media network to promote your event, as people are actually using it for events — according to Facebook's internal data, 35 million people view a public event every day. Facebook will also help you track your RSVPs.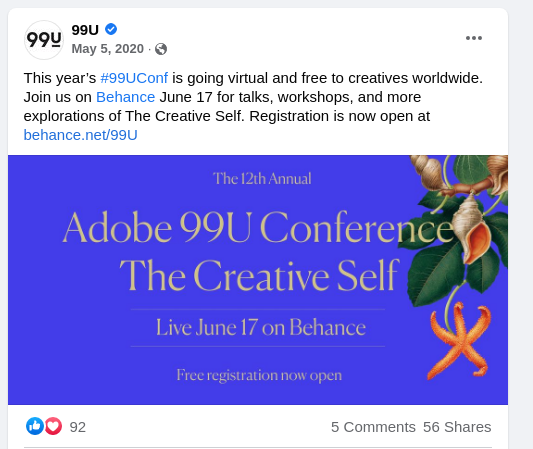 There are multiple ways to promote your event on Facebook. You can:
Create Facebook event pages


You can create an event page either from your personal or business page. They work for virtual and in-person events of any kind, like fundraisers, parties, conferences, even sporting events. When creating an event, you'll choose a category. Popular options include festivals, concerts, meet-ups, and conferences.




The page is used to describe what your event is about, when and where it will happen. Once you create the page, you can promote the event with Facebook Ads. For a successful event page, come up with a short and memorable name and choose an attractive 1920×1080 pixels banner. Share announcements like new speakers in the 'Discussion' feed.

Run event ads


Facebook allows you to boost an event if you click "Promote" on the top right of your business page. The ad setup is fairly straightforward. Facebook will get you to ad creative, copy and choose the target audience and daily budget. 

Cross-promote the event with sponsors or keynote speakers


You can add hosts to the Facebook event page. This way, they'll be able to add the event to their business pages. This tactic is valuable if the co-host has an established following, as it will allow you to tap into an interested audience.

Get your audience excited with pre-event content


Engage your attendees with pre-event content and encourage them to share it with their friends. For example, you can share preparation via Facebook live. Facebook Live has a useful Insights feature, so you'll be able to see what type of content your audience is most interested in.
Promote events on LinkedIn
LinkedIn is all about creating and maintaining professional connections, so if your event revolves around business interests, that's a platform worth exploring. You can either go with your LinkedIn page or post information about the event to the relevant groups. According to SproutSocial, people prefer building connections with people, not brands, so instead of just posting from your business page, you can ask your employees to share information about the events with their connections.
LinkedIn also has Live Events, which provides a rounded experience — you'll be able to market it on LinkedIn with event ads and go live from your page. To use LinkedIn events, you'll need to submit a request to become a LinkedIn live broadcaster first. 
Tips to promote your event on LinkedIn:
Message your connections with the information about the event

Ask groups' admins to mention your events (will work only if you can justify it's beneficial to the group's members)

Ask your sponsors or speakers to share their event to their LinkedIn network

Consider Sponsored Content on LinkedIn to promote your event to those outside your connections list.
See how to get leads on LinkedIn.
Promote the event on Instagram
Instagram is a platform that centers its content around photos and video. You can harness its visual power to introduce locations, speakers, and sponsors. Instagram can also extend your promotion well into the event and past it with user-generated content. If you get people to share photos from your event, you'll tap into word-of-mouth marketing. Seeing content posted about you by other users will build your business's credibility, as people are more inclined to trust peer content than a company's promotional messages. Such messages will increase your overall exposure and get more users to consider visiting your events.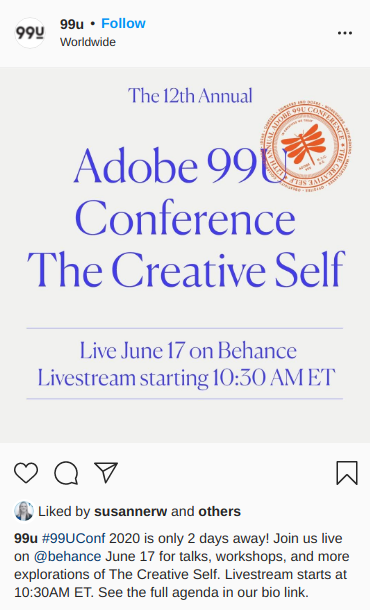 Adobe's 99U features speaker quotes and updates to engage subscribers. 
Tips to promote events on Instagram:
Use countdown stickers in Stories

Share teasers with relevant details to generate buzz

Host giveaways to drive engagement

Stream highlights and powerful moments

Come up with a custom hashtag and encourage followers to tag event-related posts and stories

Use Instagram Growth Ads to deliver your most compelling video content to audiences most likely to sign up
Partner with affiliates and influencers 
Partner with experts, YouTubers, and popular bloggers in your niche to tap into their audience or leverage referral marketing. You can come up with an agreement where affiliates get paid a fixed commission for purchased tickets or sign-ups. Influencers can be enlisted to create promotional content for their audience. Eventbrite has tools like Social Ladder to help you find social influencers in your niche.
Tips to market your events: 
Ask influencers to use tracking links to your ticketing page

Don't stop on individual influencers; look for organizations with a wide reach
Get listed on the event sites
Sites like Meetup or Eventbrite let people browse the events in a specific niche or location. Such websites make it easy to deal with booking and tickets, which is helpful if you don't want to connect a payment gateway to your page.
Tips to make the most from your listing:
Create an organizer's profile with an interesting bio and social media links

Use keywords when describing your event

Create a group for your event

Connect with other communities that will be interested in your event

Add tracking pixels to your event
Track your promotional efforts
Track the efficiency of your promotional tactics. This way, if you see that certain tactics don't work with your audience, you'll be able to maximize your efforts by using the tactics that yield signups. 
To figure out what's working, use tracking URLs to isolate the sources of traffic. This way, you'll get more accurate information on Google Analytics. You can also use tool-specific analytics, like  Account Overview in Ads Manager, to see how your ads perform to adjust future campaigns.
Here are some ideas on what metrics can help you with analyzing your marketing efforts:
registration page conversion rate 

content views

referral traffic numbers

social media engagement, like the number of views, likes, hashtag mentions

email open rates and click-throughs
Keep going after the event is over
Once the event is over, it's your chance to leave a lasting impression. Send a link with the recording and post-event surveys. This way, you'll reengage the attendees and establish a connection with them. Polls will help you figure out what can be improved so that your next event goes even better.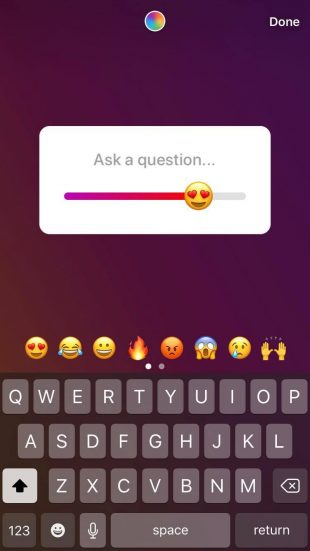 Tips on leaving a great impression: 
Create a digital channel for networking

Post photo galleries to your Facebook page or Pinterest board

Share presentations

Send personal "thank you for visiting" emails

Assign attendees a one on one meeting with the sales team for post-event outreach

Announce next year's event if applicable
Summary
Promoting an event is a tough job, and it requires embracing multiple marketing channels. You can create content on the platform you control and turn to networks like Facebook or LinkedIn to connect with users with event-specific pages. 
Instagram is a go-to for user-generated content and for using all the great images you've got. You can get started a couple of months before the event and share information about the venue and speakers. With push notifications, you can leverage your event landing page or your website and share event updates with your subscribers. Choose strategies that make the most sense and track results with analytics so that you can double up on what works.