Every Internet user knows that there are security threats when transferring personal information. However, not everyone takes measures to ensure their own protection.
Here, we talk about data protection in Viber. Viber is a service for instant messaging and voice/video calls, owned by Rakuten, Inc. You can download it for free, and enjoy communicating with all of your friends.
Is Viber safe to use? We'll find out how this message service provides security for its users. Can a third party get at your messages? Is there a way for you to protect against it?
Is Viber Safe for Privacy?
First, let's look at Viber's Privacy settings.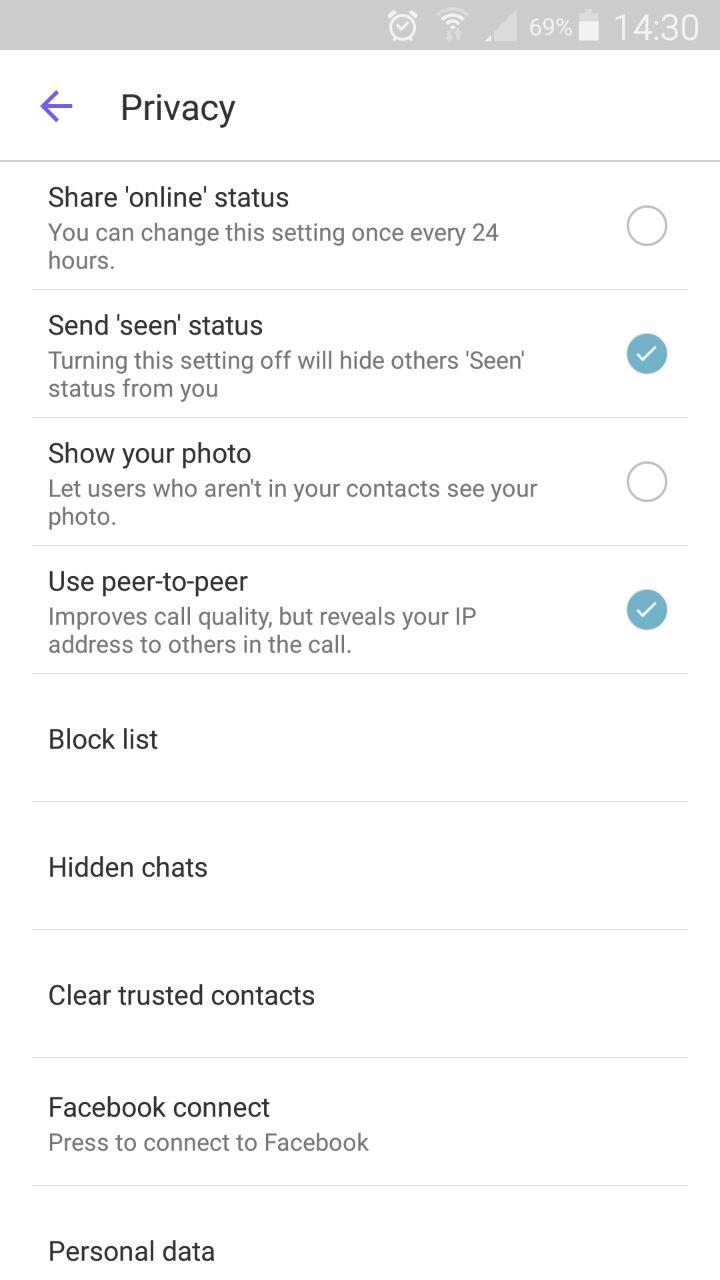 You can:
Share (or hide) your 'online' status

Set the 'seen' status view

Allow users who aren't in your contact list, see your profile photo

Use peer-to-peer for calls, allowing your IP address to be revealed to others in the call

Manage your Blocklist

Use settings for Hidden chats

Set rules for personal data collection
Viber collects information about your usage activity, sends you ads based on your interests or location. 
In the Personal data section (Settings – Privacy) there are four options that you can manage.
Collect analytics 

Allow content personalization 

Allow interest-based ads

Allow accurate location-based services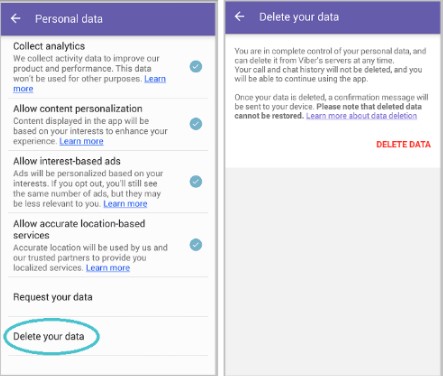 Additionally, you can delete or request the information about your activity from Viber's servers at any time by clicking on "Delete your data" or "Request your data".
Learn more about how Viber works.
Is Viber Secure?
TIP
Is Viber encrypted
? Yes! Viber uses end-to-end encryption. It protects messages from being read by a third party. The message coming from your device is encrypted before it is sent to your contact. It can be read only after it reaches the receiving device.
For more privacy while chatting, Viber has the following features:
Message deleting

Hidden Chats

Secret Chats
Not every messaging app allows you to remove messages from both yours and a recipient's device. There are no time limits for this option in Viber. You can delete any message from your chat history.
To hide your conversation from accidental access by others, use the Hidden Chats function. Just set a PIN-Code for its private use. The Hidden Chat is not visible in the common chat list. You are the only one who can open and read it, using your PIN-Code. It won't be shown to anyone else.
Secret Chat lets you automatically delete the information after it has been seen by the recipient. Set your own parameters in a self-destruct timer.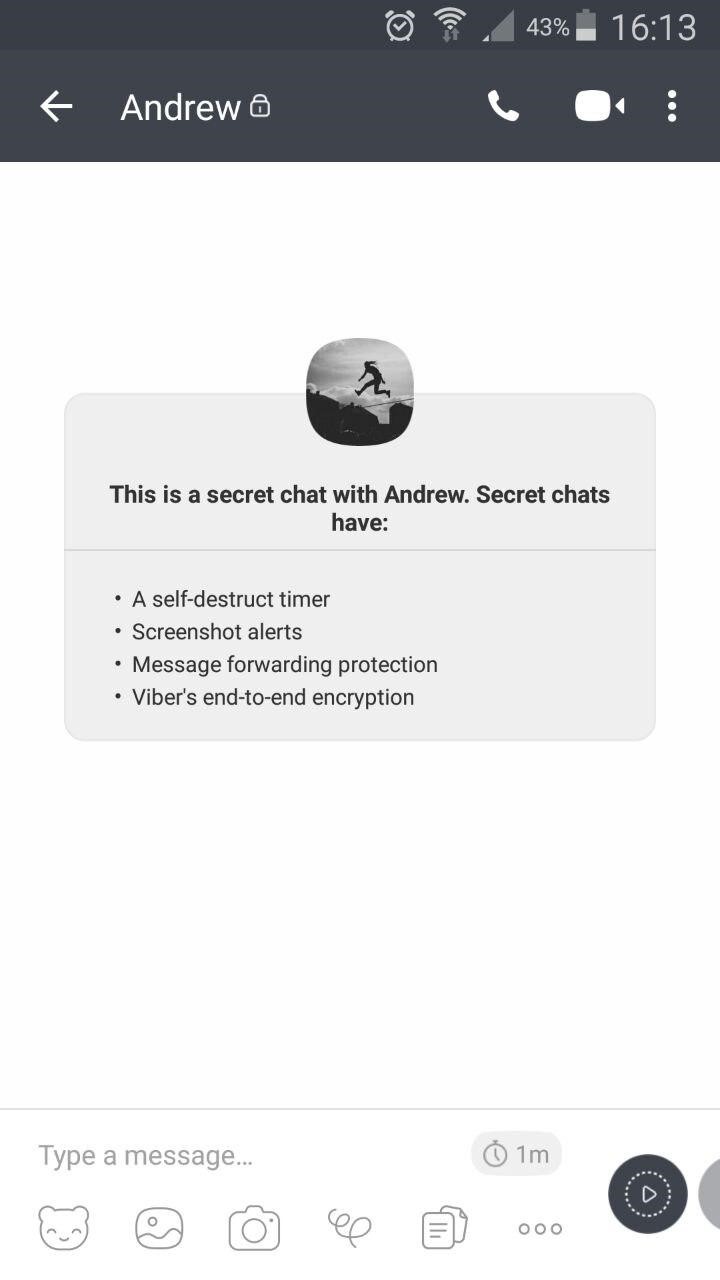 When you are in a Secret Chat, and you send a message, you can set the message to be automatically deleted by setting the timer.  The timer has a set of predefined amounts of time for you to choose, ranging from 1 minute to 5 hours.
In addition, Secret Chat warns you if your contact takes a screenshot of your chat. Secret Chat messages can not be forwarded by your contact.
Read our article "Viber vs WhatsApp – Which Is Better?"
Viber Encryption
Beginning with version 6.0, Viber has had encrypted communication. Once you have installed it, you will see the following alert:


Encryption works for text messages, photos and videos, group chats, and on voice/video calls, on all desktop and mobile devices (tablets and smartphones). If you do not see the alert, check your Viber version and make sure that your contact also has the latest version.
End-to-end encryption means that a secret key is used when transferring information. Messages get to Viber's server as an encrypted text so they can't be read by anyone. They will only get decrypted once they reach the recipient's device.
So, your conversations as chats or calls are protected from being read or intercepted, even on Viber's servers. The company does not use any information from your correspondence, for targeted ads.
However, some Viber security issues could lead to being intercepted by the man-in-the-middle attacker. 
This can happen if someone hacks the account of one of your contacts. To counter this, there are some extra protective measures.
One of these measures is the "Trusted Contact" list. If you communicate with a certain contact frequently, you may wish to add them to this list. 
To authenticate a contact:
Go to your chat with the contact

Open the chat info

At the top of the list, click 'Trust this contact'

Click 'Free Viber Call'

During the call, a lock icon will appear. Both of you need to click on it.
A code will appear on both of your screens. Confirm with your contact that the code is the same

If it matches, tap 'Trust this contact'

After that, the lock icon will change to green
From that moment on, this contact will be marked with a green lock. If you see that the lock becomes red, then there may be some sort of threat. In this case, you should repeat the procedure (above).
It might be a good idea to use this option when you send important or sensitive information (for instance, credit card information).
Read how Viber makes money.
Viber Safety Tips
We've collected basic Viber tips to protect your conversations:
Watch for updates, and install the most recent version on all of the devices that you run Viber.

Block messages from someone that seems suspicious.

Do NOT open suspicious files and messages.

Add contacts with whom you frequently communicate to your trusted list.

Check your chats for the end-to-end encryption alert.

Use Hidden Chats for conversations you want to keep private.

Send sensitive information via Secret Chats.
Conclusions
Viber protects users' data from hacking by default. However, you should take extra security measures with self-customization. Negative reviews about Viber's vulnerability is usually associated with not taking advantage of Viber's protection features. Full security prevents revealing your messages for fraudulent schemes. Beware of sending confidential information without checking your encryption status. It's probably a good idea to periodically check your privacy settings in order to feel secure while using Viber.
TIP
The
Gravitec.net
service is an easy-to-use platform for sending push notifications from websites. Push technology enables you to inform subscribers of updates and new posts. You can also create targeted and triggered campaigns, send notifications automatically, and see campaign statistics.
You may also be interested