Every Internet user knows about the security threats when transferring personal information. However, not everyone takes measures for their own protection.
Is your messenger safe for use? Can you protect your messages from getting to a third party?
In today's article, we'll talk about data protection tools in Viber. We'll find out how the messenger provides customers security.
Is Viber Safe for Privacy?
First, let's explore Viber offers in the Privacy section (messenger's Settings).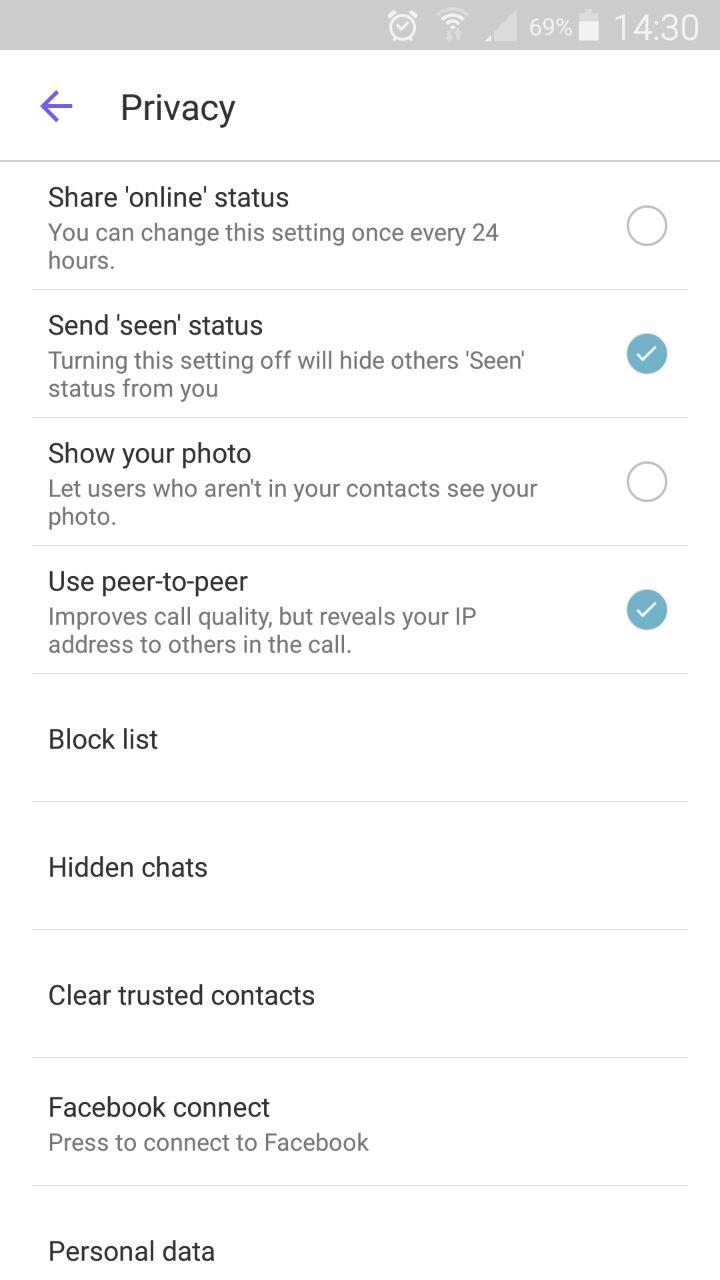 You can:
Share or hide your 'online' status
Set the 'seen' status view
Let users who aren't in your contact list see your profile photo
Use peer-to-peer for calls. This will reveal your IP address to others in the call
Manage your Block list
Use settings for Hidden chats
Set the rules for personal data collection.
To delete your data from Viber's servers at any time choose the corresponding option.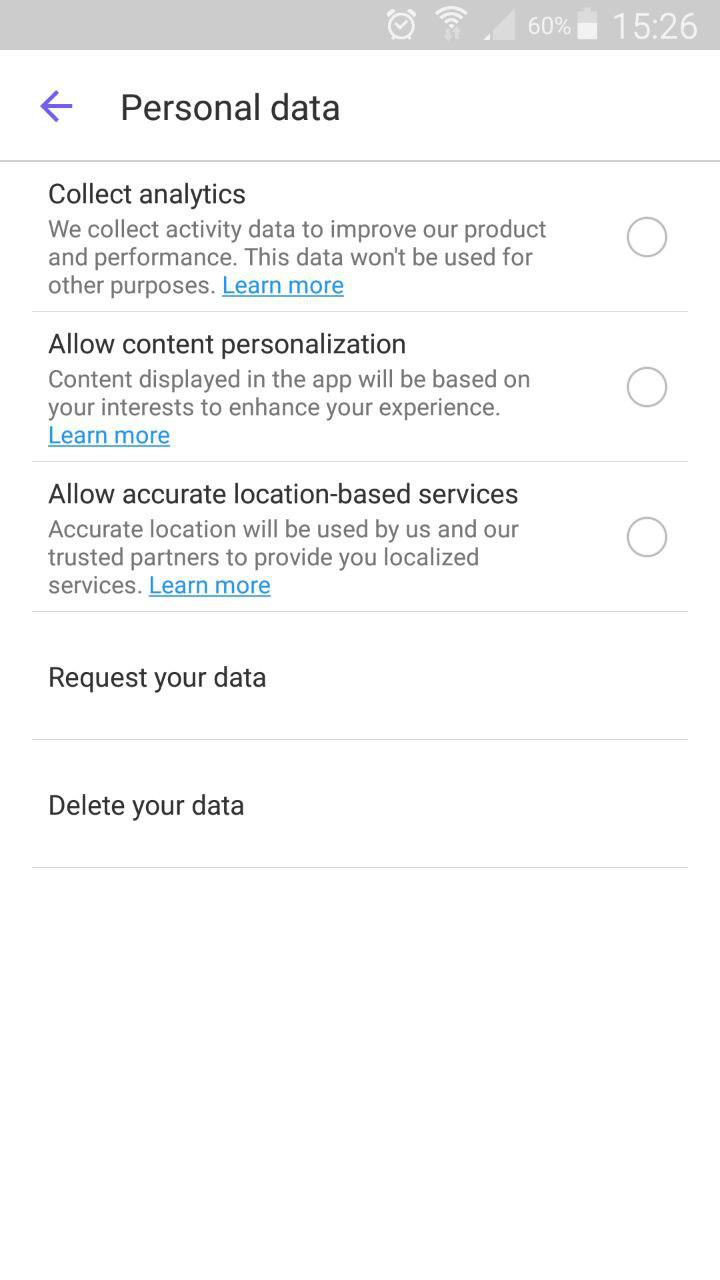 You can allow or disable content personalization or the app analysis of your activity data in the Personal data section.
Is Viber Secure?
TIP
Is Viber encrypted? Yes! Viber uses end-to-end encryption methods. It allows to protect messages from reading by the third party. The transferring data from all devices is encrypted before sending to your contact. It can be read only after receiving to another device.
For more privacy while chatting Viber developed additional tools.
Message deleting
Hidden Chats
Secret Chats
Not every messaging app allows sent messages removal from both yours and the receiver's device. There are no time limits for this option in Viber. You can delete any irrelevant message from the chat history.
To hide your conversation from accidental access by others use the Hidden Chats function in Viber. Just set PIN-code for its private use. The Hidden Chat is not visible in the common chat list. You are the one who can open and read it with your own key. It won't be shown to anyone else.
The Secret Chat lets you automatically delete the sent information right after it's seen by addressee. Set your own parameters in a self-destruct timer.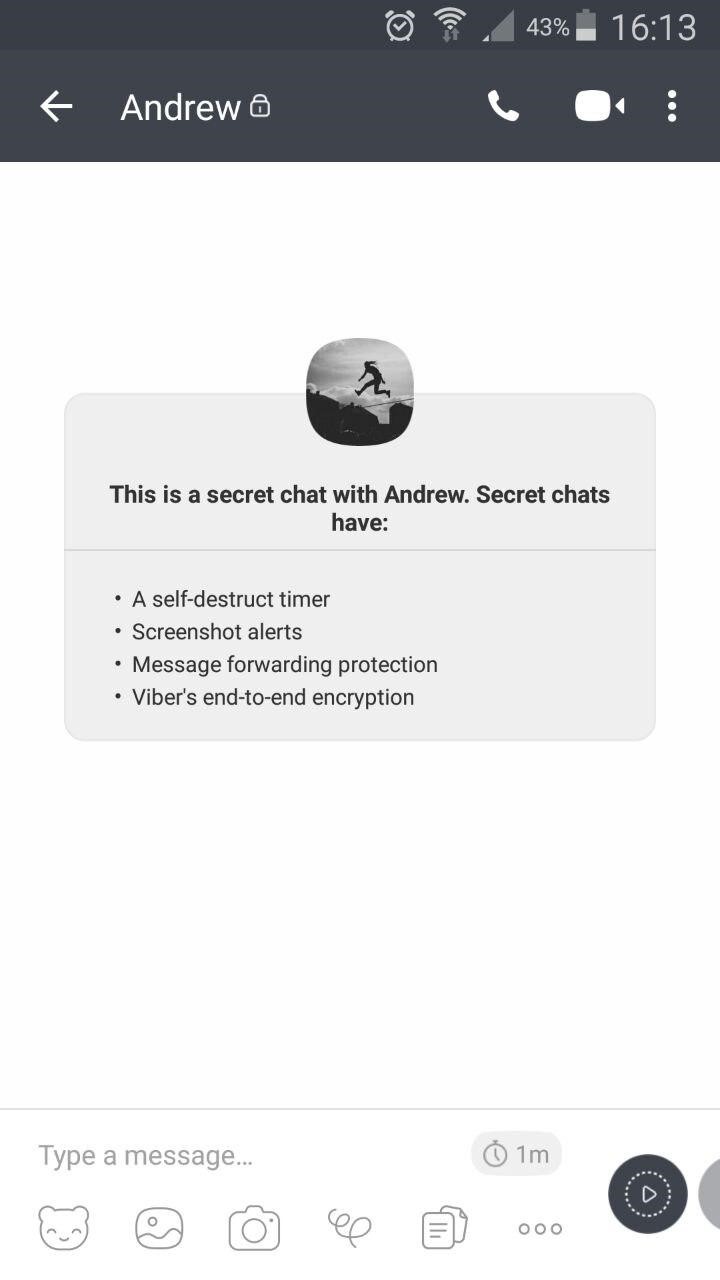 You can delete messages in one or five minutes, in one or three hours after sending. Besides the Secret Chat warns you about screenshots made by your receiver. Your messages can't be forward by your contact from the Secret Chat as well.
Viber Encryption
For using encrypted communication, install the latest Viber version (6.0 or newer). If you have one, the next alert will appear in the chat screen:

Encryption works for the text messages, the photos and videos, the group chats, the voice and video calls for desktop devices, tablets and smartphones. If you do not see info mentioned above, check your Viber version and make sure, that your recipient has the latest app version as well.
TIP
Viber Communities are protected by SSL encryption.
End-to-end encryption means that a secret key is used for information transferring. The message gets to the Viber's server as an encrypted text so it can't be read by anyone. It'll be decrypted after reaching the recipient's device only.
So, your conversations as chats or calls are protected from reading and interception, even on the Viber servers side. The company does not use your data obtained from correspondence for targeted ad.
Still, some Viber security issues allow data interception threat by the man-in-the middle attacker.
This happens if someone hacks the recipient's account from your contact list. To avoid it you should use extra protection measures.
Viber provides option for adding contacts you often communicate to the trusted list.
To authenticate a contact:
Go to the chat with your recipient;
Open the chat info;
In the top of the list click 'Trust this contact'
Tap 'Free Viber Call'
While calling both of you must click on the lock icon
Confirm to each other that the code on the screen is the same
If it matches, tap 'Trust this contact'
After that, the lock icon will turn green
From that moment, this recipient will be marked with green lock color. If you notice any changes in its appearance (red lock), it may indicate a threat. You should repeat the trust procedure.
Pay attention on this option if you send sensitive, important information to your contact (credit card info, etc.).
Viber Safety Tips
We've collected basic Viber tips to protect your conversations:
Watch for the app updates, install its recent version for all devices where Viber runs.
Block messages from contacts you don't know.
Refuse opening suspicious files and messages.
Add contacts you constantly communicate to the trusted list.
Check chats for end-to-end encryption option.
Use Hidden Chats for conversations you want to keep private.
Send sensitive information via Secret Chats with automatic messages removal after reading.
Conclusions
We've found out that Viber largely protects the users data from hacking by default. However, you should take extra security measures with self-customize. Negative reviews about the Viber's vulnerability is usually associated with disobeying the protection rules. Full security prevents reveling your messages content for fraudulent schemes. Beware of sending confidential info without checking chat's encryption status. Pay attention on the app Privacy settings to share or hide your profile data.