If you are running a blog or YouTube channel about digital services or related fields, take a minute to read this article. It contains detailed information on how to get a new revenue stream and increase your income.
As you might have guessed, this article is about the AppSumo affiliate program. 
AppSumo is a platform for selling online services and digital goods with around 800,000 users.
And, starting from February 6, there will be available the Gravitec.net lifetime deal on AppSumo. 
Gravitec.net is the best-in-class web push notifications service. More than 15,000 websites have chosen it to communicate with their readers. 
These two services might become a starting point to skyrocket your revenue!
Let's get closer to the details.
How does AppSumo work?
On the one hand, any digital goods owner can apply to place their product on AppSumo. On the other hand, AppSumo users (Sumolings) can find and buy any software on this platform with a 60-day money-back guarantee. 

Every day there are some new digital services on AppSumo: tools for specific needs like content generation software and alternatives to some well-known services for a better price. Plus, AppSumo provides lifetime deals (LTD) in the Select section. LTDs are extremely popular among Sumolings since it is a chance to buy a trustworthy product. AppSumo includes only proven services to the Select section for a best price forever.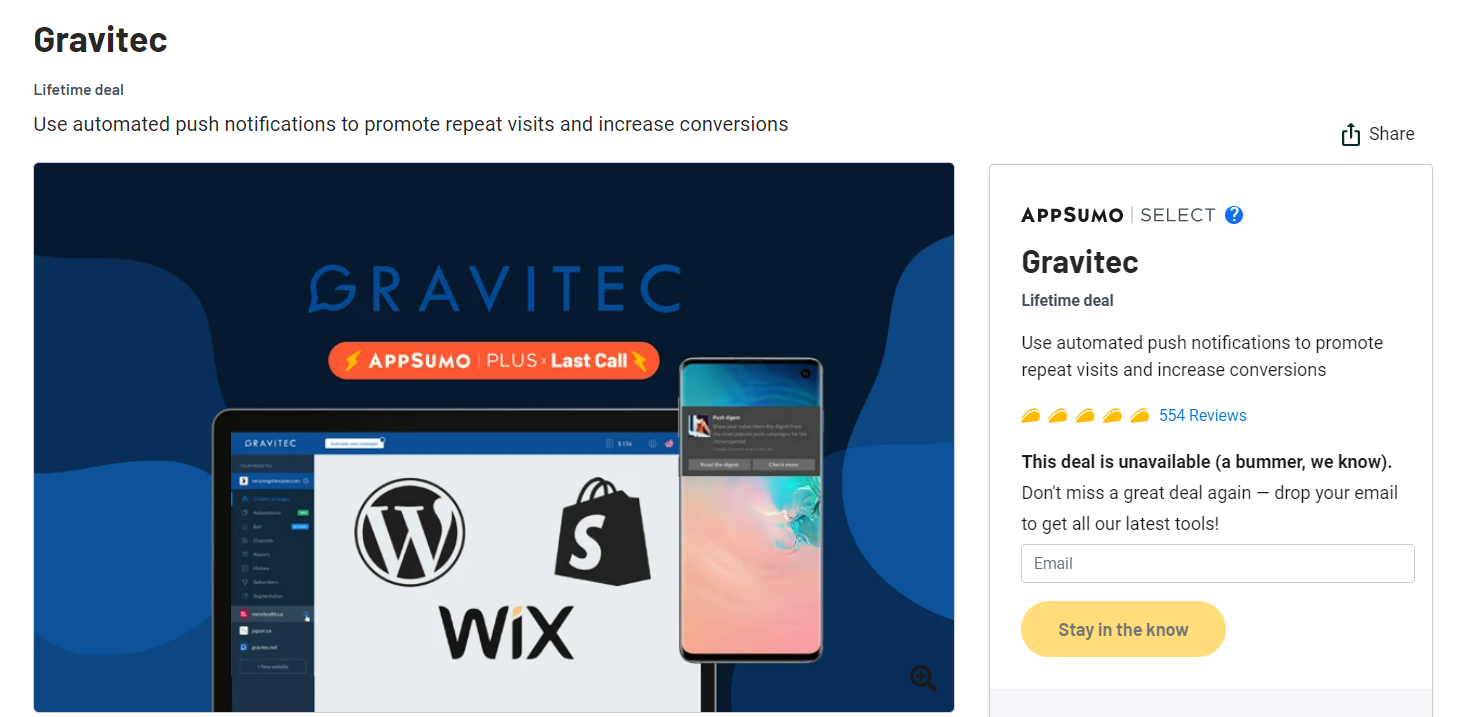 In just a few days, starting from February 6, the Gravitec.net service will be available for purchase in the LTD-section on AppSumo. If you have planned to add push notifications to your website or switch from your current push service to another, it is a chance to do it with the best terms. 
Plus, if you want to increase your revenue join the AppSumo affiliate program and start selling AppSumo products exactly from Gravitec.net. 
Keep reading to know why.
How much do AppSumo affiliates earn?
AppSumo provides its affiliates with exceptional terms — as an affiliate you can get up to 100% commission per referral (but not more than $50 per order).
To become an AppSumo affiliate all you need to do is to sign up by this link. Alternatively, visit the AppSumo affiliate page for more information. In the sign up form, you need to add your name, email address, website URL, company name, address, and some other details. Plus, you have to to add your business model (such as social influencer) and property type (such as websites). The AppSumo affiliate program is managed by the Impact platform. So if you already have an Impact account, it will be faster to start selling products. If not, it may take some time to get your account approved.
So, by becoming an AppSumo affiliate, you can sell digital products from whatever field, like content marketing and SEO.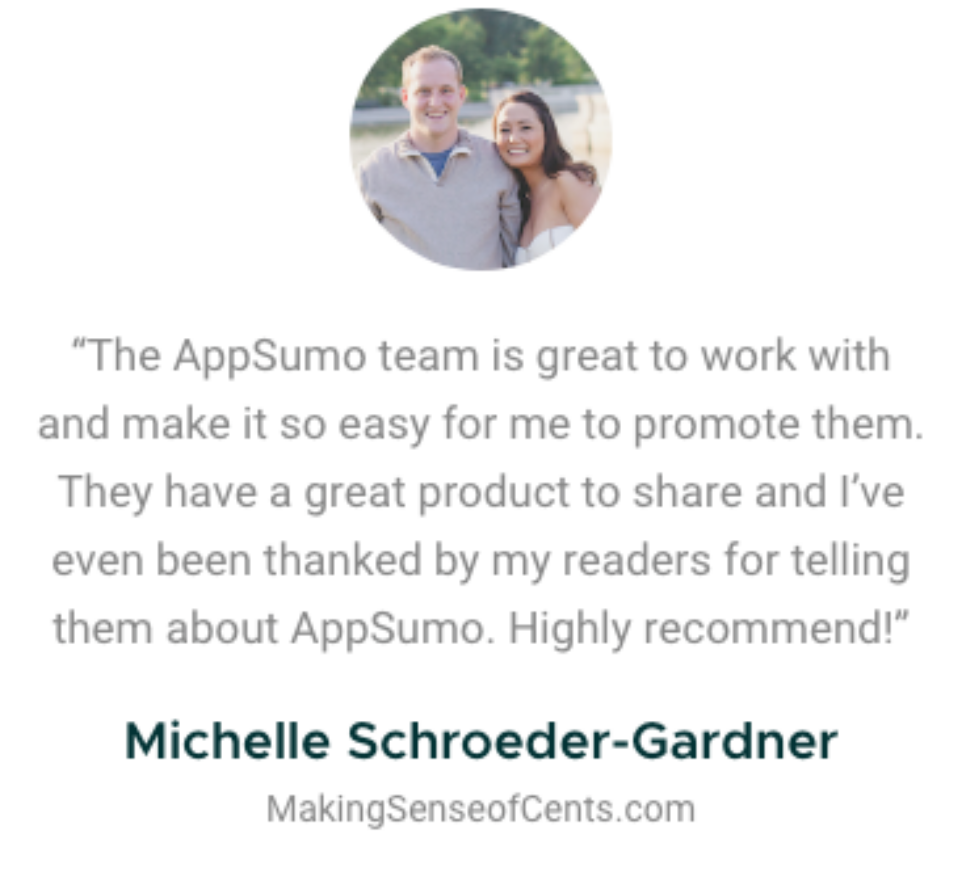 According to the AppSumo referral program terms, you will get paid up to $50 for every new customer. However, note that you won't get paid, if an existing AppSumo customer purchases by your referral link. 
Why sell the Gravitec.net lifetime deal 
Hopefully, we have convinced you to become an AppSumo affiliate. 
Now, why to promote Gravitec.net? 
Get paid forever
By creating one promotional video/article about Gravitec.net, you will be receiving referral commissions forever. How come?
Within two months after the launch on AppSumo, the Gravitec lifetime deal will be over. However, Gravitec.net will still be available in the Annual AppSumo section. So once the current deal has been finished, your blog post or video on YouTube will still bring you money. To continue getting revenue, you will just need to change your current referral link to a new one. 
Save your time
And the best part is that we provide free access to all of the premium Gravitec.net features for three months. This offer is available for anyone who has a blog and/or YouTube channel to promote the service. To get access click the button below and fill in a brief form. 
Get free access to Gravitec.net
Sell as a champion
Another reason to start selling Gravitec.net is that you will definitely attract more referrals with the Gravitec.net deal than with any other.
Why? 
Gravitec.net is among TOP-5 push service providers in the world. 

We have already launched the lifetime deal on AppSumo, and it have had a great success. Our product has been purchased by more than 4,000 small and medium entrepreneurs. 

More than 500 people have left their reviews and evaluated our service with five tacos which is the highest mark on AppSumo. 
AppSumo rated our service as a trusted one to include in the Black Friday big sale!
Finally, here is one of the videos about Gravitec.net made by one of the AppSumo affiliates last year.
So, by promoting our product to your readers, you can be sure that you offer the top service. Our team improves the service features all the time. We follow the current market trends and meet the needs of our clients. 
Moreover, we have created a guide about how to promote our product to increase your referral revenue. It will save your time on creating promo materials. 
Click the button below to receive the guide.
If you have any questions, contact us at support@gravitec.net.