Videos are a fantastic tool to use in your website, especially if you're trying to get your point across. Studies show that people retain up to 95% of the message when watching a video, compared to 10% when reading it. Videos also help engage visitors, convince Google your page is valid, as people will be spending more time there. We've compiled a list of ways to show how to embed a YouTube video and get a few WordPress plugins to help you. You can apply these steps to add videos from other platforms as well.
How to insert a YouTube video to WordPress
Embedding videos into WordPress is easy, and you can add them to any of your posts or pages. There are two options to choose from when it comes to embedding YouTube content on your website:
Manual embedding




You'll copy the shareable code from YouTube and paste it into the editor or the sidebar. To add lots of videos, you'll need to repeat this process for each video and add them one by one.

Automatic embedding




Connect to a YouTube plugin for WordPress. This way will allow you to add multiple videos and even playlists or galleries.
The manual method will do if you just want to add a single video to a post. If you want to add your channel to YouTube or have a lot of video-based content, you might be better off with automatic embedding to save time. The plugins usually come with useful features like thumbnail customization, pulling videos from multiple sites, adding social media buttons to your embeds, and much more. We'll share the most popular options so that you can make a choice.
Embed the video directly to WordPress
To embed the video manually into your post, you only need to take two steps. WordPress will automatically turn the URL into a YouTube embed and provide a live preview in the visual editor.
Copy the video.




You can copy the link to the video from YouTube's creator studio or just open the video you want to feature on your site and copy the link from the URL bar.
You can also click the Share button. A popup will appear next, with the YouTube Video link. Copy this URL to your clipboard.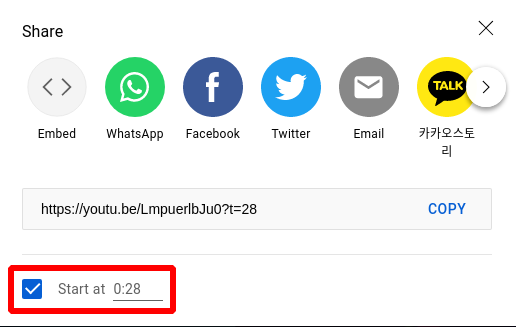 If you want to start the video at a specific time, use the timestamp feature. Just let the video run to the moment you need and tick the box.
     2.   Paste it.
Paste the link into the WordPress editor, and the WordPress will automatically turn it into an embedded video. If WordPress doesn't embed the video automatically, you can use the WordPress YouTube block. Just click the "+" icon to add a YouTube block and paste the link. 
Alternatively, you can insert the video into the sidebar. Follow these steps: 
Go to Appearance > Customize and click Widgets. Choose the sidebar for the video, and click the Add a Widget button.

Search for "video."

Click the Add Video button, and choose Insert from the URL.

Paste the video URL from YouTube.

Once you see the video preview, hit the Add to Widget button to confirm.

Click the Save & Publish button to go live.
In addition to YouTube, WordPress can auto-embed videos from other platforms like Vimeo, TED, Hulu, and more.
If you want to feature a video from the provider that's not on the WordPress list, you can use an HTML block. Instead of using the 'Share this video' option on YouTube, try the 'Embed' option and copy the code. Then, add a new block with the visual editor and choose the 'Custom HTML' block. Paste the embed code in the Gutenberg block. WordPress will show you a preview button to see how it looks.
Embedding videos on YouTube is straightforward. However, plugins can provide additional features.
Add the video with a plugin
YouTube WordPress plugins may simplify embedding and managing videos and add functionality to your site. 
Embed Plus for YouTube



The Embed Plus for YouTube plugin embeds searchable playlists or channel lists. You can also include YouTube live streams so that the streams play directly on your website. The plugin is compatible with popular page builders like Elementor, Visual Composer, Beaver Builder, and SiteOrigin. 
Pricing: the basic features come for free. The premium version comes from 39.99 for lifetime access and features like video SEO markup, lazy load for optimized speed, and advanced gallery customization.
YotuWP allows you to import playlists, channels, and videos from specific YouTube handles and add video galleries to your site. The plugin also supports adding videos from Vimeo and Wistia.
Pricing: The single-site license of YotuWP Pro is $21 and comes with customizing video appearance and optimizing video metadata for keywords. The license comes with lifetime updates and all pro features. You can get the unlimited site license for $119.
How to add a YouTube channel to WordPress
In addition to embedding youtube videos in WordPress, you can feature your channel on WordPress. Adding your whole channel will create a context for your website visitors and show off your work. You can easily embed your channel using the YourChannel plugin. 
Once the plugin is installed, add the YouTube API key from the Google API library to Settings > YourChannel.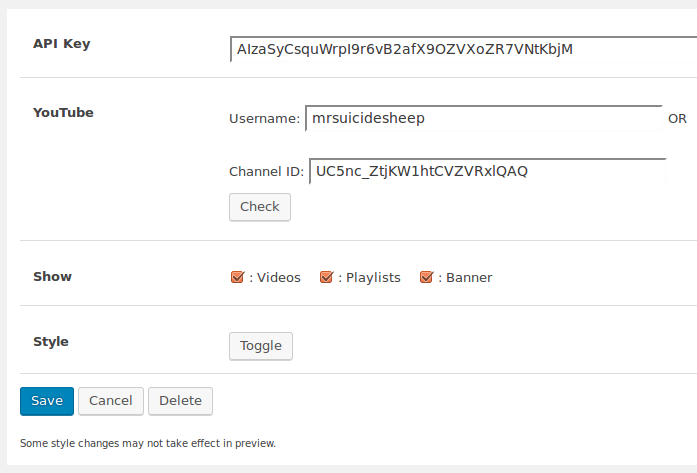 The plugin will generate a shortcode you can paste into Gutenberg editor, just like the previous method. 
Your subscribers will watch your videos and search for specific videos from your channel without leaving your website. Instead of just letting your site's visitors stumble upon your content, you can guide them to your channel whenever you post a new video. While YouTube offers notifications about videos, not all people enable them or choose to subscribe to channels. On your site, you can use push notifications to inform people about the new videos. 
Push notifications will be delivered to your site's subscribers on most browsers, whether they're currently on your website or not. Before they actually start receiving the message, they will have a very straightforward opt-in. This way, you'll get a subscriber base of users who are interested in your content. You don't need any coding skills to connect push notifications; you can set them up with a WordPress plugin, much like the ones we're discussing here.
Connect push notifications to your WordPress site
You'll instantly reach your subscribers without the hurdles and costs of creating an app for your business. Push notifications will also have almost twice the open rate of email marketing and better CTR. Though it doesn't mean you need to quit email and switch to push notifications, just like most marketing tactics, these work best together.
In addition to setting up automated notifications for each new video, you can create drip campaigns and introduce your subscribers to your most important videos that describe your brand and expand on the problems your product or service can solve.
If you don't want to add the whole channel to your website, you can add a YouTube gallery, for example, to showcase different products.
How to create a YouTube gallery on WordPress
To add a gallery, you'll need a WordPress YouTube gallery plugin. 

All-in-One Video Gallery allows you to build searchable video galleries on your site. You can add videos from YouTube, Vimeo, Dailymotion, and Facebook and use the plugin on third-party page builders like Elementor, Divi, or WPBakery. You can optimize videos for SEO, customize the player controls and playback options. The gallery will fit your website, as the plugin allows you to customize the logo, branding, and context menu. You can embed the gallery into pop-ups and sliders.

Video Gallery plugin lets you create mobile-responsive video galleries in 16 different layouts and several themes, even in the free version. You can also add lightbox effects and add videos from YouTube,  Vimeo, or Wistia. To embed the gallery, just copy the gallery ID number and paste it to where you want to see it.
Pricing: premium version offers over 150 styling options for $15 and a single install license with lifetime updates. 
Summary
Video content on your website creates a more interactive experience for the website visitors, helps them see what you do in more detail, and keeps them on your website longer to appeal to search ranking. 
You can add videos manually if you just need to embed a few or use WordPress plugins if you provide more video content. In addition to single videos, you can also embed galleries and even your channel.