Push notifications are a powerful marketing tool with a wide set of options to keep users engaged. Online stores and news media use this technology for regular interaction with their customers/readers.
Push Notifications Examples and Use Cases
In this review, we will try to clarify some technical features of web push notifications. How is the technology connected to web browsers? Can you receive push notifications when your browser is not running?
What is a push notification?
There are two main types of push notifications.
App push notifications

Web push notifications
App pushes are embedded into mobile apps to notify users about the app updates, news, etc. They appear on a smartphone if an app is installed and notifications are allowed.
Web push notifications (or browser push) are used by websites for instant communication with their subscribers.
Read more about types of push notifications.
Can you receive push notifications if your browser wasn't opened? This question is only relevant for web push notifications because they work via browsers.
Check out our complete guide about web push notifications.
How does it work?
We will review how web push notifications operate to understand if it is possible to receive a message when the browser is closed. 
On the user side, when one visits a website that has activated push technology, they will see an opt-in widget.
A user can allow or block notifications from a website with just one click. If the request is approved, a visitor becomes a subscriber. After that, the subscriber will start to receive push messages from this website.
Notifications pop up on a mobile or desktop user's screen. The subscriber can click on it, and they will be redirected to a sender's website.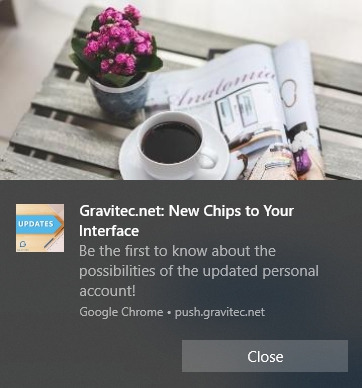 In order to use push technology, a website needs to be registered on a push service, such as Gravitec.net.
TOP-7 Push Notification Services
TIP
The Gravitec.net push platform is an easy-to-use service for sending web push notifications. It is a professional marketing tool that provides automation features, campaign statistics, customization tools, and more.
To add push notifications you will need to install a WordPress plugin or run a simple integration process (for non-WordPress websites). The Gravitec.net WordPress plugin requires just one click to start using push notifications. 
How does it work from the inside?
Push technology works via browsers, a website's server, and a message server. Each subscriber is assigned a unique ID. The system stores the user's metadata (region, operating system, and browser type, version), to aid the push client in creating push campaigns.
TIP
Push technology is supported by Chrome, Opera, Firefox, Safari, Yandex browsers, and Windows, Mac OS, Android operating systems.
One of the main benefits of web push is the simplicity of collecting subscribers. However, it is important to remember that subscribers can always disable notifications when messages are intrusive, or irrelevant.
How to enable or disable push notifications on your browser?
Users can easily disable or enable notifications in browser settings after subscription in just a few steps. 
Here is a general guide without current details for specific browsers.
Go to your browser menu and select "Settings"

Find 'Site settings' in Advanced Options

Click on "Notifications"
Menu item names depend on a particular browser and device, but the idea is the same (Menu – Setting – Site settings – Notifications – Block, Allow, Edit, or Remove).
Read our articles on how to disable notifications in Firefox and how to unsubscribe from web push in Chrome.
Can I receive push notifications if my browser wasn't opened?
Finally, we can answer the main question of this article.
On a desktop device, you can not receive push notifications if your browser is not running. A web push notification can only be delivered if the subscriber is online and the browser is running. Notifications will be delivered via the browser, from websites where you allowed notifications. Note that if you allowed notifications from a website while you were running Chrome, you won't receive notifications from them if you are running Firefox, or if you are on a different device.
Things are a bit different for mobile users. If a smartphone (Android) owner has installed and activated a browser app (Chrome), they will receive notifications when their screen is unlocked. It is the only requirement for delivery. 
Can I receive push notifications when my browser is not running? – No, web push notifications can not be received on a PC unless a browser is running.
Conclusion
Web push notifications' appearance and delivery depend on the browser and the operating system. While a browser is closed (or inactive for smartphones), a user won't be able to see a notification.
The Gravitec.net system compiles statistics for clients, which allows them to see subscriber activity, including by segments (different devices, browsers, etc.). These capabilities are important for marketers to achieve good results in their push campaigns. Targeted campaigns are more effective due to their connection to specific subscribers' interests, user groups. Being able to see statistics, Gravitec.net clients can schedule campaigns according to when their subscribers are most likely to be online.
Read more about push notification time settings. 
Here is our summary:
Web push notifications depend on whether or not the browser is running. This is not the case for app push.

Website visitors become subscribers when they click "Allow" in the notification opt-in widget (browser service window).

Web push notifications appear on a recipient's device (mobile and desktop) when a subscriber is online with an active browser.

A subscriber can easily turn on/off notifications from a specific website in browser settings.

To add push technology to a website, you need to register with Gravitec.net and perform a simple integration procedure.

Gravitec.net clients have a wide range of marketing tools. Besides creating and sending push notifications, you can analyze statistics, use automation and segmentation features.
If you have any questions about push campaigns, please contact our support team.