Browser push notification (web push) is a multi-platform tool used to engage website visitors. What's the idea behind cross- or multi-platform messages?
TIP
Cross-platform software is implemented on multiple digital environments (for example, operating systems).
We review which platforms support web push technology and how web pushes operate on various OS and browsers.
What are Cross-Platform Push Notifications
Cross-platform push notifications reach subscribers of a website in the simplest way. They pop up on a device screen immediately upon being sent.  The technology works with the most popular mobile and desktop browsers: Chrome, Opera, Firefox, Safari (macOS), Yandex.
Windows, macOS, and Android support web push notifications. Thus, websites can easily communicate with smartphone, tablet, or PC users, even if they've left a web page.
On a desktop, a user can receive a notification when their browser is running.

On mobile devices (Android), push notifications pop up at the top of the screen, regardless of whether or not the browser is running.
Push notifications nudge visitors to return to a website. Web push subscribers receive notifications of interest-specific info, breaking news, and special offers.
How Does It Work? 
To use push technology with your website, you can register with a push technology platform.
TOP-7 push notifications services
Just

five steps

are all it takes to be ready for launching a campaign with Gravitec.net. You'll get a complete, simple dashboard for planning and creating messages, get statistics,  and use segmentation and automation tools.
Try the Gravitec WordPress Plugin
Visitors must first "Allow" web push notifications. Both on mobile and desktop devices, they get an opt-in widget when they visit a website. A single click allows or blocks notifications.


To send a push notification, you need to create a message, which consists of a title, a description, an image, and a URL. You can choose to implement the segmentation of their subscribers, by browser, OS, region. Thus, each segment will receive a separate message. The Gravitec.net platform includes rich web push capabilities, allowing you to create notifications with big images and extra buttons. 

To prompt a subscriber to click, a notification should contain useful and clear info and a noticeable image. A message should coincide with a subscriber's interests.

A subscriber can turn off push notifications in their browser settings.
Windows and macOS
Push notifications display differently on mobile and desktop devices. And, they do so on different browsers. 
For example, in Chrome on Windows 10, a push notification pops up on the screen. If a user doesn't respond, the message will be saved in the OS Notification Center. The subscriber can respond to it later. The same is true on MacOS.
However, the appearance of the push notification on macOS differs from that of Windows 10. Here are some examples of the different appearances  when you create a push notification using Gravitec.net:
Windows 10, Chrome browser.
Chrome on Windows supports rich push notifications. But, not on MacOS.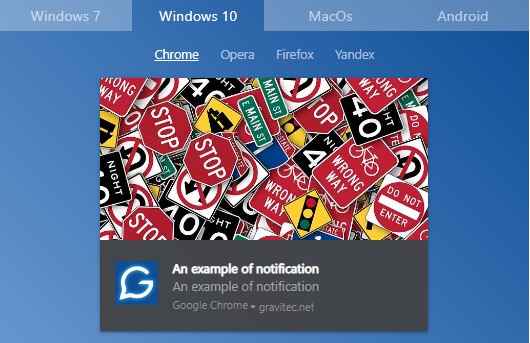 This means that marketers can use big images and additional buttons in campaigns for subscribers using Chrome (Windows). But MacOS users will receive a standard push notification even if you send them a rich push.

Character limits of notification messages differ as well. Each OS and browser has specific defined limits on the lengths of both titles, and messages.
Read more about web push character limits.
Android and iOS
Push notifications can be sent to Android devices running Chrome, Opera, Firefox, or Yandex browsers. Rich web push is supported in Chrome, Yandex, and Opera.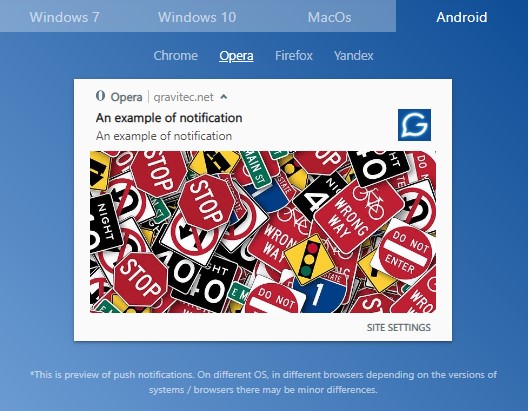 iOS does not support web push notifications. So, iPhone users will only receive push notifications from apps that they have installed.
What's the difference between web and app push notifications?
Statistics
There are differences in behavior between Smartphone and PC users. For example, mobile device usage is higher in the morning and after 7 p.m. (according to Gravitec.net statistics), while PC and laptop usage is higher during working hours.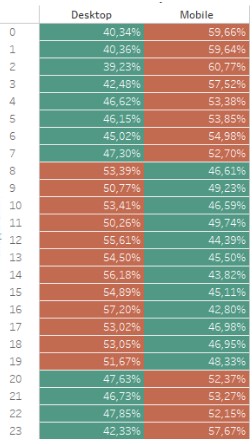 These statistics are combined from all of Gravitec.net's customers, however, those of an individual company will vary. So, it is useful for companies to track user activity for proper campaign planning.
The analysis helps to choose the best times to send notifications, segment their subscribers, create pertinent messages, improve CTR and revenue.
Where Can It Be Used?
Marketers from all types of businesses, and websites, use cross-platform push notifications.
Cross-platform marketing is especially popular for
Travel websites (agencies, airlines, etc.)

Financial (banks, insurance companies)

Online shops 

Restaurants

Mass media

Event websites

Online education

Online entertainment (TV, games, etc.)
Every website uses push notifications in its own way. For instance, banks alert their customers about payment issues, online stores notify customers about discounts, mass media sends breaking news. Marketing strategy is based on company directives. It influences push campaign frequency, content, etc.
The Benefits of Cross-Platform Push Notifications 
Why are cross-platform notifications so popular?
Simple opt-in/opt-out process

Messages pop up on the screen. There is no need to open an email to read the information.

Web push technology covers about 85% of internet users (Windows, macOS, Android, and the most popular browsers).

Quick collection of subscribers

Companies experience an increase in website traffic by 5-10%.

Businesses can, and do, increase their revenues/profits when they send push campaigns based on analysis of statistics.
Conclusions
Multi-platform push notifications are available for Windows, macOS, and Android via Chrome, Opera, Firefox, Safari, and Yandex browsers.

Both mobile and desktop users can receive messages, but there are some differences in the appearance of web push on various platforms.

Companies can send notifications via a push platform or by developing their own software.

Gravitec.net allows you to create and send web push notifications, segment your subscribers, and see the statistics of your push campaigns.

When sending a push campaign, pay attention to mobile and desktop user behavior. Segment your subscribers so that they receive appropriate messages.

Businesses use push notifications to engage website visitors, to notify them about news and special offers, and to keep them coming back.
If you have any questions on how to start sending push campaigns, please contact our support team, or register and start for free.