Gravitec.net developed a feature to quickly send push campaigns. You can create campaigns in just one click using your RSS Feed. 
Install Gravitec WordPress Plugin
How does it work?
The RSS feature cab activated right from the Gravitec.net dashboard by adding your RSS Feed. Upon activation, all push notification elements are automatically pulled from webpage metadata. So, no manual input of notification elements such as title, description, image is needed. Your campaign is ready to be sent.
TIP
If you aren't satisfied with the default notification elements, you can edit them before the campaign is sent.
How to add an RSS Feed to a client's profile?
Click 'Add new RSS-channel'.


Enter the RSS Feed name and the RSS URL.

Set how the system will pull a title, text, and icon for your automated campaigns. In the image below, you can see five options for where the system will pull this information. Use the arrows on the right side to set the hierarchy for retrieving the data. "Meta Push Tags" is always in the Number 1 position. If you add push tags to your website, the system will use them to create campaigns. If your main source is meta tags, move 'Meta title and description' to the Number 2 position. The system detects these tags on your website and uses them to fill in push notification elements. If some of them aren't found, the system searches for tags from the next item (i.e. "Meta Twitter tags").

When you are finished, click "Save". The new RSS Feed will appear on your screen.

When you click on an item on this list, you will see all of the campaigns which were generated from this RSS Feed.

If you want to add another RSS Feed, click on the "Settings" icon at the right top corner.

Sending push campaigns
You can send any campaign from your RSS at any time. Just click on "RSS" from the main menu to open your RSS channel.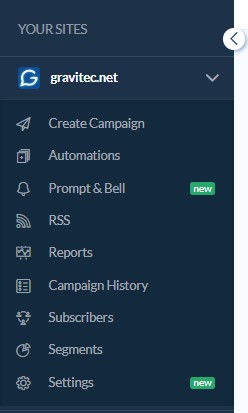 For each item in the RSS feed, as you can see, the campaign has already been created, and it is ready to be sent.  To send one, click on the Create Campaign icon (airplane) on the right side of the item you wish to send.

Now, if you want to make changes to a notification, you can enter a new title, and text, or send the campaign immediately.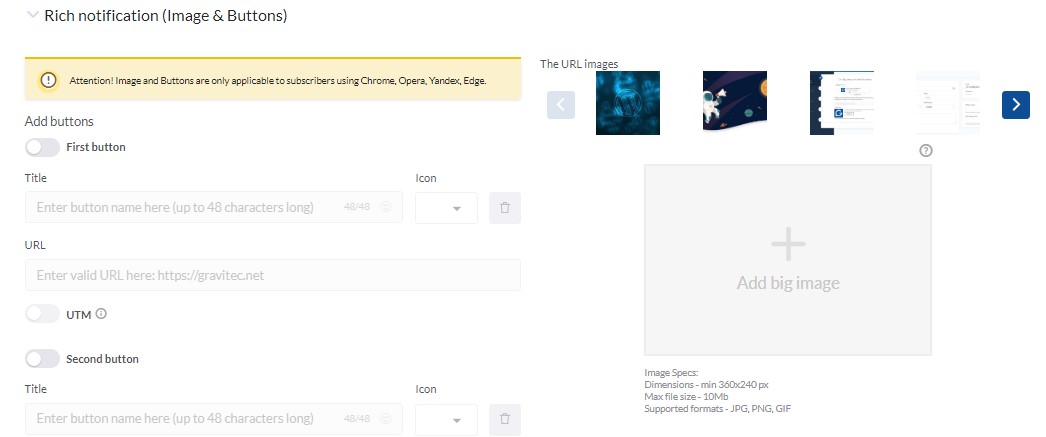 Before sending the campaign, be sure to preview the notification in the different browsers and OSs.
If the notification meets your expectations, then all you have to do is click 'Send campaign', and it will immediately be sent to your subscribers.
TIP
Note: If you don't specify any subscriber segments for your campaign, the system will send push notifications to all subscribers.
You can manage additional settings to customize your campaign.
RSS Automation
Gravitec.net also offers a fully automated version of the RSS feature, which is called "RSS to Push". It works similar to RSS, except that "RSS to Push" notifications are sent out fully automatically. You set up the specifications for sending notifications once, upfront, and the system creates and sends campaigns for you.

Read more about Gravitec.net automation features.
Conclusion
Websites use the "RSS" feature to spend less time manually creating push notifications. News websites and online media use this feature to send important information that was somehow missed in their automated campaigns. Ecommerce websites use it to send special offers. The "RSS" feature allows you to manage campaign settings with already composed content. 
If you have any questions about push campaigns, please, contact the Gravitec.net Support Team.
TIP
The Gravitec.net service is an easy-to-use platform for sending push notifications from websites. Push technology enables you to inform subscribers of updates and new posts. You can also create targeted and triggered campaigns, send notifications automatically, and see campaign statistics.