To start sending web push notifications, you need to connect a push service to your website. In this article, we will show you how the Gravitec.net push service works and how to use it to send push campaigns.
Connecting to the Gravitec.net service, and sending notifications is surprisingly easy. In fact, the whole process from registration, to sending the first push notification, can be done in under 30 minutes!  In addition, Gravitec.net provides a number of features that can leverage the time of your marketing staff, and make it easy to communicate with new subscribers. Below, we will discuss them, and show you how to create push notification campaigns more quickly.
How to send a standard notification?
A standard web push notification consists of a title, a description, a URL, and an image.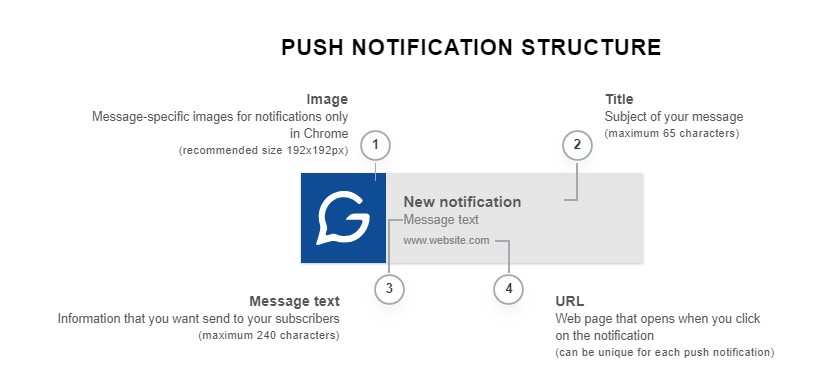 Let's manually create a push campaign in Gravitec.net to send a standard notification to subscribers. Note that you must first create a Gravitec.net account.
If you want to schedule it to be sent at a later time, you can do that instead.  Set a day and time, TTL (Time Push to Live), and a time zone. You can also spread out the sending process, by sending notifications to equal portions of your subscriber list in 5-minute intervals. This is useful when you have a large number of subscribers, and sending them all at once would slow the performance of your website.

Advanced settings
Besides the basic push notification settings, there are advanced options that you can use as well. These are rich push features and segmentation tools.
Rich web push is a notification with a big image and/or buttons (with optional UTM-marks). This web push format is supported by a number of browsers (Chrome, Opera, Yandex) and OS (Windows, Android). Rich push notifications are more eye-catching than a standard web push due to the size of the picture. However, we recommend that you use both standard and rich notifications. Take a look at the requirements for the image format and size in the dashboard screenshot below.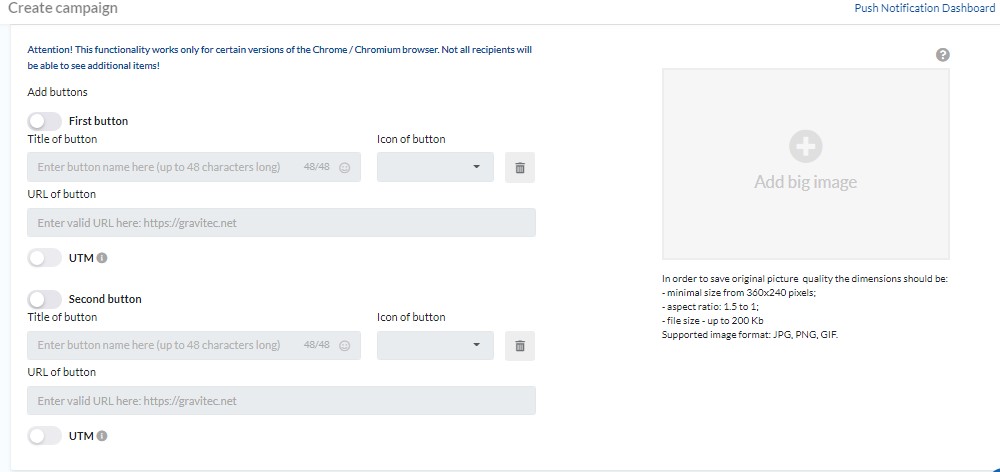 Segment your subscribers by region, device, and/or tags to create targeted push notification campaigns. Tags are assigned to subscribers based on their activity on your website – pages visited, categories, etc. Thus, you can segment subscribers depending on their interests. Additionally, you can send an individual notification by using aliases.

Autofill option
Gravitec.net provides a tool for sending push notifications in one click. With this feature, all of the fields are entered automatically. Just turn on Quick mode, enter a URL and click 'Try Autofill'.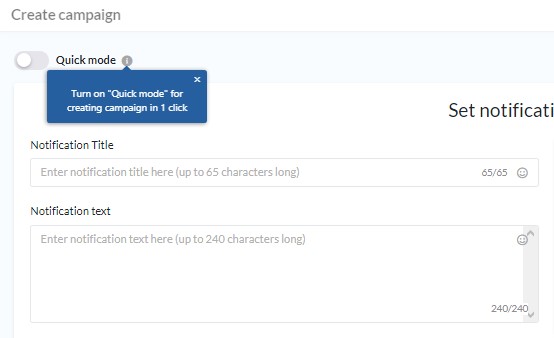 The system then fills in the rest of the fields – title, text, and image – from the webpage metadata.



To send a campaign immediately, click 'Send campaign'.
Automated campaigns
Gravitec.net's automations help you to minimize the time it takes to create/send your campaigns. There are five features for sending push campaigns automatically.
'

Drip Campaigns

' is a series of push notifications for new subscribers. You can create 4-5 campaigns that will inform your new subscribers about your product(s).

'RSS to Push' automatically creates push notification campaigns using your website's RSS Feed.

'Tweet to Push' generates campaigns from your posts on Twitter. Read more about '

RSS' and 'Tweet to Push' automations

. 

'

Push Digest

' compiles TOP news of the day or week, and sends a notification with links to these news items.

'Welcome Messages' is used to send an introductory push notification to a new subscriber.

Once you choose your automation settings, the system will send notifications to subscribers every day without any additional action on your part. 
Automations are especially useful for media websites, which update their content frequently. You can use one or more of these features, depending on your business goals. To activate automations, find "Automations" on the Dashboard in your Gravitec.net account. 
Conclusions
In Gravitec.net, you can compose a web push manually, send a one-click campaign, and/or use the automation tools to send notifications to your subscribers. Automations can become time savers for marketers!
You can start a push campaign right now, even if you don't yet have a  Gravitec.net account. Register with just one click and add a subscription code to your website. After that, you can use all of the features free of charge.
If you have any questions on how to send push notifications, please, contact our support team.