One of the most important features of Gravitec.net push platform is a clear and convenient interface for creating push notifications campaigns. We are constantly improving our services to provide our customers with new tools for an efficient interaction with their audience. 
Try push notifications for free
In this article, we will review how to send push notifications from the updated Gravitec.net dashboard. You will learn how to speed up push campaigns creation with new tools and get better results by communicating with website users.
Sending simple notifications
Basic web push notification consists of a title, description, web page URL, and an image.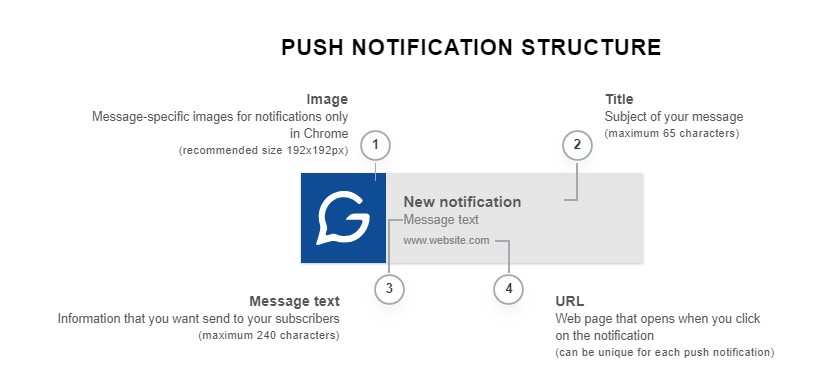 Let's try creating simple push a notification for a website in the dashboard.
Advanced settings
Except for basic push notification settings, you can set advanced options for your campaign.
Define schedule for campaign launch. Set day and time to send notifications, TTL (Time push to live, or duration of sending), select a time zone. You can slow down sending process by delivering small batches of notifications every 5 minutes.
Rich web push is a notification with a big image or buttons (with UTM-marks, optionally). This web push format is supported by a number of browsers (Chrome, Opera, Yandex) and OS (Windows, Android). Rich push notifications are more eye-catching than a standard web push due to their picture size. However, we recommend to mix both types to vary notifications appearance. You can find requirements for the image format and size in the dashboard.
Filter your subscriber base by region, devices, and tags to create targeted campaigns. Tags are assigned to subscribers corresponding to their activity on a website, visited pages and categories. Thus, you can divide your audience by segments depending on users' interests. Besides, create personalized campaigns based on individual subscribers' aliases.
Autofill option
Our team have developed a tool for sending push notifications in one click. This feature is based on automatic filling in all the campaign fields. There is no need now to enter a title or web push body manually. Just turn on Quick mode, paste a web page URL and click 'Try Autofill'.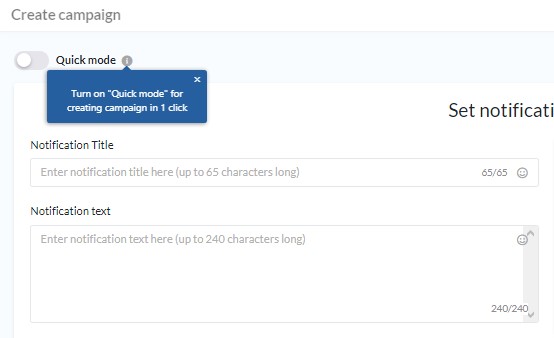 The system will upload notification content (a header, description, and image) from the webpage metadata.


To launch a campaign immediately, click 'Send campaign' on a current webpage with settings. 
Automated campaigns
Automation tools are a unique feature of Gravitec.net push platform. You can significantly minimize time for campaigns creation with these new options.
'

Drip Feed

' is a series of welcome push notifications for every new subscriber. For example, you can create 4-5 campaigns with the most important content from your website to inform your new subscribers about your product features.

'RSS to Push' automatically creates campaigns based on a content from your website's RSS Feed.

'Tweet to Push' generates campaign fields from your posts on Twitter. Read more about '

RSS' and 'Tweet to Push' automations

. 

'

Push Digest

' consists of TOP news per day or week. You can send daily and weekly info summary based on the most popular previously sent notifications.
Set automation algorithms just once and the system will deliver notifications to the website subscribers every day without any additional actions. 
Automations are especially useful for media websites with frequently updated content. You can pick one or more of the mentioned tools corresponding to your business needs. To activate options, please, find 'Automation' block in push notifications dashboard on your Gravitec.net account. 
Conclusions
Gravitec.net offers a set of convenient tools for marketing campaigns creation. You can compose a web push manually, launch a one-click campaign or use automation tools to send notifications from a website on a basis of preset options. Automations allow to reduce time for campaigns creation, generate and send notifications without involving your company's staff. 
However, push campaigns results depend on your marketing strategy. 
Please, consider these tips on how to interact with your audience to achieve high campaigns' results.   
Vary notification titles, topics and appearance to make campaigns interesting to your customers. 

Keep subscribers engaged with non intrusive sending frequency. 

Segment your subscriber base to create relevant campaigns for each user group. 

Set a campaign schedule to deliver notifications to your audience at the right time.

Use 'Drip Feed' automation to bring new subscribers' attention to your content or product. 

Use Weekly and Daily Digest option to send TOP-news campaigns with high CTR.

Use 'RSS to Push' and 'Tweet to Push' tools to generate campaigns automatically and communicate with users every day.
You can start a push campaign right now, even if you don't have access to Gravitec.net interface yet. Register on a platform with just one click and add a subscription code to your website. After that, you can use all platform features free of charge. 
If you have any questions on how to send push notifications, please, contact our support team.