In 2015, Gravitec.net released the first version of its web push service. Since then, we've collected a lot of data on our experiences, and millions of push campaigns.
We'd like to introduce you to web push notification statistics that you should know in order to get a clear picture of the technology features and capabilities.
Common info
Web push technology operates via five desktop and four mobile browsers on Windows, Android, macOS.

TIP
iOS doesn't support web push notifications.
Push notifications can be received by 85% of all internet users.
Read more about how push notifications work.
Common effectiveness characteristics:
CTR – up to 30%

ROI – up to 2200%

Website traffic increase – up to 25%
To add push notifications on your website, and be ready to launch campaigns, there are only 5 steps! Alternatively,  you can install the Gravitec.net WordPress plugin.
Start for free without a credit card
Now let's look at some detailed statistics.
Opt-in 
Since 2015, the opt-in rate for web push has shifted away from desktop and more toward mobile subscriptions.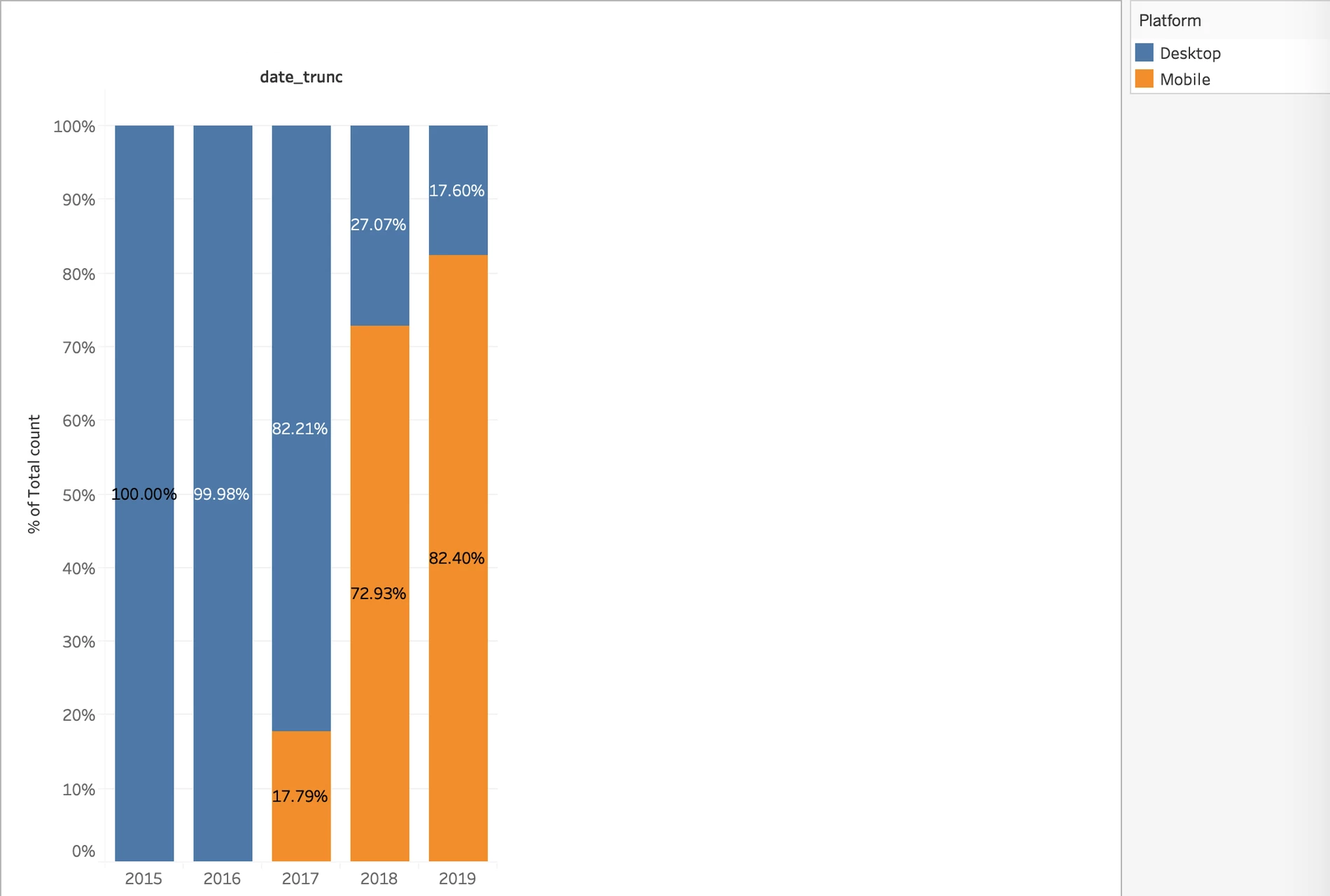 In 2020 push notification subscribers consist of roughly 80% of mobile users and about 20% of desktop users. 
What are the most popular browsers among web push subscribers?
93% Chrome

3% Opera

1% Firefox

2% Yandex

1 % Safari
The opt-in rate is dependent on the industry.
Average statistics:
E-commerce: 0.5-5%

Media: 0.5 – 6%

Financial services: 0.5 – 10.5 %
A subscriber base grows gradually. During the first months, the growth is up to 300% more than the previous month. But over time, the pace slows. (Note: The absolute number might actually increase, but remember that we're talking about the growth rate.)
TIP
Since
Chrome V80
was released with new requirements to websites that use push notifications, Gravitec.net recommends using double-click permission prompts. You can choose a configuration of a permission prompt in your
Gravitec.net account
.
Delivery rate
The delivery rate depends on the timing of the campaign since subscribers need to be online to receive a message.
Delivery rate:
at night and early morning – about 35%

evening and afternoon – about 60%
The delivery rate for mobile subscribers differs from that of PC subscribers.
Rates for media and e-commerce websites:
Desktop – 20-30%

Mobile – 50-60%
The number of closed notifications also depends on the device.
35-45% for PC

30-35% for smartphones
CTR
Web push CTR depends on campaign parameters.
Pay attention to:
Campaign frequency

Time to send and time push to live

Notification design

Content of your message

Segmentation
The average CTR is about 15%. However, for campaigns with intriguing content, or for transactional or targeted notifications with small user groups, CTR can go as high as 30%.
A look at the dependency of CTR on the time notifications are sent: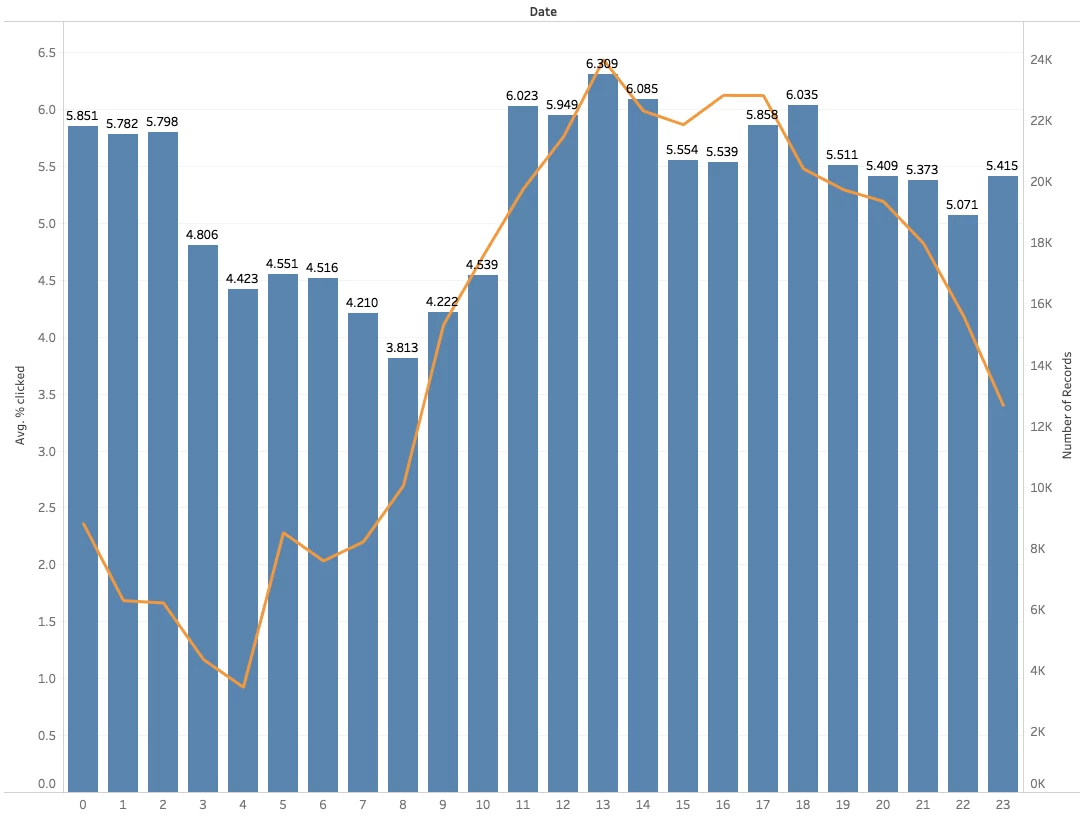 The best results are from 11 am – 6 pm.
The higher the TTL (time to live), the better the CTR.
TIP
TTL is the period of time (set by the client) during which the system is delivering the notifications for a campaign.
Nevertheless, companies use short delivery durations for campaigns when there are time limitations. For example, when they offer a discount for only 2 hours.
The optimal campaign frequency depends on the industry. For example, the frequency of mass media campaigns is about five times a day. For e-commerce websites, it is much lower. 
How notification design can influence CTR value?
A web push notification consists of text, an icon or big image, CTA buttons (rich web push), and a URL.
Take a look at the differences in CTR for standard notifications and rich web notifications with big images. The latter has an advantage of 2-5%.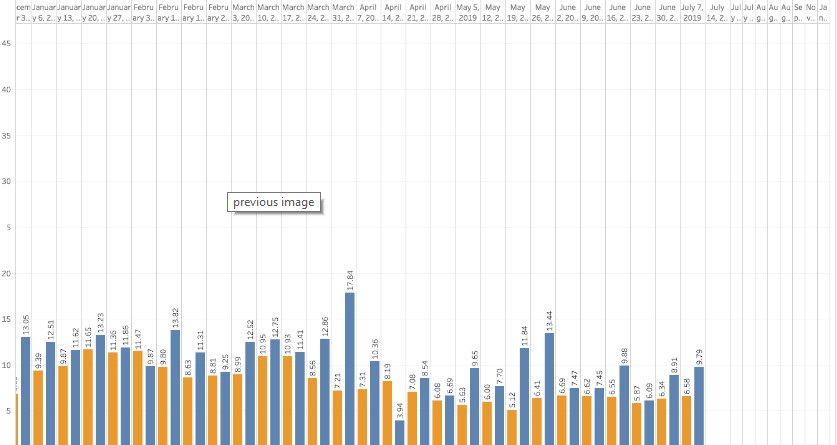 And that's how Call-To-Action buttons increase web push effectiveness. Campaigns with CTA get 40-60% better results.  
Here are two examples that show how CTR can differ due to different user devices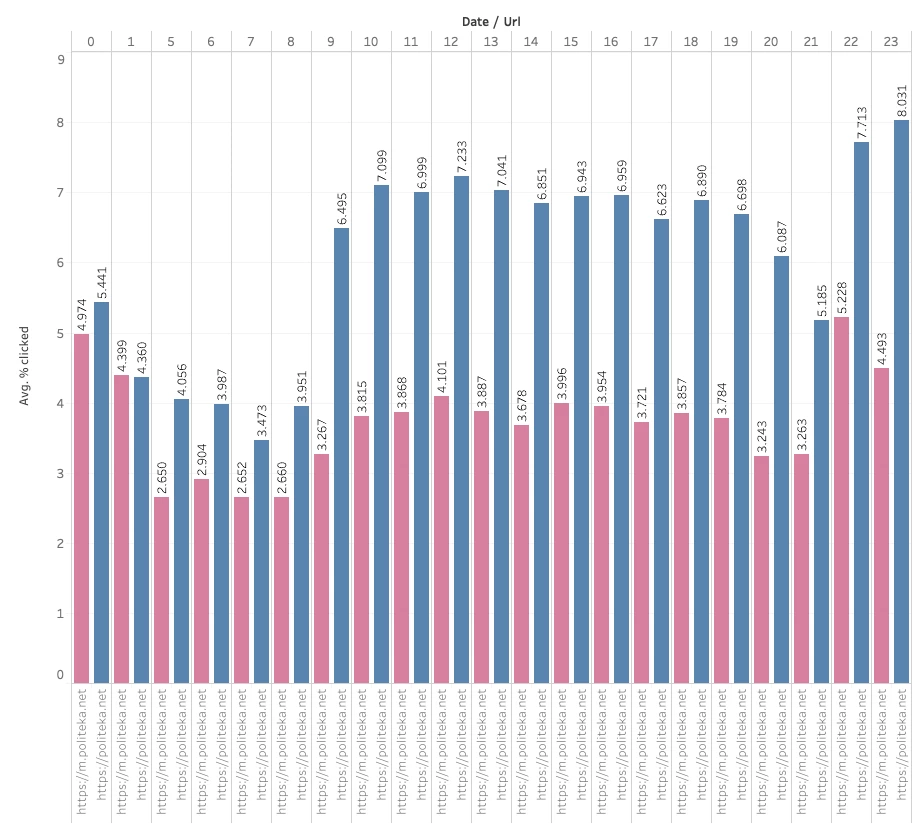 To achieve better results, companies use the segmentation features of the push notification service. 
Targeted campaigns
Gravitec.net clients can segment their subscribers by interest, region, operating system, and/or browser. It is useful to tailor messages for each segment.
Read more about web push segmentation.
CTR of targeted campaigns is 1.5-2 times higher than for standard ones.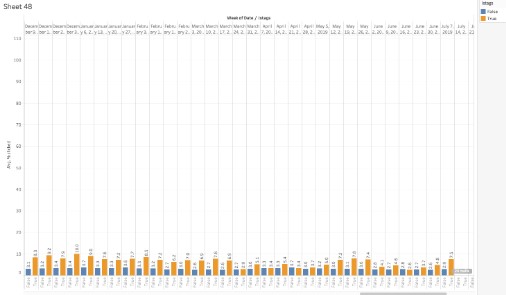 Example to compare CTR for targeted and standard campaigns: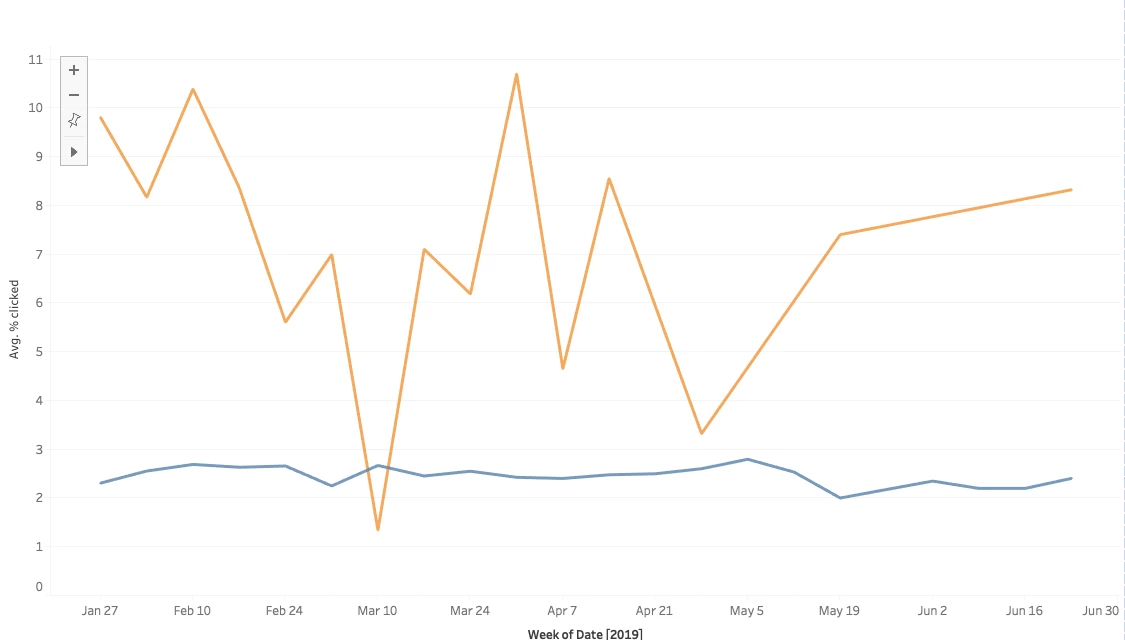 The orange line shows the click rate for segmented campaigns; the blue line shows the CTR for unsegmented campaigns. 
TIP
CTR is the ratio of subscribers who clicked a notification to the total notifications sent. Despite a higher CTR for targeted campaigns, standard campaigns can actually result in a higher total of clicks.
Personalized campaigns
Gravitec.net clients use aliases (subscriber personal IDs: email, login, etc.) to send personalized notifications.
.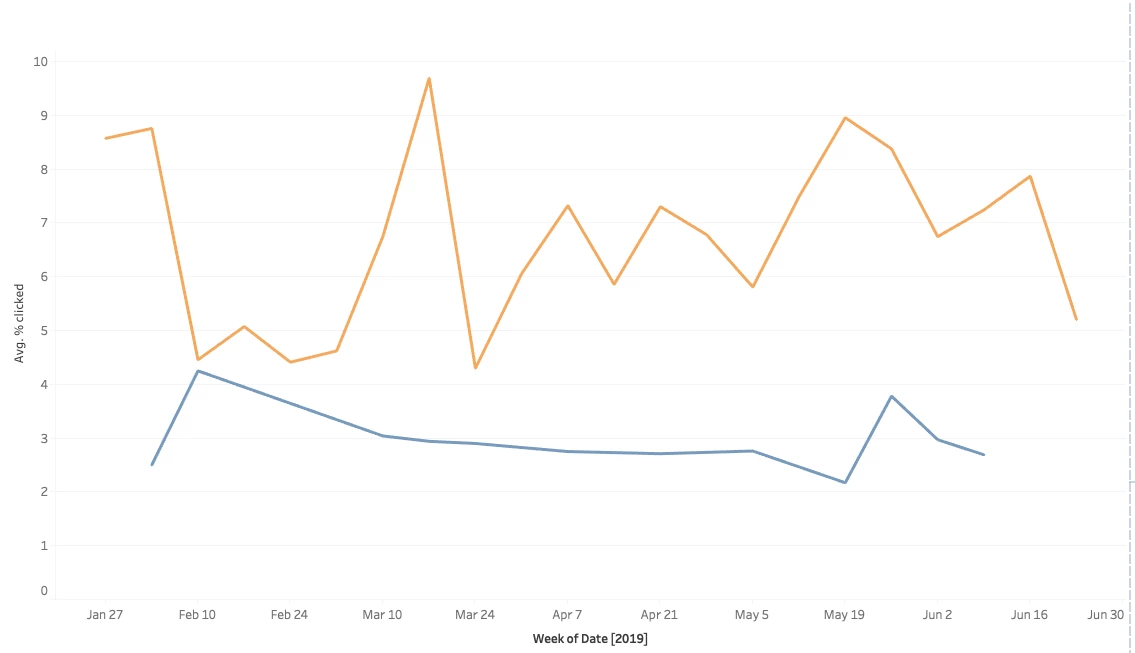 The blue line shows campaign results for all subscribers; the orange one shows results for personalized campaigns.
This tool is widely used for transactional or triggered messages to notify a subscriber about their personal account.
Let's sum up
Web push notifications can reach over 80% of all internet users.

Windows, Android, macOS, but NOT iOS, and Chrome, Firefox, Opera, Yandex, Safari browsers, all support push notifications on both desktop and mobile devices.

Chrome is the most popular browser – with over 90% of all push subscribers.

The subscription rate is 0.5-15%, depending on the type of business.

About 80% of all subscribers are smartphone users (Gravitec.net

stats

).

Beginning with Chrome V80, Gravitec.net recommends using a double-click permission prompt.

The delivery rate is higher in the afternoon (about 60%).

The delivery rate is dependent on a recipient's device. It is about 50-60% for smartphones and 20-30% for desktop devices.

The number of closed notifications is 35-45% of all notifications received on the desktop, and 30-35% for mobile devices.

The average CTR is about 15%. It is higher for targeted and transactional campaigns it can be as high as 30%.

The click rate is highest in the afternoon until 6 p.m.

The CTR is higher for rich web push with big images than for standard notifications, by 2-5%.

CTA buttons improve campaign results (over 40%).

Targeted campaigns are 1.5-2 times more effective than campaigns for all users from the subscriber base.

ROI is up to 2200%, increase in daily website traffic is up to 25%.
If you have any questions about the technology features or a push campaign launch, please, contact our support team.
TIP
The
Gravitec.net
service is an easy-to-use platform for sending push notifications from websites. Push technology enables you to inform subscribers of updates and new posts. You can also create targeted and triggered campaigns, send notifications automatically, and see campaign statistics.