It's hard to deal with all of the newsletters in your email box, especially if you are a subscriber to many different websites and services. Furthermore, it is typically annoying to get emails from unknown senders. And, it is even more annoying if there is no means to unsubscribe from them.
Let's find out how to unsubscribe from unwanted emails that do not include an unsubscribe link.
What to Do When an Unsubscribe Link Missing or Doesn't Work
There are two types of emails that can be delivered without an unsubscribe link. The first one is an email from a company you know. The second one has to do with spam, which we will discuss further down in this article.
When you subscribe to a company's emails, you will start receiving them. They have your permission. For example, you might receive an offer for cheap flights from an airline. You filled in their subscription form, and now they send you their customer emails. Still, companies have to follow anti-spam laws. It obliges them to include an unsubscribe link into every email.
Learn how to send emails to multiple recipients without them seeing each other.
TIP
It is recommended that you read their privacy terms before you submit your email address.
An email may contain a broken link. Or, something might go wrong when you try to unsubscribe. So, how do you get off of their email list?
You can create a separate email account for commercial emails only. This will keep your personal email account from getting cluttered with emails from your subscriptions. And, you will not lose any attractive offers from companies.
Learn how to prevent email from going to spam.
How to Stop Spam Emails Without an Unsubscribe Link
Spam is the second type of email that doesn't provide a way to unsubscribe. You did not give the sender permission to send these messages. This is the main difference between spammers and the companies we mentioned above.
Spammers collect email addresses in different ways:
certain websites, such as blogs and forums, where email addresses remain exposed

companies that sell email lists

malware, phishing programs, etc.

random email address generators
Spammers are not interested in giving you an unsubscribe link, so it is left up to you to stop spam emails on your own.
Block the Sender
You can block the sender in your message settings. For example, in Gmail, when you are reading an email, from the 3-dot "More" menu on the right side, click "Block".


You'll see the pop-up window:

Any messages from this sender will be redirected to the spam folder after you click 'Block'.
Mark the Message as Spam
If the unsubscribe link is missing from a specific message, you can mark it as spam as well.
Follow the same steps as above. Click 'More', and then tap 'Report spam'. You'll get this alert.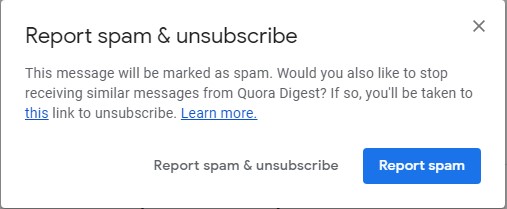 There are two buttons. If you only want to report spam, click the blue button. If you wish to stop receiving all messages from this particular sender, click "Report spam & unsubscribe".
You'll get rid of all junk email from this sender in the future should you unsubscribe from spam now.
If you suspect that you received a phishing email, use "Report phishing".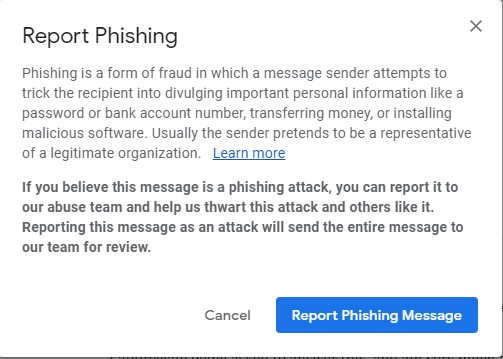 The message in question will be sent to the ESP for review.  They evaluate the email, the sender, and will take appropriate action.
Reply the Sender
Perhaps you don't recall subscribing to a company's emails. Or, you've used their unsubscribe link, and still receive their emails. In either case, you want to stop receiving them. So, as we described above for commercial emails, send them a reply, asking them to remove your email address from their database.
TIP
Generally, it takes a few days for an email address to be removed from a list after you use an unsubscribe link.
Report Spam
If nothing helps, and you're still bombed by spammers, report spam to all authorized institutions.
Forward the entire spam message:
to the Federal Trade Commission (spam@uce.gov),

to your email provider,

to the sender's email provider.
In the forwarding process, make sure you haven't deleted any part of the original junk email. Supplement the forwarded message with your complaint. Generally, ESP's have a provision for you to report spam to them. In Gmail, follow the same procedure illustrated above, and click "Report Spam". 
ESPs are very interested in reducing spam in their system. So, you may wish to report it not only to your ESP, but also the sender's ESP.  If you report spam to the sender's ESP, they will review your complaint and potentially blacklist the spammer.
Use Spamcop
SpamCop is an email spam reporting service that was founded in 1998. SpamCop created their blocking list based on user reports. They detect the IP address of the source of the suspicious activity and notify the ISP that laws are being violated. If SpamCop doesn't get an answer, they blacklist this IP address. ESPs use SpamCop's blacklist to protect their users from spam.
You can go through the blacklisting process on the SpamCop website – https://www.spamcop.net/anonsignup.shtml.
TIP
Pay attention to SpamCop requirements. You can use the service to report only unsolicited bulk email (spam).
How to protect your email address from spammers?
By getting rid of spam and reporting it, you not only clear your mailbox, but you also help to reduce spam for other network users. 
Besides, you need to make sure that your email address is not easy prey for spammers.
Create email accounts by trusted ESPs with a good security system.

Don't follow links in suspicious emails, don't open attachments from there. 

Be careful of any free software, and only download files from websites you know, so as to avoid installing malware. Your unprotected computer can be used by spammers to send bulk emails. 

To protect your computer, use proven Antivirus software.

Do not post your email address on websites where it is freely accessible.

Check a website's privacy terms before you enter any of your personal data.
Conclusions
Unwanted or deceptive messages can not only be annoying. They can even be dangerous. If you subscribe to a company's emails, and they send you messages that don't contain an unsubscribe link, use soft methods to stop this interaction. However, for unsolicited spam, we hope that you will follow our tips.
TIP
The
Gravitec.net
service is an easy-to-use platform for sending push notifications from websites. Push technology enables you to inform subscribers of updates and new posts. You can also create targeted and triggered campaigns, send notifications automatically, and see campaign statistics.