Just think about it: 50% of leads are not ready to buy when they first come in contact with you, even though they are your target audience. They might convert into customers if they stay long enough and remember about you. 
How do you attract their attention to get them to stay long enough to see you can solve their problems? Top-of-the-funnel marketing helps you generate potential leads and drive traffic to your website. In this article, we'll cover the most popular top-of-the-funnel marketing tactics so that you can select what works for your business.  
What is TOFU
Before we discuss top-of-the-funnel tactics, let's first deal with the funnel itself. A marketing funnel describes a customer's journey, from when they discover your product to making a purchase. We would discuss a marketing cylinder in a perfect world, but the potential customer drops out of the funnel on every stage. 
Top-of-the-funnel marketing describes activities that help target customers right at the beginning of the journey, at the awareness stage. It means that your potential customers are just becoming aware of your product or your offer.
Once you get their attention, you can prove your worth to them. You can cover questions about your niche at the top of the funnel stage, but here you can show how your company can solve issues or why you're better than competitors.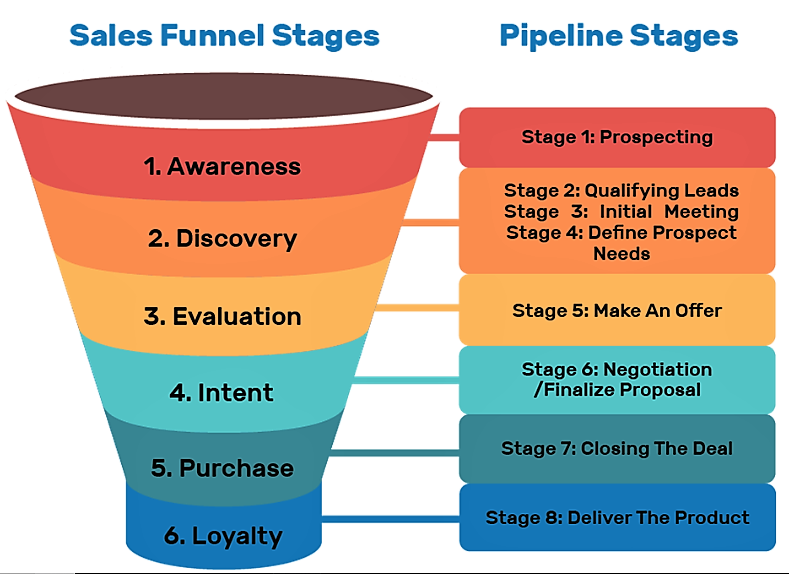 For example, say you have an app that helps people track their goals. To connect with people who just explore the topic, you can write a blog article on why GTD (a productivity method, Getting Things Done) is old news. If you include a link to a landing page where a potential customer can see how your service helps plan the goals, it will be an example of a MOFU (middle of the funnel) marketing tactic. Suppose they follow your CTA and go to a landing page. In that case, they're already looking for a solution that can help them plan better, so that's where you display comparisons to competitors, customer testimonials, and free trial offers. 
At the BOFU (bottom of the funnel) stage, it's time to drive a sale. This is where you just need to tip the scale in your favor by offering free in-house demonstrations, tutorials, or time-limited promotional codes. 
So, it's all a step-by-step strategy that helps you guide your audience from the point where they don't know about you to the point where they're ready to make a purchase. 
How to generate leads for top of funnel
To attract top-of-the-funnel leads, you'll need to research topics your audience can be interested in and create content covering these questions. At this stage, your goal is to interest your readers and engage them so that you can take them to the next step. 
For example, you can collect email addresses or use push notifications to gather contacts to nurture and offer them access to a whitepaper or ebook.
Your potential leads might come across your content while googling for tips, browsing through recommended videos on YouTube, or stumble upon your account on social media. Whatever the medium, the goal is to interest them enough to learn more.
There are multiple forms of content to use in your top-of-the-funnel strategy, like blogs, videos, ads, or lead magnets. The choice will largely depend on your audience. For example, if you sell your product in a B2B segment, your audience might be more interested in a white paper than infographics. 
Best TOFU marketing tactics
There's no single way people will enter your funnel, so it's important to have a multichannel marketing strategy. Here are top-of-funnel marketing tactics to try to get your brand in front of potential customers.
Blog
A well-ranking blog is a way to attract those top-of-the-funnel customers to your website. Per HubSpot's report, 47% of B2B buyers will look through three to five contact pieces before talking to a sales rep. Blogs come in multiple forms; you can start an editorial, research, or reports blog. For example, suppose you create an editorial. In that case, the goal isn't to sell something — you'll merely use it to attract people to your website by using some news-like content and covering questions your audience is likely to answer.
For example, Investopedia offers a straightforward blog that pops up within first search results when googling investment questions like 'stock investing for beginners.' In addition to the articles, they curated a dictionary that translates financial terms into plain English.
Here's an example of a blog aimed at a B2B audience.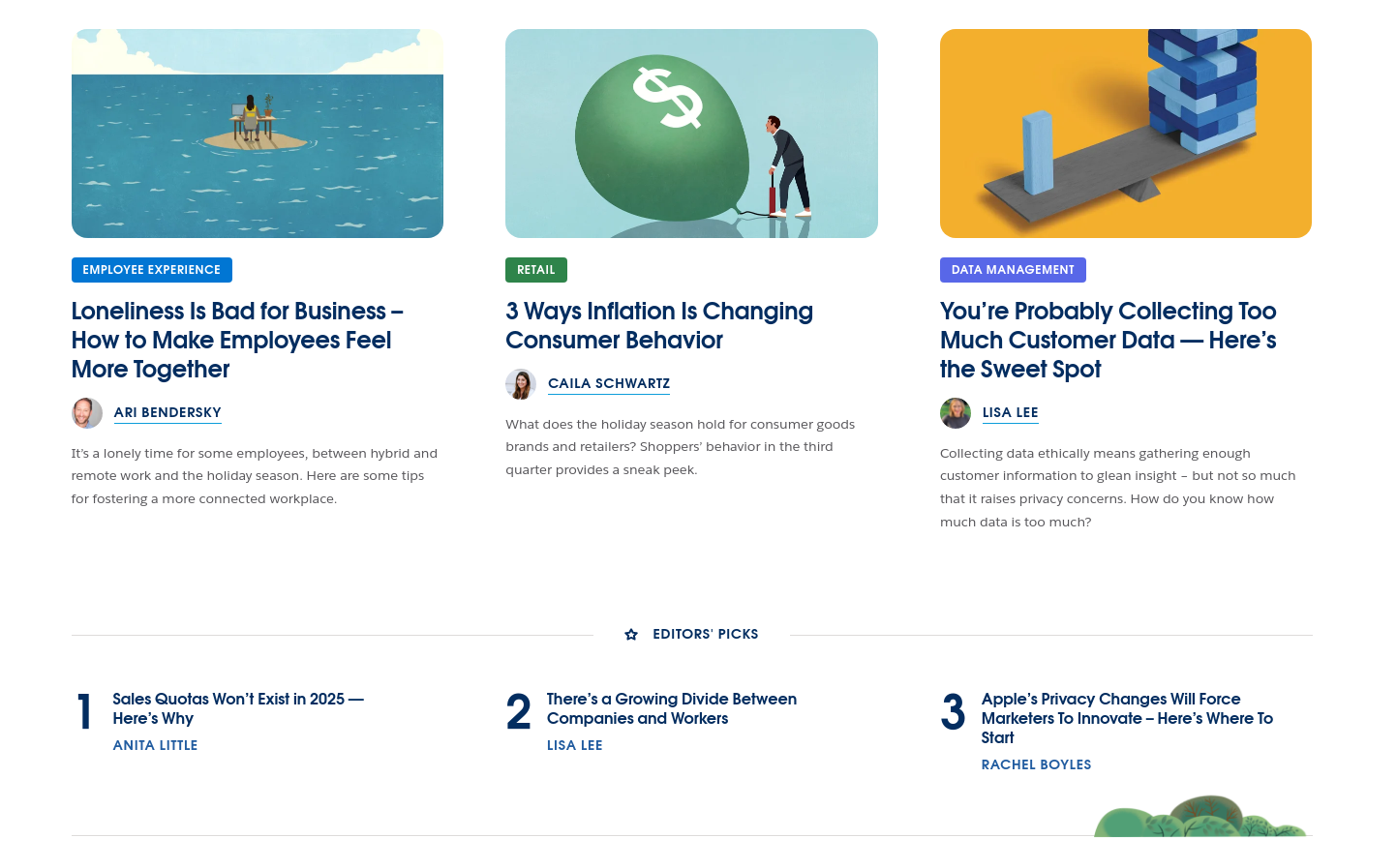 Salesforce creates helpful content for sales and customer service specialists. 
Tools for ToFu: 
Push notifications
Web push notifications help you create an onboarding sequence for new website visitors. Push notifications will enable you to feed them bite-sized information without overwhelming them with details. Done with the customer in mind, push notifications will help you nurture the lead and bring them to the purchase decision. However, the tool is quite versatile, and you can also use it in later stages to deliver in-depth content and offer discounts. 
For example, say you have a website that helps people plan their workload, and someone has subscribed to notifications on your blog without buying your product. Once they subscribe, they'll get a welcome push notification, leading them to the best articles on planning. In a day, you send them a push with educational videos on the newest planning systems. Then you can offer a best practices guide. Once the basic education is over, you might send an offer for a free trial. 
There are multiple ways to use welcome push notifications. You can share coupons, offer premium features or promote a relevant webinar. 
Learn more about using push notifications in various industries
Tools for ToFu:
A push notifications service like

Gravitec

to create campaigns

Unsplash

to look for high-resolution images. It's best to use your own photos, but it's not always possible. This way, you'll still have stunning visuals for your push notifications.
SEO
SEO work done properly means your website can be found via googling. Research shows that 53% of traffic comes via search engines. To get it to work in your favor, optimize the content on your website for relevant keywords. Start with considering why a customer would look for you, what challenges they're trying to overcome. In addition to including keywords into actual content, include head keywords to top-level pages of your site, like the About page or Category pages.
Tools for ToFu: 
SEO

plugins

that will help with content optimization, such as Yoast

Google Analytics to understand your visitors' behavior
Lead magnets
As we mentioned before, the ultimate goal of top-of-the-funnel marketing is to initiate contact. There are different ways to capture their attention, for example, offering them something valuable, an ebook, or a whitepaper in exchange for their email. Backlinko is a blog that covers all things marketing. In addition to blog articles, they feature guides that act as lead magnets. 
Tools for ToFu:
Infographics
Infographics are more than pretty pictures; they help get your point across visually and do it fairly well — per statistics, infographics improve reading comprehension by 50%. Visuals make the text easier to understand and create a focal point that is also shareable on social media. 
Tools for ToFu:
Canva

is an affordable and user-friendly design tool. What's more important, it's super beginner-friendly.

Piktochart

is a fast way to design infographics or reports. You can simply customize one of the existing templates and have professionally-looking content within minutes.
Videos

According to Hubspot, more than half of your visitors likely expect to see videos among your content. Video is engaging, and while your site's visitors watch your videos, they stay longer on your website, which will be taken into account by search result ranking. You can use videos to show how your products work, show your brand's motivation or engage in storytelling. 
Tools for ToFu: 
Adobe Premiere

is a professional video editor you can use if you go for full-fledged video production.

Animoto

is a tool to create videos with graphics, such as a split-screen video, or embed your text or collage. They offer templates, so you'll be able to create a video without much fuss.
E-books
E-books are a great way to establish your expertise while answering questions your site's visitors have. They're also a likely reason your site visitors will give up their personal information. Per the research, 63% are willing to share their information in exchange for e-books.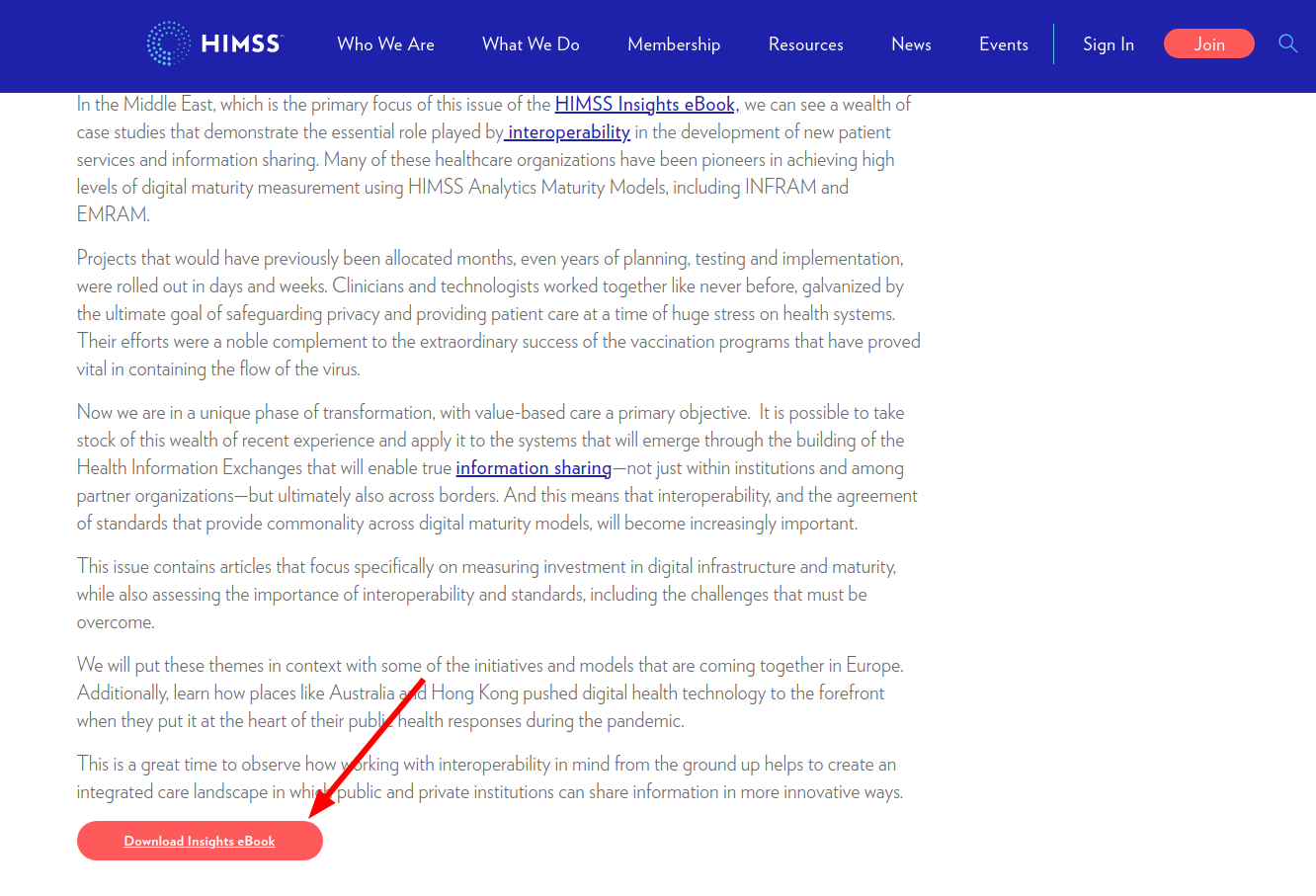 For example, HIMSS, a healthcare technology B2B brand, gains insight into topics most interesting to potential customers.
Tools for ToFu:
Designrr

is a way to quickly turn your existing content into ebooks or flipbooks, such as blog posts, social media posts, or even Google Docs. It is beginner-friendly and doesn't require profound design or technical skills.

Adobe Acrobat

is a powerful tool to create PDFs that look good. However, it will have a higher learning curve than a template-based design tool.
Guides
A guide aims to deliver information that provides background to your prospects so that they choose your solution. To create a useful guide, think about its target reader, how they will use and consume the content. It can come in various forms; you can create a video guide or infographic, whatever gets your point across. 
Here's an example of a guide for a B2B audience teaching project managers to do their work better.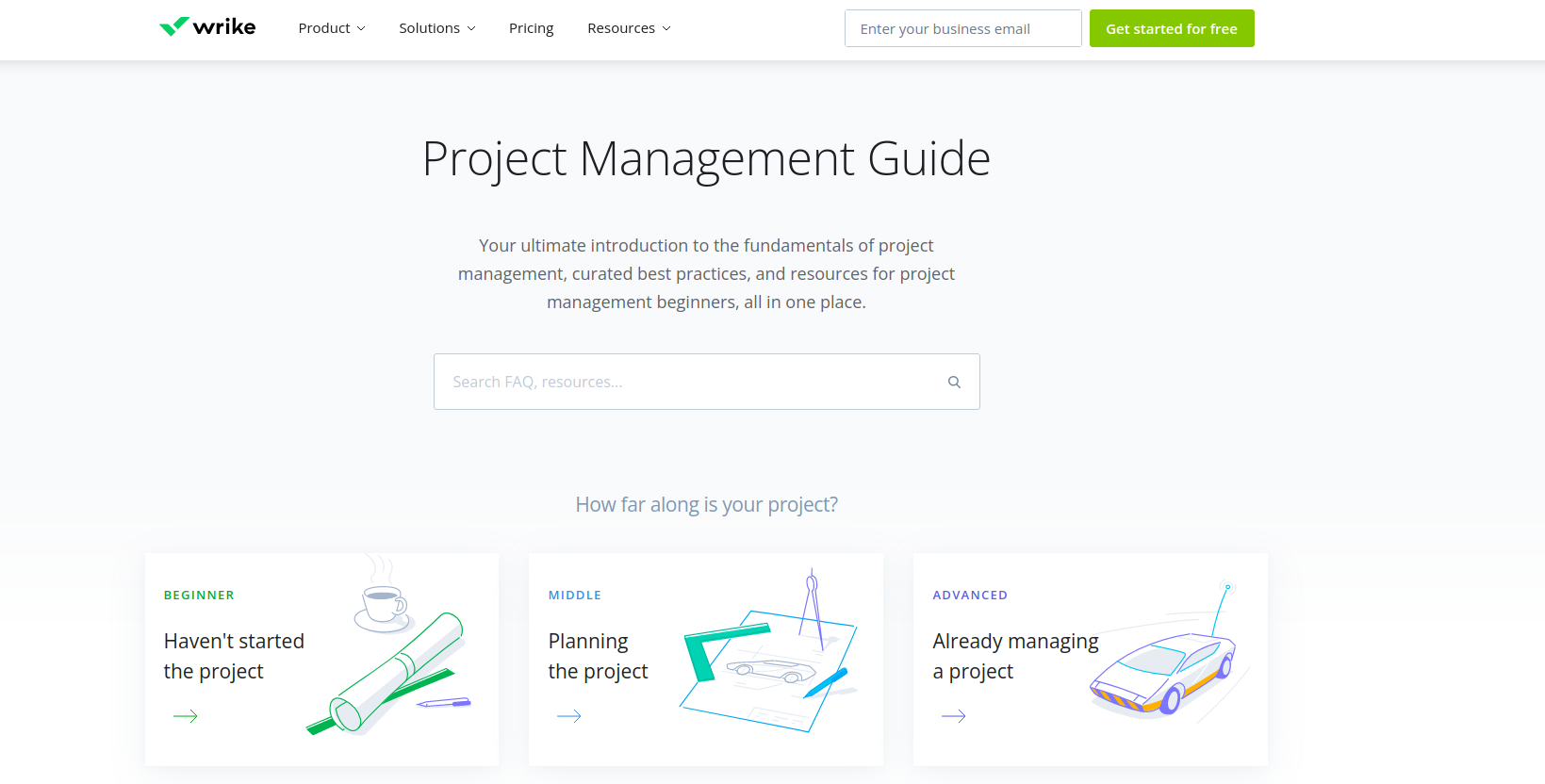 It's designed to create authority for Wrike and position it as a source of credible information. You will see here only tips for project managers and no promotion or selling offers.
Tools for ToFu: 
Loom

is a tool that records and shares instructional and educational videos.

Beacon

will help you create a guide and a form where site visitors will swap their email for your content. It has a drag-and-drop editor, so if you opt for a template, you'll have your guide in no time. 

Attract.io

builds how-to and resource guides from attractive templates. It provides Unsplash access directly from the dashboard, so you won't have to look for images elsewhere.
Social media
About half the world's population uses social media, so chances are, your audience is there.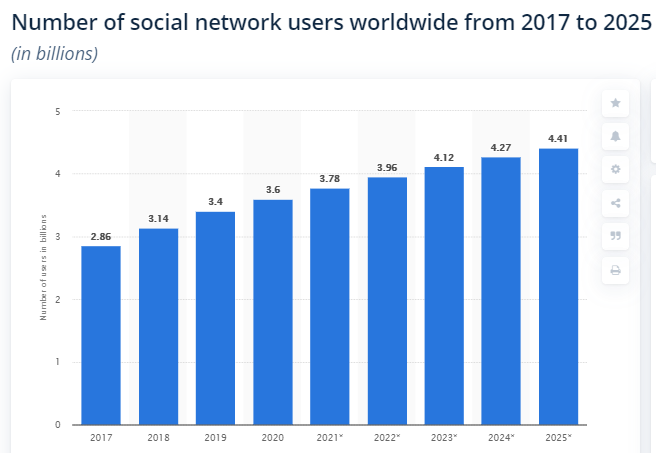 The choice of the platform depends on your niche; for example, LinkedIn will be more appropriate for B2B customers than TikTok.
At the top-of-the-funnel stage, your goal is to gain people's attention. Unless you specialize in cat memes, your best shot is to create content that discusses issues your potential leads are trying to solve. Of course, you'll get bonus points if you showcase your solution using cats.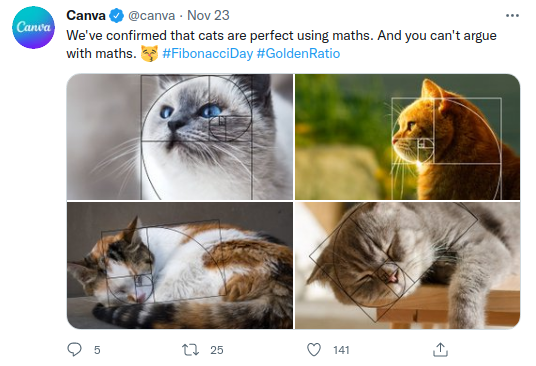 Tools for ToFu:
Hootsuite

lets you create posts, automate posting and see social media analytics in one place. It also has a free plan, which can be enough to manage social media for a small business owner.

Contentcal

is also a social media management tool, with more emphasis on planning. It lets you pin ideas, brainstorm your content and approve posts.
Online ads
GO where your customers are. What platforms are relevant for your audience? There are various ways to use paid advertising: 
PPC

Social media ads

Sponsored social posts

Display ads

Influencer partnership or endorsement
Tools for ToFu:
Google Keyword Planner

to understand what people in your niche are searching for. You can find keywords and also get search volumes and forecasts.

Smart Ads Creator

is a free tool to quickly create display ads by grabbing imagery and copy from your landing page. It also will automatically resize your ads for the standard sizes of Google Display Network.

Supermetrics

will gather all your marketing data, such as PPC, social data, and SEO,  in one place.
Outreach
Once you create content, you need to get it noticed. If you're just starting, then you won't get many site visitors. There's a solution to this problem — you can reach out to different blogs in your niche and pitch a piece. This way, you'll be able to make use of their audience and include links to your website, blog, or social media. This strategy doesn't work only for bloggers. You can also offer a brand to create a co-marketing campaign with your business. 
Tools for Tofu: 
Buzzsumo

will help you research and connect with influencers and bloggers who have an audience in your niche.

GMass

is a service within Gmail to run cold campaigns straight out of your Gmail account. It provides templates, personalization options, and built-in tracking.

Upfluence

is an outreach platform that lets you view and filter influencers you're working with and track your performance on all platforms within the app.
Email sequence
Email sequences are great for onboarding prospects because they make it easy to include a CTA into the content they agreed to receive. Email marketing also gives you more control over building communication with your prospects, unlike social media, where you don't own your subscriber list. To get started with the newsletter, you'll need to collect email addresses. You can either use opt-in forms or landing pages. Both can be focused around a lead magnet because to get your site visitors to leave their emails. You'll need to provide something valuable. You can use any of the above-discussed lead magnets to make sure you get your email addresses.
For example, Sonarworks offers an ebook with a tutorial on audio recording in exchange for a user's email. They also provide a 21-day free trial of their service to sweeten the offer, which is pretty generous.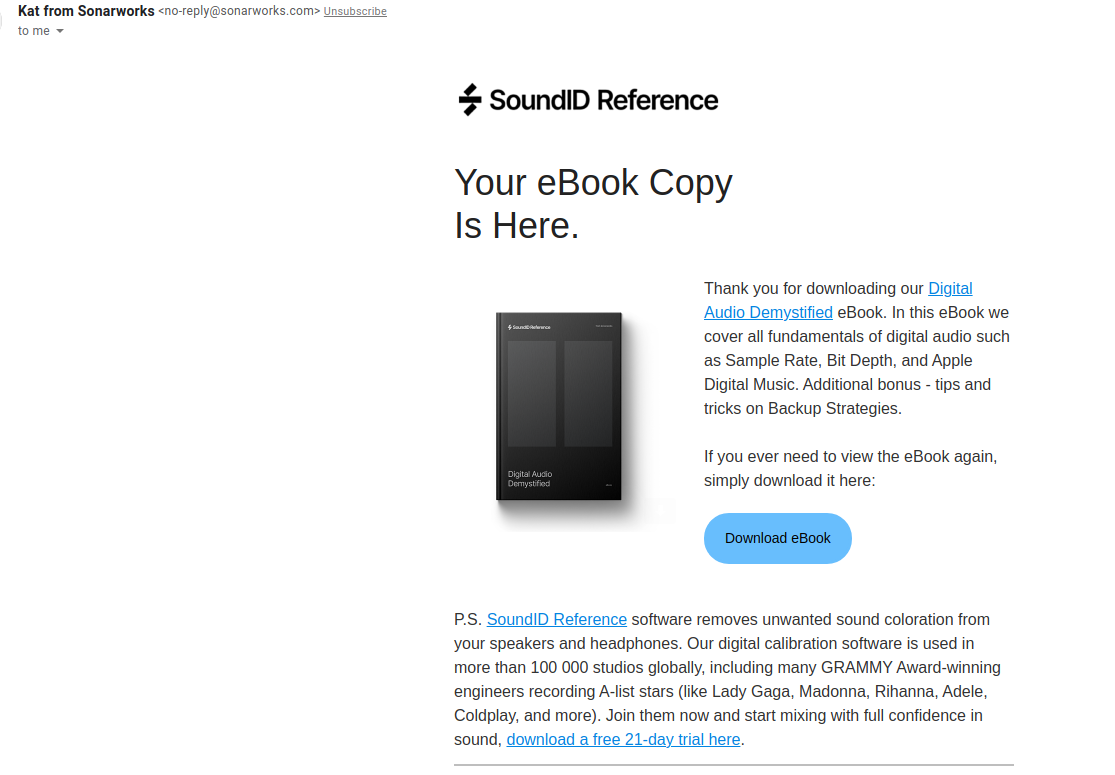 Tools for ToFu: 
Constant Contact

is a drag-and-drop builder to create stunning emails easily. You'll also be able to see click-through rates, open rates, and data for each subscriber. 

ConvertKit

is a popular email marketing tool for bloggers that lets you send simple emails. 

Hubspot

will let you automate your email marketing. You can visualize and automate your email flows for a streamlined experience.
When it comes to the efficiency of the top-of-the-fell content, providing instructions and creating relevant content beats other options.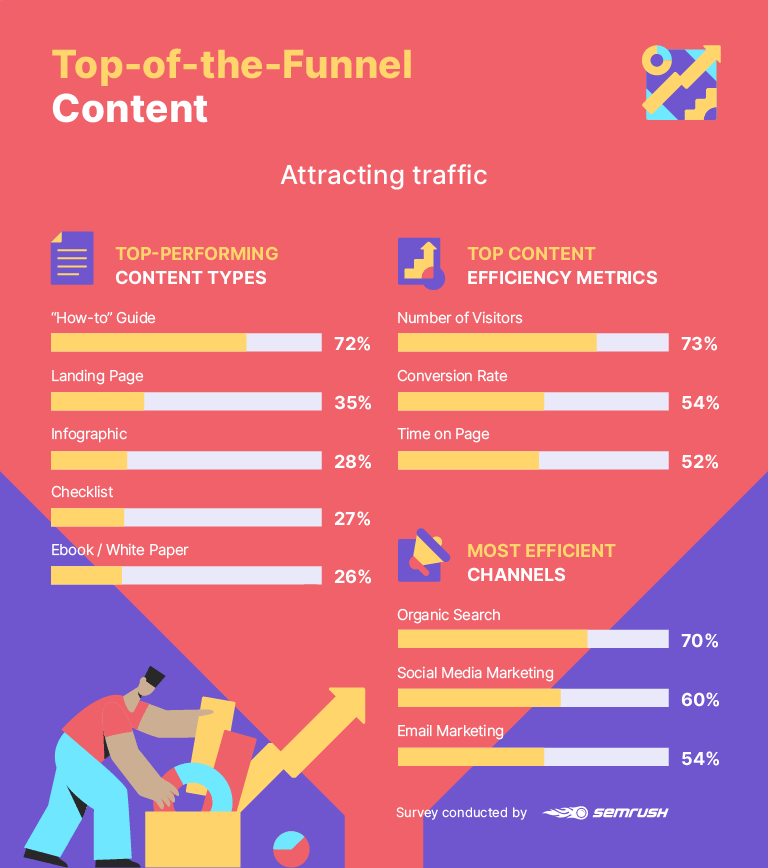 Summary
A full-scale marketing strategy requires the timely application of TOFU, MOFU, and BOFU content. TOFU marketing aims to create brand awareness and build interest, whereas deeper parts of the funnel are aimed at sales.
To attract visitors' attention, you can use the following TOFU tactics:
Blog

SEO

Lead magnets

Infographics

Video

Research

Guides

Social media

Online ads

Outreach

Email sequence