Google news aggregator collects articles from over 20000 publishers worldwide. For users from different regions, it is a powerful tool for getting the latest news. 
TIP
Google News service is available in about 30 languages.
The service monitors news websites for the most relevant info and provides readers with a news compilation on various topics and categories. Thus, Google News is an additional source of a website traffic for news media.
In this review, you will learn how to get on google news with content of your portal. What are Google requirements for a website inclusion? You will find out the main tips for helping publishers to be accepted in Google News service.
Learn how to start a media company.
Google requirements
Before submitting your website for inclusion into Google News, you have to follow Google's guidelines first. To compete with other publishers, check your news source for corresponding to Google requirements. 
The first guideline is about helping Google to find and understand your site content. It includes quality guidelines, technical recommendations for improving website visibility to Google bots. 
Here are basic principles you have to follow:
Create useful content with unique value for your users that's gonna differentiate you from competitors.

Avoid being deceptive to your readers.

Focus on a website convenience to users, make pages design primarily for them, not just for search engines.

Avoid using tricks to improve website ranks in Google search. Ask yourself, what will make users experience better instead of intending to manipulate search engine ranking. 
Read our review on how to start a news website.
Two other guidelines are specifically formed for those websites owners who are willing to attend Google News.
Content policies contain requirements for creating content that can be approved by the service. For example, you have to provide independent and original news, clear dates of articles and bylines, contact information, etc. Google does not allow promoting violence or hate to any group of people (no racism, homophobia, etc.).
Read more about the service rules on the Google's support page.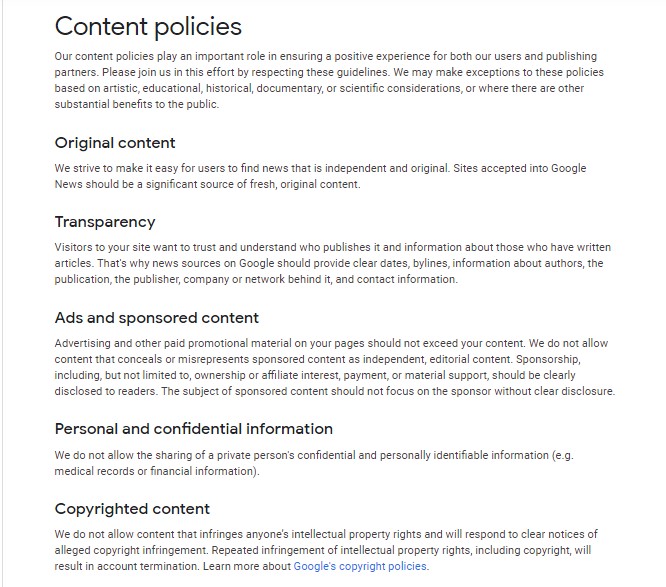 Technical index guidelines show how to help Google bots crawl website pages with news. There are requirements to a website structure and for individual article pages.
Here is a summary of the most important technical Google tips on how to get listed in Google News.
Use permanent and unique URLs for every article on your website.

Allow Google News bot to crawl your content (robots.txt file and meta tags).

Use HTML for a website content and article links to provide crawlers with an opportunity to see them. Non-HTML content cannot be crawled.

To decrypt a media content (video, audio, etc.) for crawlers, add text description for it.

Submit Google News Sitemap in Search Console after approving your website by Google News team.
Submitting your site
You can submit your website for inclusion in Google News with two different tools:
Besides, your article pages can be accepted by the service automatically if their content corresponds to requirements and contains unique information. However, submitted XML sitemap in Google Search console increases your chances to be in the web crawler's sight.
Google news publisher
To apply for a website inclusion to Google News follow the guide below:
Go to Google News Publisher Center.

Verify a website ownership in Search Console.

Send your request for inclusion.

Add site details and update news section URLs.

Click 'Submit'.
Google team will review your request in a few weeks. You will receive an answer in your News Publisher account. Depending on the content quality, your website will be included to Google News or rejected. If a web source is not accepted, an owner can make changes according to the service requirements and try to submit a website again after two months.
Google news producer
News Producer is the complex tool with a number of options. Its main aim is to provide publishers with an opportunity to manage their news appearance on tablets and phones. It's not required by Google to use this tool for adding your website to Google News. You still can make it through News Publisher. However, Producer tool helps in publishing articles, monetization of your content.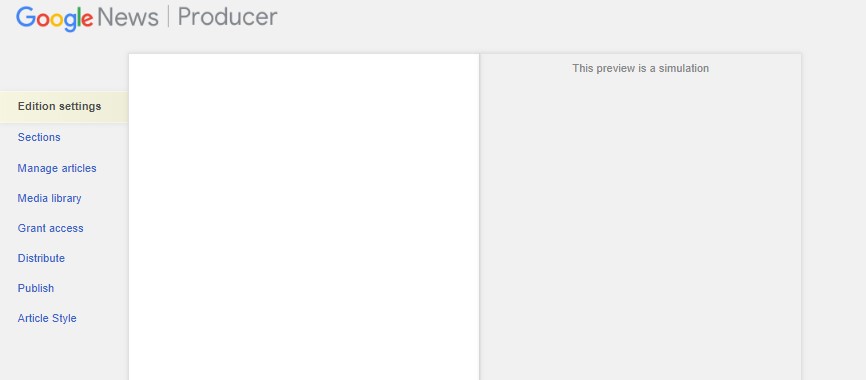 There is no guarantee that your news will be displayed in the app after adding publications through News Producer. As before, their inclusion is based on a content quality and its value for users. 
Read more about News Producer in the Google overview — https://support.google.com/news/producer/answer/1611353?hl=en-GB
Increasing your chances to get listed in google news
We have collected detailed general tips on how to appear in Google News, to make it easier for publishers to conform websites to the service requirements.
Write niche content
Websites of a specific niche have more chances to be approved by the aggregator, than web sources with a wide range of different themes. Niche content is supposed to reveal topics deeply. Moreover, Google News service accepts primarily specific news portals instead of companies' blogs or commercial websites with news section. You can try to provide Google News bots with an access to news section only, but still a news website on a separate domain will be more likely crawled.
Furthermore, daily articles updates are one more signal for the Google News team to consider a website trustworthy.
While submitting a website for inclusion through News Publisher you have to define source labels for your content. Applying of a particular label to your publication helps users find relevant information on their request.  
Read more about source labels. 
Readability 
Frequently updated content has to be unique and relevant as well. However, texts readability largely indicates their quality. Experienced editors will not publish articles of poor quality, with incorrect grammar or spelling. Google News staff check websites and their separate pages manually to make the final decision for inclusion. They test a website usability to determine how well news media are reader-oriented. For example, you should avoid distracting ads and focus on improving your core content, instead of increasing number of PR articles on a website.
Authority 
Authority in a particular industry makes your content especially valuable. If your articles are the main source of information on a specific topic, you are an influencer in it. Your opinion matters, other websites refers to your web pages, other publishers invite you to cooperate with them as an industry expert. To vary publications and increase their number, you can collaborate with authoritative bloggers, use content curation. In the same way, as reputable websites get high ranks in search engines, they are welcomed in Google News. 
Another positive indicator of a website trustworthy is bylines and info blocks about authors' experience, knowledge on a topic, etc. Engaging multiple authors, you get an opportunity to cover more topics, publish posts frequently, and add a fresh content on a website every day.
Use correct format
A text is the main source of information for Google News bots. Therefore, the first technique tip on how to get trending news on Google is to make your pages readable for crawlers. For example, if a page contains article on PDF, the bot will not appreciate it. Turn all non-readable elements into text if it's possible, otherwise, add a description for informative one (video, audio, etc.).
Human friendly URLs
Unreadable URLs decrease an article chances to be shown in Google News. The best solution is to create a URL on the basis of an article title. For example, in WordPress you can set an option in 'Permalink Settings' for assigning a post name to a webpage URL. Human friendly URLs make it easier for both Google News bots and readers to recognize a page topic even before viewing it.
Your every article URL has to be permanent so that after inclusion in Google News it will not be changed. Otherwise, republishing can cause problems with access to a page and its displaying.
Furthermore, a certain web page URL has to be unique. If the same URL is assigned to multiple articles, they can't be included into Google News.
Use HTML for your content
Google News bots don't understand any languages but HTML. Tend to use primarily HTML for your articles. Avoid adding JavaScript elements or non-informative blocks, like 'Related posts' inside your main text. By doing so, your publications will be indexed faster. 
Article links
Links to other trustworthy websites (for example, as a fact prove) tell Google about your content quality. To make links visible for bots, use HTML format for them. Avoid links in frames, graphic or JavaScript elements.
Transcription for video
As we mentioned above bots recognize HTML code only. Thus, to make your video content visible for crawling, if it has additional value for your story, create text description for it. In case when video is the main content of a page, you should add a transcription to duplicate all information from a clip. With this approach, Google News crawlers will consider this content readable and suitable for inclusion.
Create sitemap.xml
Create a separate Google News sitemap except of a regular one. This approach will help bots to find news articles of your website faster.
Here is some Google tips on how to create a news sitemap:
Include publications posted in the last two days.

Add less than 1000 URLs into a sitemap.

Refresh a sitemap with new articles just after they are published.

Upload created sitemap through Search Console.
Structured data
It's highly recommended to implement structured data on a news website to place your results in search ranking in separate blocks. Here is an example of how it looks in SERP, when a website is included in TOP stories: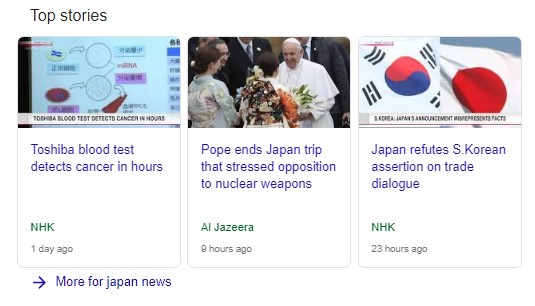 Use Schema.org properties and types to mark up your content. Publishers have to select proper types for their content.
You will find more information on that topic here — https://moz.com/blog/structured-data-for-seo-2.
TIP
Please note, if you use AMP for your website, you should use structured data for AMP version as well.
Robots.txt
Robots.txt file contains rules for search engine crawlers to manage their activity on your website. You can specify bot's types there and allow or disallow crawling for them. Robots.txt helps to decrease the number of bots' requests to avoid a website overload. 
To allow or disallow access to your web pages for Google News crawler, use the rule below.
User-agent: Googlebot-news
Allow: /
This construction in robots.txt file will tell the bot which directories of your website are suitable for crawling.
Read more about Robots.txt creation.
Proper meta tags
To prevent some particular pages or their parts from appearing in Google News, use 'noindex' meta tags. You can block access to your content by adding proper meta tags to HTML pages. 
Here is an example on how to prevent an article from appearing in Google News. Add the following meta tag to your page:
<meta name=»Googlebot-News» content=»noindex, nofollow»>
Read more about meta tags on Google Support pages.
How to get crawl news pages by Google Bot
There are three main steps on how to get news on Google.
Create a unique content for a specific industry.

Follow Google technical guidelines and content policies.

Submit your website for inclusion into Google News through Publisher Center or News Producer. 
It seems to be very easy to do so. However, each step consists of many important stages mentioned above. 
Summary
How do I get on Google News? Here are summarized requirements and conclusions.
Content
Niche websites are more welcomed in Google News than portals on a wide range of different topics.

Correct spelling and grammar for articles is important as well as content uniqueness and meaningfulness.
Any deceptive information is not valid either on a certain article or in company contacts.
Hate and violence promoting is forbidden for websites which are going to join Google News.
A website's team has to concentrate on core content production instead of increasing ads or PR publications.
Web pages usability and convenience for readers is one more signal for Google News team to approve site's content. 

Daily updated content is highly recommended for inclusion your website to news aggregator list.

Article dates and bylines are indicators of website transparency and authority.

Articles from multiple authors will differentiate your content style and topics. Moreover, this approach is highly valuable when you apply for inclusion into Google News.

Text format is preferable for news publications. Multimedia content has to be transcribed. 

Following common SEO requirements for Google Search ranking will improve your website appearance in Google News as well.
Technicalities
Google News bots can crawl HTML content only. PDF, video, audio or JavaScript elements are not readable for crawlers.

Text descriptions for video and audio files will increase your chances to include media content into Google News.

Human friendly article URLs help bots to indicate a topic of a crawled page easier.

HTML links in your articles are visible to crawlers, unlike graphic links.

Preset rules for Google News bot in a robots.txt file allow or disallow making requests for crawling defined directories of your website.

Meta tags use for certain pages can close them from indexing.

Structured data for a news website helps to get additional traffic from search results due to the separately placed blocks of marked up content.

A separate XML Google News sitemap will provide bots with an opportunity to find your fresh articles faster.
Extras
Create bio pages for your authors with their contact information (email, for example) to increase users' trust to a content.

Explore your competitors' experience and features, if their web pages are included into Google News.

Make sure your website is mobile friendly with high load speed.

Get rid of duplicate content on your website.

Fix server errors if they constantly appear.

Improve user experience by implementing non-intrusive design, clear navigation, convenient fill in forms, etc.
Google bots appreciate fast page load, high content quality and clear website's structure. By following all mentioned tips, you definitely can submit for inclusion your website to a list of trending news. Use Google News Publisher or Producer for this purpose. 
After a website inclusion, you will get an additional source of organic traffic, besides of Google Search. By doing so, you will attract new readers for your frequently updated content.
Read how to get more traffic to your website with no ads.
Pay attention on how to return new visitors to a news website with web push notifications. This tool helps to collect a subscriber base of loyal users in the most convenient way. 
Read about web push notification best practices in 2019.
Push campaigns provide a website with instant user's response and increase the number of returning readers.
Learn more about web push installation in our step-by-step guide.
You can test this marketing tool for your news website right now without any charge. After registration, you will get access to private account and push platform's options. 
If you have any questions about push campaigns launch, please contact Gravitec.net support team.