OneSignal provides various tools for marketers to send all kinds of messages: in-app messages, app and web push notifications, text messages, and emails. But, if you need just a few channels to communicate with your potential or current customers, OneSignal could be too advanced or expensive. Here, we review OneSignal alternatives when it comes to web push notifications. Keep reading if you're looking for a more affordable or simple but still excellent service to send push notifications from your website.
OneSignal Alternatives
We'll review three of the top web push notification services that you can use as alternatives to Onesignal in terms of web push notifications. 
Gravitec.net is a web push notification service designed specifically for small businesses and individual entrepreneurs. It has a comprehensive dashboard, is straightforward for beginners, doesn't require coding to use most features, lets you customize push notifications and use rich push. Optionally, you can use the monetization feature. Gravitec allows you to add unlimited websites and team members, so it's also a good fit for agencies. Paid plans include unlimited tags, segments, and automations. Pricing starts from $8,7 for 30,000 subscribers per month. Try Gravitec for Free
Izooto includes multiple communication channels: web pushes, pushes for apps, and messenger push notifications. It is designed for publishers to help them improve the readership of articles by sending automatic notifications for every new post. Izooto integrates with ad networks like Outbrain and Taboola, which might raise safety concerns, but also help drive revenue. The free plan is coupled with audience monetization. Paid plans pricing starts from $85 per month for up to 30,000 subscribers.
PushEngage has a great set of push notifications features for ecommerce websites, such as product announcements, abandoned cart push notifications, and drip autoresponders. It also has a monetization option. Pushengage's free plan includes 200 subscribers, and a paid plan starts from $9 per 1,000 subscribers. For 25,000 subscribers, you'll pay $59 per month. 
Next, we'll discover whether people find these services a good alternative to OneSignal. 
What people say
We've analyzed reviews about the services on the web, and here we show you a quick summary, plus some real reviews from different platforms.
Gravitec.net
Users of the Gravitec.net service appreciate the intuitive dashboard, the straightforward setup, and easy-to-use automations such as RSS to Push.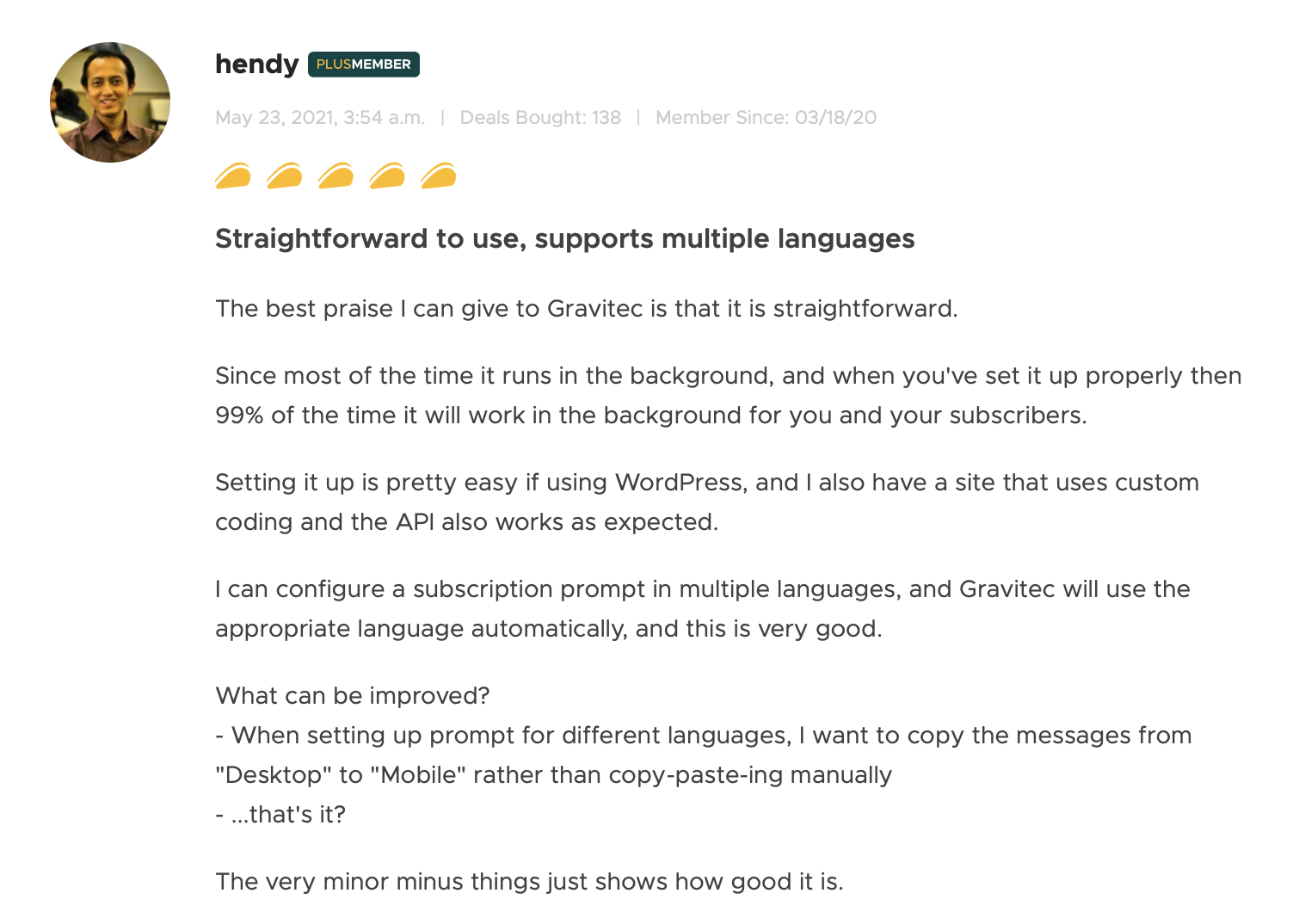 Izooto
Izooto users find it easy to use the service and like how a support team works. The lack of detailed analytics is among the cons, as well as that Izooto updates the data of the users within 48-72 hours.

PushEngage
Users find the PushEngage interface confusing. However, their customer support is at a high level. Plus, PushEngage has many customization and automation options that users like.

Now, we'll dive into the push notification service comparison in terms of features.
Compare features
A set of essential push notification features depends on your website industry. For example, if you're running an eCommerce website, you'll probably need to recover abandoned cart visits. The RSS to Push automation is essential if you need to alert your blog subscribers about your new content. 
Check out push notifications use cases.
We'll compare services on the basis of the seven most essential features which OneSignal has.
Permission prompt. You'll see which customization options you can use for a prompt that asks visitors for permission to send notifications. 
Notify Bell. The Bell widget allows your visitors to subscribe even if they've previously rejected an opt-in prompt. Plus, it allows subscribers to control notification settings. You'll know which OneSignal alternative provides this feature.
Automatic notifications. Push services automate campaigns in their ways. We'll show you which automation options you can get with each service.
Segments and tags. You can send targeted campaigns to your different audiences by creating subscriber segments. Each service has its limits on tags and segments and its approach to creating segments. 
Statistics & Analytics. Reports and analytics tools give you insights into how you can improve your push campaigns. You can choose between plane statistics on clicks, complex reports, and goal trackers.
Integrations. The more integrations a service has, the more chances you'll find how to connect it to your website easily. If your website is WordPress-based, it could be crucial for you to install a lightweight push plugin. If you've built your site with a website builder like Wix, ensure that the service has these integration options.
API. API is a must if you want to connect your push service with your CRM to send personalized messages and add any customization not included in a standard set of features. 
OneSignal push notifications features 
OneSignal has robust documentation that describes how to set up plenty of features. We'll show you how OneSignal features are designed, but first, check Onesignal pricing plans. 
OneSignal Pricing
Free Plan limits the number of web push notification recipients to 10,000. You can get unlimited subscriptions but will be able to send a notification to no more than 10,000 subscribers. 

Growth Plan starts at $9 per month + $3 per 1,000 push subscribers. If you have 30,000 subscribers, you'll pay $99 per month. 

Professional Plan starts at $99 per month + $3 per 1,000 push subscribers. If you need advanced features, it will cost you $189 per month for 30,000 subscribers.
OneSignal Features
Push Prompt. OneSignal has seven types of prompts – Slide Prompt, Category Slidedown, Email & Phone Number Web Prompt, Subscription Bell, Custom Link, HTTP Pop-up prompt, Native Permission Prompt. You can delay your prompt based on the number of page views and seconds a visitor spends on your website before triggering a prompt. Using Custom Code Setup, you can A/B test prompts to choose what better engages your visitors. 
Notify Bell. The Bell widget allows your visitors to subscribe at any time and control notification settings. You can use either the standard widget or create a custom one. 
Automatic notifications. You can create templates to send automatic messages such as New Blog Posts, Abandoned Cart Reminders, and Announcements. 
Statistics & Analytics. OneSignal has three types of outcomes: Notification clicks, Session duration, and Custom outcome. Notification clicks show the number of clicks and opens. Session duration has statistics on sessions resulted from a push notification. By setting up a Custom outcome, you can count any desired parameters, such as purchases. To use Custom outcome, you need to add some code to your website. 
Segments and tags. The number of tags and segments is limited depending on a price plan. You can add 20 tags for the Growth plan and create up to 10 audience segments. 
Integrations. Onesignal has the WordPress plugin, Shopify, Wix, Bubble, Altis, and Magento integrations. Also, you can set up workflow automation using Zapier, Integrately, Grouparoo, Hightouch, Paragon, Autopilot, and Integromat.  
REST API. With the OneSignal API, you can send notifications to a single user, target specific audiences based on location and user activity, and create user segments. 
Gravitec.net as an alternative to Onesignal
If you acquire a Gravitec plan, you'll get many unlimited things, such as the number of segments and tags and websites to add to your profile. The service is straightforward, so you can even set up complex push notification features such as segmentation without coding skills. Gravitec provides fixed prices per month/year so that you can plan your budget without worries of overspending if your subscriber limit grows from month to month. 
Gravitec Pricing
The free plan allows a single user to manage campaigns and send notifications to up to 10,000 subscribers. 

Fix Plans start at $8,7 per month for 30,000 subscribers with annual payment. If you prefer monthly bills, the cost for 30,000 subscribers is $29. With Fix Plans, you'll be able to add as many websites as you want and assign unlimited users to manage them.

Life-Time Deal gives you a chance to get access to the Gravitec service forever for $149 for 30,000 subscribers per website.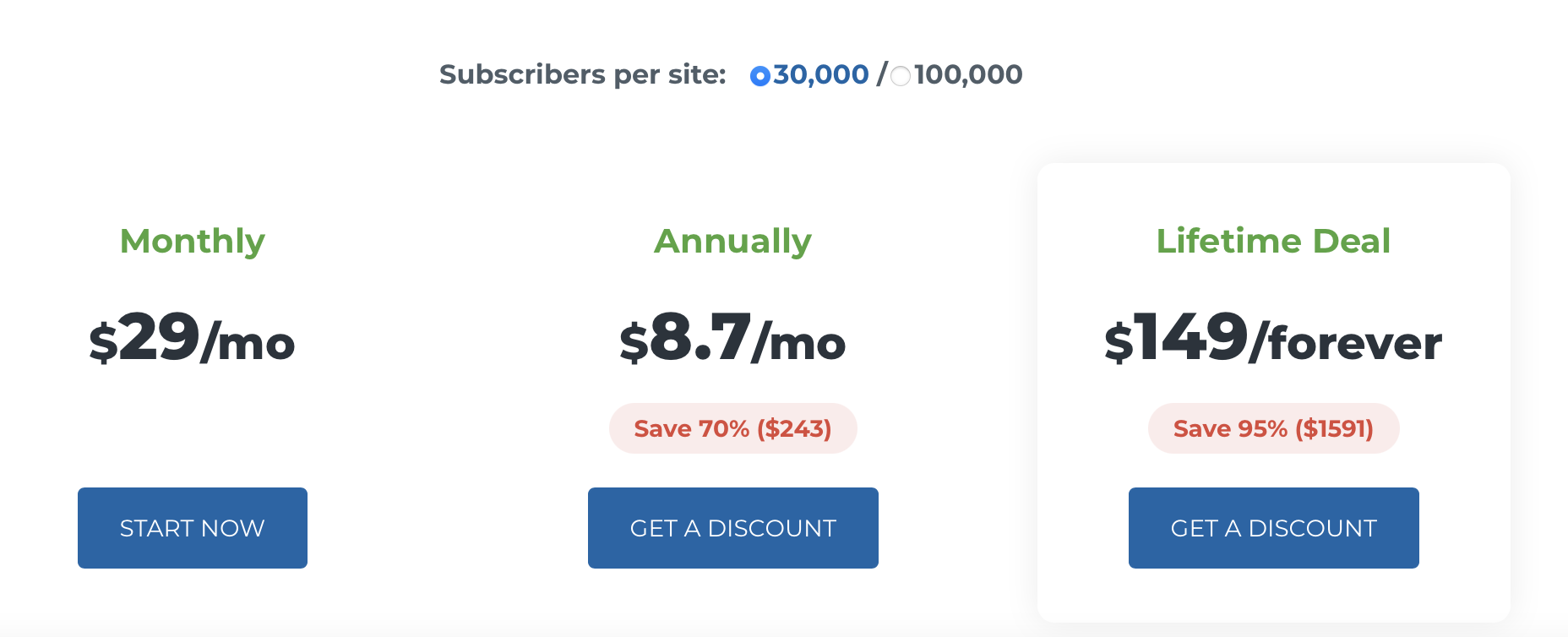 Check out the standard service push notifications cost for Gravitec.net. 
Gravitec Features
Push Prompt. There are three types of push prompts – Modal, Toast, and Subscription bell. Additionally, you can choose a prompt location on a web page for mobile and desktop. The multilingual option allows you to set different languages for your prompt. Plus, you can set delay settings – after seconds, after scroll %, after page view.
Notify Bell. You can activate Push Inbox for a Bell widget to let your subscribers see all of the received notifications. This way, they will open notifications that they ignored previously. Also, you can add your website categories to let your subscribers choose topics of notifications.
Automatic Notifications. In Gravitec, you'll find five automations – RSS to Push, Drip Campaigns, Welcome Message, Tweet to Push, and Push Digest as a push alternative to a newsletter. You can use them without limits with a paid subscription. 
Segments and tags. You can add unlimited custom tags using API to target your campaigns based on any parameter you want. Also, you can create unlimited segments by using filters and tags. Filters include language, country, city, browser, and device.
Statistics & Analytics. Campaign reports include statistics on clicks, sent, opened, seen notifications, and CTR. Subscriber statistics show the number of opt-ins/opt-outs. You can compare campaign results with analytics tools.
Integrations. Gravitec provides a lightweight WordPress plugin for push notification with an automatic installation. Woocommerce is supported. Gravitec can be integrated with website builders such as Wix and Squarespace. If you prefer automatic workflows, you can use Gravitec integrations with Zapier and Integrately.
API. Using the Gravitec REST API, you can send triggered and personalized notifications and connect the service with your CRM.
Izooto
Pricing
A monetization plan is a free plan with access to all features. But your subscribers will receive ads. 

Rise Plan starts at $85 per month for up to 30,000 subscribers. You can add up to 3 websites

Grow plan is $250 per month for up to 30,000 subscribers and up to 5 websites.
Izooto features
Push Prompt. Izooto provides nine prompts for desktop and eight prompts for mobile. You can customize the prompt's content and timing to show it.
Notify Bell. The Bell in Izooto is among the prompts. You can set it up to let your visitors subscribe to push notifications at any time.
Automatic Notifications. You can schedule notifications in advance, use recurring notifications, and send notifications from your RSS Feed. With the Grow plan, Recover Abandoned Tab Playbook and Recover Video Drop-offs Playbooks are available.
Segments and tags. For the Grow plan, you can use up to 32 properties for targeting. 
Statistics & Analytics. Campaign reports show the number of sent and clicked notifications, along with CTR. In separate tabs, you can see statistics on segments and playbooks.
Integrations. Izooto integrates with Zapier, has a WordPress plugin and Woocommerce integration, supports Magento, Shopify, and ten more CMSes. 
API. Izooto API allows you to send notifications to an individual subscriber and a specific audience. 
PushEngage
Pricing
The free plan includes up to 200 subscribers and 30 campaigns per month. 

Business Plan includes up to 100K subscribers and unlimited campaigns with ten custom segments and two sub-accounts. Pricing starts at $9 per 1,000 subscribers per month.

Premium Plan starts at $25 per 1,000 subscribers per month for up to 500K subscribers. The plan includes three sites, 25 custom segments, and six sub-accounts.
PushEngage features
Push Prompt. PushEngage has five types of prompts; you can choose when to show a prompt and customize the background color and message/buttons text.
Notify Bell. The Bell allows visitors to subscribe to notifications at any time.
Automatic Notifications. You can set up Automatic Drip Campaigns, Triggered Notifications, Cart Abandonment Reminder, and Product Announcements. 
Segments and tags. You can segment subscribers based on device & browser, geography, subscription date, and page visit. If you're not into manual segmentation, you can leverage pre-built segments to start using it out of the box. Custom segments are limited by a plan you acquire.  
Statistics & Analytics. Push notifications opt-in stats and subscription analytics allow you to measure whether your prompt works right. PushEngage has custom goal tracking, eCommerce analytics, and A/B testing statistics.
Integrations. PushEngage works with all major eCommerce platforms such as Shopify, Magento, Wix, and WooCommerce. WordPress and website builders are supported. 
API. PushEngage has both Rest APIs and JavaScript APIs. Using API, you can send personalized notifications and connect PushEngage with your website for more customization. 
Summary
Although you can find plenty of push services to choose from among OneSignal's competitors, hopefully, our guide helps you make a choice faster. 
If you want an easy-to-use and straightforward push service for a reasonable price, Gravitec.net is the best fit.

Izooto is the best choice for medium publishers and media houses. It is a simpler tool than OneSignal; however, their price for 30,000 subscribers is almost the same.

PushEngage is a proficient push service for eCommerce websites, and you can almost in half save your budget compared to OneSignal.
Take your time, test services, and make sure you're satisfied with one more than with others. Or, save your time, remove Onesignal, and migrate to Gravitec.