When it comes to your website visitors, you need to acquire as much information about their behavior as possible to choose an accurate strategy and proper channels to achieve your business goals. And Returning visitors is one of the key Google Analytics metrics that makes it possible to understand how and why people return to your website.
After reading this article, you will understand this metric and find out how to get the balance between new and returning visitors.
What are returning visitors?
Returning visitors are users who visit a website more than once. This term is commonly known due to Google Analytics, as it is one of its website performance metrics.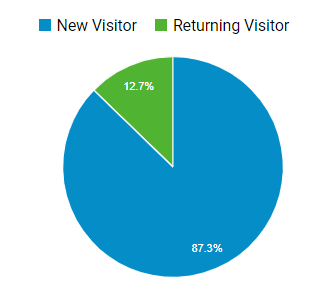 However, you might be familiar with the term return customers rate, which is slightly different in meaning. It means paying customers who return to make another purchase from you.
So, you should distinguish these two terms to understand them correctly. Once again, the returning visitors metric in Google Analytics tells you how much repeat traffic you get and how enticing your website is to your visitors. The return customers rate shows how much your existing customers love your product and how many of them buy from you again. 
How to find returning visitors in Google Analytics
To find the returning visitors rate you need to set up and open your Google Analytics dashboard. Here we are talking about Universal Google Analytics, not about GA 4.
Then, go to your Google Analytics dashboard and click Audience — Behavior — New vs Returning.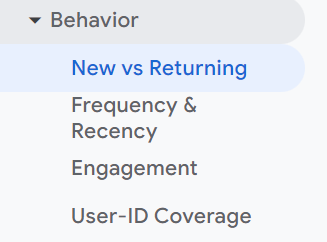 You will see a report similar to the example below.

New vs Returning visitors in Google Analytics
What is the difference between new and returning visitors?
To understand this, we first need to define new and returning visitors as Google Analytics denotes them. 
How does google analytics calculate returning visitors?
As you probably know, cookies are what Google uses to understand if a user has previousely visited a website. If a user has no website cookies, he is determined as a new one and is listed in a New Visitor section. Otherwise, he is counted as a repeat visitor. 
TIP
Note, when the same user visits your website from different devices or browsers or if his browser is in incognito mode, all these visits are counted as new. If a user deletes cookies and visits your website, Google also counts him as a new visitor.
Let us look at what information we can acquire from the New vs Returning visitors report (Audience — Behavior — New vs Returning). 

Thus, we can compare behavior patterns for these two groups of visitors. The most illustrative default columns are Users, Sessions, Bounce Rate, Page per Session, Average Session Duration, and Conversions. In the table above, the new to returning visitors ratio (RVR) is roughly 13%. It is the ratio of returning visitors to all users by some period. The sessions per visitor ratio is roughly 2,5 for returning visitors and 1,001 for new visitors. The bounce rate for new visitors is three times higher than for returning visitors. However, for the Call-to-action goal the New Visitors row shows better results. Of course, the loudest figures are about the revenue you get from these two groups of visitors. 
That is how you can approach your report depending on your goals and objectives. To get even more information add a secondary dimension such as Medium.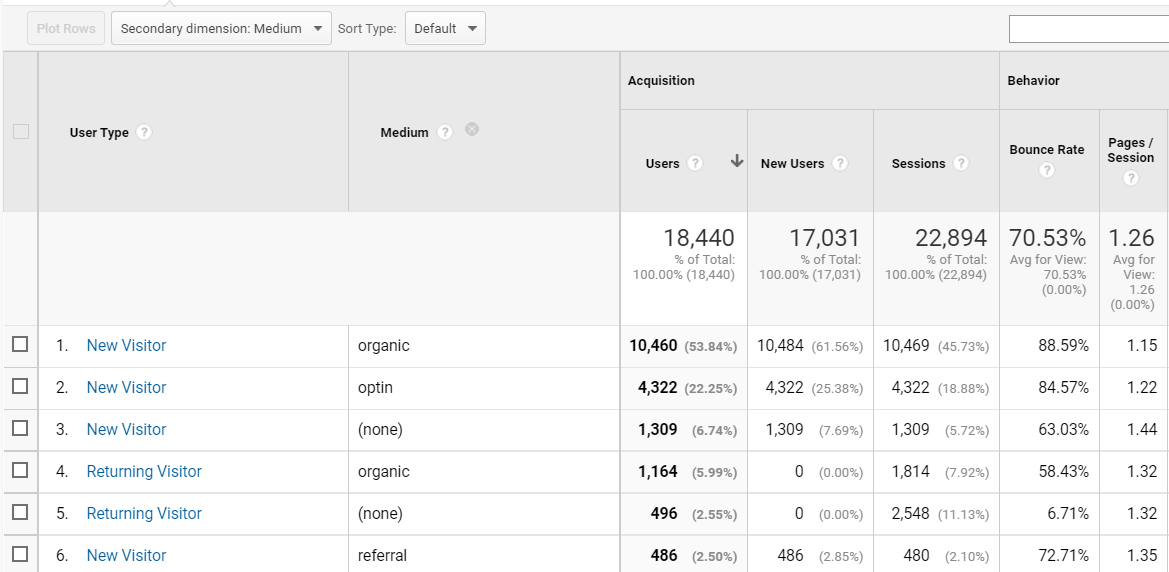 Also, to add returning visitors figures to your any report, choose the Returning Users segment among default Google Analytics segments.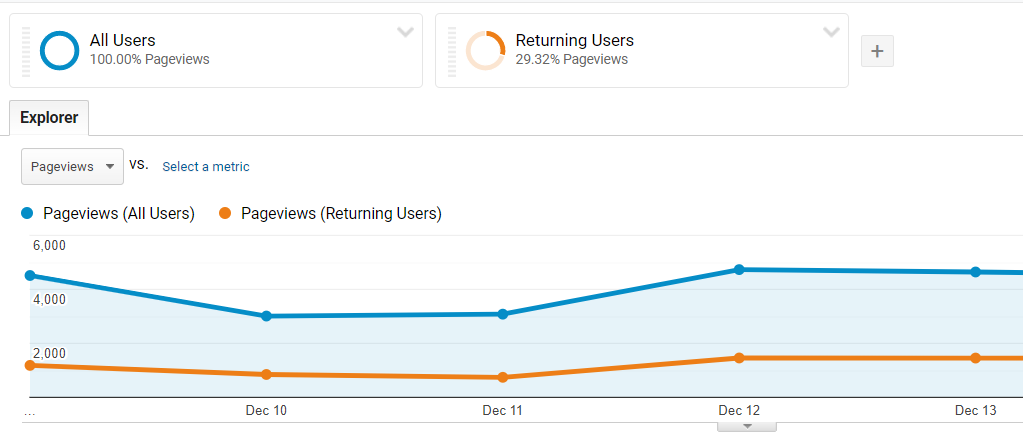 By using this segment, you can, for example, check the number of returning visitors for a certain page.
How to figure out where returning visitors are coming from
To track where repeat visitors are coming from and what channel gives you more new/returning visitors add the Source dimension to your report.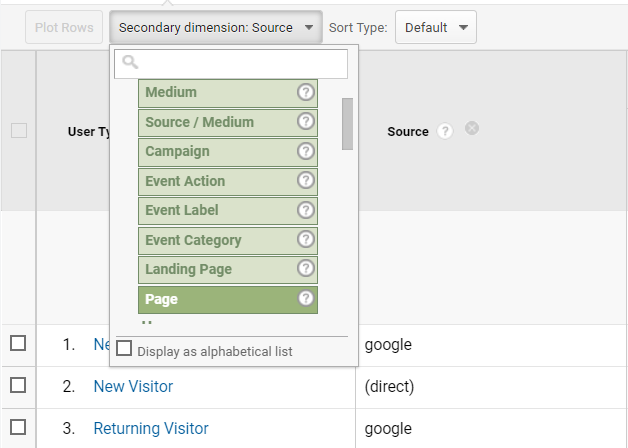 You can also add the Landing page dimension to see what pages bring returning visitors.
What New visitors to Returning visitors rate tells us about
As we have seen above, the New vs Returning visitor report shows how exactly these two groups behave. By adding secondary dimensions we expand the picture of our understanding even more. But to have the whole picture we need to correlate the report with some context.
Here is an illustration. Similarweb has provided an insight that the number of CNN's returning visitors had rapidly increased during the elections in the US. The website overall traffic was 60% higher compared to its closest competitor. 
Source
What does it mean for us? It means that to understand our figures in Google Analytics we need to look at the context of what is currently happening in our niche or what marketing campaigns we are running at the moment. For example, if you are running an ad campaign, it is natural to expect an increase in new visitors for this channel. 
Good rate of returning visitors for your website
What percentage of returning visitors is healthy? It depends on the industry, the period when you do the monitoring, and the business objectives.
For a media website, it could be crucial to retain regular readers, so if the new to returning visitors rate is over 50%-50%, it would be a healthy result. It might tell you that you have quite a lot of regular readers who adore your content. 
For e-commerce websites, it might be crucial to focus on attracting new visitors to convert them to paying customers. However, the return customer rate might tell you if your existing customers are satisfied with your product or service and get back to your website for a new dose. The healthy percentage of new vs returning visitors for e-commerce (both B2B and B2C) is around 30%. 
This rate is always about the balance between your customer acquisition and retention strategy. So, if you are counting on one-time purchases, your new-to-returning visitors rate should be in favor of the former. Otherwise, consider adjusting the balance according to your other goals.
How to get returning visitors to your website
Why do you need more return visitors?
According to statistics, a returning visitor spends more time on a website than a new visitor, and retained visitors are converted 73% more than first-time visitors. 
Plus returning visitors are more likely to be loyal customers and advocate your product by sharing information about it.
Bearing this in mind, you may need the right tools to attract returning visitors and retain them.
How to increase the Returning visitors rate?
Here is the list of three most effective channels to attract returning users to your website. 
Push notifications. It is the best way to nudge new visitors to return to your website. With push notifications, you can get significant amount of subscriptions rapidly. Why so? It requires no private information from your visitors to become subscribers. They just click Allow in the opt-in prompt, and, boom – they are in your subscription base. By this link, you will find a case that shows how push notifications bring more than 80% of all returning visitors to a science-popular website. This channel is the best one for attracting repeat traffic.
Add push notifications to your website
Email marketing. By sending newsletters and promotional emails to your subscribers, you are either distributing your content or nurturing leads for future purchases. Emails are a great way to attract returning visitors if you have hired a talented email marketer. Some proven techniques can make your emails stand out among other messages in a inbox.

Social media marketing. All kinds of social media will help you encourage your readers to return to your website once you publish a new catchy post. However, before you are able to do it, you need to build your social media following.
Check out 10 actual ways to get returning visitors to your website.
To keep visitors at the site and attract them again after some time, you also need to ensure good website performance. So, keep your website user-friendly, speed it up, adjust it to cutting-edge mobile technologies, ensure clear navigation, and create appealing content and design.
Wrapping up
To conclude, let us outline everything that has been described. 
Returning visitors is a Google Analytics metric that is included in the Audience report in the Behavior section as New vs Returning. This report shows how new and returning visitors behave on your website. It allows us to compare these two groups by different parameters such as Time spent on a page, Sessions, Bounce rate, and Conversions. Also, you can add the Returning users segment to any report in Google Analytics to see how it affects your data. 

To interpret the Returning visitors rate correctly, you need to add secondary dimensions such as Source, Medium, and Page to relate them to what you understand. Also, look at the report from the context perspective

— 

correlate it with your current marketing activities and industry events.

An attempt to get more returning visitors could be a good investment. According to statistics, this group of users spends more time on a website than new users. They are more likely to buy from you, and it is easier to attract them than that new visitors.

The best channel to attract returning visitors is push notifications in combination with email and social media marketing. Push notifications make it easier for you to convert your new visitors to subscribers and nudge them to return to your website again. 
To add push notifications to your website, try the Gravitec.net service either by adding the WordPress plugin or using other integrations. After installation, you can start building your subscription base and automatically send notifications to your readers.