Viber is a VoIP (Voice over IP) and messaging app that allows making calls and sending messages without charge to the user. Viber provides free services to more than 1000 million users. How then, does it make money? What are the sources of company income?
Why is Viber Free?
Here are several points of Viber history:
In 2010, Viber was launched as a free VoIP (Voice over IP) app for iPhone. 

In 2011, instant messaging appeared. 

In 2012, Viber introduced a version for Android.

In 2013, Viber launched Viber Out for international calls.
Viber founders are Talmon Marco and Igor Magazinnik, who are businessmen from Tel Aviv, Israel. They developed the app using private investments from themselves, and their friends and family members (about $20 million). In 2014 Rakuten, Inc. acquired Viber for $900 million. So, the initial investments really paid off.
Since 2014 the number of unique Viber users has increased from 495 million  (December 2014) to 1095 million (March 2019).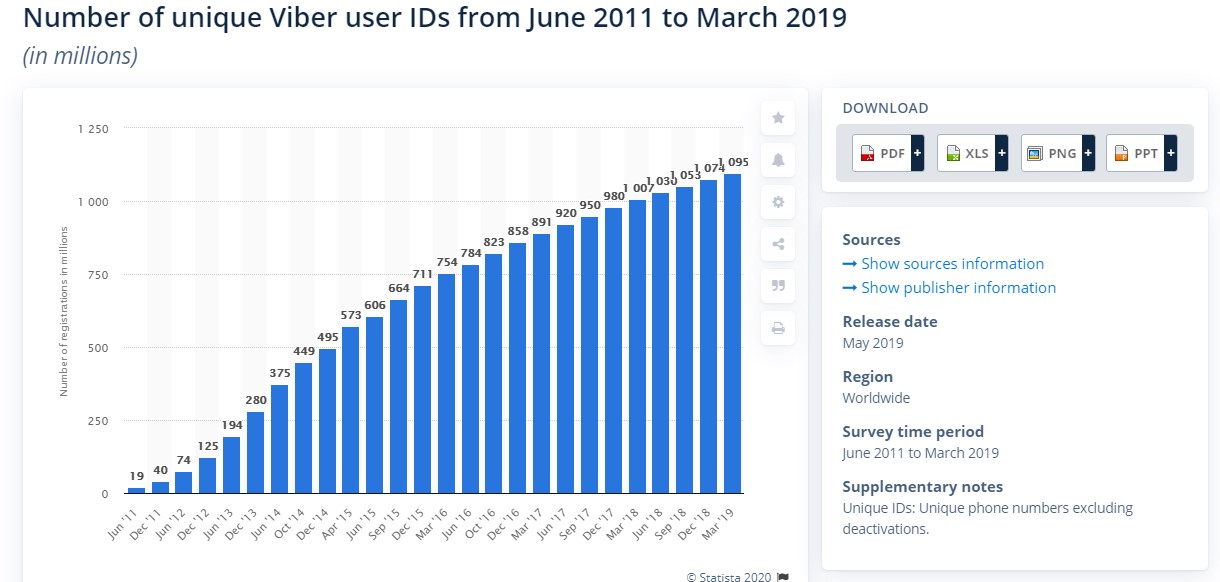 In 2017 Rakuten re-branded Viber's name and logo.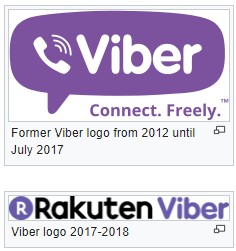 Viber is among the most popular instant messengers for mobile (iOS, Android) and desktop (Mac, Windows, Linux) devices. 
Read our article "Viber vs WhatsApp – Which is better?".
What measures does Rakuten take to recoup its investment? How does Viber generate revenue?
Is Viber Profitable?
Viber is a long-term project. Given Rakuten's solid experience in developing and promoting web products (Kobo, Pinterest, etc.), they most likely expect a return of funds in a few years.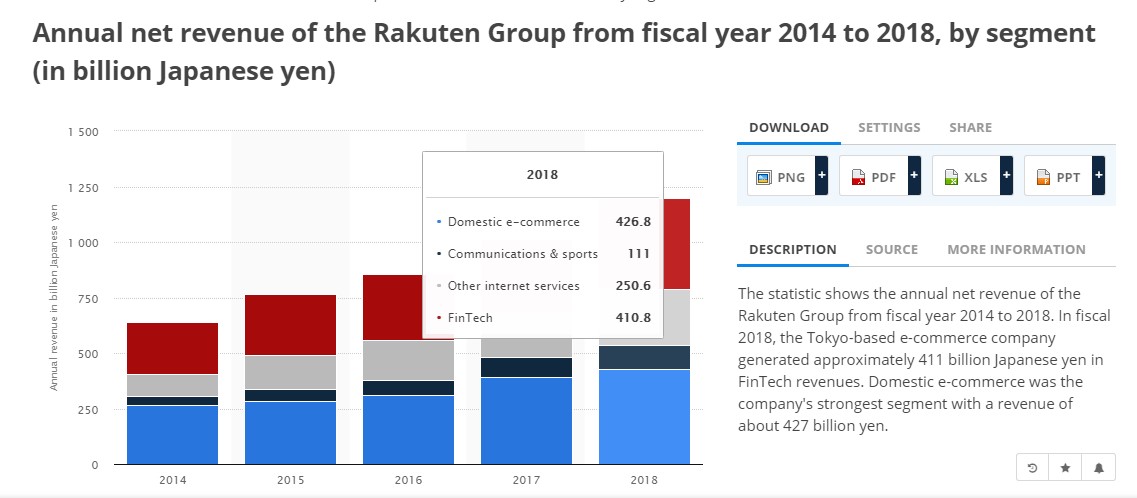 Before the acquisition, Viber had revenue of about $1,5 million a year and over $29 million in net losses in 2013. Since that time Rakuten has established a new strategy to make money through different channels.
Due to the fast user base growth, Rakuten reports a significant increase in revenue from the mobile segment in 2019.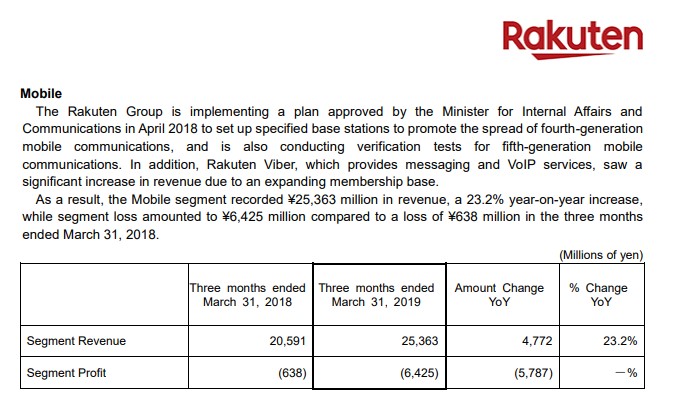 Revenue from the mobile segment, as of March 2019, increased by 23.2% compared to the same period the previous year. What channels does Rakuten use to earn a return on Viber?
How Viber Makes Money
Rakuten developed several sources for earnings.
Features for users
Viber Stickers. Any user can send stickers when they are chatting. There are free packs and paid packs of stickers. The paid packs cost users about $2 in the Viber Sticker Market. And, users still have access to the basic library of free packs.

Viber Games. Similarly, Viber earns by providing options for gamers. Game fans can invite their contacts to a team game. Some are free, and some have a fee.

Probably the most requested fee-based feature is Viber Out. It allows users to make calls from the app to any phone number. Once a user loads money onto their account, they can call to any landline or mobile number. The charges vary, depending on the country. Viber Out works for international calls as well.

Business solutions
Despite the former intention of the founders to refrain from using ads on Viber, Rakuten offers different advertising options for businesses.
Ads. Companies can place their banner after a user call. In the chat list, ads can be displayed with a website link. By default, ads are displayed, based on user preferences and interests. However, a user can allow or deny the content personalization in the Privacy settings. Read about the Viber security system.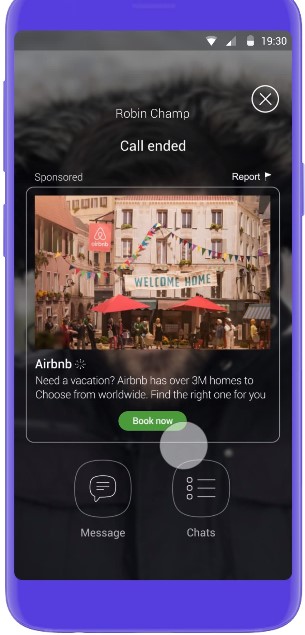 Promo stickers. A company can create branded stickers and place them in Viber, improving customer awareness and loyalty. 
Ecommerce. Viber has developed an option for retailers that allows them to sell products directly in a chat. It is designed to engage users and complete transactions.

An important source of Viber's income is business messaging. Companies pay monthly fees to send messages to their subscribers. Companies, verified by Viber, are marked with a Green V. This guarantees that the company will not spam or send prohibited content. To use this option, a company needs to get an official "alpha name" in Viber. The cost of business messaging is different for different regions.

Before Rakuten bought Viber, it wasn't profitable. In 2019, we still cannot be sure about its profitability. From Rakuten's official reports, there is no specific breakout of numbers for Viber, as their financials are summarized by business areas. But given the general indicators of business growth, it is likely that Viber has been a good investment for them.
According to Statista, Rakuten's income growth is stable. Their official plans include further investment in the mobile segment and expanding the membership base.

Conclusions
Today, Viber remains free for its 1 billion+ users. Anyone can install it on their smartphone, or onto a desktop device, send text messages, photos, documents, or media content, and make calls to friends without any charges. And, despite being free, Viber is profitable. Rakuten's business strategy includes paid services for users (stickers, games, Viber Out calls) and options for business (ads, business messages). The company combined a variety of marketing strategies to generate revenue. Rakuten continues to expand the app's capabilities, attract more users worldwide, and provide service stability. Viber's future seems bright.
TIP
The
Gravitec.net
service is an easy-to-use platform for sending push notifications from websites. Push technology enables you to inform subscribers of updates and new posts. You can also create targeted and triggered campaigns, send notifications automatically, and see campaign statistics.
You may also be interested