To get your website online, you don't have to hire a coder or be able to code yourself. There are so many resources these days that don't require coding skills. In this article, you'll learn how to publish a website. The important thing is that all the steps can be taken if you have no coding experience whatsoever, and can be done either for free or help you cut the costs.
What does website publishing mean?
Publishing a website means putting it on the internet so that people can see it, read your content or buy something from you. It can sound intimidating, especially considering all the technical details, however we're going to cover the options you can use if you have never done it before. 
So, in a nutshell, how does one publish a website?
Pick a name for your website. Your domain name should be available. Once you know what kind of website you're making and you've chosen a theme, check if the domain name is available. The chances are someone is using it already. If you don't know what to call your website yet, just start with the keyword and name generator, like Domain Wheel. It will show you some suggestions to get started. For example, if you're interested in blogging about capybaras' chill attitude, you can start with this keyword and check out your options.
Get a domain name (e.g.gravitec.net) and a web hosting (to store your website files). You can choose from a number of name providers and hosts, but we'd recommend choosing a company that can provide both. This way you won't have to worry about remembering extra charges. Also, some hosts like Bluehost throw in a domain name for free. Usually, you'll get the lowest price if you purchase your hosting package for at least 12 months.
Publish your website with the help of a publishing platform – a tool that will help you set your website up and put it online. You can choose any publishing platform, luckily there are quite a few. We recommend WordPress, Wix, Constant Contact or a platform that comes from a web hosting provider, like Gator publishing.
Pick themes and plugins.
Start creating pages and blog posts.
Don't forget about marketing.
As you can see, once you pick a name, buy a domain, get web hosting and choose your platform it gets a bit lather-rinse-repeat. You'll be able to add or edit pages, add content and keep up with marketing activities. Let's start with what you need to take care of before publishing your website.
How to publish your WordPress site
WordPress is the most popular content management system on the Internet: it powers over 39% of all websites on the internet. Or, to put it differently, one in three websites you encounter is built on WordPress. Anyone can build a WordPress website: from personal blogs to celebrity websites like Sylvester Stalone to giants like Sony Playstation or the US government. 
Here's how you publish a WordPress site:
Start with downloading WordPress.
If you've chosen a hosting provider recommended by WordPress, you can download WordPress in their interface right after you get your web-hosting. This is the easiest way. For example, if you choose Bluehost, their wizard will take you through installing WordPress on your hosting setup. You'll only need to tell it the name of your website and username\password you'd like to use with the website.
     2.  Choose a page builder.
You can use page builders plugins to design web pages that will look professional. You can choose different page builders. The most popular options are:
SeedProd is a drag-and-drop page builder with 100+ templates. This page builder will work with all the themes and plugins on WordPress, so you won't have to worry about compatibility.


Pricing: Starting from $39.50 for a single site license.
WP Page Builder is a free website builder for WordPress. They also employ a drag-and-drop editor with predesigned blocks and layouts that make it easy to set up a page quickly. They support WordPress widgets, allow you to save custom blocks and add-ons, and SEO-friendly pages. 

Pricing: free
Alternatively, you can use the Bluehost website builder. It can be accessed via your admin panel. You can add pages, sections, menus and edit your site's appearance. 
    3.  Choose a theme that you like. 
WordPress has a large collection of design packages called themes. They don't change the content of your website, just the way it looks. What's great about them — you can change your design in one click. There are over 8000 themes on WordPress, so you'll definitely be able to find something you like. However, that's just WordPress, and there are many more paid themes on the Internet. You can start with a free one.
Once you know what you like, you need to install and activate it. You'll also be able to customize things like typography, the shape of the buttons, default layout, etc.
    4.  Find plugins to enhance your website. Plugins add some features to your website, just like apps on your phone. For example, you can choose plugins for security, marketing, or push notifications.
Here are some essential free plugins to choose from: 
    5.  Fill the site with content and make your WordPress site public when you're ready. Go to My site – Settings. Scroll down to the Privacy section and choose Public to make your website visible to everyone.
How to publish a website using website builders
Alternatively to using WordPress, you can also use website builders.
Wix builder is smart in the tech sense — it has an AI-powered engine that can help you match your design to your logo colors or upload pictures from your social media. 
You can either use Wix editor and design the site yourself, or you can go for Wix AI and let it help you.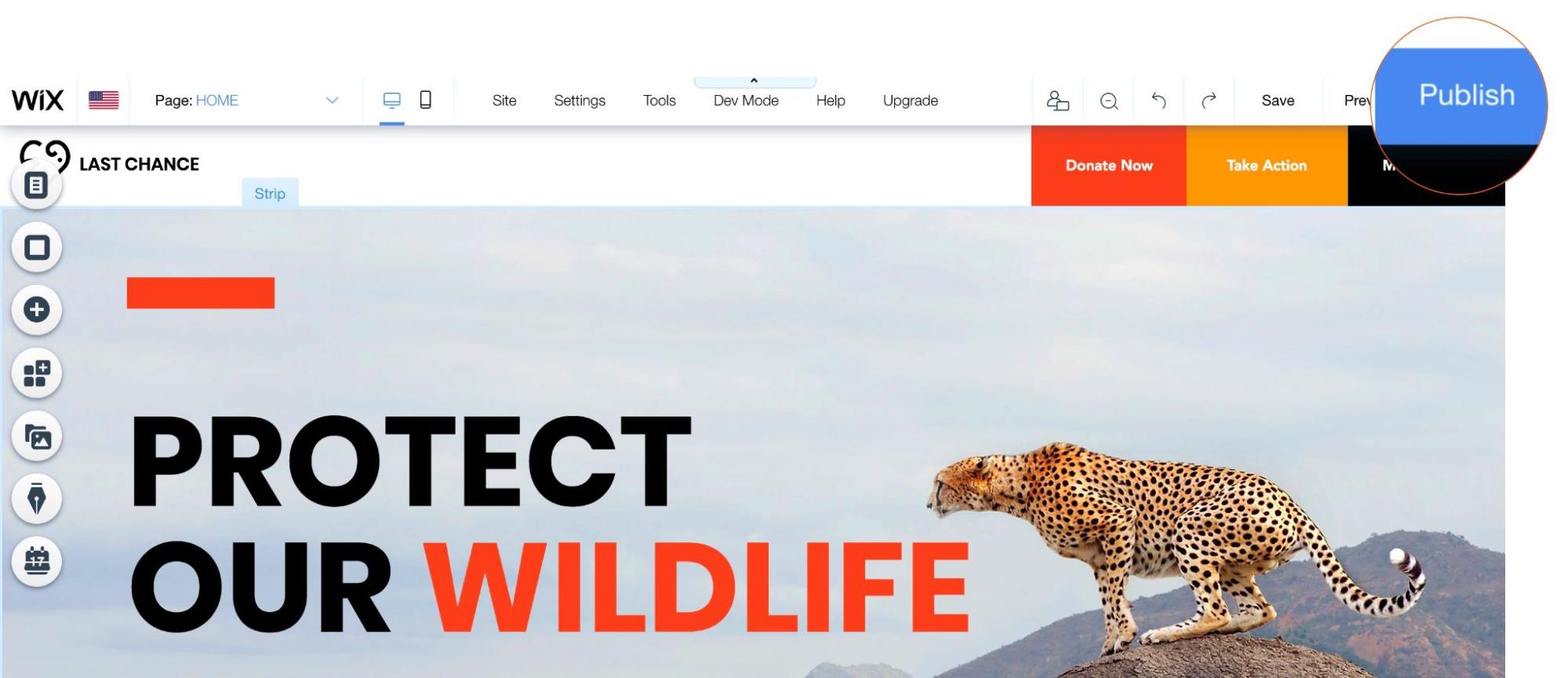 Wix has many themes and templates for the website, so the look and feel can be created quite quickly. There are free templates based on categories, such as technology & apps or consulting & coaching. Once you've chosen the template, you'll be able to edit your website, add pages and content.
There's an easy switch between desktop and mobile views, so you'll be able to make sure your website is responsive. 
When you're ready to make your Wix site public, click Publish at the right top of the Editor. If you want to restrict access to some of your pages go to Pages, select Settings, and click the Permission tab. Select who can view your page. You have three options: Everyone, Password holders, Members only. This can be useful if you want to gate your premium content. Learn more about paywall solutions. 
Check if search engines can index your site pages. Click Menu & Pages in the Wix Editor, then click SEO (Google). Find the Show this page in search results toggle and check if it's enabled.
You can buy a domain name directly from the Wix platform or connect with a domain you already own. Otherwise, your website's address will go like yourusername.wixsite.com/mysite. 
Pricing: from $11 a month.
Constant Contact website builder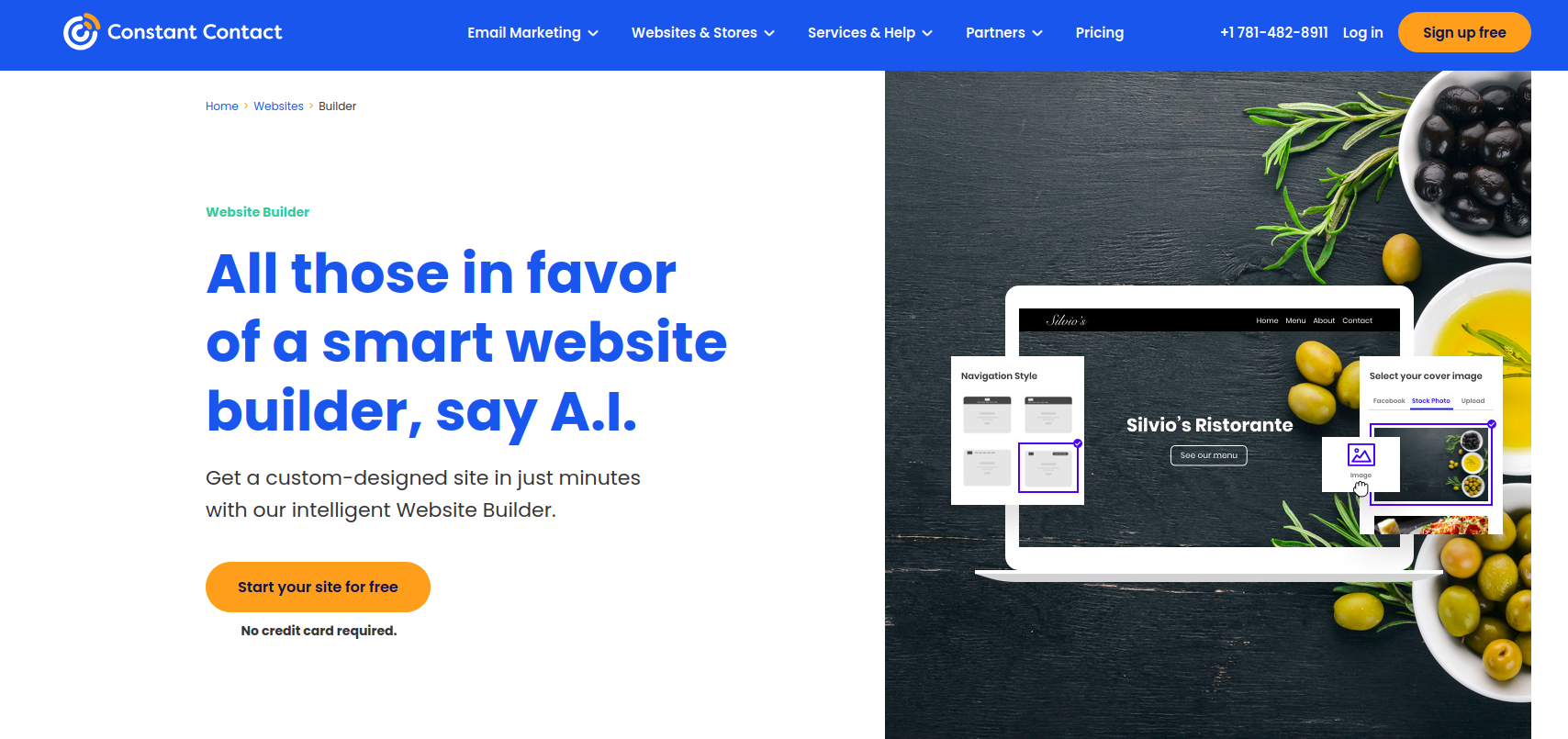 Constant Contact also offers AI-assisted website creation. You'll answer questions in a setup wizard, and it will generate a layout for you with placeholders for your content. You can customize the content and appearance with a drag-and-drop interface.
Constant Contact can also provide hosting for your website, so you won't have to worry about extra resources.
Pricing: from $20 a month.
Just like Bluehost provides website building for WordPress, Gator is offered by another web host HostGator. It's worth considering, as you'll get your domain name included in the plan.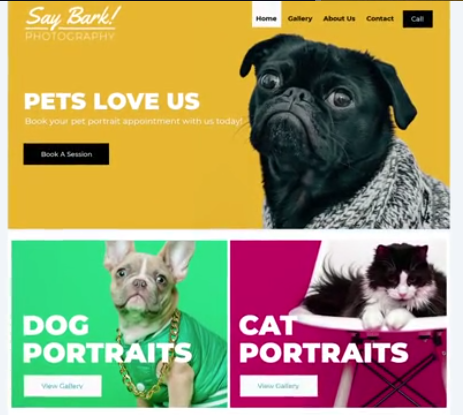 Gator offers a variety of dynamic, customizable templates, and free SSL certificates for extra security. It operates on a drag-and-drop interface to create anything from a blog to an online store.
You'll also be able to integrate live feeds from all your social media, appointments and employ built-in analytics and SEO practices.
Pricing: from $7.68 a month
Of course, you can also create a website manually. However, it will require learning coding skills, at least HTML, CSS, and basic JavaScript. If you create a website on your computer, you'll still need a domain and web hosting.
What do you need to know before publishing a website?
You've chosen your domain name and your hosting. What should you consider before putting your website online?
Look for spelling mistakes, broken links, videos or images that aren't loading, forms that don't work; check essential pages like contact, registration, login, and your homepage. 
Test your website on different devices
The website needs to be responsive, especially as mobile internet usage is well over 50%. Many website builders offer a preview and have built-in solutions to make your website look good both on desktop and phone.
Once the website is ready, you'll want to check how it's doing and analyze what can be tweaked. Set up Google Analytics to track performance and traffic. Also, don't forget to exclude your IP address to avoid inaccuracies.
Consider creating a business email
An email hosted on your domain would look so much better in the footer, showing you're taking it seriously. 
SEO helps people find your website if it matches their search intent. Start with page titles and meta descriptions. Another thing to consider is an outreach plan. You can also review your keywords and check you're targeting all the right ones.
Make sure you have a regular backup. This way even if you encounter some malware, you won't lose anything.
What is most important to publish your website?
When you publish a website, there are important things to consider, like choosing a platform or provider. However, you also need to plan how it comes into the bigger picture. Here are the important aspects of putting your website online.
Before designing a website, you need to plan who you're creating it for and think about your target audience. A website for eco-conscious foodies will differ from one that sells neon T-shirts. Your audience will also influence your website name, colors, and style of content. 
Another thing to consider is websites you like. Before getting to work with a publishing platform, choose a reference board of websites that match your aesthetics. This way, you won't get distracted by the templates or themes provided by the builder and, at the very least, get a website you'll going to like.
You'll need to set up communication with people who visit your website, get them to visit it again, and remind them about new content you're creating. Consider using push notifications to help you engage with your website's visitors and turn them into your regular readers. We recommend the Gravitec WordPress plugin to get started. It allows sending notifications automatically and targets them to the right audience.
Set your goals and objectives. This way, when you track your website's performance, you'll know if it's moving you towards your results. That's where you can answer a question: where do you see yourself in a few years. Maybe it's a leading internet marketer of books or food supplements that appeal to millennials. Your vision will shape your content, use of social media, and the types of affiliates you can attract to your website.
When should I publish my website?
How do you know your website's ready? 
It has all the planned sections
Check that you've added all the sections and eliminated all content placeholders, e.g., section headers saying 'It's a test section header.' Check your website in preview mode.
Test all the buttons, links, videos to make sure everything's functional, and the buttons send your website's visitors to the right sections of the website. Make sure you've included CTA words in your buttons.
Ask a friend to give it a try. There's more to testing than likeability. Ask them to find your blog or to go to the contact form. Check if it's easy enough for them to navigate your site.
You've planned the launch
Incorporate your website into your social media strategy. Let people know a few days in advance that you're starting a website. Find people to offer outreach articles to promote your website.
You think it's good enough.
You will keep improving your website, and still, there will be room for some errors. So, don't wait for your website to be perfect; publish it when you've eliminated all major bugs, and keep working on adding content. 
How much does it cost to publish a website?
The most important question here is 'Can I publish a website for free?' Technically, yes. If you choose a website builder that offers generic names like Wix, you can get started for free. However, it's hard for readers to take you seriously if your website is called apinkcapybara.wixsite/mollysblog instead of, say, mollys.blog. 
So, you'll need a domain name and web hosting. If you choose to build a website with a hosting provider, they're often included in the price. However, you'll usually get the best deal if you pay for a year or even a couple of years in advance. For example, HostGator says they offer the cheapest plan with one year free on the domain name for $2.75 a month. However, only if you pay for 36 months in advance. So, together with tax, it'll come to about $120.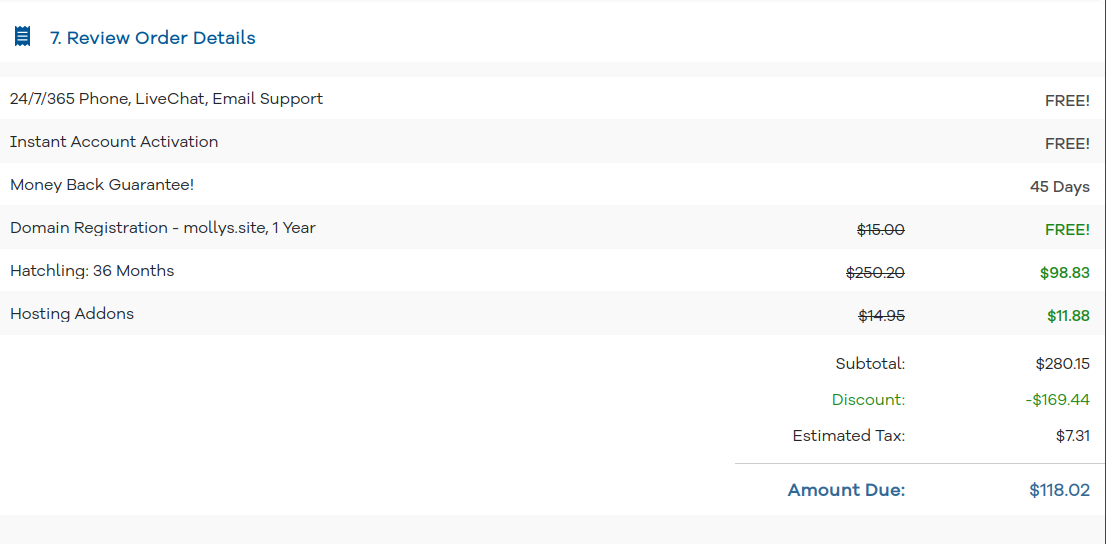 Bluehost offers their WordPress plans starting from $2.95/mo if you pay for 36 months as well. They also provide a domain for free for one year. Once three years are over, you'll be charged a regular rate of $8.99 a month.
What to do after publishing?
Once all the hard work of creating and publishing a website is done, you might just want to relax. However, your website will still need attention. 
Make sure your website is indexed by Google
Indexing means that your page appears in the search results. If your site is not indexable, it doesn't exist for the Google search engine. Google has bots that can crawl your website (check if it's worth indexing) and index it. Indexing just means your website is in Google's database. To come first in search, you'll need to employ the SEO tactics we spoke about earlier. To see if Google indexed your website, type "site:your-site-name.com."
Keep your game up in digital marketing
You'll need to promote your new posts, affiliate products, or new courses and find new website visitors. You can opt-in for email marketing, outreach, push notifications, social media, content marketing, ads, or most likely, some mix of all the above. 
Learn more about digital marketing trends.
Check and update your content
Every six months, check your content to see if it's still up to date. Include recent statistics, fix the errors, optimize it for new keywords, remove broken links and check if it's still relevant. This way, people will see that your content is new when they search for information. 
Create new content
Stay consistent in creating new content. You don't need to create a longread every time; however, posting new content on a website, reusing it for social media should become a habit to stay ahead of your competition. 
Summary
Making your website public can be a daunting task. However, you don't need technical skills for it anymore. Choose a web publishing tool like WordPress, Wix, Constant Contact, or the one that comes with a web hosting provider. Then you'll only need to choose a template or a theme to customize and fill the site with content. 
In addition to the more technical side of publishing your website, there's a planning one. Choose your target audience to set your style, marketing strategy, and content types, create a business strategy to navigate your daily tasks more efficiently. You'll learn how your website is doing if you connect Google Analytics. Once everything is planned and published, just keep creating new content and stay in contact with your visitors with social media, email marketing and push notifications.
TIP
We receive a commission on purchases made through links on this page