Gravitec.net is the first push platform with Spanish interface. We provide Latin America marketers with the service in their native language. Instead of using widespread English interfaces, Spanish-speaking users can launch campaigns in a most convenient way.
Prensa Libre is a flagship mass media in Guatemala. The same holding company owns the TV-website Guate Vision. Both websites use Gravitec push platform to keep their audience engaged and updated.
Company has chosen push notifications as a main marketing channel for interaction with websites visitors.
TIP
'Push campaign launch via Gravitec platform allowed us to get our lost
readers
back' – Byron Ramirez, Head of Digital at Prensa Libre Guatemala.
We'll review the company experience of leveraging push notifications with our analysis and comments.
Subscriber base growth
Our client has included push technology into the marketing strategy since January 2019. Since that time, their subscriber base is rapidly growing.
TIP
Prensa Libre is the premier newspaper of Guatemala. It informed readers via different digital platforms (besides of printed version): web notes, social networks, apps, etc. However, we were aware of necessity to use direct impact tools to interact with visitors, especially for breaking news sharing. That is why, we were exploring tools to notify users and to return them to the website. This exploration led to web push notifications use via Gravitec.net platform.
The first chart shows base growth rates of the Prensa Libre website during four-months period (Jan-Apr'19, Gravitec.net statistics):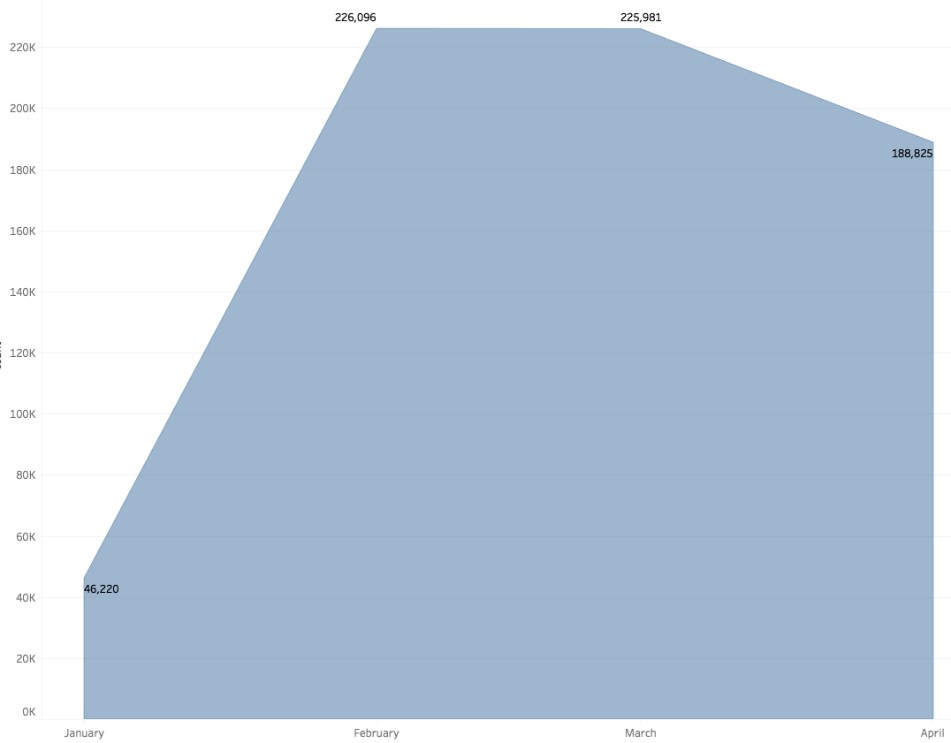 In February and March the new subscribers number is up to 230 000. Gradually, the growth rate is decreasing because the most loyal visitors subscribed in the first months. Nevertheless, the total subscriber amount is constantly increasing.
Patterns of changes in the subscribers number on a weekly basis per hour: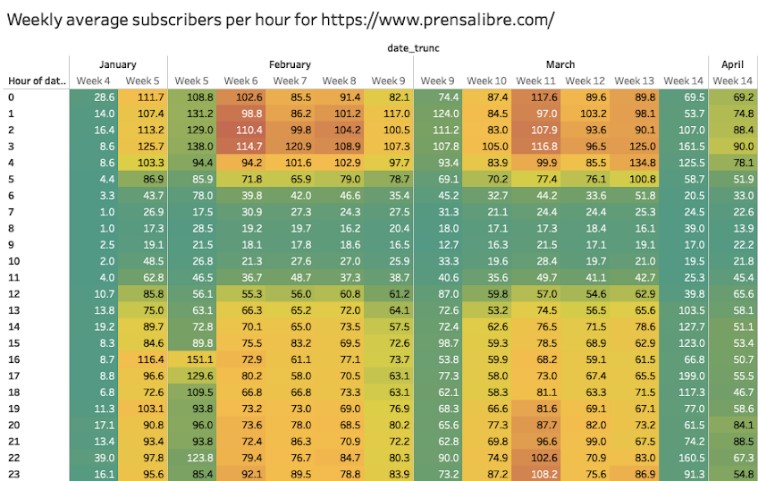 The second chart reveals the Guate Vision website statistics for the same period (Jan-Apr'19).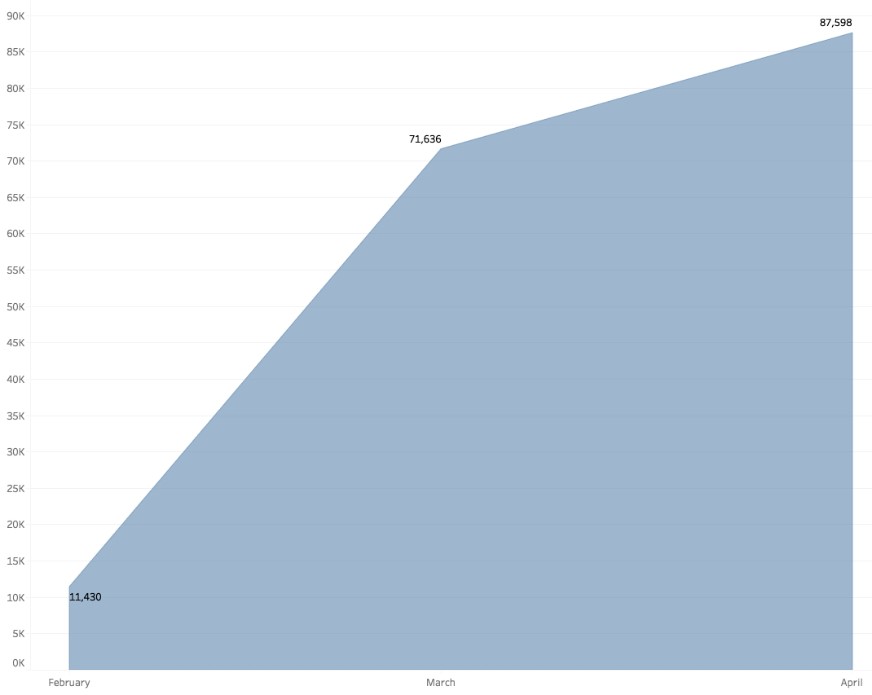 TV web resource has lower website traffic compared to the online mass media. Thus, we've got less subscribers number per month, but still the base growth is rather significant. The number of new subscribers in April is up to 90 000.
Opt-out and growth rate in percentage
TIP
Push technology integration was very simple and the push campaign impact on traffic flow was clearly noticeable. We return more than 5% of our visitors monthly now. Average traffic is about 5.8 million per month for both websites (
www.prensalibre.com
and
www.guatevision.com
). At the commercial level, we've managed to create the strategic alliance with our advertisers. Now they can demonstrate their brands on our websites for wider audience. 
Let's look at the growth rate in percentage.
We have up to 300% subscriber base growth in March, about 60% in April, up to 30% in May. 
Opt-out rate is about 20% of the database amount.
For the TV website, the subscriber base growth is over 370% in April, about 90% in May.
Opt-out rate is about 30% of the database amount.
As we mentioned above, the growth decline over time is a common process. The highest results are typical for the first few months after push technology integration. Still, subscriber base for both websites is steadily increasing. 
TIP
It's important for companies to monitor the ratio between the opt-out and growth rates.
Push campaigns and CTR
What's the approach of campaigns planning and launching?
Company sends push campaigns 3-5 times per day. It's up to 1.8 million messages accordingly to the client's audience amount.
On the graph below, we can see the number of sent notifications in February-March'19 by Prensa Libre website.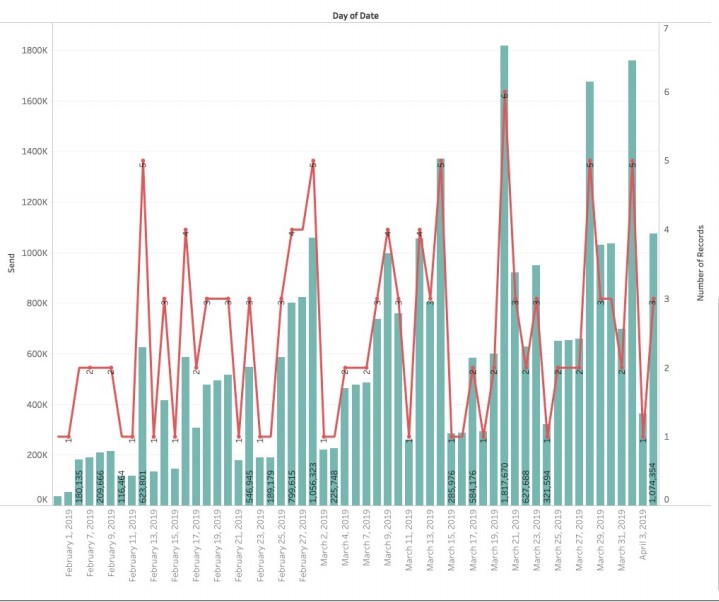 And there is statistics of Guate Vision activity in March-April 2019.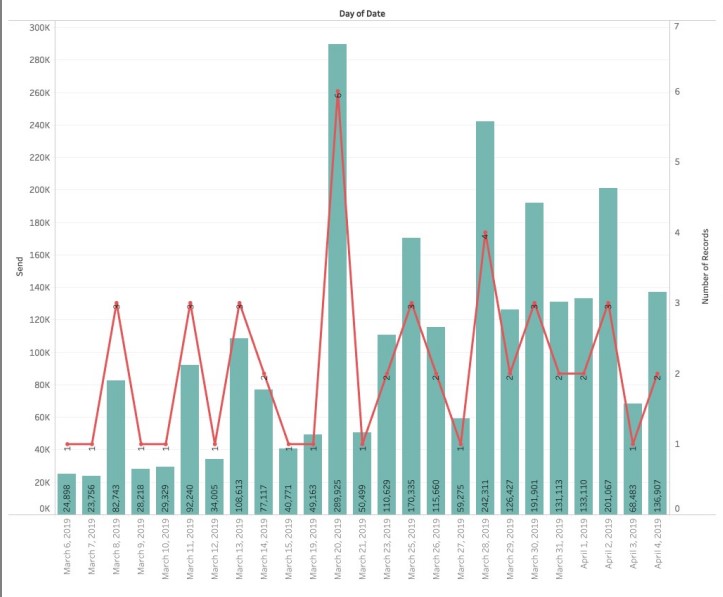 Let's consider the results of these push campaigns. On the Prensa Libra's bubble chart below, you can observe the clicks quantity for each sent notification.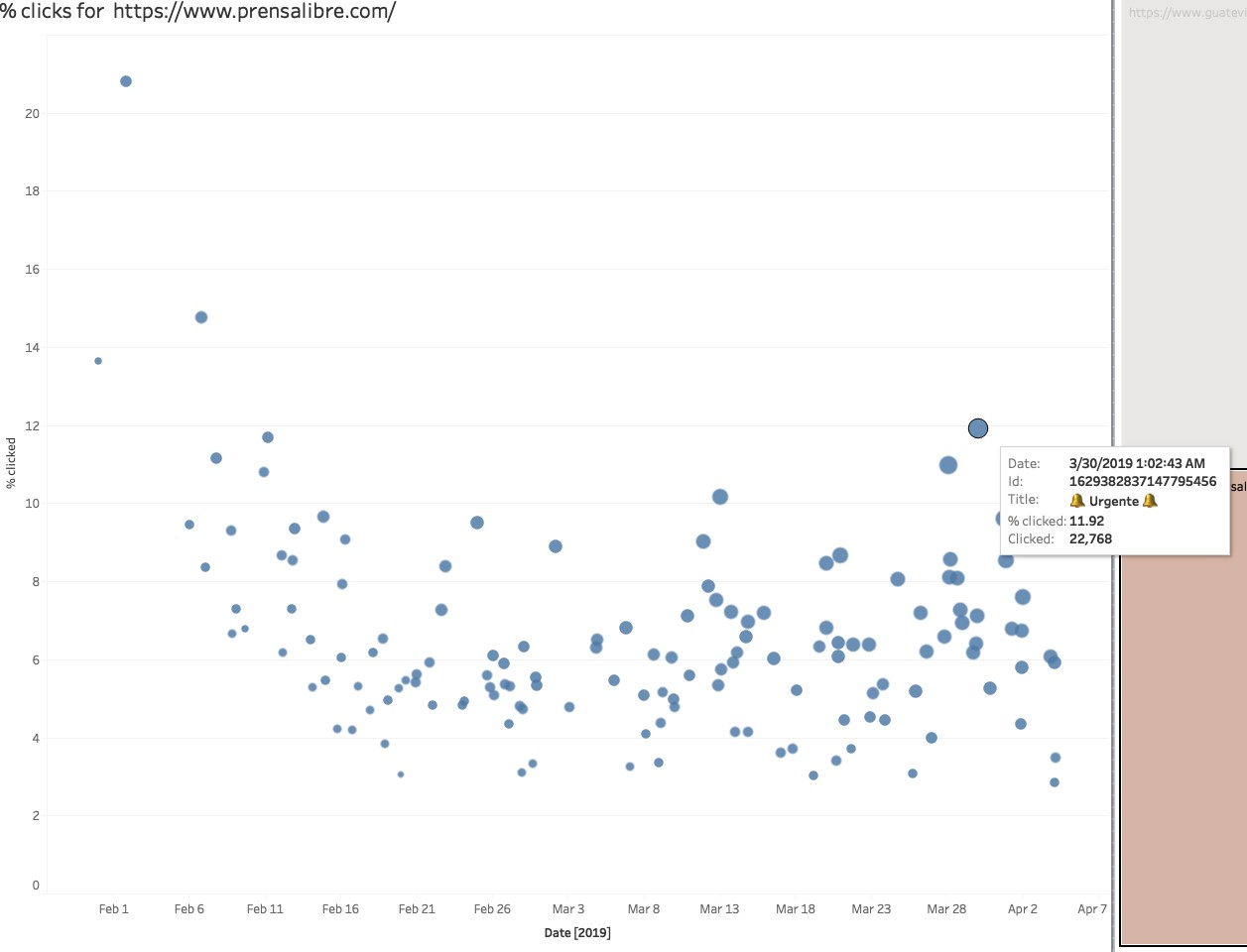 The marked bubble (3/30/2019) shows results:
CTR – 11.92% 

Clicks number – 22 768

The notification title – 'Urgente'
The average CTR for all campaigns is up to 15%.
Another example of newspaper website activity: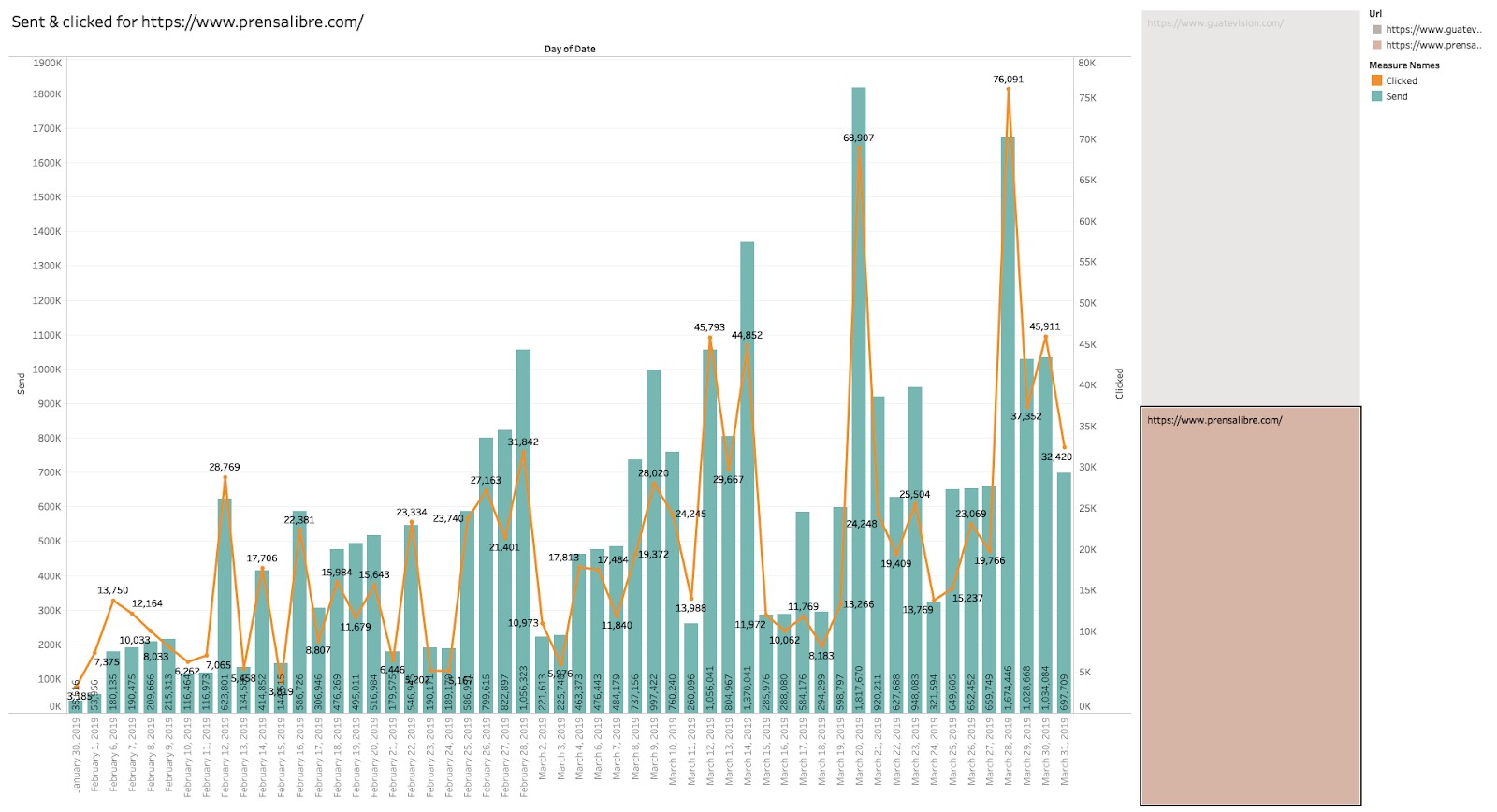 On March 20, the company launched five push campaigns. The total amount of sent notifications per this day is up to 1.8 million. The number of clicked messages is over 68 000.
We can compare total campaign results for both websites on bubble charts. 
The highest CTR of Prensa Libre push notifications is over 20% and in average, it's about 8-10%.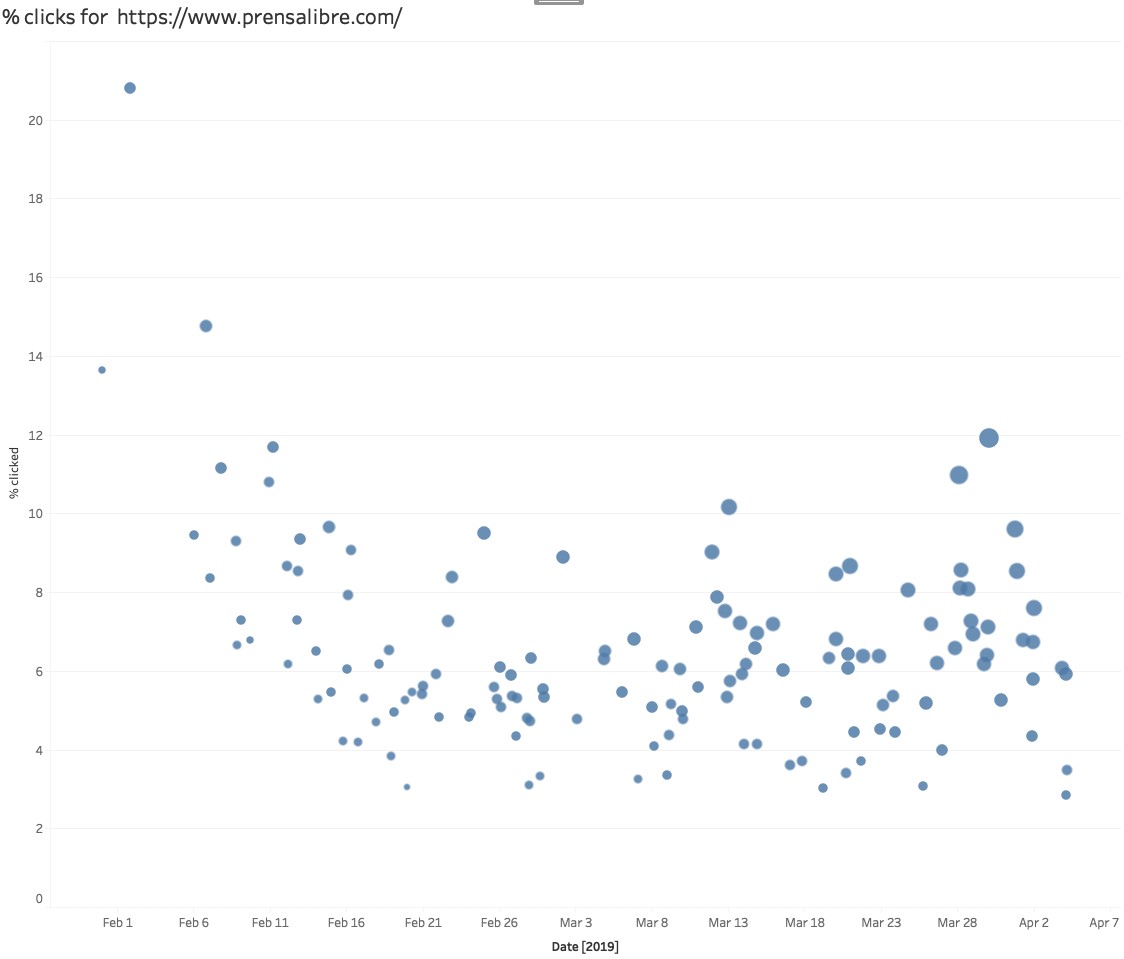 An average CTR according to Guate Vision statistics is about 8-10% as well.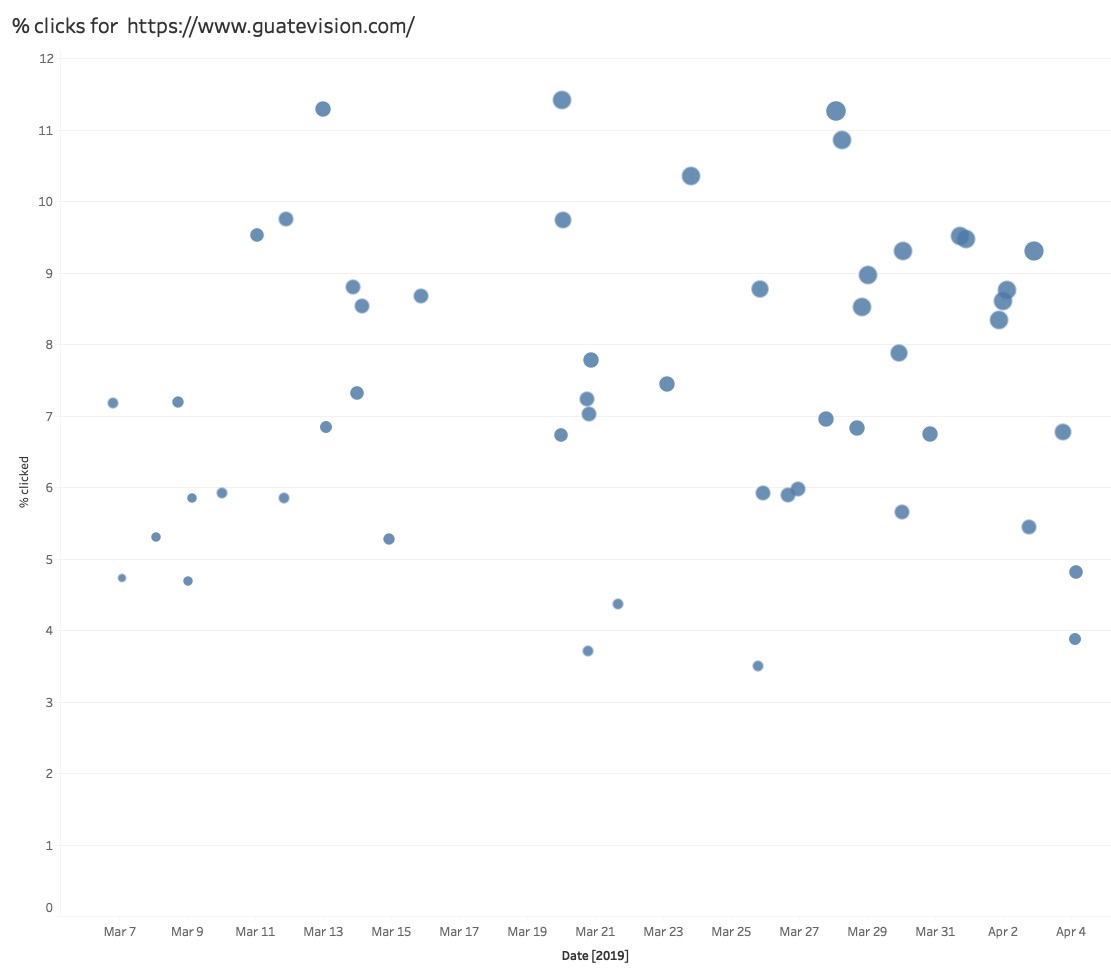 Delivery rate
Delivery rate depends on the recipient online status and the TTL parameter (Time to push live).
Read more about how to send push notifications.
The delivery rate for both websites is nearly the same. It's about 55 -65% (average % received).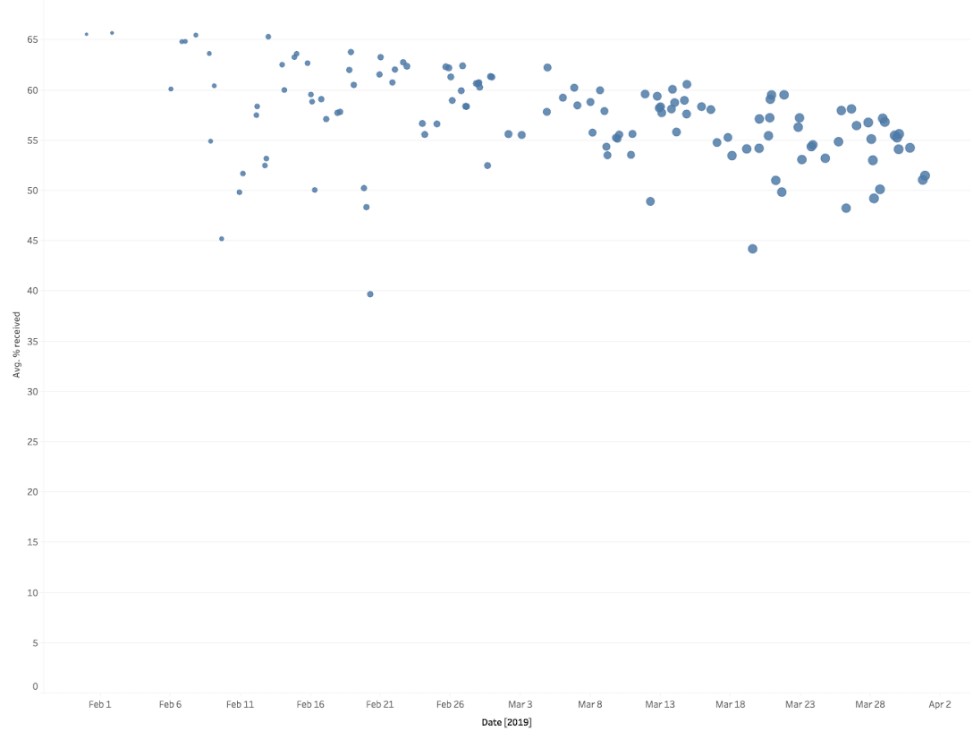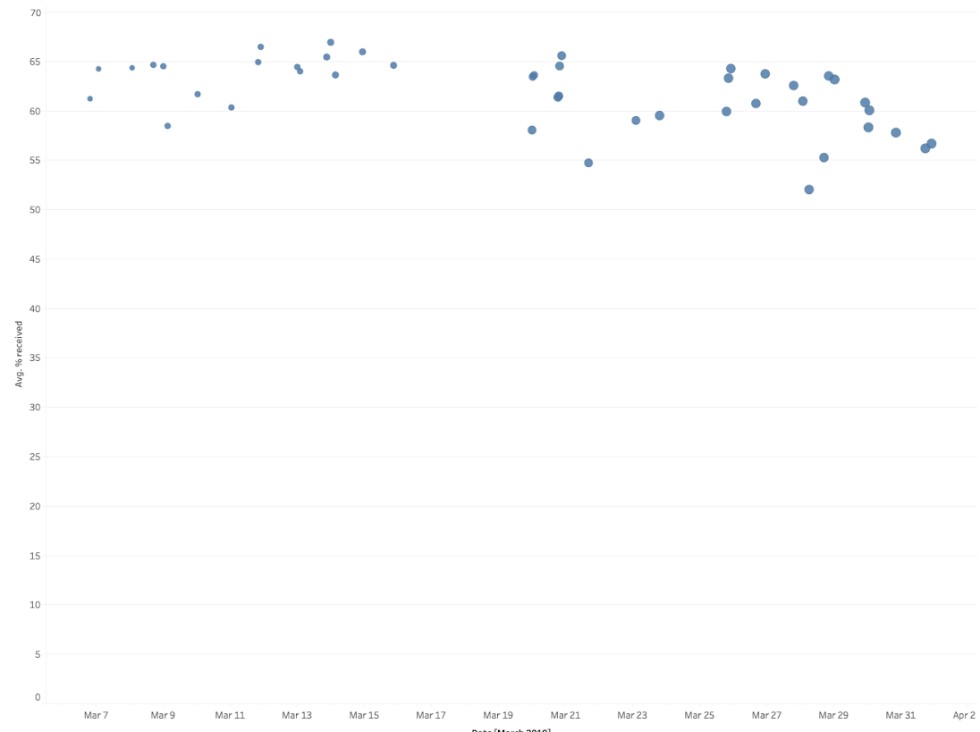 It provides about 1 million received messages for the campaign of 1.8 million sent notifications.  
Conclusions
Let's summarize the company experience. 
The company decided to use push notifications for fast and direct interaction with users to return them to the websites. 

The client started using Gravitec push platform due to the interface convenience and integration simplicity.

The subscriber base growth rate was up to 300-370% for the first months after integration. The base growth pace is gradually decreasing, but its total amount constantly goes up.

Opt-out rate is about 20-30%. 

The company sends notifications 3-5 times a day. It's up to 1.8 million sent messages.

Delivery rate is about 55-65%. It's up to 1 million received notifications.

CTR for both websites is about 8-15%. It's over 68 000 clicks for the campaign of 1.8 million sent messages.

The company considers push campaigns launch as successful experience. It provided websites with additional traffic. The marketing channel returns about 5% of 5.8 million websites visitors per month.