Gravitec.net and WebPushr are both web push notification services. But you may wonder what is the difference between them, and which one to choose for your website. This article will help you find the right answer and review a WebPushr alternative if you're looking for one. 
Meet Gravitec.net and WebPushr
Gravitec.net is a straightforward web push service with over five years on the market. It was established in Kyiv, Ukraine. Initially, it was focused on bringing automated solutions to the Eastern Europe, but today Gravitec.net brings value to entrepreneurs throughout the world including the US and Latin America. It's the fifth most popular push service in the UK and Germany.
The WebPushr company was founded in 2019 by Imad Ashfaq. This web push service takes the second place in the list of the most popular push notifications services in India. WebPushr is an easy-to-use tool with the most essential push notifications features.
What people say
If you're used to relying on people's feedback about a product before making a choice, here we have some statistics and review samples regarding Gravitec.net and WebPushr.
WordPress reviews
The Gravitec.net plugin was lastly updated 3 months ago. It has 2,000+ active installations and 15 votes with an average rating of 4,7 stars.

The WebPushr WordPress plugin was updated 3 months ago. It has 10,000+ active installations and 47 votes with an average rating of 4,7 stars.

G2 reviews
Gravitec has 31 reviews on G2 with an average rating of 4,6 stars.
You can see the most recent review on the screenshot below.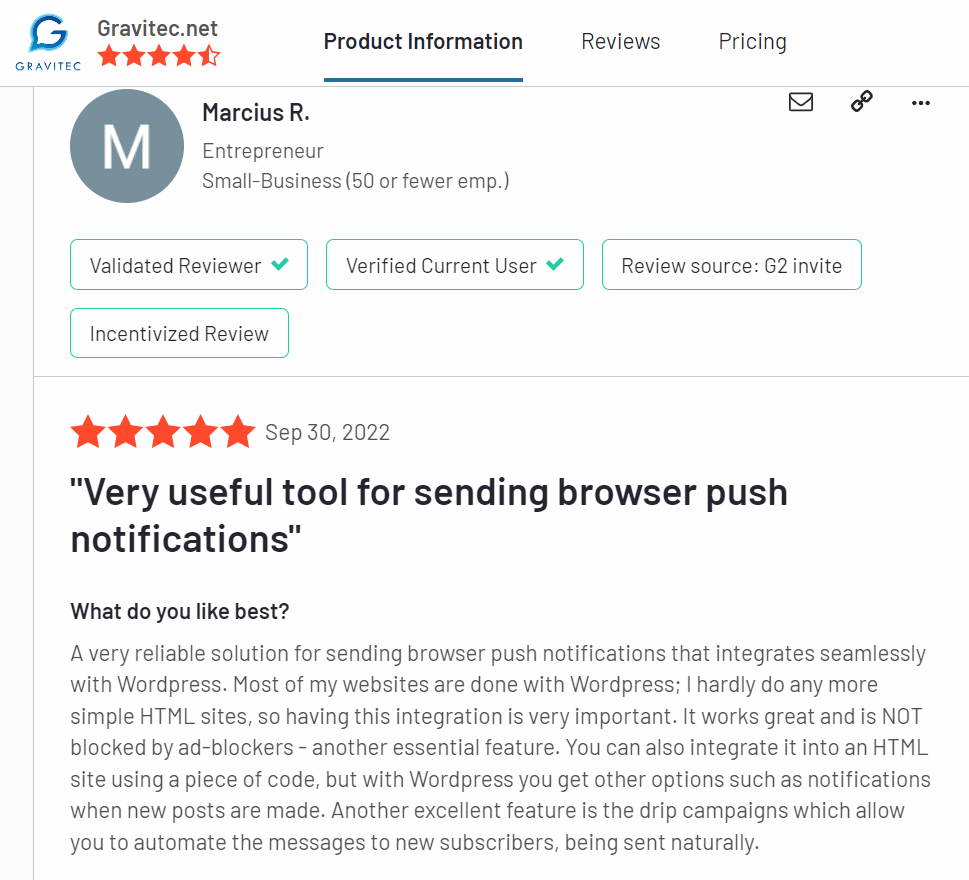 There is no information about WebPushr on G2 at the moment.
Capterra reviews
Gravitec has 28 reviews on Capterra with an average rating of 4,7 stars.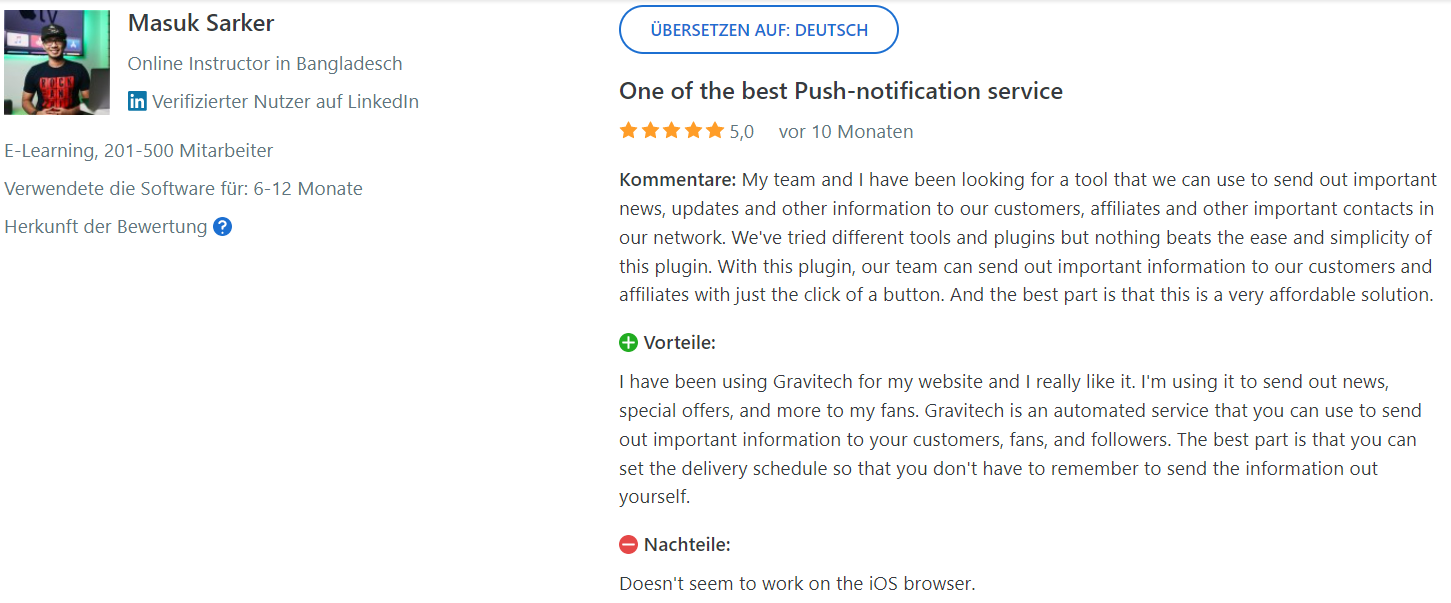 And again, WebPushr has no reviews on Capterra.
Compare features
What Gravitec.net and WebPushr have in common is that they both provide users with an easy set up whether it is done through the WordPress plugins, by using the Shopify or any other integrations. Also you can use both services for non-HTTPS websites, and set up custom opt-in prompts and the bell widget. Obviously, you can use either of the services for any browser that supports push notifications.
TIP
Note, that iOS does not support web push notifications at the moment.
Next, we will show some differences between WebPushr and Gravitec.net features.
Gravitec.net features
With Gravitec.net, you can send notifications from the service and WordPress dashboard, by using REST API and Zapier/Integretaly workflows. The best part is that right after you have installed the service you can set up automatic notifications without coding. 
There are five options. 
Drip campaigns sends a sequence of notifications

RSS to Push sends pushes from your RSS Feed

Tweet to Push sends notifications from your Twitter account

Welcome message says "Hello" to new subscribers

Push Digest sends the most popular content items in a single notification
Notifications can also be automatically sent from your WordPress dashboard right after you post a new article. You just need to tick this option once you have installed the plugin.
Gravitec.net has a robust set of segmentation options. You can create segments by operating system, browser, country, city, and language. Additionally, there is an option to create as many custom segments as you want by using RESTful API. 
With API, you can also set up triggers to send transactional notifications and abandoned cart alerts. 
Push campaign results are displayed in the report section of the Gravitec.net dashboard, where you can track clicks, the number of delivered and opened notifications. In addition, you can compare campaign results screening them on bubble charts, graphs, and line charts.
WebPushr features
WebPushr has three options to send notifications: through the WordPress plugin, from the service dashboard, and by using the REST API. You can create custom segments based on subscriber location and device, on-site behavior (weeks since last visit), and subscription date. 
In the service dashboard, you can manually create campaigns, then send them right away or set up a schedule to send them later. If you want to automatically send campaigns you need to set up Journeys. This feature allows you to send a sequence of notifications with a certain content. You can track campaign results in the Overview section that shows the overall number of clicks and impressions, and check the Geo report if you want to know responses by country/city. Also, you can see how people opt in in the realtime Optin Funnel section.
Compare prices and limits
Both WebPushr and Gravitec.net have free plans that include up to 10,000 subscribers.
If you need more subscribers you need to upgrade to the paid tiers. 
The Gravitec.net pricing starts from $20 per month for up to 20,000 subscribers.

WebPuhr prices start from $29 per month for up to 50,000 subscribers.
Fortunately, both services are very generous — they provide unlimited websites/notifications/integrations/segments/team members/custom user attributes for segmentation.
So take a chance to try one of them for your benefit.
Summary
Gravitec.net is a web push service with more than five years of work.

WebPushr is a web push service with roughly three years on the market.

The Gravitec.net average rating on different platforms is 4,7, while WebPushr reviews are only available on WordPress.org with an average rating of 4,7 stars.

Both services are easy to set up either with WordPress plugins or with various integration options.

You can use Gravitec.net automation features out of the box, plus you can automatically send notifications right from your WordPress dashboard.

WebPushr provides the Journeys builder to automatically send a sequence of notifications.

Both services have robust segmentation features with an option to add custom attributes for targeting.

Gravitec.net pricing starts from $20 per month for up to 20,000 subs.

WebPushr pricing starts from $29 per month for up to 50,000 subs.

You can start for free with both services for up to 10,000 subs.
If you have questions about web push notifications, please contact the Gravitec.net support team.