As web push notifications are among the most straightforward channels for communicating with website visitors, you might wish to get the best service for the best price. And this article will help you to choose between two services that are in the top ten list of push services worldwide. 
Meet Gravitec.net and Aimtell
Gravitec.net was established in 2016 in Kyiv, Ukraine as an easy-to-use push service for websites. It combines simple installation and straightforwardness which allows in a matter of minutes to start using all of the push features such as automatic notifications and segmentation. Gravitec.net is the best fit for non-technical savvy who want a simple way to automatically communicate with their website audience.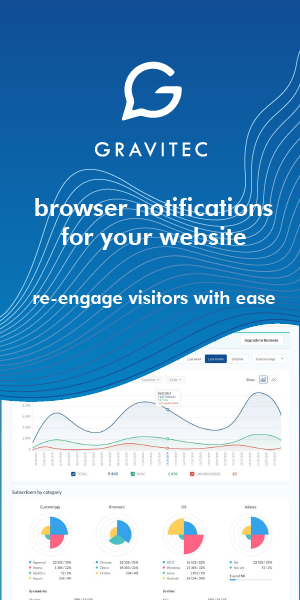 Aimtell was founded in 2015 in Southern California, US as a push notifications company. It is mainly focused on eCommerce, however, you will find solutions for media, SaaS, and agencies. Among its features are advanced segmentation, automated notifications, custom templates, and the unique one – webhooks.
What people say
We explored reviews that Gravitec.net and Aimtell users post on popular platforms to show you the ratings and actual feedback about these services.
WordPress reviews
You can find both services and install their plugins on WordPress.org. Before installing, pay attention to the number of active installations and reviews for the plugins.
Gravitec.net has 2,000+ active installations on WordPress and 15 reviews with an average rating of 4,7 stars.

Aimtell has 300+ active installations on WordPress and only one five-star review by the plugin developer. And, unfortunately, it hasn't been tested with the latest WordPress releases, so it's under a question if it's still worth your attention. 
G2 reviews
Gravitec.net has got 30 reviews on G2 with an average rating of 4,6 stars. Here is one of the reviews posted by a CEO of a small business.
Aimtel has 2 reviews on G2 with an average rating of 4,5 stars
Check out the review by the Aimtell's customer from the mid-market.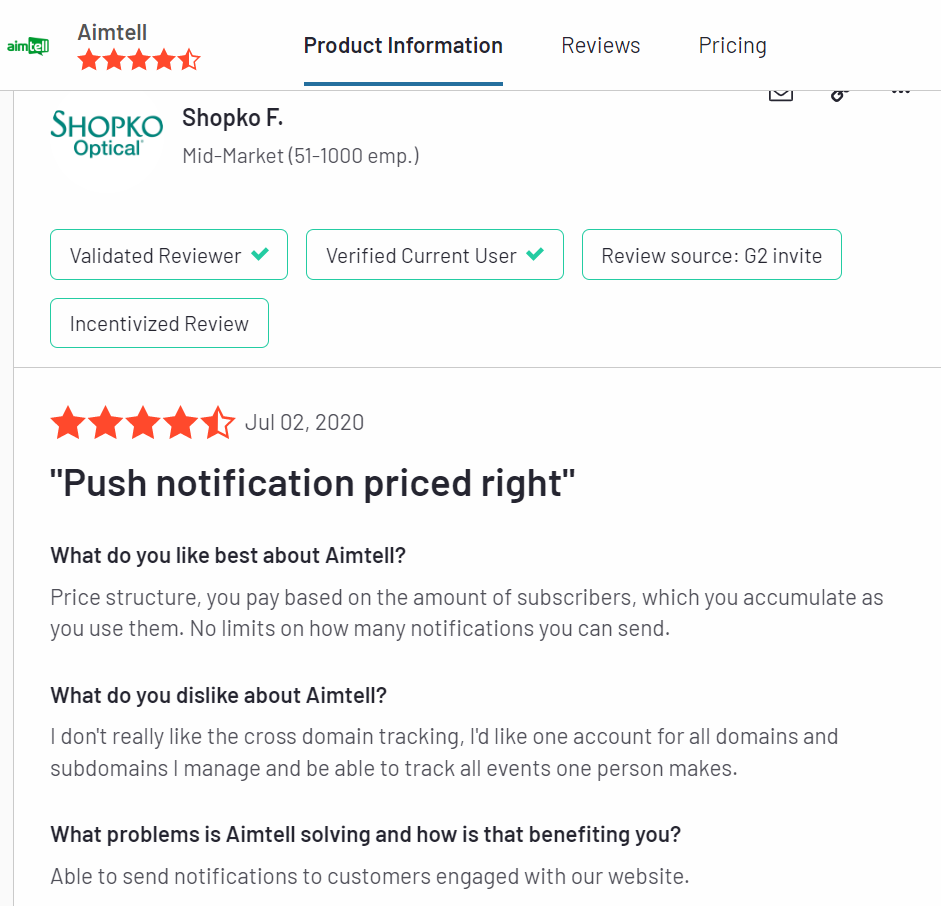 Capterra reviews
Gravitec.net has 28 reviews on Capterra with a rating of 4,7 stars, and on a screenshot below you can see its pros and cons.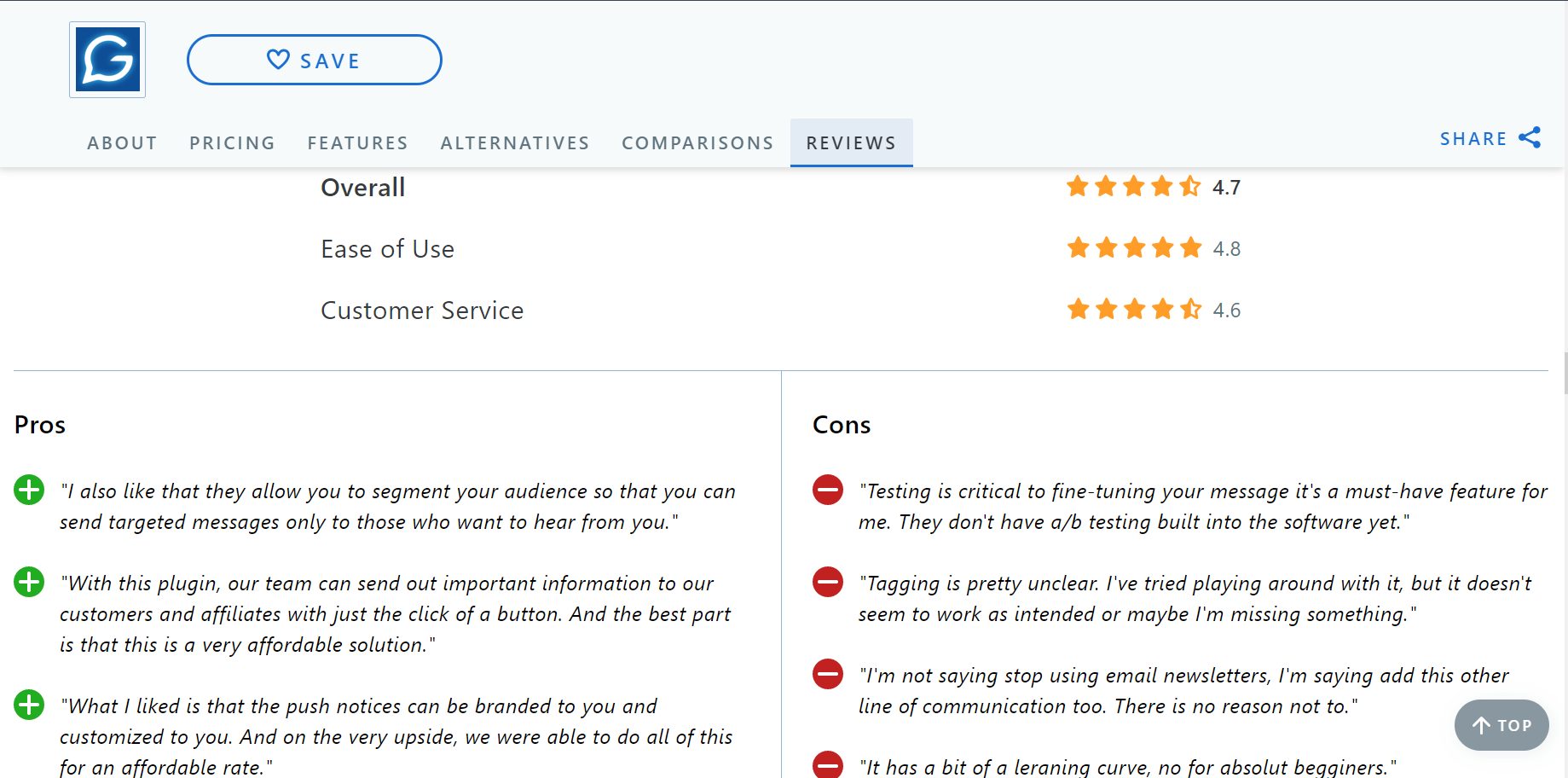 Aimtell has 18 reviews on Capterra, and below you can find the overview with the overall rating.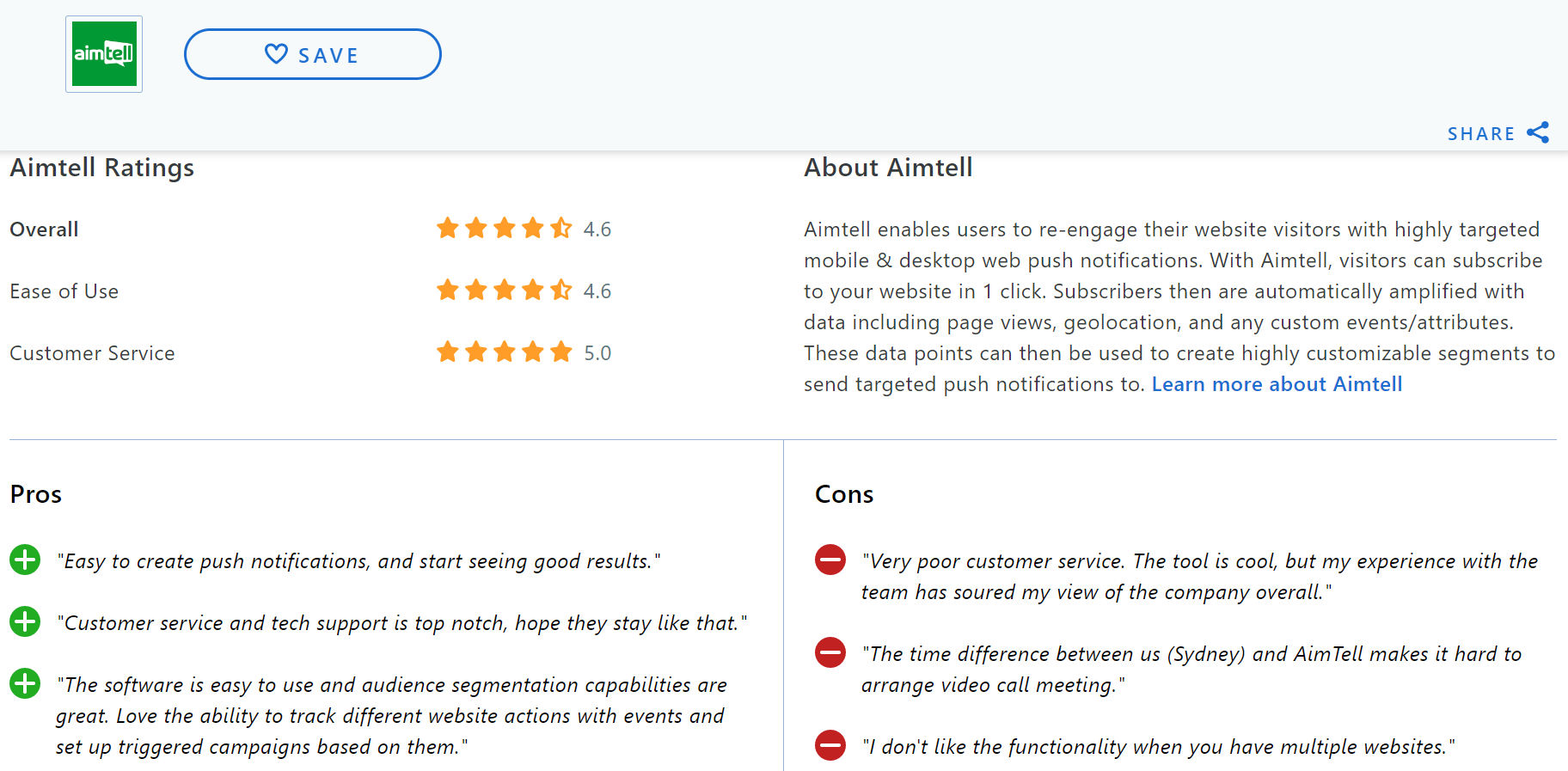 Compare features
The services have some similar features such as scheduled notifications, big images, and emojis, Zapier workflows, GDPR compliance, and timezone delivery, which are common for almost all push notification services. So we review features that are specific for each service.
Gravitec.net features
Gravitec.net main features are a customizable permission prompt, the bell widget, automatic notifications, segmentation, monetization, and campaign reports. It's easy to add notifications by using the Gravitec.net WordPress plugin, or you can use integrations like Shopify and WIX. Click on the button below to add your website and try it with whatever platform you have.
What is special about Gravitec.net? It literally can work without your effort. Once you set up automation features, Gravitec.net will automatically send notifications to your subs. And you can do it right during the onboarding process after the registration. You will be able to set up the RSS to Push feature that sends notifications from your RSS feed every time you post something new. Additionally, if you want to welcome your new subscribers you can use Welcome Message. To nurture leads you can use Drip campaigns to send a series of notifications to your new subscribers. Plus, Gravitec.net has Push digests specifically for publishers and bloggers to send top weekly news in one notification. All of these are available without coding, these features are ready to use in the dashboard after the registration.
By using the API you can also add custom tags to segment subscribers and send triggered notifications.
And the best part is that Gravitec.net offers many unlimited things like with the paid tier for $20 per month you can add unlimited websites, users, segments, and tags. Plus, you're free to send as many automatic notifications as you want.
Check out Gravitec.net Pricing
Aimtell features
Aimtell's features include customizable opt-in, custom templates, segmentation, automated notifications, webhooks, and A/B testing. It offers different integration options, however, to register you need to add your billing details. 
What is special about Aimtell? It has profound segmentation options that can be helpful if you have many subscriber groups and if you want to send a lot of targeted campaigns. Aimtell also has the Abandoned funnel feature which is great for nurturing leads. But get ready to spend some time mastering all of these targeting options. For example, Webhooks is a feature that allows you to store different events, clicks, and conversions to track user actions for further targeting. To set it up you need some coding skills.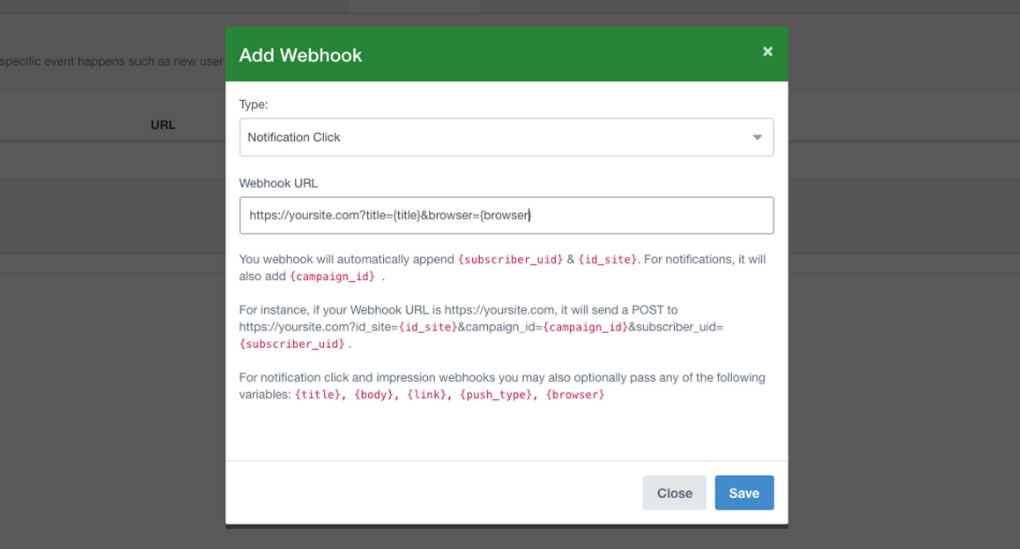 Compare prices and limits
Gravitec.net pricing starts from $20 per month for 20,000 subs. All paid plans include the full set of features that were mentioned in this article. So, with any paid plan you can add unlimited websites and users, create any number of tags and segments, and send unlimited notifications both manually and automatically. You can also try Gravitec.net for free with the service's copyright and some limitations for automatic notifications.
Aimtell pricing starts from $49 per month for 10,000 subs. It seems that all of the Aimtell plans include the same features except for the number of subscribers. See the details in the screenshot below. You can try Aimtell for free with the 14-day free trial, but note, that this requires adding your billing information.

Summary
Both services are specialized in web push notifications.

Gravitec.net can be fully automated without coding.

Some of Aimtell features require coding skills.

Gravitec.net has easy-to-use automation features like RSS to Push, segmentation options, monetization, statistics, and analytics section.

Aimtell has profound targeting options like Abandoned Funnel and tracking tools like Webhooks. 

The Gravitec.net pricing starts from $20 per month for 20,000 subs.

Aimtell pricing starts from $49 per month for 10,000 subs.

Gravitec.net offers a free plan with some limitations.

Aimtell has no free plan, but it provides a free trial.

With Gravitec.net you can add unlimited websites, tags, segments, and users, and send any number of automatic notifications.

There is no information about limits on the Aimtell website.