Messengers are an integral part of marketing strategies for business promotion. Viber is one of the most popular apps. It's in the lead among the instant messengers in 15 countries worldwide (according to SimilarWeb statistics). However, the app is actively used in about 200 countries around the world.
TIP
In January 2019, the number of active Viber users was up to 260 million.
Gravitec.net constantly receives customers' requests for Viber bulk messaging.
Start Viber Business Messaging
In this article, we will explain how to launch Viber messaging campaign.
How to get started with Viber business messaging?
First step. Registration
Tap any call-to-action button on Gravitec.net website. An example for Viber page: 
Enter your data and click Sign Up.
You'll get access to your personal account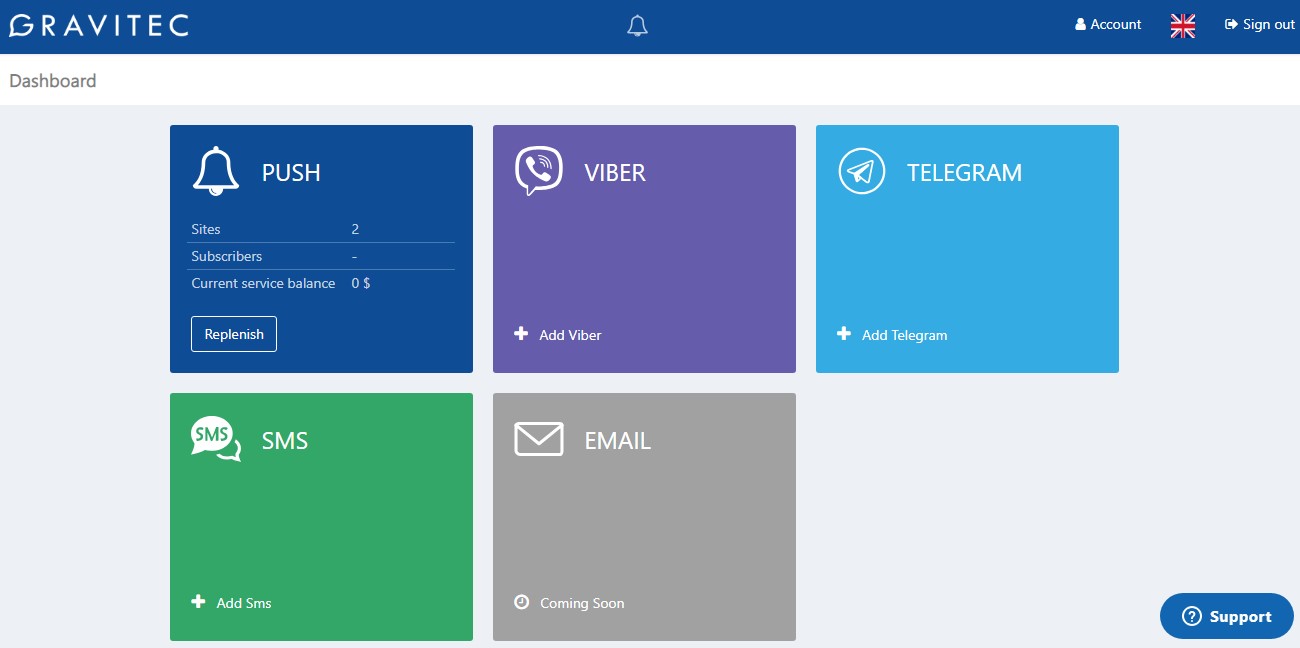 Second step. Send the request
Fill in the form. Enter your name to contact with our support team, the phone number to check messages, website URL for Viber Sender Name check and Sender name.
The last one will be displayed on the recipients' Viber app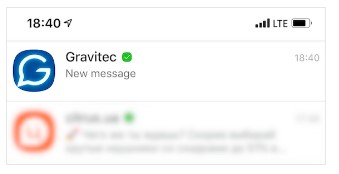 After entering the data tap 'Send' button
Third step. Data compliance check to coordinate with Viber requirements
Our specialist will contact you to fill out a questionnaire for alpha-name approval by Viber

Also we need a guarantee letter with the obligation not to send spam and prohibited content

After the payment terms confirmation we send all the documents to Viber
TIP
You should pay the minimum required fee before the 15th day of the current month for the next one. The minimum payment is spent on sending messages during this month. The payment amount differs for each region. The Gravitec.net team prepared preferential terms for our customers.
Ask for details
.
Viber (Rakuten) sets the payment rules and the terms of the channel use. Viber authenticates brands to deliver the relevant business messages only. Gravitec.net provides an authorized messaging service with wide functionality and the personal data protection.
Viber basic requirements:
Ban on spamming.

The prohibited content blocking depends on the laws of each country. For example, political agitation, alcohol or tobacco ad can't be allowed in some cases.

Monthly service prepayment is established with the minimum deposit for each country.
Forth step. Registration on Viber
After agreeing on all the above points, our specialists send a request for the client's alpha name confirmation. The official deadline for a Viber response is 30 days, but generally, we receive it within a week.
Benefits of Viber Business Messaging with Gravitec.net
We provide our clients with the lowest rates for bulk messages. There is its own minimum monthly payment and the one message cost for each country. For example, the minimum monthly payment for Belarus is only 180 € and price per one message is 0,0038€.

Delivery rate is above 60%

CTR is up to 15% for our clients' campaigns

You get access to the personal account with statistics for each campaign. It's an opportunity for analyzing, creating a marketing strategy based on user actions.

We are constantly developing and improving our product
Now our team is preparing a function release for clearing your Viber base from inactive contacts to maintain its relevance.
If you still have any questions about the Viber Bulk Messages please contact our support team.