As a recruiter, entrepreneur, or sales representative, you know that success on LinkedIn requires hard work and dedication. But with the help of automation tools like Dripify and Impasto, you can streamline your campaigns and achieve your goals more efficiently. By exploring the differences between these two tools, you will gain a deeper understanding of how to leverage their strengths to your advantage. And with our guidance, you will be empowered to make the right decision for choosing the right tool.
What is Impasto.io?
Impasto.io is a service that offers both an automatic tool and a consulting package to help people automate their LinkedIn outreach.
Many individuals face difficulties in automating their outreach as it requires researching and mastering new tools, which can be time-consuming. To help companies launch their campaigns faster and achieve initial results within a week, Impasto provides consulting hours as a service. Additionally, they share their sales experience and best practices to help you start with the right tactics that bring in leads.
Along with the consulting package, Impasto provides a straightforward automatic cloud-based tool that aims to reach out to prospects with personalized messages and track their activity and replies. You can connect up to ten LinkedIn profiles with the Impasto panel to run campaigns simultaneously through multiple accounts.

What is Dripify?
Dripify is a cloud-based platform designed to automate LinkedIn outreach campaigns and enhance your profile visibility. It offers a range of automatic features and an easy-to-use interface that allows sales and marketing teams to send invitations, messages, and even endorse skills – all on autopilot. With Dripify, you can create a custom workflow using the available actions or choose from their default templates. However, if you opt for the Basic Plan, you will be limited to only one workflow. Dripify also allows you to add multiple accounts to its dashboard with its advanced pricing plan and additional licenses. 
Both Dripify and Impasto.io are compatible with all LinkedIn accounts, including Free, Sales Navigator, Premium, and Recruiter.
Impasto vs Dripify Features
For you to compare Dripify and Impasto, we compiled two lists of features. 
Impasto.io features
Contact Finder

Sequence Template

Custom Variables

Data Export

LinkedIn Limit Control

Analytics Dashboard

Real-time statistics

Team management

Hyper-personalization

Warm-up mode (Coming Soon)

Inbox (Coming Soon)

Consulting Package

Scoring System

CRM Integration
Dripify Features
Email Finder credits

Sequence Template

Custom Variables

Data Export

Data Scrubber

Contact Search

Team Management

Analytics Dashboard

Safety Algorithms

Smart Inbox

Profile Makeover

Auto-view/like/follow/endorse

Zapier Webhooks

A/B Testing
To gain a better understanding of these features, let's take a closer look at the interfaces of these tools.
How Impasto works
Once you sign up for Impasto, you can add multiple LinkedIn profiles and run multiple prospecting campaigns simultaneously.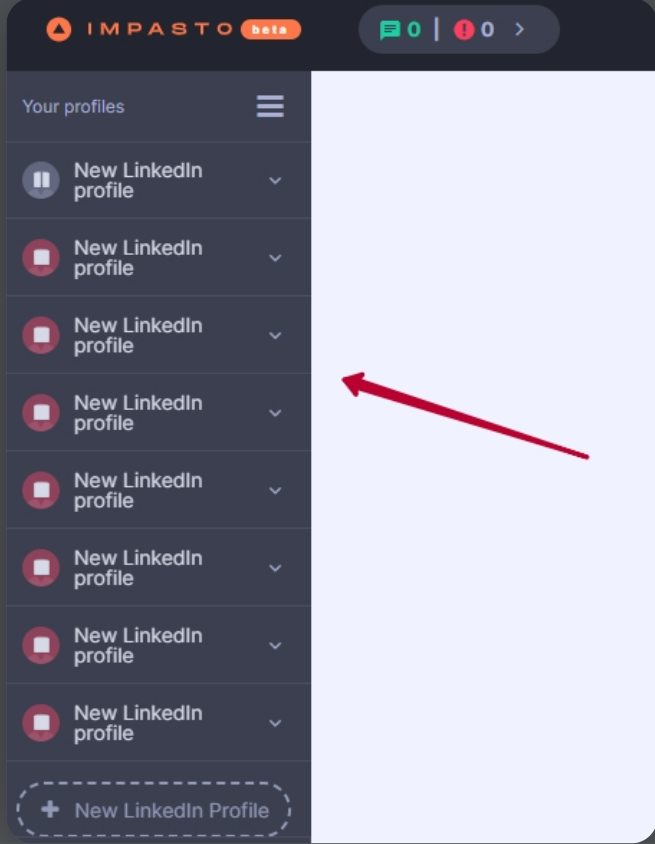 This feature allows you to manage the work of your sales team and see campaign results in a single dashboard.
To connect a LinkedIn profile, copy and paste your LinkedIn page cookies. It is very easy to do with the Impasto Chrome extension. Your LinkedIn credentials are not required.
Next, you need to set up settings for your profiles. You will find two tabs: one for message and invitation limits, and another for setting up campaign working hours.
The Limits Control feature allows you to set up your daily limits that correlate with your current SSI level. This keeps you from exceeding LinkedIn limits to guarantee your profile will not be banned.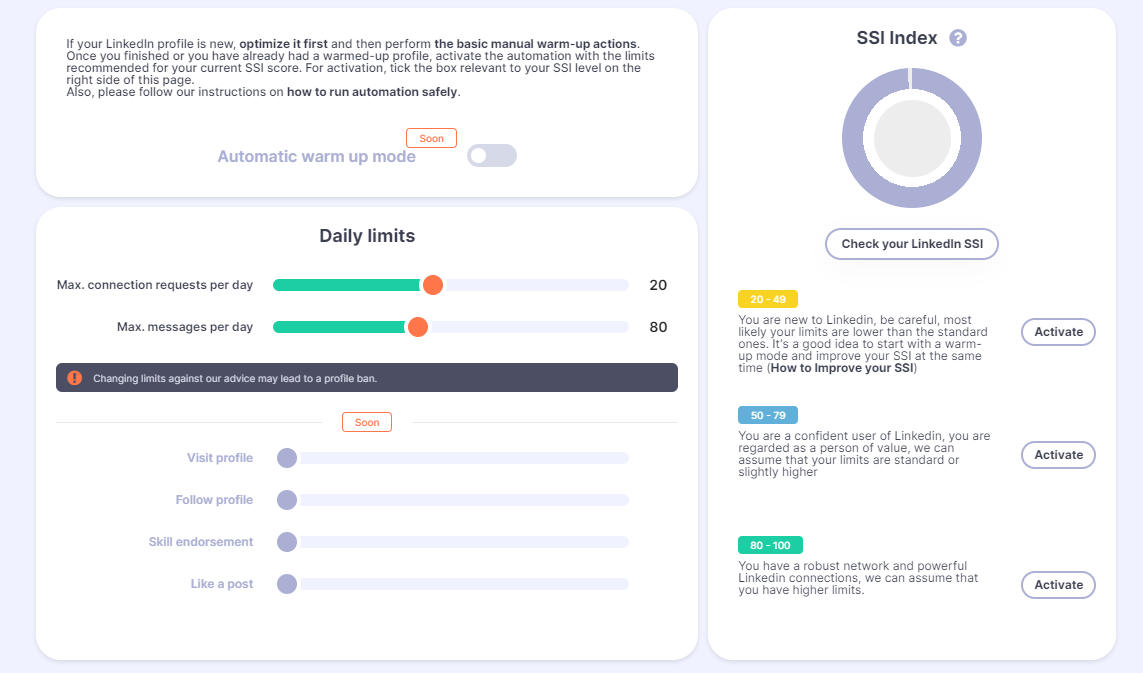 The Working Hours tab provides the schedule for your campaigns, where you can turn on/off time slots.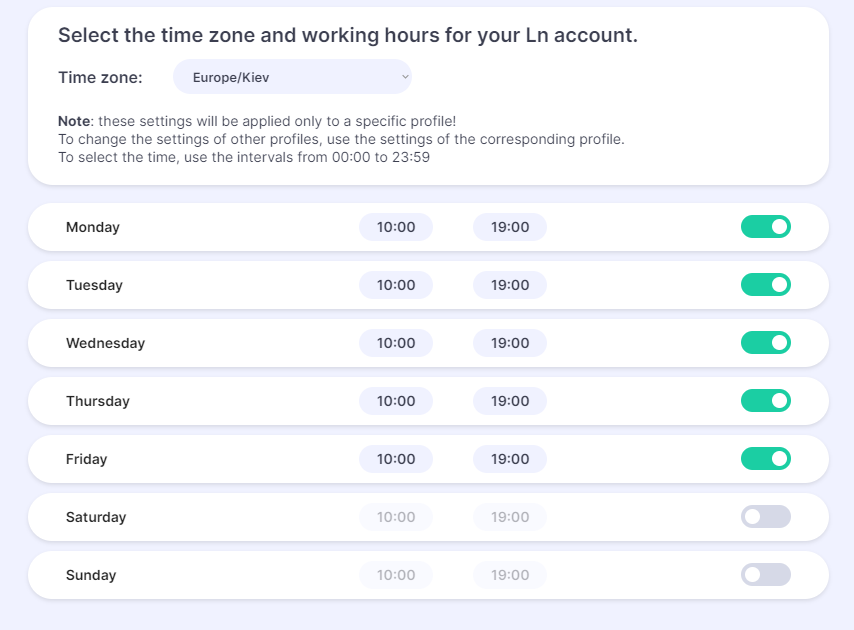 Once everything has been properly configured, follow these steps to launch the campaign.
In the same section, you will find the total statistics for your campaigns.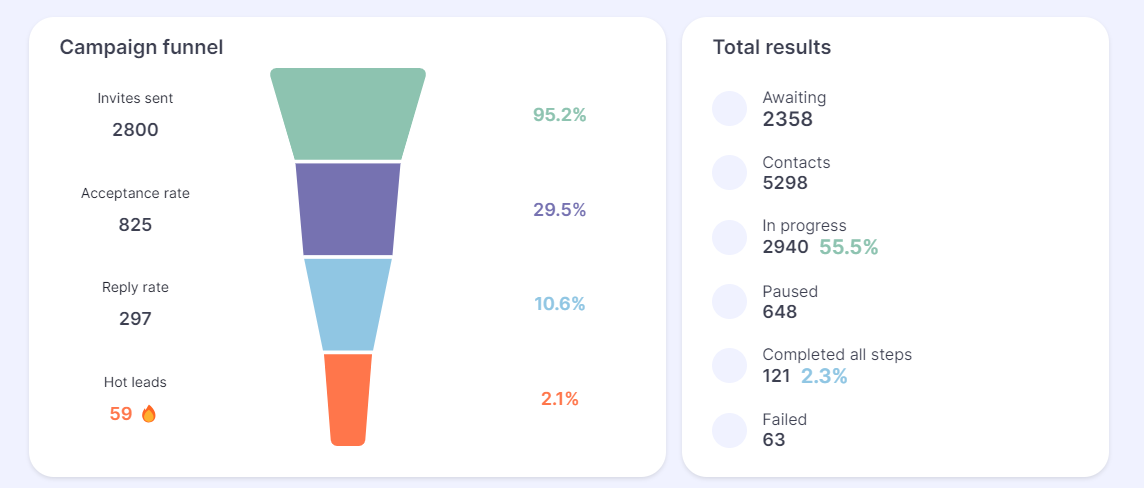 How Dripify works
To add a LinkedIn profile to Dripify, you need to enter your LinkedIn credentials.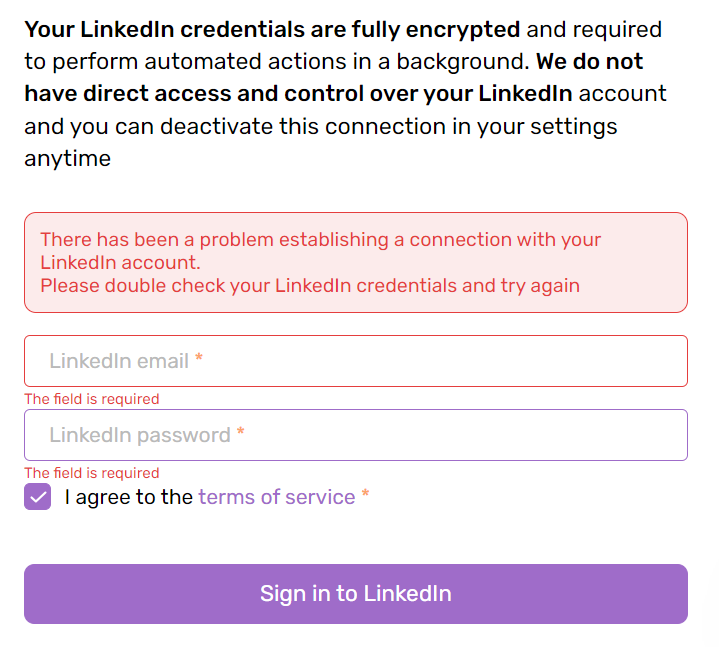 In the similar to Impasto, in Dripify, you can set up daily limits for your campaigns to adhere to LinkedIn requirements.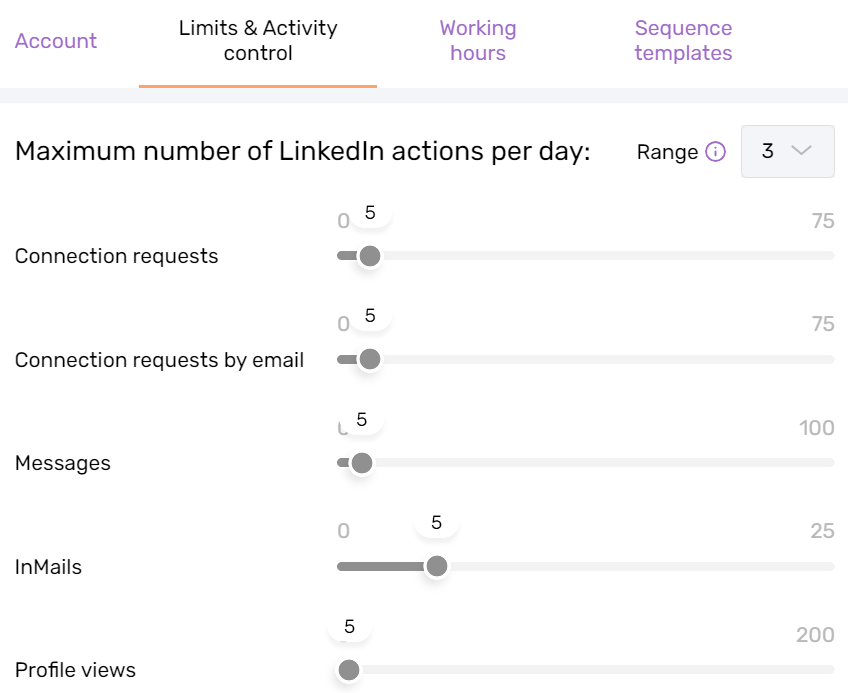 Also, you are required to choose working hours for your campaigns.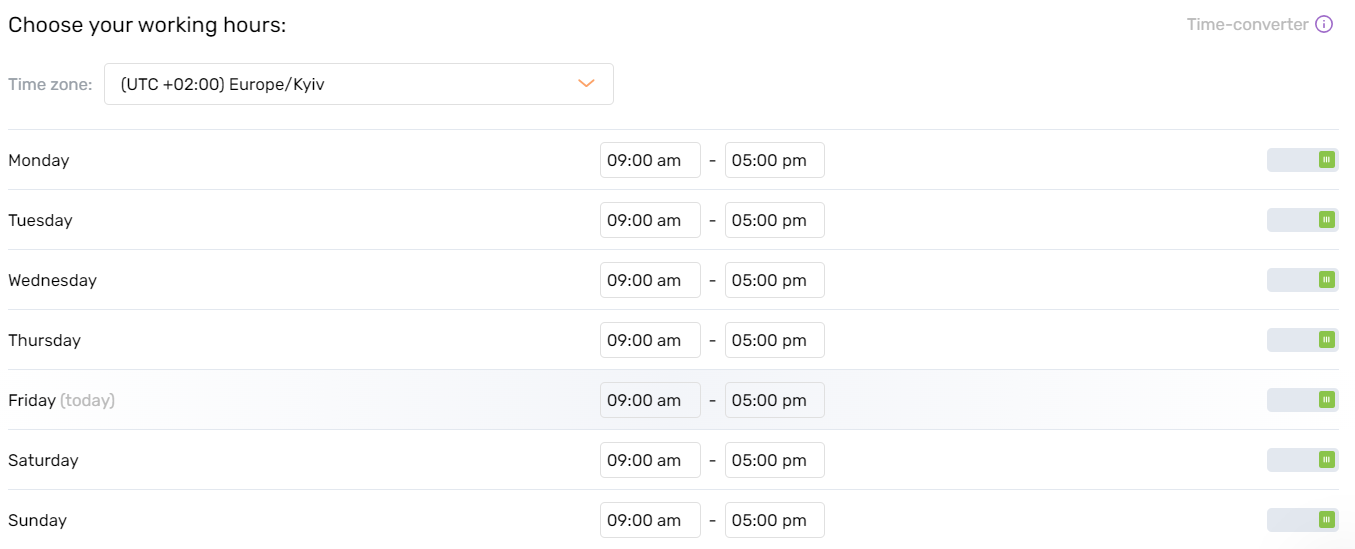 To start a campaign, start searching for contacts. Dripify, just like Impasto, provides you with an option to search for contact information by entering any LinkedIn search URL. Unlike Impasto, Dripify has no option to search for contacts by entering the job title and company name directly in the control panel.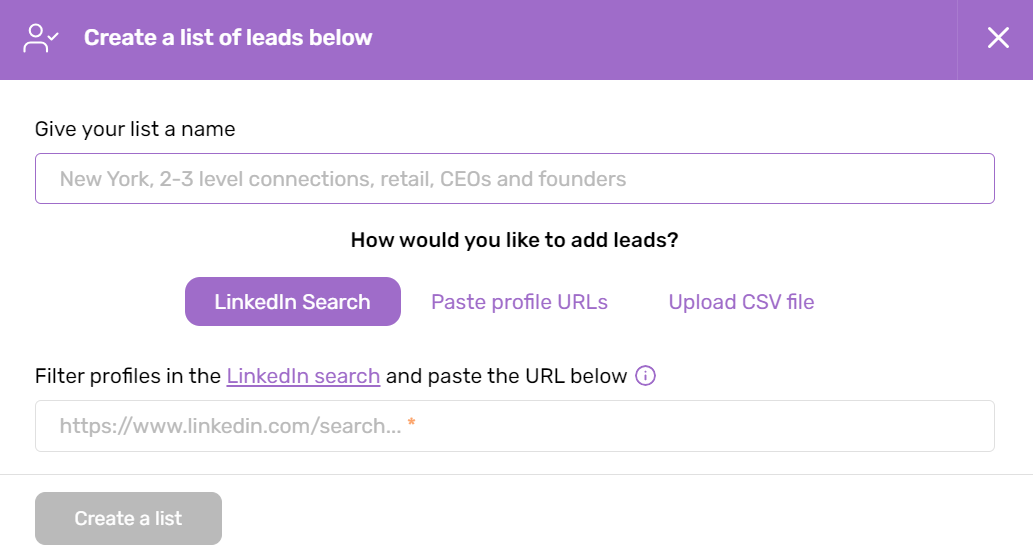 After you have got a contact list, you can supplement it with new prospects. However, note that you have a limited number of email credits, which means that after exceeding a 1,000 credit limit, you will need to purchase additional credits to search for more email addresses.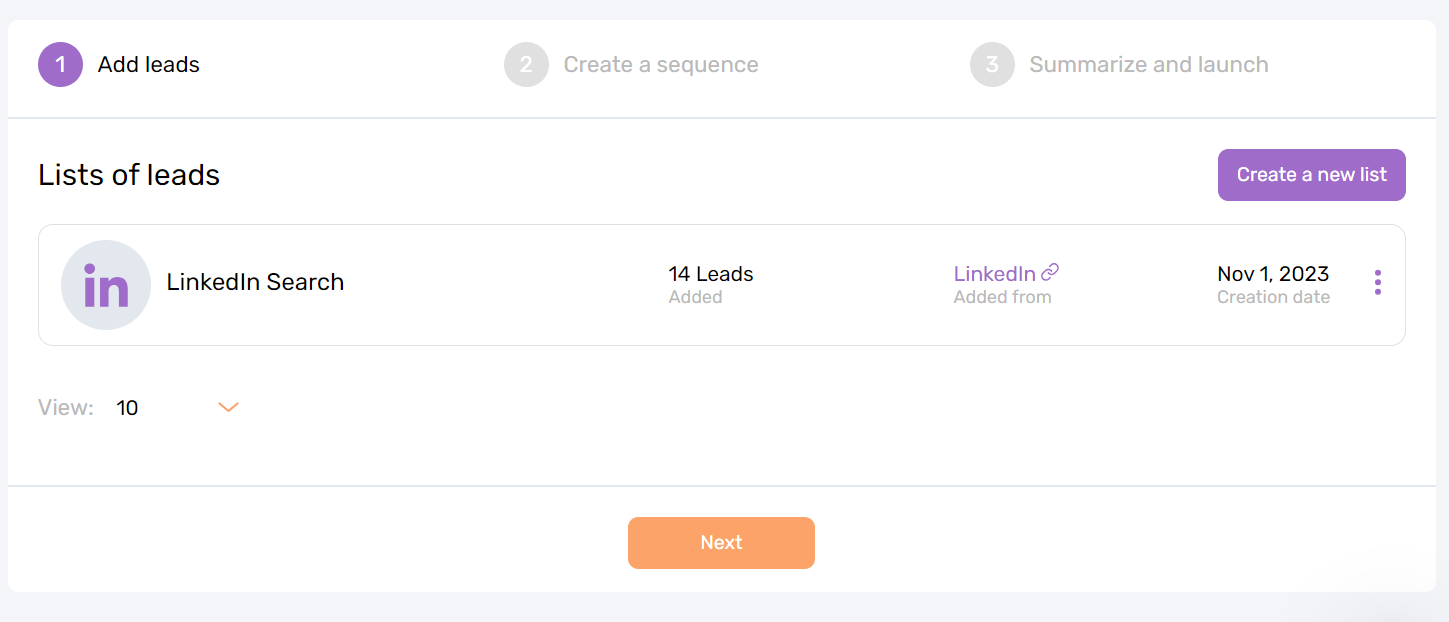 The next step is creating a sequence template. You can use pre-built templates or create a new one. Among pre-built templates, you will find the following: Lead Generation, Endorse My Skills, and Extra Profile Views.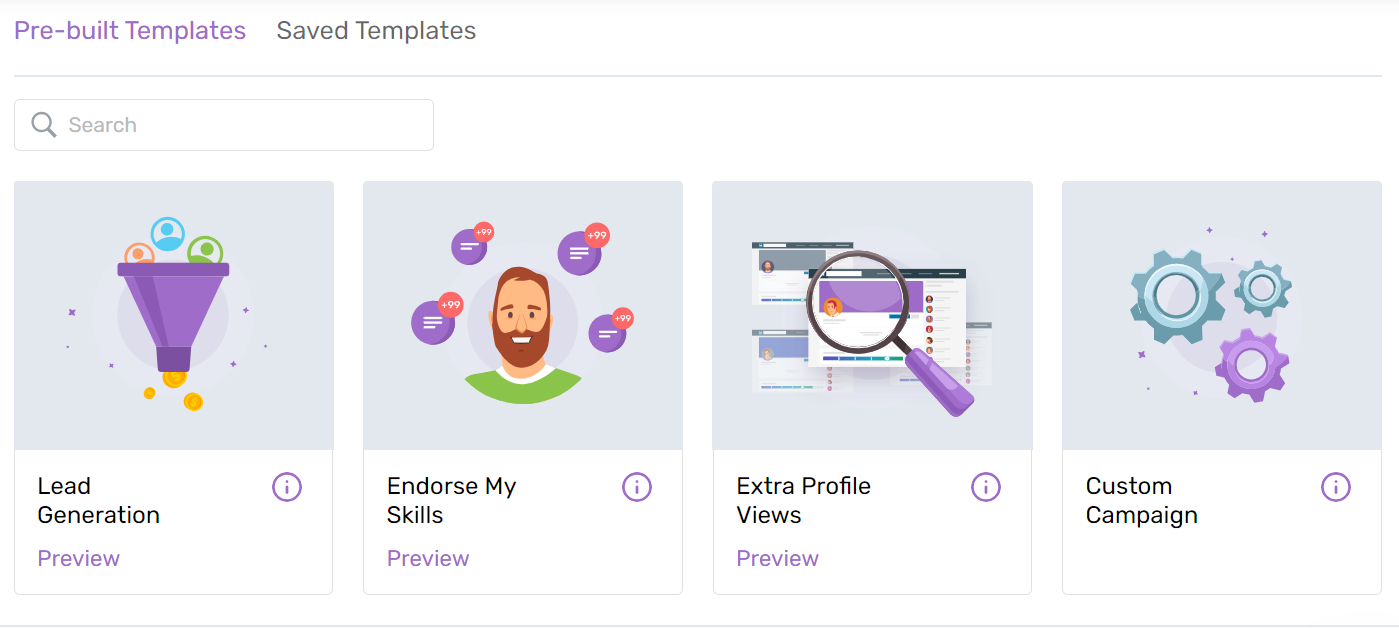 The sequence template consists of a chain of actions. You can edit the sequence by deleting or adding its units.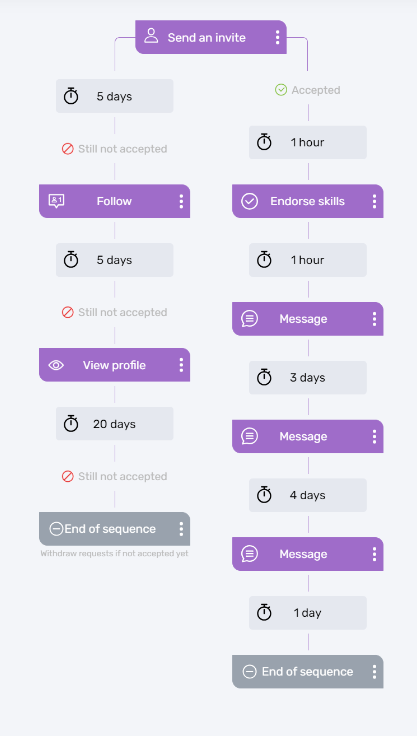 What actions can you add to the sequence? Any from the list below. Plus, add conditions for acting, such as sending a message if a prospect viewed your previous message.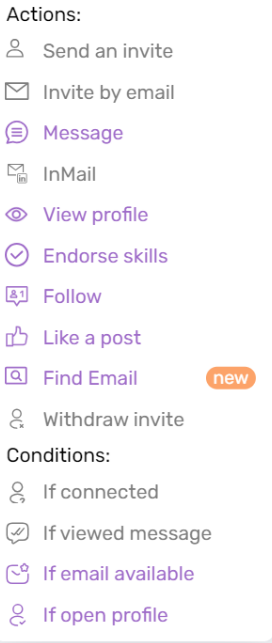 Click the message units to add text and variables for personalized messages.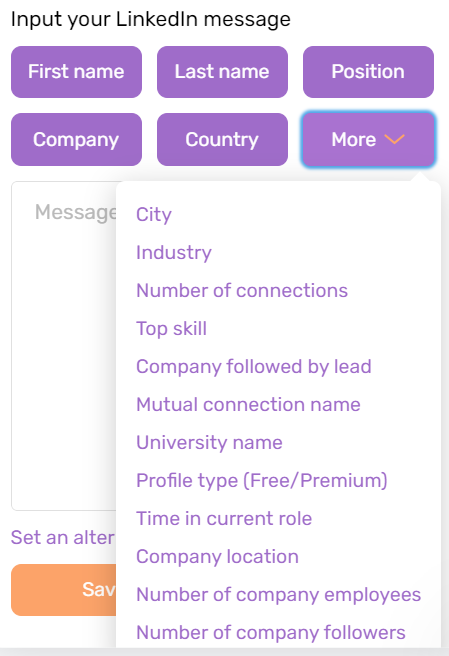 Once you have launched your campaign, simply wait for the results on the plain statistics dashboard.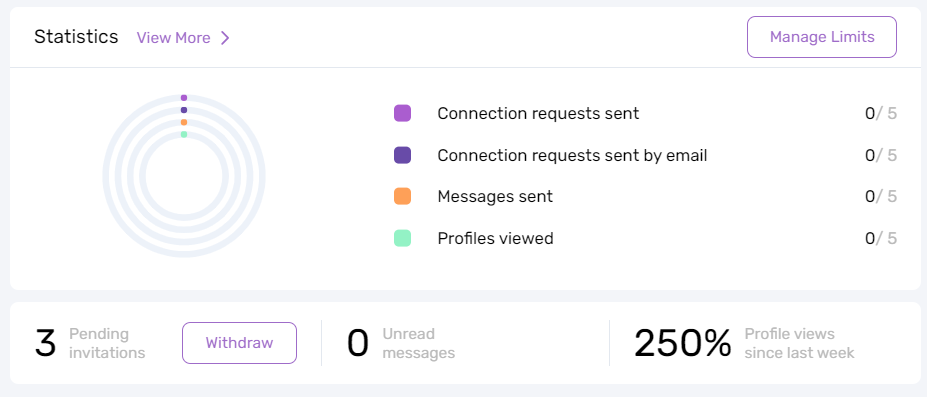 As an extra feature, you can request your profile makeover for an additional cost.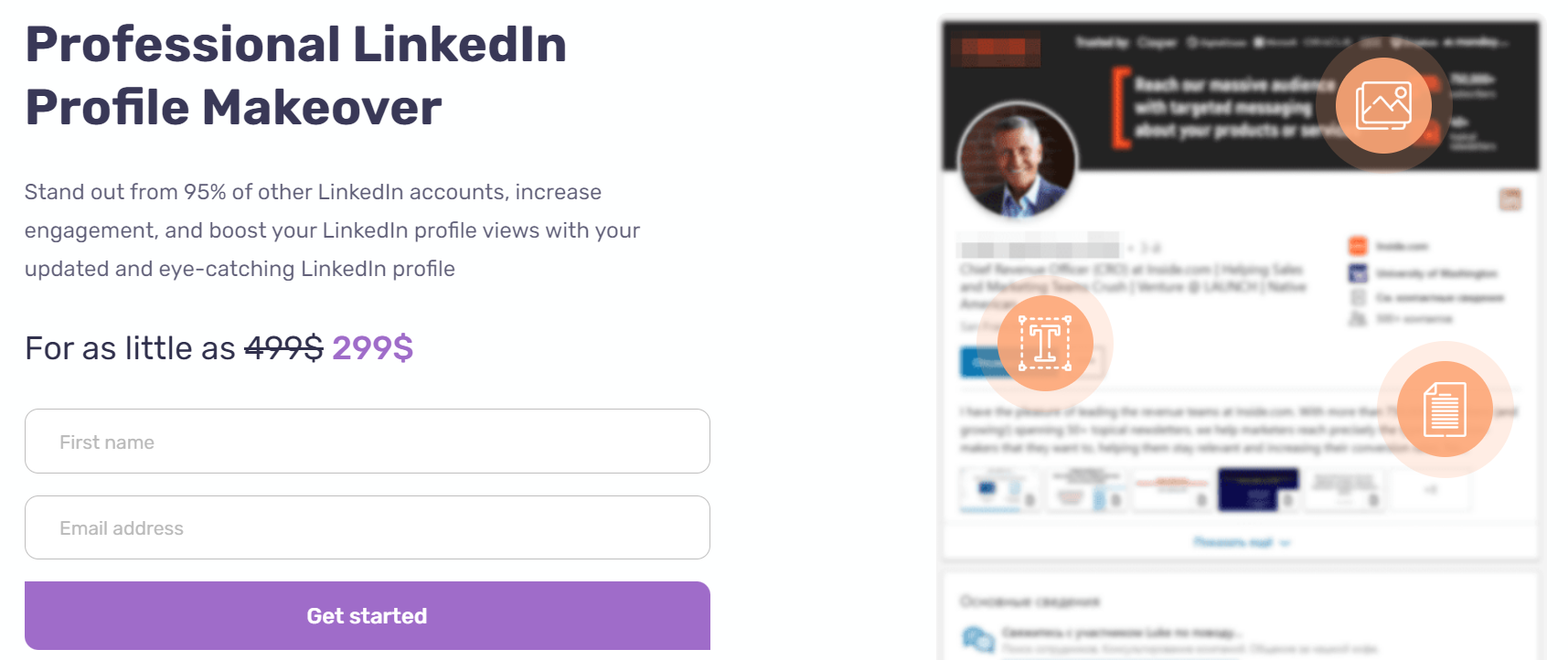 Finally, let's check the pricing for both tools.
Impasto vs Dripify Cost
The automatic tool offered by Impasto starts at $39 for pricing. If you require consulting hours, there is a fee that begins at $80. The final cost is determined by the number of LinkedIn profiles you wish to use and the number of consulting hours in your plan.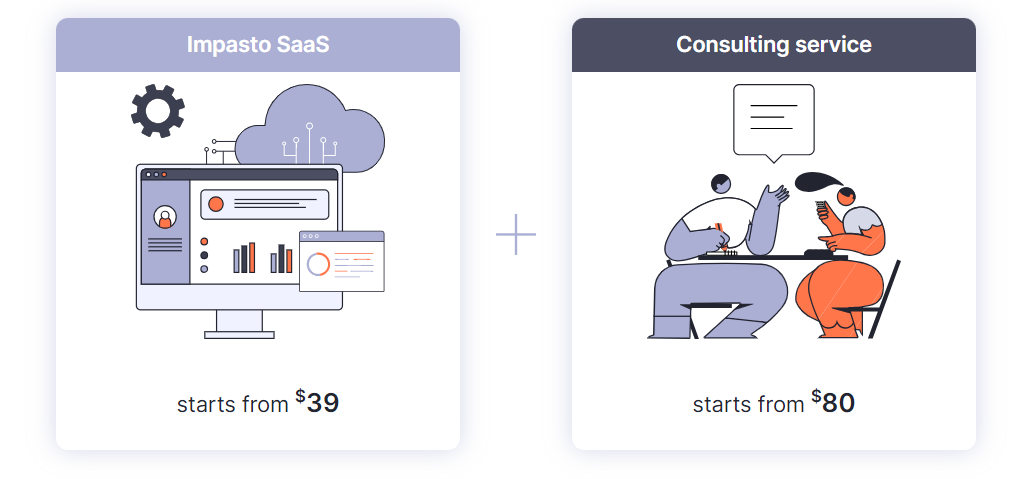 The pricing for Dripify is specified on a monthly basis for a single user. The starting price is $39 per month. It is important to note that with the Basic plan, you are limited to only one drip campaign, and you can only send up to 20 invitations per day. Furthermore, you will not have access to the team management feature or the ability to export leads into CSV.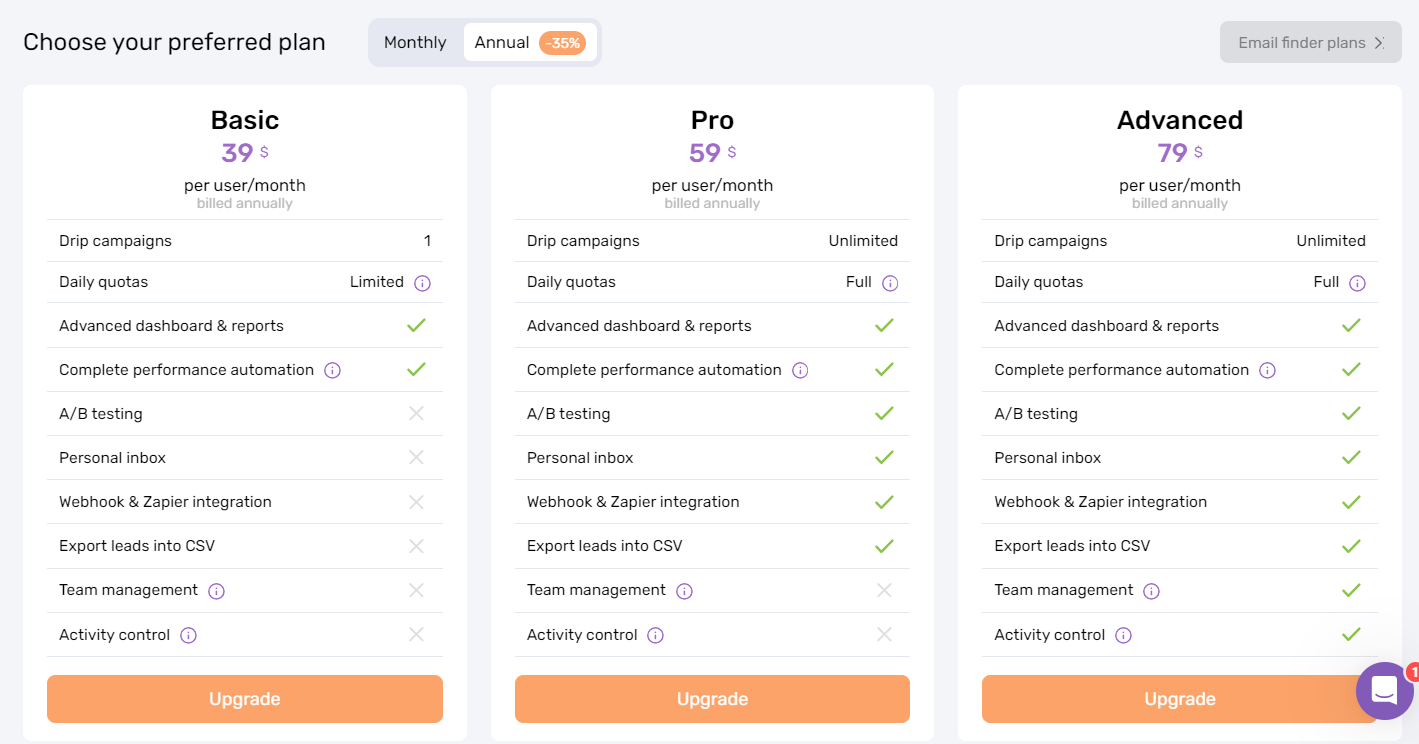 Conclusions
Let's summarize the similarities and differences between Impasto and Dripify.
One of the noticeable features that distinguishes Impasto from other LinkedIn automatic tools, such as Dripify, is its consulting package, which ensures a personalized approach to outreach campaigns. 

Both tools have an intuitive and user-friendly interface that allows you to initiate campaigns without any hassle. 

Impasto and Dripify have similar features for sending bulk invites and messages and adding message templates. 

However, Dripify provides custom workflows for drip campaigns, which means you can create a chain of actions for your campaigns. 

In both services, there are variables for personalizing your prospecting messages.

Alternatively, with Impasto, you can add custom images for the link previews in your messages and personalize them by adding variables.

Dripify includes automatic actions, such as auto-like and auto-endorse, while Impasto plans to release the warm-up feature as an alternative shortly.

Both services allow you to export data and integrate with your CRM.

 In terms of team management, Impasto allows you to manage and monitor up to ten LinkedIn accounts with a single license, whereas Dripify requires purchasing a license for each account. 

Impasto provides a unique scoring system that helps indicate prospect interest.

Dripify lets you A/B test your campaigns.

In the Dripify system, you are limited in the number of corporate email addresses you can find, while Impasto searches for the emails without limitations.

Both services have similar safety features that limit the number of actions you can take on LinkedIn. 

 Finally, both Dripify and Impasto have advanced analytics capabilities for tracking campaign performance.
If you have any questions about LinkedIn outreach, do not miss the opportunity to book a free consultation with the Impasto team. You can book a consultation through their website.